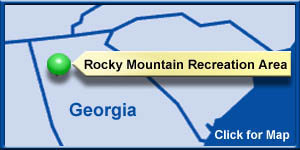 Overview:
Rocky Mountain Recreation Area is located off the beaten path in Northwest Georgia near Armuchee (pronounced arr-mer-chee). The 5,000 acre park is the product of a partnership between Oglethorpe Power and the Georgia Department of Natural Resources. Rocky Mountain Recreation Area is a wonderful local resource that is almost free ($5 parking fee) for the public to use. There are two lakes, a beach, a playground, and a beautiful campground with water and electricity.

The campground is filled with tall pine trees that go right down to the edge of the water. As can be expected lakeside camping sites are not very level (typical for lakeside campsites), but they are large and shady. Non-lakeside campsites seem much more level.
One of the best things about Rocky Mountain Recreation Area is the ability to pull your fishing boat (or canoe or kayak) right up to you campsite. You have to make sure to secure your watercraft though because water levels fluctuate based on electricity demand. Water is pumped into a reservoir on top of the mountain during low-demand times, then released to generate electricity as the demand increases. It's like a battery.
The fresh lake water provides more than just electricity, it's also a cool refuge from the heat of the day. The beach is big and sandy, and the water is cool and refreshing. The park's beach is pretty popular with the locals, so it can be just a little crowded on holidays and weekends. Fishing is another way to enjoy the lake, and fishing is great here. Antioch lake is known for largemouth bass and sunfish, but there are more species than that in the lake.

Rocky Mountain Recreation Area is a great place to get away and relax. All activities here lend themselves to peace and quiet. If you want some additional adventure, the park planted in one of the best areas for adventure. It's near Rome, Taylors Ridge, James H Floyd State Park, Ridge Ferry Park, the Chieftains' Museum, Cave Spring, Cedar Creek Park, Rome Braves Baseball, the Heritage Park Bike Path, and so much more. This is one of our all-time favorite areas in north Georgia.
The Richardson Tribe
---
Adventure Journal
Entry Date: May 2015
We were right in the middle of a partial renovation of Homer III, our motorhome. The flooring had been completed, but the sofa was completely gone as we waited for the upholsterer to complete our new cushions. It had been a couple of weeks since our last adventure, and we couldn't stand it! We decided to go camping, sofa or no sofa. The problem was every state park in the area was booked solid! In desperation, we took a little ride over to Rocky Mountain Recreation Area to see what was available. I was hopeful, but realized it was unlikely we'd find an open site on a Saturday. It was around 11am when we arrived at the park, and we met an RV leaving! As it turned out, we lucked-up on one of the best sites in the campground.

With the school year winding down, we'd been pulled in all directions at once. Band trips, field trips, band workshops, music lessons, banquets, finals, and all those other things that happen in the real world. We were feeling stress, and needed to unwind. A couple of days at the lake is just what the doctor ordered. We didn't really hike, but we took some nice leisurely walks. That evening we enjoyed a full moon and a campfire where the kids made Jiffy-Pop popcorn and tried frying various foods in their tiny skillets. The moon was so bright you could clearly see the tree line on the opposite shore of Heath Lake. It was a very nice evening.

Sunday morning was very nice. We sat by the lake sipping coffee and watching the fog creeping away from shore, swirling like small slow-motion tornados across the water. The sun was shining across the fog creating a rainbow effect. It reminded us of Grand Prismatic Spring at Yellowstone. Very nice.

Check-out time at the campground is mid-afternoon, so we hung around as long as we could. It had been a long while since we were here last. We won't make that mistake again.
Features

Rating (1-10)

Description

Official website
8
The Georgia DNR website is not fancy or flashy... but I like it. It has all the information needed to plan a stay.

Additionally, the Georgia State Parks website has a page dedicated to the park.

Park Map/Brochure
Campground

8

No reservations - first come/first served RV/TENT/TRAILER SITES: 36 RV sites priced at $25 (2 thru 37) with grill, picnic table, 50 amp electrical hookup, and water hookup (no sewer). Sites 8 and 37 are buddy sites ($50). Site 1 is for a host. The campground is open year-round.

Playground

8

The playground isn't spectacular, but it's a nice playground anyway. The kids sure love the monkey bars. The playground is adjacent one of the two campground "buddy sites" making that site really awesome for family get-togethers.
Beach
8
I'm not a big fan of freshwater beaches, but this is a very nice one.
Hiking/Mountain Biking
*
The park sits on 5,000 acres, much of which is open to the public. We have not had a chance to hike or mountain bike here.
Fishing/Boating

9

The two lakes (559acres) are great for fishing. They contain largemouth bass, sunfish, channel catfish, walleye, black crappie, and hybrid white-striped bass. Boating is grouped with fishing in this rating because that's really all you can do with the boat. Idle speed only. NO WAKE!

Canoeing/Kayaking
9
We haven't taken the canoes to Rocy Mounatin Recreation area yet, but I think it would be a perfect place to casually paddle, fish, and watch wildlife. Next time...
Rockhounding

9

I'm giving Rocky Mountain Recreation a 9 when I have never really looked for rocks there. Why? Well, just a very few miles up the road is Taylors Ridge, an awesome place to find fossils from two prehistoric time periods, geodes, crazy-lace agate, druzy quartz, marble, chert, and more. This is an incredible area to rockhound.
Local Attractions

9

Rome, Rockhounding Taylors Ridge, James H Floyd State Park, Ridge Ferry Park, Chieftains' Museum, Cave Spring, Cedar Creek Park, Rome Braves Baseball, Heritage Park Bike Path, and so much more. This is one of our favorite areas in north Georgia.
*Note: We rate only the amenities we have personally reviewed.

No financial consideration or favor has been received for listing in PB&J Adventures' website. We are in no way affiliated with this facility or any other facility we review. Any paid advertising seen on this site was arranged after the destination was reviewed. You can trust the reviews to be unbiased.
---
---
Adventure Journal
Entry Date: August 2009

On this trip, Nanny and Paw Paw brought their boat over, and Mother Goose (Rebecca's mom) stayed with us in the camper, so we were able to spend some good times with all three generations present.
.

I think the lake(s) at Rocky Mountain are cool because of what Oglethorpe Power does here. There are two lakes at the bottom of the mountain and a single large reservoir on top of the mountain just adjacent to Berry College (which was a very strange mountain to begin with). At night, when power consumption is low, they pump water up the mountain to the large reservoir. In the morning, when power demand is high, they release the water through generator turbines. It's like a huge battery. It also makes it necessary to carefully tie your boat at night because the water level will change pretty dramatically. That remind me of a story about Uncle Mark and his Polaris watercraft, but that's for another time.
---
Adventure Journal
Entry Date: July 2007
We found this great little park while exploring on another PB&J Adventure. We had driven by the sign several times on the way to Sloppy Floyd State Park, and decided to investigate. It is co-owned by Oglethorpe Power and Georgia Power, and they use the lakes (Heath and Antioch) and a reservoir on top of the mountain to generate electricity during peak hours. The campground is relatively small but very nice. If you're lucky enough to get a lakeside campsite, you can pull your boat up on the shore right behind your camp. They also have a playground and a beach. The paved inner roads are relatively level, so the kids could ride their bikes as well. We started off on Friday without Lee Thomas because he was going to a birthday sleepover at Calberts. It was strange not to have LT with us, and Heath as especially sad. we decided that this would be the weekend that John Micah finally gets potty trained. We used the "treasure chest" rewards method, and it worked well. I think he spent as much time on the potty as he did doing anything else. On Saturday I got up and put Paw Paws boat in the lake. Pamba and Parker-John brought Lee Thomas and Calbert early in the afternoon, and the Driscolls came soon after. We fished in the boat and swam at the beach all afternoon. When we returned to our campsite, we were pleasantly surprised to discover that the Browns and Bishops had also come to visit for the evening. Now we had a nice little crowd (20) to celebrate Calbert's 8th birthday (Sunday, July 15). We ate hotdogs and s'mores until we could eat no more. We headed home on Sunday.
---
Other Destinations
Up
Amicalola Falls State Park
Beaches of South Walton.
Berry College
Big Kahunas
Biltmore House
Blairsville, Georgia
Callaway Gardens
Cataloochee Ski Area
Cave Spring
Cedar Creek Park
Charlestown State Park
Chattahoochee Bend State Park
Chattanooga Zoo
Chehaw Park
Cherry Hill Park
Chester Frost Park
Chieftains Museum
Choccolocco Mountain Off Road Park
Cloudland Canyon
Cloudmont Ski and Golf
Consolidated Gold Mine
Cohutta Wilderness
Cumberland Island
Dauset Trails
Disney's Fort Wilderness Resort
Desoto State Park
Doll Mountain Campground
Dollywood
Dunnaway Gap
Enota Mountain Retreat
Etowah Indian Mounds
Fall Creek Falls State Park
Florala State Park
Franklin D Roosevelt State Park
Fort Mountain State Park
Georgia Mountain Fairground
Georgia Veterans State Park
Gold n Gem Grubbin'
Helen Georgia
Hillcrest Orchards
James H Floyd State park
James Island Park
Jellystone Park- Cave City, KY
John Tanner Park
Lake Allatoona
Lake Sidney Lanier
Lake Winnepesaukah
Little River Canyon Center
Live Oak Landing
Lula Lake Land Trust
Mammoth Cave National Park
McIntosh Reserve
McKinney Campground
Moto Mountain Powersports
New Echota - Cherokee Capitol
Noccalula Falls Park details and pictures
Old Stone Fort Archaeology State Park
Pine Moutain RV
Red Top Mountain State Park
Ridge Ferry Park
Rocky Mountain Recreation Area
Rock Town - Pigeon Mountain
Rome GA
Salt Springs Recreation Area
Silver Springs
Stone Mountain Park
Tanglewood Farm
Tannehill State Park
Tellus Science Museum
The Southern Museum
Topsail Hill Preserve
Townsend KOA
Townsend Tennessee
Twinbrook Resort
Up The Creek RV Camp - Park Details - Pictures
US Space and Rocket Center - Details and Pictures
Vogel State Park
Wild Animal Safari
World of Coke
Zoo Atlanta - Details and Pictures