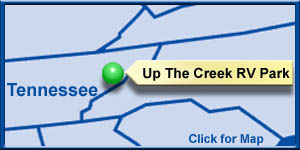 Overview
Up The Creek RV Camp is located off Wears Valley Road just minutes from the bustling Pigeon Forge strip. The "RV camp" is convenient to all the tourist attractions, yet the setting is extremely quiet and peaceful. You might notice they don't all it a campground, and they don't call it an RV park either. It's called an "RV camp." That term is very fitting.

Up The Creek RV Camp is bordered by two creeks: Waldens Creek to the north, and Cove Creek to the south. Both creeks flow very nicely providing a constant relaxing ambiance. This was most assuredly a Native American camp at some time in the past. The conditions are just perfect. We chose the RV sites to the south because there is nothing but a large grassy field on the opposite side of the creek. Honestly though, there is really not a bad site in the park.
With regards to amenities, other than those at your RV site, there are none. There is no bath house, no laundry, no game room, no pavilion, no hay rides, no organized "children's activities, and no playground. To some, the lack of these features is an issue. For us (other than the laundry) we think this part of the park's appeal. For instance, while there are certainly kids in the park, the place isn't swarming with them. Also, the lack of activities and amenities forces families to enjoy the creeks and open play areas more. At any rate, this is Pigeon Forge, so If you get bored, simply hop in the car and within minutes you can be doing about anything your heart desires.

Over the years, we have stayed at about half a dozen RV parks and campgrounds in this area. Up The Creek RV Camp is now our favorite. We can't wait to come back in warmer weather so we can search the creeks for fossils, artifacts, and gemstones. We still love rockhounding!
---
Adventure Journal
Entry Date: December 2013
There is something very special about the Great Smoky Mountains National Park, Gatlinburg, and Pigeon Forge Tennessee during the Christmas holiday. It's an area we like to visit because of the scenery, lights, and numerous family activities. Throughout the years we have stayed at a number of campgrounds and RV parks local to this area, but this year we decided to try new place called Up The Creek RV Camp. First of all, the designation of "RV Camp" is unique. We're not big fans of RV parks, and that simple designation of being an RV camp caught my attention. Online pictures we found of Up The Creek RV Camp made us even more curious about the place. In some ways, it looked too good to be true, so we had to check it out for ourselves.
We headed for Up the Creek RV Camp on Friday, two days after Christmas. Because of the park's proximity to Pigeon Forge, we decided to take the always-crowded bumper to bumper Sevierville route. Our typical route through Townsend and Wears Valley Road is, in places, steep, narrow, and curvy. Driving a larger motorhome and pulling the Jeep influenced my decision. I can't help but think it was a bad decision though. This diversion added at least an hour to our trip.
When we arrived at Up the Creek RV Camp, it was cold and wet. But even with its sparse winter foliage, the property looked very inviting. The "camp" motif with the log cabin office, an old covered wagon, and various tastefully placed conifers and shrubs works very well. I was checked in and set up in our Creekside RV site in just minutes. The site had full hookups including cable, but with a pretty clear view of the southern sky, we opted for our satellite instead. The site also featured a concrete pad, fire ring, and very nice wrought iron patio furniture. Unlike many Creekside RV sites, Up The Creek features nice large spaces with Evergreen trees and shrubbery providing privacy between sites. When they designed this place, they did it right. Directly behind our camper was one of the two creeks that frame the campground. It was substantial with a nice water flow, crystal clear water, and lots of rocks to study. Across the Creek from our Campsite was a large grassy field that reminded me of Cades Cove at times. It's really a very peaceful and beautiful place.
Within Up The Creek RV Camp, there are few amenities. There is no laundry room (the one thing I suggest they add), no pool, no game room, no trampolines, no hayrides, and no organized activities. For some the lack of these features may be a problem. For us, no. The Creeks alone provide lots of entertainment. We can't wait to come back during warmer weather to rockhound and fish. Towards the back of the property is a large natural area, perfect for a picnic or spontaneous wiffleball or corn hole game. This is truly a beautiful piece of property, something the Native Americans also acknowledged. Numerous artifacts have been found on this property, and some are on display in the office.
Up the Creek RV Camp proved to be a perfect home base on this trip. It's far enough off the beaten path to be peaceful and quiet, but still just minutes from Pigeon Forge's many attractions. While we were camping at Up The Creek, we visited Gatlinburg, visiting shops and admiring the lights. On another day, we took a drive up to New Found Gap in the Smoky Mountains National Park. We were hoping for snow, but got the next best thing: fog and ice! On one afternoon, the kids took their mommy to one of the shows in Pigeon Forge while Daddy hung around the campfire. We ate out a few times during this trip. We always try to catch a meal at No Way Jose's. This time we ate at the one in Pigeon Forge as opposed to Gatlinburg. It was ok,, but nothing to write home about.
We might have gotten out a bit more, but it was kind of hard to drag the kids away from the campground. The creek was a hit, and they enjoyed the patio and fire pit too! For me, it was convenient. There's a Kroger just minutes away, and all the cool stuff on the strip in Pigeon forge is too. It's convenient to Dollywood because Wears Valley Road crosses the strip and intersects Teaster Road, the bypass to Dollywood. So cool! It's official: Up The Creek RV Camp is now our #1 choice for camping in this area.

The Richardson Tribe

More Destinations:
Up
Amicalola Falls State Park
Beaches of South Walton.
Berry College
Big Kahunas
Biltmore House
Blairsville, Georgia
Callaway Gardens
Cataloochee Ski Area
Cave Spring
Cedar Creek Park
Charlestown State Park
Chattahoochee Bend State Park
Chattanooga Zoo
Chehaw Park
Cherry Hill Park
Chester Frost Park
Chieftains Museum
Choccolocco Mountain Off Road Park
Cloudland Canyon
Cloudmont Ski and Golf
Consolidated Gold Mine
Cohutta Wilderness
Cumberland Island
Dauset Trails
Disney's Fort Wilderness Resort
Desoto State Park
Doll Mountain Campground
Dollywood
Dunnaway Gap
Enota Mountain Retreat
Etowah Indian Mounds
Fall Creek Falls State Park
Florala State Park
Franklin D Roosevelt State Park
Fort Mountain State Park
Georgia Mountain Fairground
Georgia Veterans State Park
Gold n Gem Grubbin'
Helen Georgia
Hillcrest Orchards
James H Floyd State park
James Island Park
Jellystone Park- Cave City, KY
John Tanner Park
Lake Allatoona
Lake Sidney Lanier
Lake Winnepesaukah
Little River Canyon Center
Live Oak Landing
Lula Lake Land Trust
Mammoth Cave National Park
McIntosh Reserve
McKinney Campground
Moto Mountain Powersports
New Echota - Cherokee Capitol
Noccalula Falls Park details and pictures
Old Stone Fort Archaeology State Park
Pine Moutain RV
Red Top Mountain State Park
Ridge Ferry Park
Rocky Mountain Recreation Area
Rock Town - Pigeon Mountain
Rome GA
Salt Springs Recreation Area
Silver Springs
Stone Mountain Park
Tanglewood Farm
Tannehill State Park
Tellus Science Museum
The Southern Museum
Topsail Hill Preserve
Townsend KOA
Townsend Tennessee
Twinbrook Resort
Up The Creek RV Camp - Park Details - Pictures
US Space and Rocket Center - Details and Pictures
Vogel State Park
Wild Animal Safari
World of Coke
Zoo Atlanta - Details and Pictures
Features

Rating (1-10)

Description

9

I like the website very much. Clean design with plenty of color. I do wish there was a more automated method of making reservations.

Campground

9

For reservations, call 865.453.8474. The rates range from $30 (non premium site off season) to $62 (prime site, October). These are pretty reasonable RV sites for the area, and you won't find a prettier place to park your RV.

Campground Office/Facilities
7
We absolutely love this place, and the office is very cool, but they really need a laundry facility here. With full hookups, we can live without a bath house, but we need a better way to do laundry in an extended stay situation.

Hiking

9

The property isn't really large enough for hiking, but you are minutes from any number of hiking trails in the area.

Biking
9
Biking within the park is limited to the paved loop, but you are minutes from any number of great mountain biking trails in the area.

8

The creek looks like it might produce some good rockhounding opportunities. A good number of nNative American artifacts have been found on the property, and I'm certain the creeks might yield some garnet, quartz, chert, and agate. We'll find out more next time. The surrounding area does have some commercial tourist mines, and they're always fun.

Local Attractions/activities

10

There are far too many attractions in the area to list, but here's a partial: Go carts, alpine slide, theaters, shows, miniature golf, golf, helicopter rides, water parks, fishing, Dollywood, Townsend, Pigeon Forge, Gatlinburg, Ober Gatlinburg (skiing), Aquarium of the Smokies, Great Smoky Mountains National Park, Cades Cove, etc...

*Note: We rate only the amenities we have personally reviewed.
**Accommodation pricing is based on 2014 Up The Creek website pricing.

No financial consideration or favor has been received for listing in PB&J Adventures' website. We are in no way affiliated with this facility or any other facility we review. Any paid advertising seen on this site was arranged after the destination was reviewed. You can trust the reviews to be unbiased.
---
December 2013
I wish the weather had been prettier during our stay. I simply couldn't get any pictures that give do this place justice. We will definitely be coming back in warmer weather, if for no other reason but to play in the creek.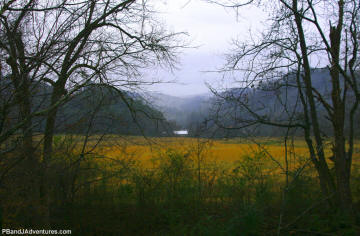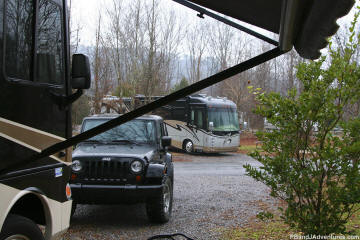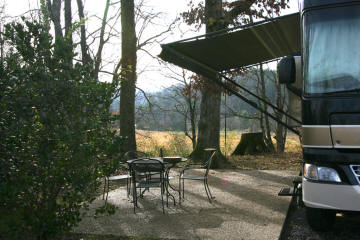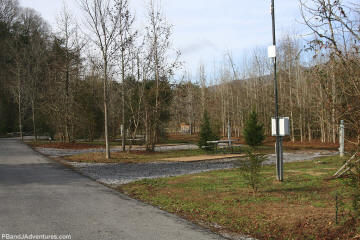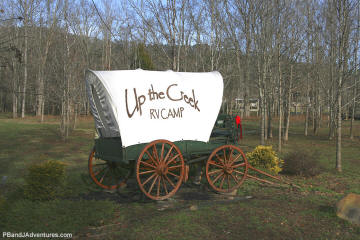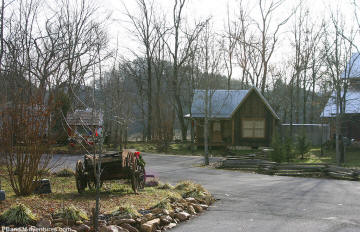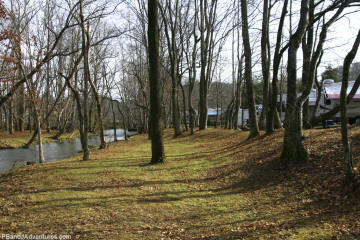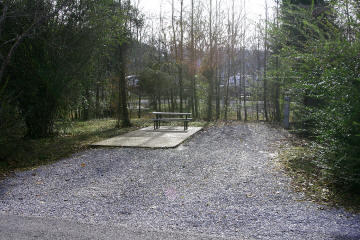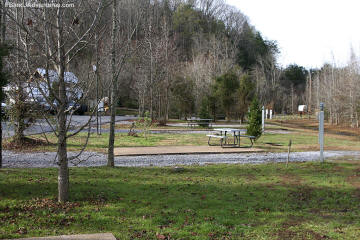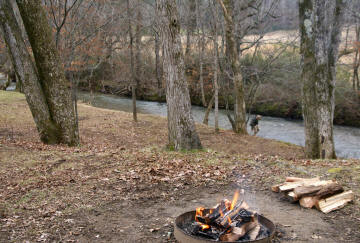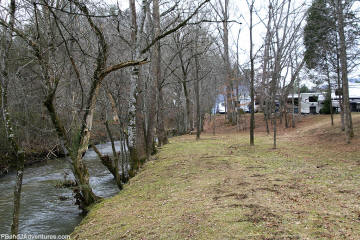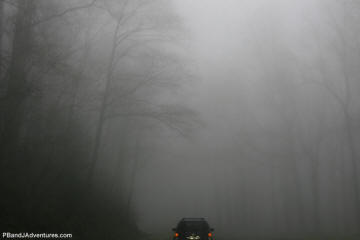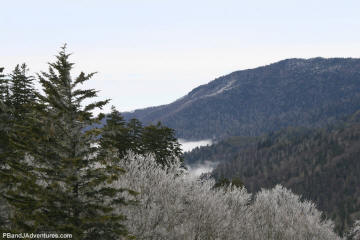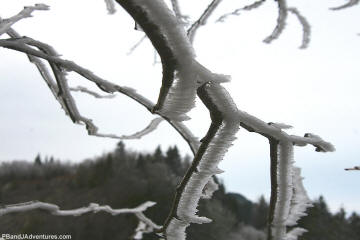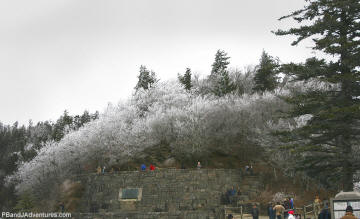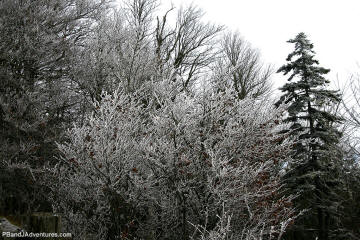 The last six images in this series are from our drive to New Found Gap in the Great Smoky Mountain's National Park.