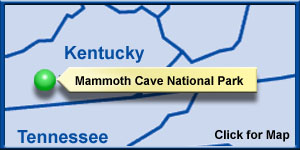 Overview
Mammoth Cave National Park is located between Bowling Green and Louisville, Kentucky. It's a beautifully wooded and rugged part of the country. The park's limestone foundation is riddled with hundreds of miles caves. In fact, Mammoth Cave is the longest cave system in the world. Much of the cave is without mineral formations, but the sections of the cave with formations are quite amazing. At nearly 400 explored miles, the sheer size of the cave is hard to fathom, and makes the trip worthwhile.
Above ground, this 52,835 acre park is just as awesome as its Swiss cheese basement. The forest is open and clear underneath the massive hardwoods. The dense overhead canopy and abundant wildlife contribute to underbrush control. It's a very well preserved and clean national park brimming with natural beauty and furry creatures.
Near the park's visitor center is a the Mammoth Cave Hotel and the park's primary campground. There are many options for lodging within the park, but camping, while very picturesque and natural, is limited for the extended stay of this family of six. The lack of water and electrical hookups can make stays of more than 2-3 nights a little trying. If you need full hookups, there are several options in nearby Cave City and Park City. Yogi Bear's Jellystone Park, with its child-oriented activities and amenities, is always a hit with the kids.
There is plenty to do in the area. If you are here for a short visit, you'll have a hard time deciding which adventure to attempt. There are numerous caves outside the national park that can be toured, including one located in an Australia-themed park called Kentucky Down Under. This area possesses a "retro" tacky tourist appeal reminiscent of Gatlinburg, Panama City Beach, and Ghost Town in the Sky. Rock shops, go karts, t-shirts, fudge, and zip-lines abound. Many of the attractions are seasonal, so do your homework before booking your accommodations.
---
Adventure Journal
Entry Date: September 2011
The Richardson Tribe enjoys caves, so the longest cave in the world was an unavoidable destination. I briefly visited this area while passing through on business a few years back. I was traveling in our old RV (Homer I), so I camped at Jellystone Park. At that time, I wasn't particularly impressed with the campsites, but I knew it would be popular with the kids. Frankly, for this trip, I spent a lot of time searching for an alternate, but online reviews of other campgrounds and resorts didn't make me very comfortable with alternates. So Jellystone it was.
When we pulled into Jellystone, I was pleased with the feedback coming from the back of the camper. The pool, water slide, miniature golf, and massive Yogi welcoming us to the park was enough to start a small frenzy with the kids (and Rebecca). face it, if the kids are happy, what else matters?
Now, the campground is pretty nice, but if you're not prepared to do some major leveling, you will be very unhappy with the sites. I walked the campground, searching for a good (level) site. When I found one, I'd call the office only to find that the particular site was already taken. Apparently, many people that camp here regularly know the best sites and reserve them well in advance. Others have just learned how to adjust for a significant drop from one end of the campsite to the other. I saw some pretty creative leveling techniques.
I eventually located a nice pull through site. We were pulling our car trailer, so pull through sites make life much more pleasant. Once we were set-up, the fun began. There was a hey hey hey ride followed by a tour of the entire park. Jellystone is designed for kids, and they do a wonderful job of keeping them entertained.
Our first full day was a Saturday. We purchased tickets for a tour of Mammoth Cave that departed from the visitor center around 10am. The bus ride to the "new entrance" was almost as exhilarating as the cave itself. Our ranger/guide was a cute little lady that we all grew to love throughout the course of the tour. She told us what to expect before entering the deep hole.
Initially, the cave is anything but beautiful. We've visited numerous caves, but this cave was different. Initially, there were no formations. Much of the cave is dry, which means formations cannot form. We followed a long narrow staircase down, down, down into the barren cave. Our guide joked about the cost of the stairs. The government contractor that built the stairs specialized in submarine stairs. He did the entire staircase for $3,000! PER STEP! There are hundreds of steps, but they are incredible. This isn't an entrance for people with broad mid sections or bad backs.
Eventually, we made our way to the wetter portion of the cave, where the formations are. It was worth the wait. We saw just a small portion of Mammoth Cave, but what we saw was something we will remember for the rest of our lives. The children were thrilled at the "Frozen Niagara" and other formations near the old entrance (our exit)
While driving through Mammoth Cave National Park, we saw several very healthy large (and friendly) deer. We also saw an abundance of wild turkey on the side of the road. We drove through the campground, and at least one of us (me) wished we were camping there. This is my kind of place to camp! However; we were here for three days, and the campground at Mammoth Cave has no hookups for campers. With four kids, we really value water, electricity, and sewer hookups.
Back at Jellystone, we all enjoyed painting ceramics, playing bingo and miniature golf, and karaoke (Carra Yogi). Jellystone provided a great experience for the kids, and a leveling challenge for Daddy. Sorry, in this case, Mommy and the kids win. This is the kids new favorite place to camp.

The Richardson Tribe
More Destinations:
Up
Amicalola Falls State Park
Beaches of South Walton.
Berry College
Big Kahunas
Biltmore House
Blairsville, Georgia
Callaway Gardens
Cataloochee Ski Area
Cave Spring
Cedar Creek Park
Charlestown State Park
Chattahoochee Bend State Park
Chattanooga Zoo
Chehaw Park
Cherry Hill Park
Chester Frost Park
Chieftains Museum
Choccolocco Mountain Off Road Park
Cloudland Canyon
Cloudmont Ski and Golf
Consolidated Gold Mine
Cohutta Wilderness
Cumberland Island
Dauset Trails
Disney's Fort Wilderness Resort
Desoto State Park
Doll Mountain Campground
Dollywood
Dunnaway Gap
Enota Mountain Retreat
Etowah Indian Mounds
Fall Creek Falls State Park
Florala State Park
Franklin D Roosevelt State Park
Fort Mountain State Park
Georgia Mountain Fairground
Georgia Veterans State Park
Gold n Gem Grubbin'
Helen Georgia
Hillcrest Orchards
James H Floyd State park
James Island Park
Jellystone Park- Cave City, KY
John Tanner Park
Lake Allatoona
Lake Sidney Lanier
Lake Winnepesaukah
Little River Canyon Center
Live Oak Landing
Lula Lake Land Trust
Mammoth Cave National Park
McIntosh Reserve
McKinney Campground
Moto Mountain Powersports
New Echota - Cherokee Capitol
Noccalula Falls Park details and pictures
Old Stone Fort Archaeology State Park
Pine Moutain RV
Red Top Mountain State Park
Ridge Ferry Park
Rocky Mountain Recreation Area
Rock Town - Pigeon Mountain
Rome GA
Salt Springs Recreation Area
Silver Springs
Stone Mountain Park
Tanglewood Farm
Tannehill State Park
Tellus Science Museum
The Southern Museum
Topsail Hill Preserve
Townsend KOA
Townsend Tennessee
Twinbrook Resort
Up The Creek RV Camp - Park Details - Pictures
US Space and Rocket Center - Details and Pictures
Vogel State Park
Wild Animal Safari
World of Coke
Zoo Atlanta - Details and Pictures
Features

Rating (1-10)

Description

8

The National Parks Service website isn't bad, but it's a bit difficult to follow. MORE PICTURES PLEASE!

Campground - Reserve

8

Tent, Trailer, RV Campsites. No hookups, no water, no electric, but absolutely beautiful!

Other campgrounds near Mammoth Cave National Park

8

It's very frustrating, trying to find a good campground near Mammoth Cave national Park. We stayed at Jellystone Park, but Cave Country RV, Diamond Caverns Resort, Horse Cave KOA among others are potential places to stay.

Mammoth Cave Hotel Reserve
*
For lodging information and reservations call 877-386-4383

Playground

*

We never saw a playground in the park, but I'm sure at least one exists. We stayed at Jellystone Park where the entire facility is a playground.

Hiking/Biking

10

Almost 53,000 acres of wilderness. Absolutely, hiking is good!

Visitor Center

10

It's a very nice visitor center that was experiencing a facelift as of September 2011.

Geocaching

*

Geocaching is available, but we didn't have a chance.

10

This part of Kentucky is covered with awesome rocks. There are rock shops with world famous Kentucky Geodes all over the place.

Local Attractions

9

Jellystone Park, Dinosaur Land, KY Action Park, Kentucky Down Under, Corvette Museum, Diamond Caverns, Horse Cave, Louisville, and much more.

*Note: We rate only the amenities we have personally reviewed.
No financial consideration or favor has been received for listing in PB&J Adventures' website. We are in no way affiliated with this facility or any other facility we review. Any paid advertising seen on this site was arranged after the destination was reviewed. You can trust the reviews to be unbiased.
---