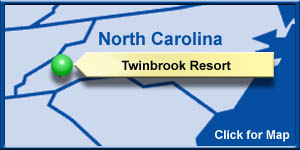 Overview
Twinbrook Resort is located in Maggie Valley North Carolina near the Great Smoky Mountains National Park and Asheville. As a stand-alone destination, Twin Brook offers a handful of exceptional amenities like an indoor pool and large play field with soccer and volley ball equipment. There are 15 (+) cabins and a handful (5) of creekside RV sites. If relaxation is the motive, then one could stay here indefinitely. We stayed in RV site #5 and were very pleased with the privacy provided by the surrounding Mountain Laurel and hardwoods.
If entertainment is required (outside the free DVD loans), then one might have to leave the property. The good news is; there are some things to do within walking distance, and a wide variety of things to do just a short drive away.

In or near Maggie Valley, there are numerous restaurants, a ski area, a snow tubing hill, an old wild-west amusement park, an awesome motorcycle museum, gem mining, shows, and much more. Unfortunately, most attractions and some restaurants are seasonal. When the winter attractions are open, some restaurants and the motorcycle museum are closed. And obviously, when the warmer weather comes around, and the warm weather attractions open, the snow attractions go away. It's kind of a shame because the ski area and wintery weather attract many tourists to the area. Too bad it's not enough to keep everything running year-round.
On the other hand, if you are willing to drive an hour or so, the options become much more appealing. The Great Smoky Mountains National Park is right there. Cherokee North Carolina is just over the mountain (beautiful drive). Asheville and the Biltmore Estate are just up the road. Gatlinburg, Pigeon Forge, and Dollywood are just a little further away. In fact, when you think about it, there is plenty to do in this area. Yes, one might stay at Twin Brook Resort for quite a long long while, and never get bored.
---
Adventure Journal
Entry Date: December 2012
When visiting Maggie Valley, North Carolina in past years, the Richardson Tribe has stayed at Stone Bridge RV Park. We had a bad experience there last winter, so we thought we'd try a change of venue. We began researching alternative campgrounds and came across a place called Twinbrook Resort. The website made the place look promising, especially the large RV sites and indoor pool. A friendly phone call to the park sealed the deal (nice folks).
Our primary objective this Christmas break was snow skiing for all the kids. They attended ski school at Cataloochee Ski Area last year, and fell in love with it. They had a wonderful ski instructor that had a lot more patience than the little guys are accustomed to. One of the first things about Twinbrook Resort that caught our attention (besides the indoor pool), was the proximity to the ski area and other Maggie Valley attractions. From the camp site, it takes about 10-15 minutes (depending on traffic) to reach Cataloochee Ski Area's parking lot.
When we arrived at Twinbrook, it wasn't exactly what we pictured. The website makes it appear more remote than it really is. In actuality, it's just about a block off the main drag, yet it's RV sites remarkably private. One benefit of being this close to everything is... you're close to everything. We were very glad to have site #5 because the other four sites would have been tough to back into. Additionally, site #5 is very near the indoor pool and playground. All the sites back-up to a small stream. While we were there, they flowed strongly providing a nice ambient sound all night long.
Our first full day was spent at the ski area, and we couldn't have asked for a better day. We once again enrolled the kids in ski school, and once again hit a home run with a most excellent instructor. On Saturday, we drove over the mountain to Gatlinburg. It's a beautiful drive, and it always amazes us how much the weather can change from one side to the other. Once in Gatlinburg, reports began coming in about snow. When it snows in the Smoky Mountains, many secondary roads are closed, so we cut our Gatlinburg visit short to head back to Maggie Valley.
That evening at Twinbrook Resort was awesome. As the snow fell, we built a big fire. The snow was falling hard and fast, laying on the grass and the bed of our car carrier. The kids played in the snow for a while, then would return to the fire for a little warm-up. It was hard to keep the snow from accumulating in the camp chairs, but all was good. We stayed outside until late in the evening, then retired to the warm cozy camper for a movie.
The morning sun revealed about an inch of snow. Hardly anything to write home about, but much more than these southern kids are used to. We walked around the resort checking out the frost covered cabins and icy streams, playing in the snow, and enjoying the crisp clean air. Maggie Valley is beautiful in the winter.
Our stay at Twinbrook was very enjoyable, but there are a couple of negatives. Winter camping involves lots of clothing, and a laundry room is very handy. Twinbrook has none, but there is a small public Laundromat just down the road. Also, the RV sites are relatively new, so they have yet to be "burned-in." In other words, I expect little details to be corrected as time passes. The sites aren't very well dressed (bumpy, uneven, small gravel that gets tracked into the camper, etc). Each site's driveway is at a 90 degree angle of the road, making backing almost impossible without pulling into the grass (probably not a big deal in the summer, but in the wet winter... sloppy!). Beyond the resort, Maggie Valley has some seasonal limitations. Some restaurants and attractions are closed during the winter months. For instance, the motorcycle museum (Wheels Through Time) is closed until April. It's a shame, because it's a really cool museum.
In summary, we really enjoyed camping at Twinbrook Resort. It's not a state park, but the sites are private (relative to other RV sites in the valley) and it is very convenient. We would stay here again, and we would recommend it to a friend.
The Richardson Tribe