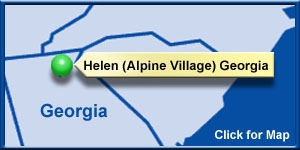 Overview
Helen is located in the mountains about 1 1/2 hours north of Atlanta. Many years ago, several local businessmen put their heads together and devised a way to attract tourist to their small community. So, Helen became an Alpine village. Most of the downtown area is targeted at tourists. There are candy shops, gift shops, and numerous places to eat along the main drag. The town's proximity to Atlanta makes it popular weekend destination for many. It can be crowded. If you're looking for quiet and quaint southern town, this isn't it. If you're seeking shops, entertainment, lights, and fun with a Swiss flair, then give this place a try.
Within Helen, there are many things for a family to do. In warmer months, you can tube down the Chattahoochee River, which is little more than a stream here. There are other things to do like miniature golf, gold panning, carriage rides, and unusual museums. If you're familiar with Gatlinburg, Tennessee, Helen is similar but smaller.
There is a variety of nearby attractions that make Helen an appealing family destination. It's just a short drive from Dahlonega, site of the first gold rush in the United States. Also nearby is Unicoi State Park, Vogel State Park, Brasstown Bald (the highest point in Georgia), Tallulah Gorge State Park, Amicalola Falls State Park, Blairsville, Hiawassee, and much more.
The Richardson Tribe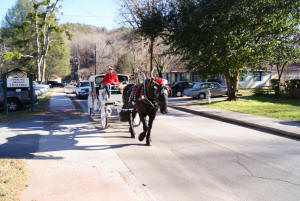 ---
Adventure Journal
Entry Date: November 2011
On this particular trip to Helen, we were camping at Vogel State Park. Being Thanksgiving weekend, we knew there would be a lot of Christmas lights and decorations in the streets. Additionally, Unicoi State Park was having their "Festival of Trees" this weekend. We'd hoped to see both, but time would not allow.
We pulled into Helen mid-afternoon, and the Sun was already low in the sky. We made our way down the crowded sidewalks, and visited several shops. The candy shops and toy stores were the most popular with the kids, and there are plenty. There was a street side musician playing a violin, and I sat and listened to that for a while. He was incredible. People were lined up to ride in the holiday adorned horse drawn carriages. Toward one end of the downtown area, a bridge crosses the Chattahoochee River. Here is where the kids had the most fun. They even caught a crawdad (crayfish) the size of a small lobster.
After visiting a few more shops, we settled into an outdoor café area where a musician performed various classic rock tunes with his band in a box and a guitar. As the sun set, the thousands of Christmas lights began to glow and blink. It was a beautiful sight, but the view (and ability to photograph) was hampered by the constant flow of traffic through town. We considered having our evening meal and Helen, but the crowd made that prospect unappealing. We decided to head back to Vogel and an evening by the campfire.
The appeal of Helen varies in our family. Rebecca loves it, and the kids seem to like it as well. Me? I'd have rather spent the day at Vogel. But that's just me.

More Destinations:
Up
Amicalola Falls State Park
Beaches of South Walton.
Berry College
Big Kahunas
Biltmore House
Blairsville, Georgia
Callaway Gardens
Cataloochee Ski Area
Cave Spring
Cedar Creek Park
Charlestown State Park
Chattahoochee Bend State Park
Chattanooga Zoo
Chehaw Park
Cherry Hill Park
Chester Frost Park
Chieftains Museum
Choccolocco Mountain Off Road Park
Cloudland Canyon
Cloudmont Ski and Golf
Consolidated Gold Mine
Cohutta Wilderness
Cumberland Island
Dauset Trails
Disney's Fort Wilderness Resort
Desoto State Park
Doll Mountain Campground
Dollywood
Dunnaway Gap
Enota Mountain Retreat
Etowah Indian Mounds
Fall Creek Falls State Park
Florala State Park
Franklin D Roosevelt State Park
Fort Mountain State Park
Georgia Mountain Fairground
Georgia Veterans State Park
Gold n Gem Grubbin'
Helen Georgia
Hillcrest Orchards
James H Floyd State park
James Island Park
Jellystone Park- Cave City, KY
John Tanner Park
Lake Allatoona
Lake Sidney Lanier
Lake Winnepesaukah
Little River Canyon Center
Live Oak Landing
Lula Lake Land Trust
Mammoth Cave National Park
McIntosh Reserve
McKinney Campground
Moto Mountain Powersports
New Echota - Cherokee Capitol
Noccalula Falls Park details and pictures
Old Stone Fort Archaeology State Park
Pine Moutain RV
Red Top Mountain State Park
Ridge Ferry Park
Rocky Mountain Recreation Area
Rock Town - Pigeon Mountain
Rome GA
Salt Springs Recreation Area
Silver Springs
Stone Mountain Park
Tanglewood Farm
Tannehill State Park
Tellus Science Museum
The Southern Museum
Topsail Hill Preserve
Townsend KOA
Townsend Tennessee
Twinbrook Resort
Up The Creek RV Camp - Park Details - Pictures
US Space and Rocket Center - Details and Pictures
Vogel State Park
Wild Animal Safari
World of Coke
Zoo Atlanta - Details and Pictures
Watch for special events -

Features

Rating (1-10)

Description

10

The Alpine Helen/White County Convention and Visitor's Bureau's website is extremely well done. It's attractive, but to the point. I rarely give a website a 10, but this one has some wonderful pictures and is very comprehensive.

Places to camp near Helen, Georgia

9

Places to camp near Helen include Unicoi State Park, Vogel State Park, Tallulah Gorge State Park, Gold n Gem Grubbing (Cleveland), Amicalola Falls State Park, and much more.

Things to do in Helen
9
Black Forest Bear Park, Chattahoochee Stables, Cool River Tubing, Duke's Creek Mine, Helen Water Park and Tubing, etc.

Geocaching

*

Geocaching is available, but we didn't have a chance.

8

There is plenty of rock hounding in the immediate area. Look in pretty much any creek for some attractive quartz specimens. Dahlonega is also very near and features commercial gold panning and rockhounding. There is a local gold mine you can visit, and we really recommend the mining experience at Gold n Gem Grubbin' in Cleveland.

Local Attractions
Places to go near Helen

9

Vogel State Park, Tallulah Gorge State Park, Gold n Gem Grubbing (Cleveland), Amicalola Falls State Park, Dahlonega, Smithgall Woods, Anna Ruby Falls, Black Rock Mountain State Park, etc.

*Note: We rate only the amenities we have personally reviewed.

No financial consideration or favor has been received for listing in PB&J Adventures' website. We are in no way affiliated with this facility or any other facility we review. Any paid advertising seen on this site was arranged after the destination was reviewed. You can trust the reviews to be unbiased.
---