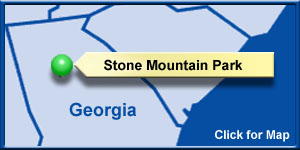 Overview
Stone Mountain, advertised as the World's largest piece of exposed granite, is perhaps Georgia's most recognizable landmark. The rock dome extends 825 feet above the the surrounding landscape, and 9 miles beneath. The vertical face of the mountain features the largest bas-relief sculpture in the World. The sculpture is a memorial of three key Confederate figures: Stonewall Jackson, Robert E. Lee, and Jefferson Davis. Mystery and controversy shroud the mountain's jaded history and its' sculpture, but that's something you can research on your own. One note of interest is that when the first European settlers came, they discovered a mysterious wall encompassing the crown of the mountain, similar to the one found at Fort Mountain. The wall has long since been removed, rocks pushed over the edge or carried away by souvenir seekers and vandals.

The park is located less than 20 miles East of downtown Atlanta off Highway 78. Once you pay the $10.00 per car fee for entry to the 3,200 acre park, you will begin to discover a wide variety of things to do. There is a "theme park" area with shops, a miniature golf course, 4D theater, treetop adventure course, and various other seasonal attractions and events. There are additional fees for these attractions, and it can get a bit expensive.
Additional park amenities include a gondola that lifts visitors to the top of the mountain (for a fee) to enjoy the spectacular view, including Atlanta's skyline. There is a open-air passenger train that travels around the base of the mountain, stopping for a short show and a drop-off site for hikers (the show is seasonal and train may or may not be running and/or stopping at the hiker drop-off. Call the park for information). There is a Robert Trent Jones designed golf course, a lake for fishing, canoeing, and kayaking, a riverboat ride, and amphibious vehicle rides called "Ducks". There is also an antique car museum and an Antebellum plantation with a petting zoo. All these attractions are subject to seasonal (and somewhat random) closures, so make sure to call ahead (don't rely on the website).

A trademark of Stone Mountain is a laser-light show that is projected on the sculpture on certain evenings. The music and lights are a real treat, and the show is typically followed by fireworks.

Every Winter, the large sloped lawn at the base of the mountain is converted into a massive snow hill for tubing and play. Known as Snow Mountain, this feature offers us snow-deprived Southerners the chance to enjoy a Winter wonderland with an easy exit. Yes, we like snow, but just in small doses.

Finally, the park hosts what Woodall's calls Georgia's number 1 campground. This is where *my review takes a bit of a diversion from Woodall's findings. Certainly the campground is in an ideal and beautiful setting, and it should be a fantastic campground, but it's not. It's like a classic car with a custom paintjob, but with tattered seats and a smoking engine. It needs an overhaul! There are but a handful of sites I would consider "good", and none I would consider excellent, or even above average. For more, see my accounts and pictures of camping visits since 2007 below.
In summary, our feelings toward Stone Mountain park are certainly mixed. We love Stone Mountain! We will return! But we are always frustrated about random attraction closures and poorly maintained campground facilities. If you are a tourist wanting to visit Georgia, this is a must-see destination. If you are from Georgia, I think visiting Stone Mountain is a law.

The Richardson Tribe

NOTE: *I recognize that opinions are subjective. Your opinion may vary considerably from mine. However, I think this is a great example of an honest review. Woodall's gives the facilities a 5 out of 5 rating, I give it A 5 out of 10, the lowest I have assigned a recommended park. Yes, I would still recommend the campground, but make sure you select a "premium site".
---
Adventure Journal
Entry Date: January 2015
It was a fresh new year, and we had new bikes. We'd been wanting to ride at Panola Mountain/Arabia Mountain for some time, and this looked like this long MLK weekend was a perfect one to ride. There is no campground at Panola Mountain State Park, and the closest place I could find was Stone Mountain.

We'd been to Stone Mountain many times, so we weren't expecting any surprises. If you've read our previous reviews, you'll know finding a good site here is like a roll of the dice. Odds are against you unless you really know the park. It was a long weekend, so we decided to bite the bullet and pay for full hookups in one of their "premium" sites. Well, lo and behold, we were surprised! Our site was a pull in with a view of the lake and mountain through the windshield of our motorhome. We had an almost private lakeside area that looked like a great place to launch a kayak.
Saturday and Sunday were spent relaxing and riding bikes around the Stone Mountain campground as well as the plantation area. We saw parts of Stone Mountain we'd never seen. We also hiked to the top of the mountain. What a gorgeous couple of days!

On Monday, MLK day, we packed-up and headed for Panola Mountain State Park for a day of bike riding on their paved bike paths. But, that's another adventure...
Adventure Journal
Entry Date: March 2012
If you're old enough, you may remember this line from the movie Animal House. Kevin Bacon's character was forced to say "Thank you sir, may I have another" after each whack of the paddle. In a way, I can relate. We continue to camp at Stone Mountain year after year, and continue to be frustrated at the condition of the campground and the seemingly casual way the "Theme Park" area is run. But I'm getting ahead of myself. Let's start with day one of our visit.

Springtime at Stone Mountain can be exceptionally beautiful. The park is covered with flowering trees and shrubs, and the landscape is absolutely beautiful. We had friends coming into town, so we decided Stone Mountain would be a great place to meet them. We planned to camp at Stone Mountain for two nights beginning on Friday. Rather than fighting Atlanta Traffic on Friday Afternoon, we decided to wait till later in the evening to arrive at the park. We arrived at the gate and paid our $10 fee to enter the park. This, by the way, is a per vehicle fee. If you tow a vehicle, don't drop it outside the park, or you'll have to pay two fees. Yes, $20 just to get to the campground. I knew what to expect when we got to the campground. The office was closed so I proceeded to my site. Unfortunately, the condition was even worse than I remembered, so I pulled into an empty site for the evening with plans to move in the morning. I put out the slides and hooked up power. No electricity! Oh well, no big deal. Homer (our RV) is self contained and everything works without outside electricity (except the microwave and coffee pot).

The next morning I took a walk to find a better site. I observed exactly what I'd seen over the past six years of camping here. A campground with so much potential, the largest in the state, slowly falling apart. To be fair, they have made improvements to a portion of the campground, but for the most part, the sites are poorly maintained, the roads are crumbling, and trash is accumulating. I chose a somewhat level site (probably 5" slope to left and back) adjacent my original selection before heading to the campground office to purchase tickets for the park.

When I visited the campground office, I had no problem changing sites (the campground was almost completely empty). The lady at the office was very nice and apologetic. I felt sorry for her because I'm sure plenty of first-time visitors come in angry about their site. As I said before, I knew what to expect. While at the office, I purchased six tickets for the park, around $150. It's a little easier to swallow the expense here, because when you purchase tickets at the campground, you receive a second day (to be used any time in the calendar year) for no additional charge. We piled into Homer and headed for the RV parking near the attractions. The plan was to ride the shuttle, but were informed the shuttle only runs when enough people are camping. Of course, the water taxi wasn't running either. This information should be very obvious on their website, and it is not.

The amusement park (I really hesitate to call it that) officially opens at 10:30am (seasonal) and closes at 5pm (yes, even on the weekend). We arrived at 11am, and were surprised to see that very few of the shops were open (most did open later, seemingly random). The train and Summit Skyride were running, and the miniature golf and Skywalk features were open, but that was about it. We decided to play some miniature golf then ride the Skyride to the top of the mountain to meet-up with our friends. We were excited to see so few people in the Skyride line, thinking it would be a very brief wait. Unfortunately, they seem to have reduced the frequency of runs because of the smaller crowd.

The view from the summit of Stone Mountain is pretty amazing. The Atlanta skyline is pretty amazing from here. You can also see the North Georgia Mountains as well as two nearby rock mounds similar to Stone Mountain. One is Arabia Mountain, and the other is Panola Mountain, a state park. We decided to walk down the mountain instead of riding. The kids ran most of the way. The plan was to catch the park's train back around to the attractions. We stood and waited for the train, which slowly passed us without stopping. We waited for it to come back, but it soon became apparent that the train didn't stop here anymore. Fortunately, there is a shuttle bus that stops at that location periodically.

Back at the attractions, the kids first wanted to go see the animals at the "Plantation." We all love farm animals and especially remembered the goats from previous visits. We weren't disappointed. We spent a lot of time petting the sheep, goats, and pigs, and talking with the ladies that take care of the livestock. After touring several of the old homes and other structures at the plantation, we proceeded to park's 4D theater for a Yogi Bear movie. We all loved it! The kids were also eager to try out the new Sky Hike, a sort of obstacle course on stilts. All four of the children and I decided to give it a try. There is a very similar feature at Dollywood with one exception. Dollywood's "Adventure Mountain" always offers a relatively easy route. I witnessed a pretty small child that got really scared on the third obstacle. He had no choice but to proceed through the entire level. Our kids did just fine, but I was ready to get off before I completed the first level. There are three levels. It's a great feature, but I think some alternative exits should be added.

After a full day at the park, we headed back to the campground. We were so looking forward to a nice relaxed evening by the campfire with a view of the mountain across the lake. This is what keeps bringing us back, the view. Other than having a hard time keeping the firewood I purchased at the office lit, the evening delivered. It was beautiful. In all, our memories of the day were all positive. We had fun, saw some sights, and got a little exercise. We plan to come back in the near future to use the second day of tickets, and perhaps ride bikes at nearby Panola Mountain State Park. Yes, with all my gripes about the campground and the park in general, we keep coming back for more. So I'll say it again: "Thank you sir, may I have another?"

Note: As critical as I am about the Stone Mountain Campground, I still recommend a visit. Just be aware of the condition of many of the RV sites. I cannot give an opinion on the tent sites, and many of the sites near the office have been redone. If you don't expect too much, you might not be disappointed.
---
Adventure Journal
Entry Date: February 2011
This was a long weekend for Rebecca and the kids, but I had to referee a robotics event in Atlanta, so we had to figure out a way to make a mini-vacation of it. We decided to visit Stone Mountain park for several reasons. First, it's near Atlanta, a mere 20 minutes from my event. Second, there is a beautiful lake at Stone Mountain, a perfect place to play with our canoes. Third, and most important, there is "Snow Mountain", a Winter attraction that provides snow tubing and various other snow-related fun activities.
On Saturday, while I was working, the rest of the family and some very good friends hiked up the back side of the mountain. From what I hear, it was exhausting (I haven't done that hike since I was about 15). Unfortunately, they took no pictures, so...
On Sunday, we hit Snow Mountain about 11am. It was around 60 degrees, but the man-made snow was perfect for tubing. We made a few runs before joining the others in the snow play area. It was a lot of fun, but as we have discovered in the past, barely worth the cost. If the rest of the park's attractions were open, it might have been better. But, the gondola that takes visitors to the top of the mountain was closed for maintenance (not mentioned on the website), and, well, maybe it's easiest to say what we found open, the train (no show or stops), and the 4D theater. Our tickets were for Snow Mountain and three attractions. We couldn't find a third attraction open.
The rest of the day was very relaxing as we hung around the campground fishing, canoeing, and exploring. As usual for Stone Mountain, our campsite was far below average, but the location of the campground is awesome. With regards to the campground, make sure you read the overview.
---
Adventure Journal
Entry Date: December 2008 - January 2009

We got-up early and headed for Stone Mountain for three days and two nights of camping and fun. We had 6 one-day passes left over from earlier in the year, and this was our last chance to use them. Daddy was real disappointed in our campsite, and requested an upgrade at the front desk. As usual, the campground host was very friendly and understanding, and upgraded us to one of their best (parking-lot-like) sites. I'll address this sore spot later.

After checking-in, we went to the Crossroads section of the park. As usual, only some of the attractions were open although visitors pay full price. We went to the 4D Polar Express movie and it was pretty cool. We were lucky in that we only had to wait for about 30 minutes to get in. When we left the theater, the line was twice as along as when we went in. Then we rode the train. Once again, we got lucky and pretty much got right on the train. The kids made their own sugar cookies, and that's about it. We really enjoyed the lights when the sun went down, and that was the best part. Once again, we were lucky because our tickets were virtually free, so we didn't feel ripped-off. However, I feel sorry for anyone that paid full price because there were very few attractions open (but most of the gift shops were).



New Years Eve - We had originally planned to go to Snow Mountain's Grand Opening today, but the wind was gusting 20-30 mph, and made the cold a little hard to bear. It was, after all, a bone chilling 53 degrees! We decided to hang around the campground although we did visit the large playground also located in Stone Mountain park. We drove through the covered bridge also. We wrapped-up the day by baking home-made in the oven, and calzone for Mommy and Daddy in their old-fashioned iron sandwich press (or whatever they call it). We watched a movie in Homer the camper then crashed (well before midnight. We wanted to be ready for tomorrow's adventure at Snow Mountain.

New Years Day
The kids (Lainey in particular) really wanted snow for Christmas, and Santa delivered. There were tickets for Snow Mountain in their stockings Christmas Morning. Snow Mountain is a new Winter attraction at Stone Mountain, Georgia. They have converted the memorial Lawn area into a snow tubing, snow play area. It's a little pricey ($25 each, even for kids), but we got a special camping/Snow Mountain package that saved a few bucks. The kids had a lot of fun, although the visit started by standing in line for over half an hour for the 10 second ride down the slope in the tubes. The smart thing to do, by the way, is do the other stuff first (snow ball fights, snow man building, etc.), then hit the tubing slope after the line recedes a little. Towards the end of our visit, the wait was down to just a few minutes. Like so many of Stone Mountain's assets, Snow Mountain is great, but... There's always a but. It's overpriced, and the attraction is never quite as great as the commercial makes it look.


Note: regarding Stone Mountain's campground. It's rough! I mean, it's really rough. The inner roads are deteriorating. he sites are horribly un-level. their best sites (in my opinion) do not have full hook-up. There is no cable (no big deal unless you advertise full hookups as they do). It's the only campground we've ever stayed in that has a police car patrolling constantly (sometimes too fast). Our "premium site" was in the equivalent of a parking lot, and the street lights were so bright you could barely see the stars. Let's face it, some people like to live in subdivisions, and some people don't. This campground is perfect for those that like subdivisions. The view from our site was the tops of about 200 other RVs. Mommy and Daddy agreed that we probably won't come back to camp.
---
Adventure Journal
Entry Date: May 2008

The last time we visited Stone Mountain with Super Dave and his clan, we made reservations for this weekend because it's the first weekend after school's out for summer, and because it was a long weekend for Daddy. This time, in addition to Super Dave, Carly, Diana, and Carson, our camping group also included Parker Jon, Pamba, Calbert, Charlie Brown, Jules, Olivia, and Buster. John, Suzanne, Emily, and Luke also joined us for part of the weekend, but they stayed at the Marriott's Evergreen Resort instead of camping.
Our plan was to leave around 2pm to beat the Memorial Day weekend traffic, but we ended-up leaving at 3:15. A drive that should have been a little over an hour turned into 3 hours. It's ok though, because it rained right up until we got there. Parker Jon and Super Dave were almost set-up by the time we got there. It wasn't long before the kids were riding their bikes and playing along (and in) the water. As the sun set, we visited around the fire and made plans for Saturday.

Saturday morning was beautiful. We started the day with a visit to the pool, along with a lot of other people. The pool at the campground is really nice, but the water is cold. The kids had fun. They also had a small RV show, and we enjoyed fantasizing about winning the lottery and moving into one of the big coaches full time. Rebecca really liked the trailer with four bunk beds in the back. I really liked the 32' Class C with the slides (which we purchased a year later). After drying off and getting dressed, we hopped on the water taxi and headed for the park. We rode the gondola to the top of the mountain, enjoyed the view, and bought some Slushies. After a train ride and some other activities, we headed back to camp for more bike riding, fishing, campfire, and mussel collecting.

Sunday was a PB&J picnic day for us. Some of the group rode the Ducks while our part of the group had a picnic on the large lawn in front of the relief sculpture. This is where thousands of people gather nightly throughout the summer and watch a spectacular laser and firework show. We walked to the plantation, but discovered we had to pay to get in (we had not turned-in our second day's tickets and gotten our arm bands yet). We decided to save our tickets for another visit. Anyway, we headed back to camp for yet more bike riding, fishing, campfire, and part of a movie at dark. With the days getting long, I'm not certain the outdoor movies will ever be watched in their entirety. Around 10pm, we gathered at the dock area to watch the fireworks over the water and discuss how glad we were that we were not on (or leaving) the viewing lawn with 30,000 other people.

Monday morning was pack-up and move-out day. We got out of the campground around 11:30 and headed North. That afternoon we visited Nanny's and Paw Paw's pool, then we went to see the new Indiana Jones movie. Everyone loved it, but Heath slept through the second half Needless to say, everyone was exhausted by the time we got home.
---
Adventure Journal
Entry Date: March 2008

It's Easter at Stone Mountain again! This year, Super Dave and his crew joined us for the long weekend. Traffic was pretty clear Thursday afternoon as we breezed around the Atlanta bypass to the huge granite blob. Thursday night was spent in an interim site until our reserved site was vacated Friday morning. Had I been assigned this site (#411), I might have left. Super Dave's reservation's were made at a later notice, and their site was horrible. Three sides dropped-off with barely enough room for their fifth-wheel. It was not a safe site for kids.

Friday, March 21 - We visited the park, played miniature golf, rode the train, rode the gondola to the top of the mountain, saw (experienced) a 4D movie, and ended the day with steaks and an outdoor movie at our new campsite. Cars was the movie of the evening.

Saturday, march 22 - We visited the park again. We started by riding the ducks, then a walk around the plantation. The late afternoon and early evening was filled with bike and scooter riding and fishing. After dark, the kids watched several episodes of "Land of the Lost" at our private outdoor theater.

Sunday, March 23 - The Easter Bunny apparently broke in to the camper overnight and left four baskets with some Peeps and candy-filled Easter eggs (some with money). Later, we searched for eggs all around our lakeside campsite. After we broke camp, we took a little detour so we could swing by Zoo Atlanta to wish the animals a happy Easter. We ate at one of Daddy's favorite restaurants, Papasito's for an early supper, then headed home.
With regards to Stone Mountain Campground: If you asked me at different times this weekend how I felt about Stone Mountain, the answer might have been incredibly varied. On one hand, we loved our site. On the other hand, we we somewhat knew the campground and carefully selected the site (and made reservations 2-months in advance). The campground is huge, but the inner roads are in disrepair and level sites are almost non existent. The park is cool, but not everything was running, including the water taxi (one of the primary reasons I selected the camp site). From our site, the view was wonderful, from others, it might not be so great.

Note to self: When unpacking from a long camping trip, always check under the dinette seats for dirty laundry bags" and hidden vegetables. They tend to ripen with age.
---
Adventure Journal
Entry Date: March 2007

What an activity filled (and exhausting) weekend for the kids. We headed out for Stone Mountain Park after Rebecca and Lee Thomas got home Friday afternoon. We were lucky with Atlanta Traffic until about Spaghetti Junction (285/85), but it still wasn't too bad. It makes me glad I'm driving a small motor home as opposed to a big one! We got to the campground well before sun down and got set-up, built a fire, had dinner, watched a movie, and turned in.
March 31 - Saturday morning we caught a water taxi then a shuttle to the main part of the park. The twins' high point was meeting Dora and Diego. We went to the 4D theater, got squirted by a talking fountain, helped paint a mural, rode a train around the mountain, ate lunch, did the tree house challenge, visited the plantation (made rag dolls), petted sheep, goats, and pigs, washed our hands, rode the gondola to the top of the mountain, drank about $25 worth of water, then rode the water taxi back to camp. Needless to say, after another campfire and dinner, everyone slept like babies Saturday night!
Other Destinations:
Up
Amicalola Falls State Park
Beaches of South Walton.
Berry College
Big Kahunas
Biltmore House
Blairsville, Georgia
Callaway Gardens
Cataloochee Ski Area
Cave Spring
Cedar Creek Park
Charlestown State Park
Chattahoochee Bend State Park
Chattanooga Zoo
Chehaw Park
Cherry Hill Park
Chester Frost Park
Chieftains Museum
Choccolocco Mountain Off Road Park
Cloudland Canyon
Cloudmont Ski and Golf
Consolidated Gold Mine
Cohutta Wilderness
Cumberland Island
Dauset Trails
Disney's Fort Wilderness Resort
Desoto State Park
Doll Mountain Campground
Dollywood
Dunnaway Gap
Enota Mountain Retreat
Etowah Indian Mounds
Fall Creek Falls State Park
Florala State Park
Franklin D Roosevelt State Park
Fort Mountain State Park
Georgia Mountain Fairground
Georgia Veterans State Park
Gold n Gem Grubbin'
Helen Georgia
Hillcrest Orchards
James H Floyd State park
James Island Park
Jellystone Park- Cave City, KY
John Tanner Park
Lake Allatoona
Lake Sidney Lanier
Lake Winnepesaukah
Little River Canyon Center
Live Oak Landing
Lula Lake Land Trust
Mammoth Cave National Park
McIntosh Reserve
McKinney Campground
Moto Mountain Powersports
New Echota - Cherokee Capitol
Noccalula Falls Park details and pictures
Old Stone Fort Archaeology State Park
Pine Moutain RV
Red Top Mountain State Park
Ridge Ferry Park
Rocky Mountain Recreation Area
Rock Town - Pigeon Mountain
Rome GA
Salt Springs Recreation Area
Silver Springs
Stone Mountain Park
Tanglewood Farm
Tannehill State Park
Tellus Science Museum
The Southern Museum
Topsail Hill Preserve
Townsend KOA
Townsend Tennessee
Twinbrook Resort
Up The Creek RV Camp - Park Details - Pictures
US Space and Rocket Center - Details and Pictures
Vogel State Park
Wild Animal Safari
World of Coke
Zoo Atlanta - Details and Pictures
Watch for coming events...

Features
Rating (1-10)
Description
Official website
7
Stone Mountain's website is very professional looking, but fails to accurately depict the campground or the available (at the moment) attractions. For instance, many attractions and amenities are listed, but they're not necessarily open when you visit. There is a calendar that is supposed to define the schedule, but it's difficult to decipher, and inaccurate.
NOTE: There is no longer a car museum at Stone Mountain.
Campground - Reserve

5

431 campsites - 202 with full hook-ups (water/electric/sewer) for RV's; 191 partial hook-ups (water/electric) for tents, pop-ups and RV's; plus 56 primitive tent sites.
The campground? Oh, where do I start? The location is absolutely awesome, but the campground is, for the most part, in very bad shape. The roads are disintegrating, the sites are small (some shouldn't even be sites), and despite advertising "full hookup," they have no cable. This is the only campground I have ever assigned a 5 that I would revisit. Yes, it's bad, but its location is a redeeming factor. Just be aware that you should always select the "premium" sites, because anything less is just plain bad.
Hotel/Lodge - Reserve

*

Evergreen Marriott Conference Resort
Marriott Stone Mountain Inn
Playground

9

There are a couple of playgrounds at Stone Mountain, and they're great.
Hiking
9
You can hike up the mountain, and there are various other great trails around the park.
Pool
9
A very nice pool is located in the campground
Geocaching

*

Geocaching is available, but we didn't have a chance.
Rockhounding

7

There is an overwhelming amount of granite at Stone Mountain. This is, after all, a BIG chunk of granite. We haven't found much else there.
Local Attractions

9

Atlanta, Mt Arabia, World of Coke, Centennial Park, Yellow River Game Ranch, and more...
*Note: We rate only the amenities we have personally reviewed.

No financial consideration or favor has been received for listing in PB&J Adventures' website. We are in no way affiliated with this facility or any other facility we review. Any paid advertising seen on this site was arranged after the destination was reviewed. You can trust the reviews to be unbiased.
---
January 2015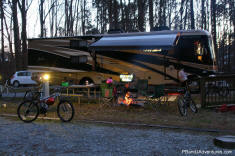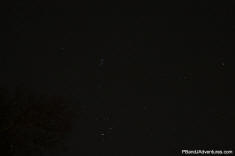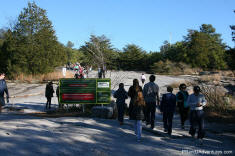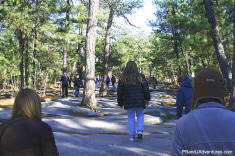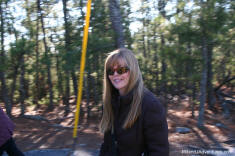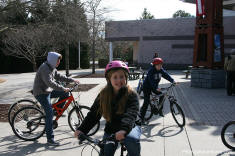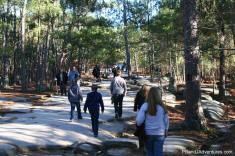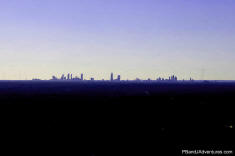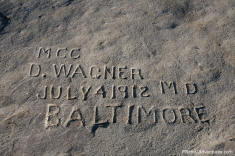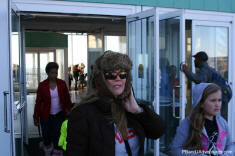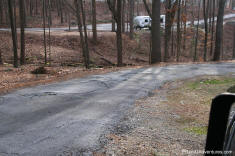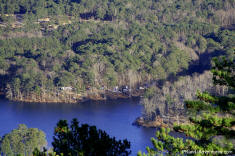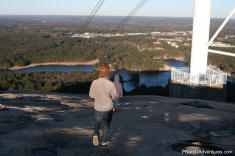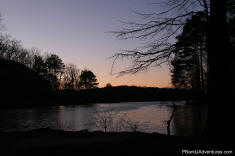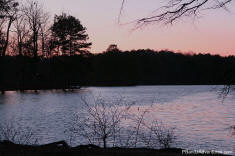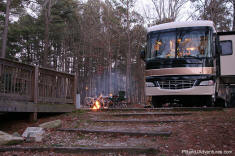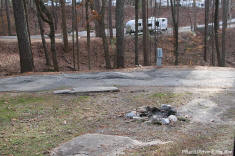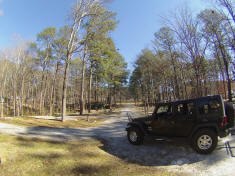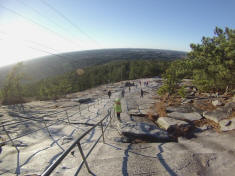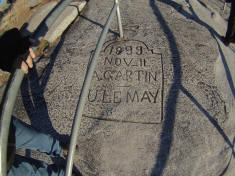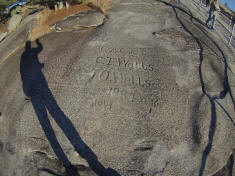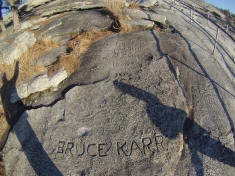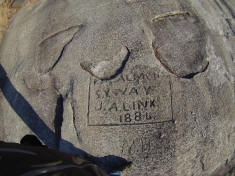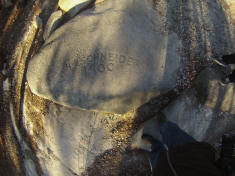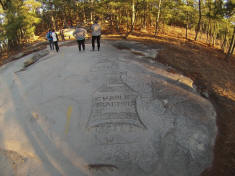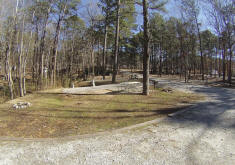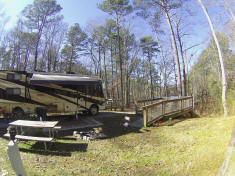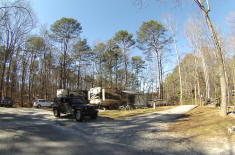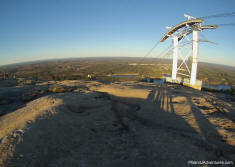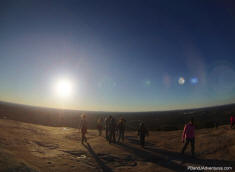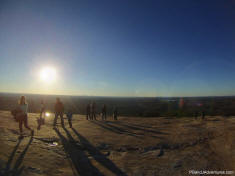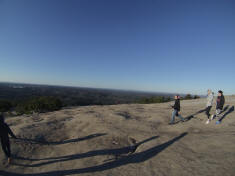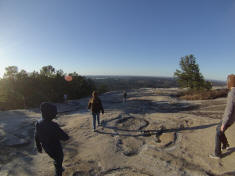 ---
---
January 2009