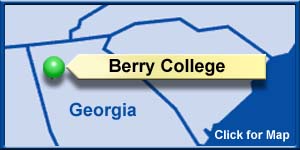 Overview
Berry College is located in Rome, Georgia. To call this a small college is an oxymoron. Berry has the world's largest college campus (contiguous) at over 26,000 acres. The campus was actually larger at one time, but some of the property has been sold or granted since its founding in 1902. One such piece of property became part of the Rocky Mountain Recreation Area, one of the Tribe's favorite places to camp. This is a really unusual place you should look at with Google Earth.
There is a lot of history to this college, from Martha Berry's work with poor share cropper's children to establishing one of the most respected private colleges in the US (America's top colleges, US News and World Report), Henry Ford took an interest in Berry College, and ended-up contributing the trademark "Ford buildings", castle-like structures housing dormitories, theater, gym, library, and classrooms.
There are many things to see at on this beautiful campus, but the most awe inspiring site comes in the hour or two prior to sunset. Hundreds of dear appear in one huge herd, grazing in the massive fields (we counted over 200 one evening).
Bike riding is awesome at Berry with a dedicated bike path leading from the front campus to the mountain campus on the west end of the property. If you don't mind the dust and gravel, you can ride or walk back to the huge wooden water wheel (considered one of the largest in the world at 42 feet in diameter). Come prepared for some exercise, relaxation, and some awesome scenery.
---
Adventure Journal
Entry Date: June, 2013
Our oldest son has been attending Band Camp at Berry College this week, and we have been taking advantage. Rebecca and I both attended Berry College many years ago, and it seems like they have way more deer now than before. We are seeing lots of babies and young bucks. Berry College is a bike rider's/nature lover's paradise. There is also some amazing architecture. We'll be updating this page soon.
---
Adventure Journal
Entry Date: June, 2007
This past week I made some modifications to our golf cart trailer so we could also carry bicycles. I had them all loaded up, so we decided to give it a test run. Lee Thomas had been begging to go rockhounding for agate in Summerville, so we made it a combination PB&J Adventure, rockhounding and biking. Although it was very hot, everyone had fun While at Berry College, we saw a couple of very young fawns. If you have never seen the deer at Berry College, I'd recommend visiting one evening (an hour or so before sunset). If you drive to the back of the main campus, you will see a lot of deer. I have counted over 200 in one field alone.

The Richardson Tribe
Other Destinations:
Up
Amicalola Falls State Park
Beaches of South Walton.
Berry College
Big Kahunas
Biltmore House
Blairsville, Georgia
Callaway Gardens
Cataloochee Ski Area
Cave Spring
Cedar Creek Park
Charlestown State Park
Chattahoochee Bend State Park
Chattanooga Zoo
Chehaw Park
Cherry Hill Park
Chester Frost Park
Chieftains Museum
Choccolocco Mountain Off Road Park
Cloudland Canyon
Cloudmont Ski and Golf
Consolidated Gold Mine
Cohutta Wilderness
Cumberland Island
Dauset Trails
Disney's Fort Wilderness Resort
Desoto State Park
Doll Mountain Campground
Dollywood
Dunnaway Gap
Enota Mountain Retreat
Etowah Indian Mounds
Fall Creek Falls State Park
Florala State Park
Franklin D Roosevelt State Park
Fort Mountain State Park
Georgia Mountain Fairground
Georgia Veterans State Park
Gold n Gem Grubbin'
Helen Georgia
Hillcrest Orchards
James H Floyd State park
James Island Park
Jellystone Park- Cave City, KY
John Tanner Park
Lake Allatoona
Lake Sidney Lanier
Lake Winnepesaukah
Little River Canyon Center
Live Oak Landing
Lula Lake Land Trust
Mammoth Cave National Park
McIntosh Reserve
McKinney Campground
Moto Mountain Powersports
New Echota - Cherokee Capitol
Noccalula Falls Park details and pictures
Old Stone Fort Archaeology State Park
Pine Moutain RV
Red Top Mountain State Park
Ridge Ferry Park
Rocky Mountain Recreation Area
Rock Town - Pigeon Mountain
Rome GA
Salt Springs Recreation Area
Silver Springs
Stone Mountain Park
Tanglewood Farm
Tannehill State Park
Tellus Science Museum
The Southern Museum
Topsail Hill Preserve
Townsend KOA
Townsend Tennessee
Twinbrook Resort
Up The Creek RV Camp - Park Details - Pictures
US Space and Rocket Center - Details and Pictures
Vogel State Park
Wild Animal Safari
World of Coke
Zoo Atlanta - Details and Pictures
Features

Rating (1-10)

Description

Official website
9
Berry's website is all about academics. It's hard to find good pictures of the campus on the site. I wish they'd add a gallery.
Facility

10

The 26,000 acre campus is beautifully landscaped with ancient pine trees, large rolling fields, and dense forests. The buildings are attractive, and it's a pretty darn good college to boot.

Biking and hiking

10

All the paved roads on the campus are suitable for biking, but there is also a dedicated bike path that runs from the front campus to the mountain campus. With 26,000 acres. there is plenty of hiking. Contact the college and ask for permission.
Local Attractions

10

Rome, Heritage Park Trail, Ridge Ferry Park, Rome Braves Stadium, Chieftains Museum, James H Floyd State Park, Chiaha (annual event), Rocky Mountain Recreation Area, and more.

*Note: We rate only the amenities we have personally reviewed.

No financial consideration or favor has been received for listing in PB&J Adventures' website. We are in no way affiliated with this facility or any other facility we review. Any paid advertising seen on this site was arranged after the destination was reviewed. You can trust the reviews to be unbiased.
---
July 2013



The Ford Buildings alone justify the visit

2007


Here we are rockhounding in nearby Summerville, Georgia