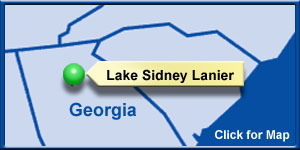 Overview
Lake Sidney Lanier is a large 38,000 acre Army Corps of Engineers lake located less than an hour northeast of Atlanta. The lake is fed by the Chattahoochee and Chestatee rivers, and the water is cool and clear. Unfortunately, the water level is low, and has been for some time. Water seems to be quite a valuable in-demand commodity in the areas downstream. The communities southwest of Lake Lanier are among the fastest growing in the nation. Hopefully the rainfall will increase soon, and the lake will once again be at full pool.

The water levels have adversely affected local businesses because boating and camping on the lake are way down. It's unfortunate, because even with the level low, the lake is still plenty large and quite beautiful. The biggest problems we experienced were the beaches and boat ramps.
The dry land around Lake Lanier is also quite beautiful and wooded. There are numerous campgrounds nestled in the trees along the shoreline. We can recommend Shoal Creek campground, but are not familiar with any others.

With regards to attractions, Lanier Islands Resort hosts Lanier World, an amusement park of sorts with a water theme. They have a massive beach, several water slides, wild water tubing, a wave pool, food and drink, and more. If you camp at Shoal Creek, the $15 per car admission to Lanier Islands Resort is waived, but there is still a fee for the water park. There are also discounts for those tickets if you are staying on the property (Shoal Creek included).
---
Adventure Journal
Entry Date: September 2012
We were so excited to visit Lake Lanier. We'd heard about Lanier World, and it looked like the kind of place we could have some serious fun. We arrived at the lake on a Friday afternoon with just enough time to set-up the camper and take a walk around the campground. We chose Shoal Creek Campground for this visit because of its proximity to Lanier World. We expected the campground to be pretty full. It was, after all, Labor Day weekend. Surprisingly, the campground was sparsely populated. In fact, our site hadn't been camped in for almost a month. Why? I guess it might have something to do with the lake's water level. We visited the campground's beach and boat ramp, both left high and dry by the receding waterline.
Saturday morning came with a few sprinkles, just enough to give us an excuse to sleep in a bit. Fortunately it soon cleared off and we emerged from our home away from home, ready for adventure. One of our first priorities was to investigate Lanier World. We decided to take the short drive over to the park to find out what the admission would be, and if there were any special package prices for Lanier Island Resort guests. We learned there is a discount admission, and Shoal Creek campground is a part of the resort. Additionally, as a guest, the $15 per car fee to enter the resort is also waived. That benefit alone reduces the actual cost of staying at the campground considerably. We were favorably impressed with the resort's beautiful landscaping and maintenance. Very nice!
Our next objective was to get the boat in the water and explore the lake a bit. As I mentioned before, the Shoal Creek Campground boat ramp was closed, but another ramp was located just outside the campground's entrance. It was sufficient to put in, but the end of the dock was several feet from the edge of the water. This made for some muddy feet when loading the boat. The water seemed very clean, and traffic on the lake wasn't terribly bad. Some of the boats that were on the lake seemed to be rather erratic, so we tried to maintain our distance from most. We explored the coastline for a while before heading to Sunset Cove, the location of Lanier World. We thought we might be able to grab a spot at the dock, or maybe even park the boat right off the beach. When we pulled into the cove, it was very crowded. There were numerous large boats densely anchored with dozens of people on the boats and on floats drinking. There was a lot of partying going on, and it made us wonder if anyone was policing the activity. It seemed to be a very dangerous situation, and the rangers didn't appear concerned. We left immediately, opting for the land route to the water park.

When we finally made it to the park that evening, many of the boats in the cove had dispersed. We paid our admission, and proceeded to each of Lanier World's attractions. The first stop was a large inflatable obstacle course in the lagoon. From there, we visited each of the attractions (some were not open). The kids especially enjoyed the water slides and the wild river tube ride. As the sun set, we settled in at the wave pool to watch Jurassic Park. They call this a "dive-in movie," and it was really cool. The kids spent the entire movie watching from the pool. It was after 11pm by the time we headed back to the campground that night. What an awesome time we all had.
Sunday was spent at the campground exploring and looking for rocks. When the water level is this low, it makes for good rockhounding. Lake Lanier is fed by the Chattahoochee river which flows from the gold-rich mountains around Dahlonega. That means lots of quartz of varying clarity and color. We found some pretty nice rocks, but we didn't pan for gold here because the Army Corps of Engineers frowns on such activity. We did have a fire-building contest though, and the kids collected dozens of shed cicada exoskeletons. Pretty much a typical day camping with the Richardson Tribe.
In summary, we had a good time at Lake Lanier and want to go back sometime in the future. We were disappointed in the water levels, and somewhat disappointed in the condition of the campground, but we'd still recommend both. Our biggest concern was the blatant partying that was happening on the water.
Other Destinations:
Up
Amicalola Falls State Park
Beaches of South Walton.
Berry College
Big Kahunas
Biltmore House
Blairsville, Georgia
Callaway Gardens
Cataloochee Ski Area
Cave Spring
Cedar Creek Park
Charlestown State Park
Chattahoochee Bend State Park
Chattanooga Zoo
Chehaw Park
Cherry Hill Park
Chester Frost Park
Chieftains Museum
Choccolocco Mountain Off Road Park
Cloudland Canyon
Cloudmont Ski and Golf
Consolidated Gold Mine
Cohutta Wilderness
Cumberland Island
Dauset Trails
Disney's Fort Wilderness Resort
Desoto State Park
Doll Mountain Campground
Dollywood
Dunnaway Gap
Enota Mountain Retreat
Etowah Indian Mounds
Fall Creek Falls State Park
Florala State Park
Franklin D Roosevelt State Park
Fort Mountain State Park
Georgia Mountain Fairground
Georgia Veterans State Park
Gold n Gem Grubbin'
Helen Georgia
Hillcrest Orchards
James H Floyd State park
James Island Park
Jellystone Park- Cave City, KY
John Tanner Park
Lake Allatoona
Lake Sidney Lanier
Lake Winnepesaukah
Little River Canyon Center
Live Oak Landing
Lula Lake Land Trust
Mammoth Cave National Park
McIntosh Reserve
McKinney Campground
Moto Mountain Powersports
New Echota - Cherokee Capitol
Noccalula Falls Park details and pictures
Old Stone Fort Archaeology State Park
Pine Moutain RV
Red Top Mountain State Park
Ridge Ferry Park
Rocky Mountain Recreation Area
Rock Town - Pigeon Mountain
Rome GA
Salt Springs Recreation Area
Silver Springs
Stone Mountain Park
Tanglewood Farm
Tannehill State Park
Tellus Science Museum
The Southern Museum
Topsail Hill Preserve
Townsend KOA
Townsend Tennessee
Twinbrook Resort
Up The Creek RV Camp - Park Details - Pictures
US Space and Rocket Center - Details and Pictures
Vogel State Park
Wild Animal Safari
World of Coke
Zoo Atlanta - Details and Pictures
Features

Rating (1-10)

Description

Official website
8
The Army Corps of Engineers is responsible for construction and maintenance of Lake Sidney Lanier (better know as just Lake Lanier). The ACOE has a decent website.
Places to camp at Lake Sidney Lanier

8

We have camped only at Shoal Creek campground (reservations) near Lanier Islands resort. It was once an Army Corps of Engineers campground, but it is now operated by the resort. The campground is located on a beautiful peninsula, and the sites are relatively level and spacious. Many are in need of some maintenance, but it's still a very nice campground. Because the water level was over 8' below normal pool, the campground's boat ramp and beach were both unusable at the time of our visit, but another boat ramp is just outside the campground.
Geocaching

*

Geocaching is available, but we haven't had a chance.
Boating

8

It's an awesome lake for boating. It's even large enough for sailboats. Normally a 10! However, until the level is raised, I'll give it an 8.
Fishing

*

I'm sure fishing is good in Lake Lanier, but we didn't drop a line in the water on our visit. Next time...
Rockhounding

8

Lake Lanier is fed by the Chattahoochee River which flows down from the gold-rich Dahlonega area. I'm sure panning the tributaries would produce some gold, but don't pan the lake. The Corps of Engineers is funny about that. Searching along the shoreline, we found a lot of quartz of varying color and clarity, many of which I will be polishing (look for an update).
Beaches on Lake Lanier

8

There several beaches on Lake Sidney Lanier, but the water isn't reaching many. The beach at Shoal Creek campground was completely dry past the swim limit buoys
Local Attractions

9

Lanier Islands Resort/Lanier World.
*Note: We rate only the amenities we have personally reviewed.

No financial consideration or favor has been received for listing in PB&J Adventures' website. We are in no way affiliated with this facility or any other facility we review. Any paid advertising seen on this site was arranged after the destination was reviewed. You can trust the reviews to be unbiased.
---
September 2012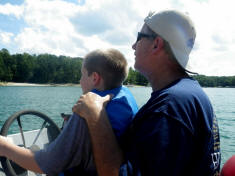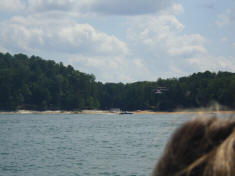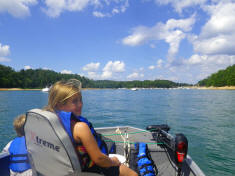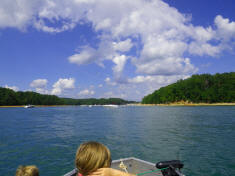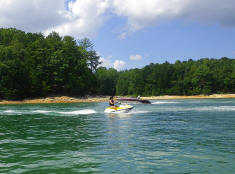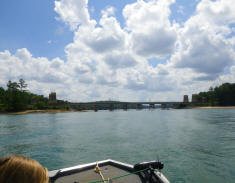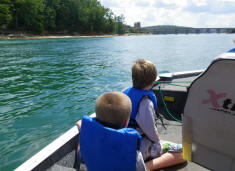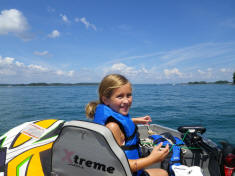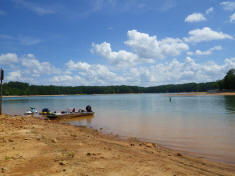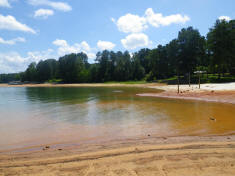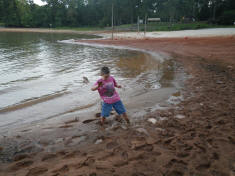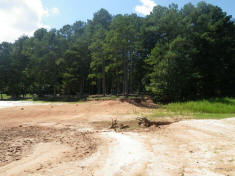 The Campground (Shoal Creek Campground)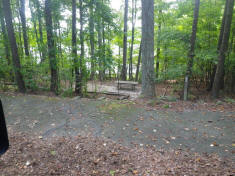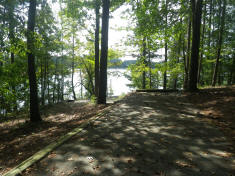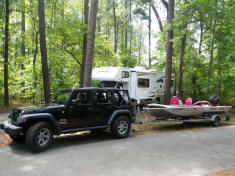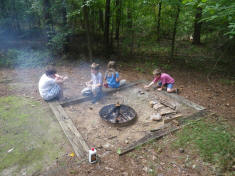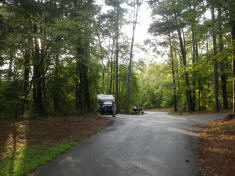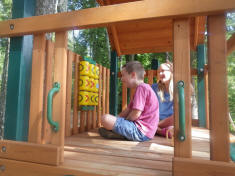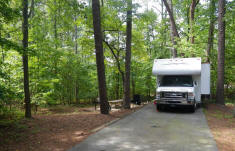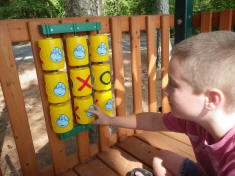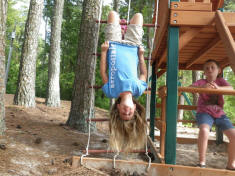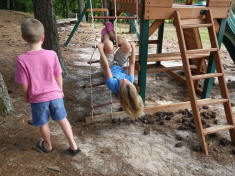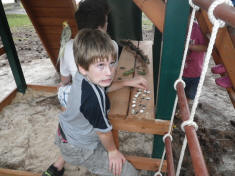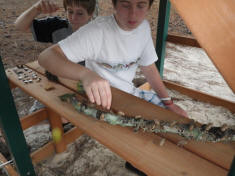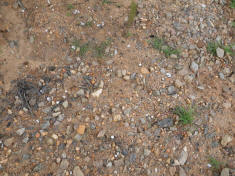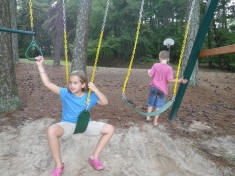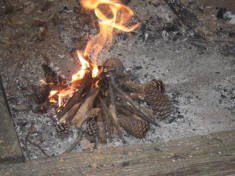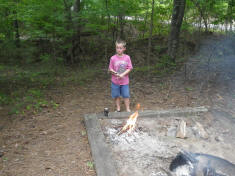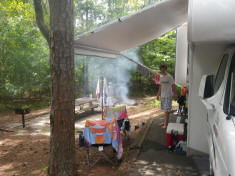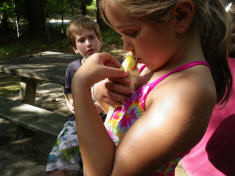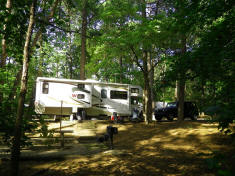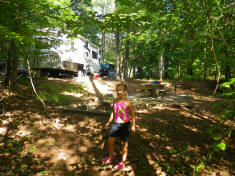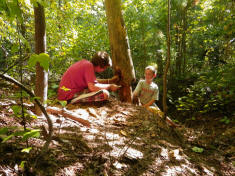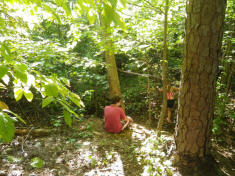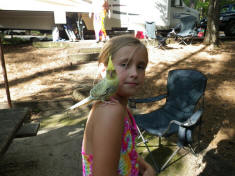 Lanier World Water Park/ Lanier Islands Resort