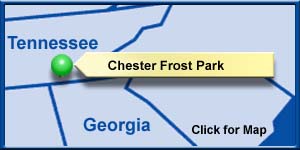 Overview
Chester Frost is a beautiful park located near Chattanooga on Lake Chickamauga and the Tennessee River. The greater portion of the park cradles Dallas Bay, a great little fishing hole with direct deep water access to the Tennessee River. Chester Frost Park features picnic shelters, an enormous beach, awesome playgrounds, incredible fishing, beautiful campgrounds, boat ramps (with adequate parking for boats and trailers), and unbeatable sunsets.
Sunsets. That's a subject in itself. I have to apologize in advance for the seemingly disproportionate number sunset photos on Chester Frost Park's PB&J page. Regardless where the day takes us, it's usually concluded with the sunset from Dallas Island. Every evening is like a brand new light show.
Chester Frost Park is very near Chattanooga and its many attractions. Chattanooga lies at the base of Lookout Mountain on the mighty Tennessee River. Lookout Mountain features numerous tourist attractions that are just cool enough to be "must sees". The Incline Railway, Ruby Falls, and Rock City are classic and historic tourist attractions, all located on the mountain. For a bit more natural experience, down the ridge is the Lula Lake Land Trust, and at the Chattanooga Nature Center is just up the ridge on Lookout Creek.
The city of Chattanooga also has many features that should be seen. The Chattanooga Choo Choo, of course, is a historical old train station with a hotel, restaurant, and sleeper cars. Just down the road is Ross's Landing, name for Cherokee Chief John Ross. Ross's landing hosts many events, and most are free. The Tennessee Aquarium is located at Ross' landing as are River boat and "Duck" rides. Museums, restaurants, theaters, parks, the river, a great zoo, outdoor concerts, and an awesome bike path also make this part of Chattanooga very nice.
Also near Chattanooga is one of our favorite old amusement parks, Lake Winnepesaukah, AKA "Lake Winnie." This old park, founded in 1926, has a rich history. For people in the Tennessee Valley region, this is the place you take your kids. It's the place your parents took you. It's the place your grand parents took your parents. The park does not rely on tradition to bring people back though. They have managed to keep the fun atmosphere while honoring the tradition of their past.
So, why all this about Chattanooga on the Chester Frost page? Well, if you want to visit Chattanooga, and you want to stay in an RV, Chester Frost is the place. Before you book anywhere else, PLEASE send a message on the Feedback page. I'll tell you where NOT to stay in Chattanooga.
---
Adventure Journal
Entry Date: October 2013
Fall Break found us back at Chester Frost Park near Chattanooga, Tennessee. This was our first real outing with Homer III, our new (to us) Fleetwood Fiesta motorhome. We loved the cavernous living space the Class A provides! Our last camper had lots of sleeping space, but sorely lacked seating.

Unfortunately, I had to work much of the week of Fall Break, so Rebecca and the kids were "daddy free" during the days. Each day I drove the 1.5 hour commute to and from work so I could spend the evenings with the family. It was kind of exhausting, but well worth it. They did lots of the things it's often hard to get me to do. They went to see a movie (Gravity), went skating, went shopping, went out to eat, and generally enjoyed a few days of fun. I feel like the family is pretty safe at Chester Frost while I'm away. There's really only one way in and out, and the Hamilton County rangers patrol regularly.

Chester Frost Park's proximity to Chattanooga makes it a perfect home base for exploring the area and having fun. Known as the Scenic City, Chattanooga has virtually everything to offer. A family could spend weeks here and never experience everything the city has to offer.

I took off work around noon on Friday, and spent the rest of the weekend at the park fishing, hiking, and relaxing by the fire with the Tribe. On Saturday morning we made a good old fashioned breakfast with biscuits, eggs, and bacon prepared on a Dutch Oven lid on charcoal. It was a lot of fun and the campground smelled delicious!

As usual, Chester Frost Park delivered remarkably well at the end of each day. I dare you to find any place that has more beautiful sunsets.
---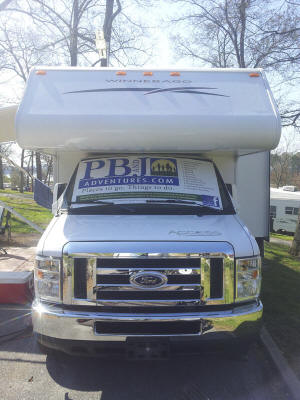 Homer II will be missed. Many memories...
Adventure Journal
Entry Date: April 2013
We'd spent the first few days of our 2013 Spring Break at Desoto State Park near Fort Payne, Alabama. We love Desoto, but have an equal passion for Chester Frost Park in Hixson, Tennessee (Near Chattanooga). So, we packed everything up and headed north.

Chester Frost is located on Lake Chickamauga along the banks of the Tennessee River, and Unfortunately, despite record rainfall over the last few months, the lake level was low. That didn't dampen our spirits, we just had to cast a little farther than usual. The biggest negative is that when the levels are this low, Dallas Bay (the body of water surrounding the island we like to camp on) is dangerously plagued by obstacles, mostly stumps. That little factor limits boating activities.

there is a positive aspect to lake levels being low, and that's the fact that rockhounding is at its best. On this particular stay, we hiked to the back side of the island/peninsula and walked along the shoreline. We found an incredible collection of shells, fossils, agates, quartz, chert, and a geode or two. The rocky shoreline was secluded and looked like a great place for a picnic.

During our stay, the kids enjoyed riding their bikes, frequenting the playground, and various other outdoor activities. We played Frisbee quite a lot. As always, fishing was popular, but yielded few results.

One of the things the kids love most about Chester Frost is its proximity to Chattanooga. That means things like bowling, movie theaters, a zoo, Ruby Falls, Rock City, the Chattanooga Choo Choo, the Tennessee Aquarium, and dozens of great eating establishments are nearby. On this particular trip, the children discovered sushi. Not the hard-core stuff, but mostly of the veggie variety. They liked it!
Unfortunately, all good things must end, but we'd been out for a good many nights, and I think we were all looking forward to sleeping at home for a change. We headed back to civilization, chores, work, and school.

By the way, you may notice once again that many of my Chester Frost photographs are of sunsets. For that I apologize. All I can say is you will be hard pressed to find a prettier sunset anywhere in the world. It's a very peaceful feeling seeing one of these sunsets in person.
The Richardson Tribe
---
Adventure Journal
Entry Date: April 2011
Well, the plans for Spring Break were grand. We would stay at one of our favorite parks, and do as many of the things we could do in Chattanooga in a week. What happened? Well, besides 60 mph winds and torrential rains, we just didn't want to leave the park. We had the boat, canoes, bikes, fishing poles, and four very entertained kids.
We did leave the park for a few things. Rebecca took the kids to play Sir Goony Golf one day. On another day, we visited Lake Winnie, and it was a blast! As the kids get older, the park gets better.
For the most part, we fished, played on the beach and playground, fished, rode in the boat, fished, enjoyed the campfire, fished, met lots of new friends that like to fish, and did I mention, we fished.
As usual, the sunsets were phenomenal. We got here on Wednesday before Spring Break so we could get a good lakeside site. We ended-up with site #184 which is a large lakeside back-in. In the Tribe's opinion, it is the best site in the park.
I have to mention one of our favorite places to eat while camping at Chester Frost Park. I have to mention it, because we ate there three times this week. Lupi's makes an exceptional hand-tossed pizza pie. Did I mention it was exceptional? I mean, really GOOD!
The Richardson Tribe
---
Adventure Journal
Entry Date: July 2009
It was Summer Break, so we decided to park the camper at Chester Frost for an entire week. It is close enough to home so I could drive back and forth to work while the wife and kids stayed and had fun. Our initial campsite was horrible, but we saw someone pulling-out of a lakeside site on our first evening, so I got my name on a list. We acquired the site on the morning of the second day, and were much happier. I did have to visit the Home Depot to buy some lumber for leveling. Like most lakeside sites, there was a significant drop-off from the front to rear.
Over the course of the week, we fished, swam, and generally had a wonderful time. If we had a boat, we would have enjoyed it that much more.

Be warned, you CANNOT RESERVE sites, so there is no guarantee you will have a place to park your camper. Don't worry though, because Harrison Bay State Park is just across the river, and they have lots of sites.

The Richardson Tribe