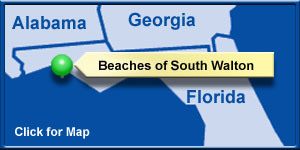 Overview
Disclaimer - Let me make it clear, I am likely risking the scorn of fellow southerners for sharing this information with such indiscretion. Many of our friends from the northern states are not privy to the region we affectionately call the "Redneck Riviera," a place where you can still enjoy a peaceful beach sunset with no one but loved ones by your side. A place that knows no crowds. A place with emerald green waters, fine snow-white sands, and daily magical sunsets. Regretfully, I feel obliged to introduce this tropical paradise to all our friends, regardless their latitude relative to the Mason Dixon line. So, my southern brothers, please forgive me. I mean well.
Walton County spans the Florida panhandle from the Alabama line to the emerald waters of the Gulf of Mexico. From Lake Jackson to the sugar white beaches, you'll see no high rise condos in Walton County. There is an ordinance that restricts such construction. The beaches and communities of Walton County are stark contrast to the hustle and bustle of nearby Panama City Beach and Destin. But don't expect shacks. This portion of the Panhandle is very much up-scale, in a Panhandle sort of way.
Most visitors of Walton County stay in rental units and beach houses. The beaches are pristine and remarkably NOT crowded. Renting a beach house for a week isn't cheap, but a much better value for a large amily than a hotel. Having a kitchen will save a fortune alone. The popular beaches long Scenic route 30A are Rosemary Beach, Seagrove, Seaside (The Truman Show), Grayton Beach, Blue Mountain, Santa Rosa, and Dune Allen. The beach/golf resort town of San Destin defines the western-most part of Walton County.
An affordable alternative to hotels and beach houses is camping. On the West end of scenic route 30A is Topsail Hill Preserve, a beautiful state park with miles of unspoiled beach and giant blinding-white sand dunes. Camping at Topsail Hill is very affordable. It is, after all, a state park. One big bonus of this state park? FULL HOOKUPS!
If you want to experience a different side of Florida. One that's more exotic than the stereotypical "beach scene" you may want to travel north to the opposite side of Choctawhatchee Bay. Live Oak Landing a very nice RV resort perched on the banks of Black Creek near Freeport. Fishing, kayaking, boating, and an awesome clubhouse are all right there. And, if the beach, restaurants, water parks, and shopping are on your agenda, you're within about a 20 minute from each.
I have to mention Lake Jackson in the northern most portion of Walton County. Lake Jackson is located on the Florida/Alabama state line near Paxton. On the north side of Lake Jackson, in Florala Alabama, is a beautiful state park called Florala State Park. I hope it's there for a long time because it's well worth a visit. Unfortunately, the economy and politics are threatening its closure.
In summary, Walton County is a unique Florida experience. If your only knowledge of Florida is the Atlantic coast, this is a stark contrast. Even if you know the resort areas of Destin and Panama City, Walton County is different.
---
Adventure Journal
Entry Date: June 2011
Rebecca and I have been coming to this same beach in Seagrove every year since 1988. We have seen it change over the years. Several hurricanes have taken some of the old homes up and down the beach, but newer and nicer ones have replaced them. Our favorite old beach house has survived the many years of harsh Florida weather, and lots of kids growing up.
On this particular trip, we decided to explore a couple of Alabama state parks on the way to the beach. We first spent a couple of nights at Tannehill State Park near Birmingham, then traveled South to Florala State Park on the Florida/Alabama state line. After a week at the beach house, we would camp at Live Oak Landing in Freeport for a couple more nights.
Over the years, the kids have become comfortable with the beach. We spend a fortune on sun block, and stay out a lot. This year was exceptionally hot, so we tended to spend more of the evening time on the beach. Amazingly, the best time on the beach is from 5pm to past sundown. The evenings are cooler, the sunsets are phenomenal, and there is virtually no one on the beach.
On this trip we celebrated the twins' birthday at Margaritaville at Pier Park in Panama City. All the kids and I had Cheeseburgers in Paradise. Great burgers! We also had our traditional crab legs at Bayou Bills crab house. Great as usual!
As a part of the twins' birthday, we spent a day at Big Kahunas water park in Destin. It was pretty expensive, but worth every penny. We had an absolute blast!
When visiting the beaches of South Walton, we also like to ride bikes on the paved bike path (Timpoochee Trail) that runs the entire length of Scenic Route 30A's 26 miles. We don't ride that far, but it's possible. On this trip, we rode from the beach house to Rosemary Beach where we enjoy donuts and salsa (not at the same time). More on that later.

The Richardson Tribe
Other Destinations:
Up
Amicalola Falls State Park
Beaches of South Walton.
Berry College
Big Kahunas
Biltmore House
Blairsville, Georgia
Callaway Gardens
Cataloochee Ski Area
Cave Spring
Cedar Creek Park
Charlestown State Park
Chattahoochee Bend State Park
Chattanooga Zoo
Chehaw Park
Cherry Hill Park
Chester Frost Park
Chieftains Museum
Choccolocco Mountain Off Road Park
Cloudland Canyon
Cloudmont Ski and Golf
Consolidated Gold Mine
Cohutta Wilderness
Cumberland Island
Dauset Trails
Disney's Fort Wilderness Resort
Desoto State Park
Doll Mountain Campground
Dollywood
Dunnaway Gap
Enota Mountain Retreat
Etowah Indian Mounds
Fall Creek Falls State Park
Florala State Park
Franklin D Roosevelt State Park
Fort Mountain State Park
Georgia Mountain Fairground
Georgia Veterans State Park
Gold n Gem Grubbin'
Helen Georgia
Hillcrest Orchards
James H Floyd State park
James Island Park
Jellystone Park- Cave City, KY
John Tanner Park
Lake Allatoona
Lake Sidney Lanier
Lake Winnepesaukah
Little River Canyon Center
Live Oak Landing
Lula Lake Land Trust
Mammoth Cave National Park
McIntosh Reserve
McKinney Campground
Moto Mountain Powersports
New Echota - Cherokee Capitol
Noccalula Falls Park details and pictures
Old Stone Fort Archaeology State Park
Pine Moutain RV
Red Top Mountain State Park
Ridge Ferry Park
Rocky Mountain Recreation Area
Rock Town - Pigeon Mountain
Rome GA
Salt Springs Recreation Area
Silver Springs
Stone Mountain Park
Tanglewood Farm
Tannehill State Park
Tellus Science Museum
The Southern Museum
Topsail Hill Preserve
Townsend KOA
Townsend Tennessee
Twinbrook Resort
Up The Creek RV Camp - Park Details - Pictures
US Space and Rocket Center - Details and Pictures
Vogel State Park
Wild Animal Safari
World of Coke
Zoo Atlanta - Details and Pictures