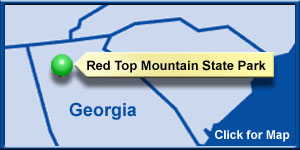 Overview
Red Top Mountain State Park is located on Lake Allatoona a little over a half hour Northwest of Atlanta near Acworth and Cartersville. There is a beach (sub par) and playgrounds. The campground is nice but has limited water access. Activities and events at the park make it an exceptional value. The Tribe has attended several events there, and we highly recommend all of them.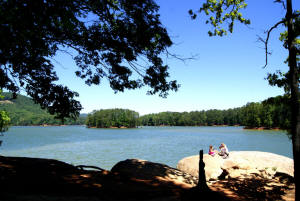 A rocky outcrop, located near the Beach at Red Top Mountain, provides a great place to relax.
---
Adventure Journal
Entry Date: September 2010
We really enjoy the events and programs they host at Red Top Mountain State Park. They are always educational and fun for the kids. This visit was for the "Harvest at the Homestead" event.
We have stayed at nearby McKinney Campground the last few times we visited Red Top Mountain. Not because we don't like red Top's campground, it's just that we prefer McKinney campground which is accessible by boat. This trip was no exception. we had a prime campsite right on the lake.
We arrived at the dock at Red Top after Lunch on Saturday. At first glance, it didn't look like much was happening, but looks were deceiving. We visited the displays of Civil war era tents, weapons, and musical instruments. Then we made our way over to the craft tent where a candle making activity was set-up for the kids (and grown-ups too). The kids made some very interesting candles and played with the old-fashion toys, games, and puzzles (none of which said made in China).
Just up the hill at the log cabin was an acoustic band playing old-fashioned music on old-fashioned instruments. It was very enjoyable. A couple of ladies were demonstrating how to make yarn by spinning, and another was making jewelry. The Blacksmith had the furnace fired-up and was pounding-out some implements. Volunteers and staff were dressed appropriately for the era which made it all that much more fun and believable.
Apparently the visit left a good impression on everyone because we went back on Sunday to make more candles (and buy some vintage earrings). Red top Mountain is a really great place, mostly because of events like this and the Iron Pour.

The Richardson Tribe

To see more pictures and read about additional visits to Red Top Mountain State Park, scroll down.

---
Adventure Journal
Entry Date: May 2010
We have driven through Red Top Mountain State Park a couple of times just to check it out. There are many things that are appealing about the park. It's on Lake Allatoona, which means fishing and water sports. It is easily accessible, just a few minutes off Interstate 75 about 30 minutes North of Atlanta. It's convenient to a good number of restaurants, an exceptional movie theater, and two wonderful museums, the Tellus Science Museum, and the Booth Western Art Museum.

The attraction for making this the weekend to camp at Red Top? Archaeology Day. Saturday was filled with great activities. We started at 10am with a park archaeologist explaining how to recognize sites where artifacts might be found. Then we toured the old iron mine on Red Top via a hay ride wagon pulled by a tractor. The path we took was along an old narrow gauge railroad bed that was used to transport the iron ore. We had a nice view of the lake for some of the ride.

After lunch we got to dig for artifacts. Everyone got to keep an arrowhead, and yes, we know they are not real, but it was still fun to learn how it's done. Each of the kids also got a mold frame ($7 ea.) for carving things to cast in iron (which happened later in the day). That evening after Supper, we headed back over to the lodge to enjoy some Bluegrass music and watch them pour melted iron into our molds. It was a lot to do in a day, so we were tired when we got back to the camper (around 11pm).

Note: Georgia State parks are wonderful. They are a tremendous value (the entire weekend's activities and campsite were less than $80 for a family of 6, and that included the iron casting mold and supplies).

There are a couple of negatives unfortunately. The most obvious is the fact that some parts of the park are in need of attention (maintenance wise). The beach needs to be raked and cleaned-up. Mixed in with the pine needles, sticks, and bark are cigarette and cigar butts, and an empty beer bottle or two. We didn't let the kids wade in without shoes for fear of broken glass. The beach area is surrounded by a chain-link fence, the building that houses the stairs is old and in need of repair, and everything needs to be mowed and trimmed. Now, keep in mind that most areas of the park are pristine, but this seems to be the most "public" part of the park, and is the most neglected.

The campground is mostly setup for tent camping, but there are a decent number of RV sites with electric and water. Some of the sites are in need of maintenance, but for the most part, we really enjoyed the campground.

Now, in contrast, the lodge and surrounding area is very well kept. The area where the casting is done, the old log cabin where the Bluegrass was playing, all these areas are neatly trimmed and well kept. But here's what REALLY gets my goat-- this is a Georgia State Park, a park my taxes support, a park that I have paid to enter and stay in, a park that I support by purchasing a family annual pass, a park that says my children, wife, and I cannot enjoy the pool at the lodge, even if we pay extra. Now that ticks me off, and I will be writing a letter.

AMENDMENT - As of June 2010, the Lodge at Red Top Mountain is closed. It's a shame. It was a nice place. Perhaps someone will lease and reopen it. The events will continue as usual.

The Richardson Tribe
Other Destinations:
Up
Amicalola Falls State Park
Beaches of South Walton.
Berry College
Big Kahunas
Biltmore House
Blairsville, Georgia
Callaway Gardens
Cataloochee Ski Area
Cave Spring
Cedar Creek Park
Charlestown State Park
Chattahoochee Bend State Park
Chattanooga Zoo
Chehaw Park
Cherry Hill Park
Chester Frost Park
Chieftains Museum
Choccolocco Mountain Off Road Park
Cloudland Canyon
Cloudmont Ski and Golf
Consolidated Gold Mine
Cohutta Wilderness
Cumberland Island
Dauset Trails
Disney's Fort Wilderness Resort
Desoto State Park
Doll Mountain Campground
Dollywood
Dunnaway Gap
Enota Mountain Retreat
Etowah Indian Mounds
Fall Creek Falls State Park
Florala State Park
Franklin D Roosevelt State Park
Fort Mountain State Park
Georgia Mountain Fairground
Georgia Veterans State Park
Gold n Gem Grubbin'
Helen Georgia
Hillcrest Orchards
James H Floyd State park
James Island Park
Jellystone Park- Cave City, KY
John Tanner Park
Lake Allatoona
Lake Sidney Lanier
Lake Winnepesaukah
Little River Canyon Center
Live Oak Landing
Lula Lake Land Trust
Mammoth Cave National Park
McIntosh Reserve
McKinney Campground
Moto Mountain Powersports
New Echota - Cherokee Capitol
Noccalula Falls Park details and pictures
Old Stone Fort Archaeology State Park
Pine Moutain RV
Red Top Mountain State Park
Ridge Ferry Park
Rocky Mountain Recreation Area
Rock Town - Pigeon Mountain
Rome GA
Salt Springs Recreation Area
Silver Springs
Stone Mountain Park
Tanglewood Farm
Tannehill State Park
Tellus Science Museum
The Southern Museum
Topsail Hill Preserve
Townsend KOA
Townsend Tennessee
Twinbrook Resort
Up The Creek RV Camp - Park Details - Pictures
US Space and Rocket Center - Details and Pictures
Vogel State Park
Wild Animal Safari
World of Coke
Zoo Atlanta - Details and Pictures
Every Friday Night (weather permitting)!
Join park volunteers on Friday evenings to observe the stars above us. Binoculars on hand or bring your own equipment. We will learn about well-known constellations and celestial events. Meet at the Visitor Center by 8:45 p.m. and the group will carpool to the 'gazing location. Heavy cloud cover and/or rain cancels this event.

Features

Rating (1-10)

Description

Official website
9
Georgia's State Parks website is very well done. Could use more pictures of campsites and amenities. Making reservations is a breeze!
Campground - Reserve

8

92 Campsites (**$25) - No full hookups. Beautiful campground but unless you are tent camping, don't expect to be very close to the water. If you want a good lakefront campsite on Allatoona, you might want to try McKinney Campground. We will also be investigating Payne campground soon. Payne is located a little further up the Etowah River portion of the lake (gold panning)
Activities & Events
10
Red Top Mountain State Park is one of our absolute favorite places to visit because of their programs and events. There is the Iron Pour which is usually accompanied by a Bluegrass concert. And then there's the Harvest at the Homestead, a neat event that shows what life was like in the 1800's. There is more, including some really neat history.
Beach
5
When we visited the first time, we checked-out the beach and were not impressed. It needed some maintenance. In all fairness, it may have since been improved, but don't count on it. State budgets are tight.
Playground(s)
9
There is a playground at the campground and one near the beach.
Geocaching

*

Geocaching is available, but we didn't have a chance.
Boating

8

We have grown to love Allatoona, but it can get crowded at times. The water seems very clean and marinas abound.
Fishing

8

Allatoona has been here for over 50 years, so the fish population has had plenty of time to establish. Fishing is good.
Rockhounding

8

Lake Allatoona is fed by the Etowah River which flows down from North Georgia's gold-bearing mountains. You can pan up river in some of the streams feeding the river. We have also found lots of quartz of varying shades and some unidentified rocks (will post pictures).
Local Attractions

9

Etowah Indian Mounds, McKinney Campground, New Echota Historical Site, Tellus Northwest Georgia Science Museum, Booth Western Art Museum.
*Note: We rate only the amenities we have personally reviewed.
**Accommodation pricing is based on 2010 Georgia State Parks website pricing.

No financial consideration or favor has been received for listing in PB&J Adventures' website. We are in no way affiliated with this facility or any other facility we review. Any paid advertising seen on this site was arranged after the destination was reviewed. You can trust the reviews to be unbiased.
---