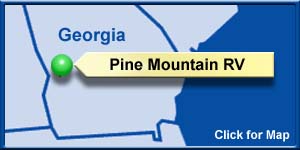 Overview
Pine Mountain is a really neat little old-fashioned central Georgia town. Blessed with several local attractions, the town enjoys quite a lot of tourism. Pine Mountain RV Park is a great place to stay while visiting Callaway Gardens, Wild Animal Safari, or FDR's Little White House, especially with kids. The pool, game room, playground, and great bike riding result in happy (and exhausted) little guys.
There are two sections of the campground. The older section is pretty well shaded by large trees, and the new section is wide-open, but with newly placed shade trees. It will take a few years for the new trees to do their job. The lack of trees actually provides a nice big star filled sky at night. The newer section has nice large pull through concrete sites with dual sewer hook-ups.
The inner roads throughout the camp were great for bikes and scooters. Campers are careful to drive slowly when kids are around.
---
Adventure Journal
Entry Date: September 2010
Typically, when visiting this area, the Tribe has camped at Franklin D Roosevelt State Park. When the Tribe wanted to attend a September 2010 event at Callaway Gardens, and FDR was booked to capacity, so we tried Pine Mountain RV Park.

Now, understand, we really love camping at public parks, but seldom do they have full hook-up
(sewer). Now, with 6 or more people sleeping in the camper, more than 2-3 nights is more than a challenge. therefore, a long weekend like this had Pine Mountain RV (with full hook-up) written all over it.
Some friends with kids joined us, so we had quite a large tribe while bike-riding and crashing the awesome saline pool. This is a very nice RV park just based on the entertainment-for-kids factor. Add a side trip or two to the Wild Animal Safari Park, the Little White House, FDR State Park ,or Callaway Gardens, and the kids will be in paradise.
I would like to point out one interesting gripe turned praise. We're used to camping in heavily wooded shady areas. This is not the place for that. We complained about the lack of shade and the fact that the late afternoon sun beat down on the patio side of the camper. But then, when the sun was setting, we understood. When the sun had completely set, and the big sky revealed a part of the Milky Way clearly, we were pleased, very pleased..
On this particular trip, we visited Wild Animal Safari and Callaway Gardens for a hot-air balloon festival. Read about it here.
The Richardson Tribe
Other Destinations:
Up
Amicalola Falls State Park
Beaches of South Walton.
Berry College
Big Kahunas
Biltmore House
Blairsville, Georgia
Callaway Gardens
Cataloochee Ski Area
Cave Spring
Cedar Creek Park
Charlestown State Park
Chattahoochee Bend State Park
Chattanooga Zoo
Chehaw Park
Cherry Hill Park
Chester Frost Park
Chieftains Museum
Choccolocco Mountain Off Road Park
Cloudland Canyon
Cloudmont Ski and Golf
Consolidated Gold Mine
Cohutta Wilderness
Cumberland Island
Dauset Trails
Disney's Fort Wilderness Resort
Desoto State Park
Doll Mountain Campground
Dollywood
Dunnaway Gap
Enota Mountain Retreat
Etowah Indian Mounds
Fall Creek Falls State Park
Florala State Park
Franklin D Roosevelt State Park
Fort Mountain State Park
Georgia Mountain Fairground
Georgia Veterans State Park
Gold n Gem Grubbin'
Helen Georgia
Hillcrest Orchards
James H Floyd State park
James Island Park
Jellystone Park- Cave City, KY
John Tanner Park
Lake Allatoona
Lake Sidney Lanier
Lake Winnepesaukah
Little River Canyon Center
Live Oak Landing
Lula Lake Land Trust
Mammoth Cave National Park
McIntosh Reserve
McKinney Campground
Moto Mountain Powersports
New Echota - Cherokee Capitol
Noccalula Falls Park details and pictures
Old Stone Fort Archaeology State Park
Pine Moutain RV
Red Top Mountain State Park
Ridge Ferry Park
Rocky Mountain Recreation Area
Rock Town - Pigeon Mountain
Rome GA
Salt Springs Recreation Area
Silver Springs
Stone Mountain Park
Tanglewood Farm
Tannehill State Park
Tellus Science Museum
The Southern Museum
Topsail Hill Preserve
Townsend KOA
Townsend Tennessee
Twinbrook Resort
Up The Creek RV Camp - Park Details - Pictures
US Space and Rocket Center - Details and Pictures
Vogel State Park
Wild Animal Safari
World of Coke
Zoo Atlanta - Details and Pictures
Features

Rating (1-10)

Description

Official website
9
It must be pretty good, because it made us want to visit. The only thing the page lacks is a lot of pictures, but I'm picky about that. Making reservations is a breeze!
Campground - Reserve

9

Lots of pull through campsites, full hookups, sort of crowded, but a very nice "RV park". Don't expect woods and shade. expect a great sunset (although initially blinding) and a huge night sky. We could see the Milky Way.
Activities & Events
*
Honestly, while at the campground (when we weren't at Callaway Gardens), we spent most of our time at the campsite, pool, and playground. From what I understand, they have numerous activities here. We were entertained by the hot-air balloons launched from Callaway Gardens on Labor Day weekend.
Pool
9
Not a huge pool, but a very nice clean pool. There is also a small wading pool for the little guys, and a hot tub for the bigger guys.
Playground(s)
9
There is a very nice playground. Not large, but covered. It sure makes for some nice shade or shelter from a sprinkle while the kids play.
Local Attractions

10

You could easily spend a week or two here and never be bored. There is Callaway Gardens, FDR State Park, Wild Animal Safari, FDR Little White House, and more.
*Note: We rate only the amenities we have personally reviewed.

No financial consideration or favor has been received for listing in PB&J Adventures' website. We are in no way affiliated with this facility or any other facility we review. Any paid advertising seen on this site was arranged after the destination was reviewed. You can trust the reviews to be unbiased.