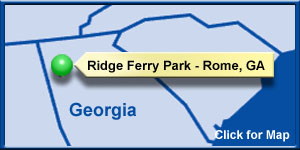 Overview
Ridge Ferry Park is located on the banks of the Oostanaula River in Rome, GA. The park has two very nice playgrounds, an amphitheater for musical events, a venue for festivals, a wonderful paved bike path that follows the Oostanaula river through Rome, and a launch for canoes and kayaks.
The park hosts a variety of festivals, events, and concerts. The Running Water Powow - Cherokee Homecoming is held here in September (Ridge Ferry is named after Major Ridge, a wealthy Cherokee Chieftain assassinated when he signed the treaty that led to the Trail of Tears), and the Chiaha Art and Music Festival is held here every October.
The bike path is nice enough to justify this destination. Rome is a beautiful town, especially the Broad Street downtown area. If you take a left on the bike path, it will lead you comfortably through Rome. A very nice ride. Take a right and it will lead you to the State Mutual Stadium, home of the Rome Braves.
The playgrounds are very nice. The kids never get bored, and they always seem to make new friends. The ground and area around the playground is very well maintained and clean.
---
Adventure Journal
Entry Date: August/September 2014
We've attended the annual Running Waters Powwow and Cherokee Homecoming several times throughout the years, and it gets bigger each year. There is constant traditional music and Native American dance as well as lots of great food and gift/craft vendors. We made sure to visit each.

This year, Lainey was invited to participate in one of the dances (she does look like a little native girl). While she's been unable to prove it through documentation as of yet, we're pretty certain Rebecca's father's family was part Cherokee. It was always assumed within the family, and the story's been passed down for many generations. All you have to do is look at a picture of her father, and it's obvious. Anyway, Cherokee or not, we always feel very welcome when we attend this event at Ridge Ferry Park. The public is welcome, so go check it out!
The Richardson Tribe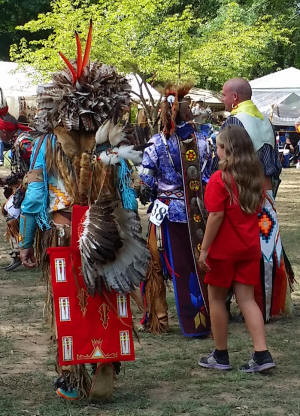 Lainey participates in a Native American dance
---
Adventure Journal
Entry Date: January 2011
For Heath's 8th Birthday, we told him we could go anywhere and do anything he liked. He chose the World of Coke, and a bike ride along Rome's Heritage Park trail. we access that trail from Ridge Ferry Park. He also wanted to eat at Fuddruckers, also located along the trail.
As you can see from the pictures, it was a typical Southern January day. The sun was out, and the air was cool, but not cold. The bike path is a very easy ride along the Oostanaula River. We actually saw some people out in kayaks. I bet that water's cold!
After burning a handful of calories on the path, we completely undid the benefit in just minutes at the Fudd with massive burgers, chocolate shakes, and onion rings.
The Richardson Tribe