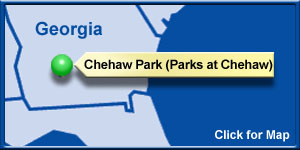 Overview
Chehaw Park (also known as The Parks at Chehaw) is located in south central Georgia near Albany. Named for a local Creek tribe, Chehaw was originally one of Georgia's first state parks. Like most of Georgia's parks, the CCC (Civilian Conservation Corps) was instrumental in Chehaw' Park's construction. After a series of improvements (including a zoo), the park was deeded to the city of Albany. The city has done a wonderful job of maintaining the park.

Chehaw Park has several features that make it attractive to visiting families. There is a spacious and beautiful campground with large full-hookup sites, a massive mega-playground, and, as I mentioned before, a top-notch animal park/zoo. Additionally there are hundreds of acres of pristine south Georgia pines draped in Spanish moss to explore. All the park's amenities are accessible on foot, bike, or by car. Because it's so level, and the inner roads are so well maintained, we really recommend taking bikes to Chehaw.
For more details about Chehaw, read the Adventure Journals below and view the pictures to the right. We rate this park very highly, so you will not be disappointed.
---
Adventure Journal
Entry Date: February 2010
We have visited and positively reviewed Chehaw once before. We camped here last time, and really fell in love with the place. On this visit, we were camping on the lake with friends at Georgia Veterans State Park in nearby Cordele. The weather was a little cold, similar to the last time we visited. We were anxious to show the park off to our friends. We concentrated on the animal park designed by Jim Fowler from Wild Kingdom fame. Most people know how much we enjoy animals, so this was the highlight of the trip.
We also spent some time in the massive playground at Chehaw. What an awesome place to explore! After a hard day of play and adventure, we fed our famished bodies at Black Beards, an exceptional (to us anyway) seafood and barbeque place in Albany.

Scroll down for another journal entry.
---
Adventure Journal
Entry Date: January 2009 - The Parks at Chehaw Albany, GA, Plains, GA, Andersonville, GA
We learned of the Parks at Chehaw from the Georgia Public Television show "Georgia Outdoors" (Corny but informative). Because of the distance from home, we postponed this trip three times. Gas was around $4 a gallon when we originally had reservations. They were around $1.70 when we finally went.

Chehaw was originally one of the first state parks in Georgia, one that was largely built by the CCC (Civilian Conservation Corps.) during the Great Depression. In more modern times, a zoo was added (designed by Jim Fowler from Wild Kingdom fame), and the park was deeded to the city of Albany.

The park is filled with tall pine trees and hardwoods with Spanish moss hanging down everywhere. The ground in the camping area is thickly covered by pine needles which keeps the undergrowth to a minimum. We were one of 3-4 campers in the campground while we were there, so it was very quiet and wide-open. It was cold our first night, but we were cozy in the motor home.

It warmed into the fifties on Saturday (much warmer than the 20's reported at home), and we visited the playground and the zoo, both of which are awesome. The playground is the largest and coolest we've ever seen (see pictures. Because of the season, and what was considered a "cold" weekend, we shared the zoo with only one or two other families. It was like being Elvis and renting the zoo for the day. Everyone was extremely friendly an helpful.
The cheetahs in the pictures to the right are chasing a piece of cloth around their enclosure, and that was really great to see. they're really fast, and were completely tame around their trainers, like pets. On a scale of 1-10, the facilities at Chehaw are almost a 10 (if not). the only thing that fell short was the lack of a full hookup in the campground, and some animals not being on display. There were wind storms a week earlier that made some of the exhibits inaccessible, and the cold was responsible for some being off display. Also, they have a little train that runs around the property, but it was not running because of the off season.
Albany seems like a nice town too. There is a Riverquarium (that's a bit pricey for a family of 6), a planetarium (that was closed on Sunday, what's up with that?), there are some great sites, and there are at least two bowling alleys, one of which the kids opted for on Sunday.

We ate out a couple of times in Albany, one of which is noteworthy. We ate at Blackbeard's Seafood and Bar-B-Que our first night in Albany. The kids wanted to go to Red Lobster, but there was a very long wait. We explored, found Blackbeard's, got seated quickly, and continued to pig-out. We were amazed at how much all the kids ate (especially John Micah who kept eating even as we were leaving). We couldn't find a website to link to, but it's worth searching for. Very yummy!
The Richardson Tribe
Other Destinations:
Up
Amicalola Falls State Park
Beaches of South Walton.
Berry College
Big Kahunas
Biltmore House
Blairsville, Georgia
Callaway Gardens
Cataloochee Ski Area
Cave Spring
Cedar Creek Park
Charlestown State Park
Chattahoochee Bend State Park
Chattanooga Zoo
Chehaw Park
Cherry Hill Park
Chester Frost Park
Chieftains Museum
Choccolocco Mountain Off Road Park
Cloudland Canyon
Cloudmont Ski and Golf
Consolidated Gold Mine
Cohutta Wilderness
Crystal River Florida
Cumberland Island
Dauset Trails
Disney's Fort Wilderness Resort
Desoto State Park
Doll Mountain Campground
Dollywood
Dunnaway Gap
Enota Mountain Retreat
Etowah Indian Mounds
Fall Creek Falls State Park
Florala State Park
Franklin D Roosevelt State Park
Fort Mountain State Park
Georgia Mountain Fairground
Georgia Veterans State Park
Gold n Gem Grubbin'
Helen Georgia
Hillcrest Orchards
James H Floyd State park
James Island Park
Jellystone Park- Cave City, KY
John Tanner Park
Lake Allatoona
Lake Sidney Lanier
Lake Winnepesaukah
Little River Canyon Center
Live Oak Landing
Lula Lake Land Trust
Mammoth Cave National Park
McIntosh Reserve
McKinney Campground
Moto Mountain Powersports
New Echota - Cherokee Capitol
Noccalula Falls Park details and pictures
Old Stone Fort Archaeology State Park
Pine Moutain RV
Red Top Mountain State Park
Ridge Ferry Park
Rocky Mountain Recreation Area
Rock Town - Pigeon Mountain
Rome GA
Salt Springs Recreation Area
Silver Springs
Stone Mountain Park
Tanglewood Farm
Tannehill State Park
Tellus Science Museum
The Southern Museum
Topsail Hill Preserve
Townsend KOA
Townsend Tennessee
Twinbrook Resort
Up The Creek RV Camp - Park Details - Pictures
US Space and Rocket Center - Details and Pictures
Vogel State Park
Wild Animal Safari
World of Coke
Zoo Atlanta - Details and Pictures
Features

Rating (1-10)

Description

Chehaw Park's
Official Website
9+
The website is awesome. It's almost a 10, but lacks adequate pictures of the facilities (especially the awesome playground). The pictures it does have are great! Beautiful color and layout. Good information.
Campground - Details
Reserve: 229-430-5277

9

Chehaw's campground is studded with tall pine trees, and the ground is thickly blanketed with pine needles. It is a beautiful place to camp (see pictures below). Full hookup sites are *$28, regular hookup is *$20, and tent sites are *$15. Very level!
Hiking
8
Chehaw encompasses over 700 acres with a wide variety of walking and biking opportunities. There are alligators and snakes on the property, so be aware. We visited in the winter while the cold-blooded creatures were hibernating.
Fishing
*
We didn't fish at Chehaw, but they do accommodate fishing. Also, nearby Lake Blackshear is known for great fishing.
Chehaw Animal Park
9+
This place is wonderful. The boardwalk that winds through the animal habitats elevates visitors so they can better see the animals in their natural surroundings. Beautifully designed and a wide array of animals. See pictures below
Playground(s)
Chehaw Playground Pictures
10
There are few playgrounds that rate a 10, but the massive play-resort found at Chehaw is second to none (that we've found). There is so much to do and explore that the kids (and some adults) never get bored. Great job Albany!
Local Attractions

9

Georgia Veterans State Park, Albany. Plains, Andersonville, etc...
Note: We rate only the amenities we have personally reviewed.
*Rates based on the official Chehaw website, August 2012.

No financial consideration or favor has been received for listing in PB&J Adventures' website. We are in no way affiliated with this facility or any other facility we review. Any paid advertising seen on this site was arranged after the destination was reviewed. You can trust the reviews to be unbiased.
---