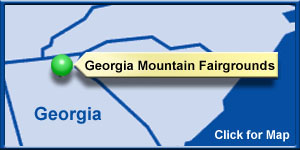 Overview
The Georgia Mountain Fairgrounds are located on Lake Chatuge in Hiawassee, Georgia. It's a very unique destination. When festivals and other events are held at the fairgrounds, thousands of people flock to this little town for the celebration. It's not your typical fairground either. The shady lane that winds through the numerous exhibits and food vendors follows the natural contour of a hilltop overlooking beautiful Lake Chatuge.
The fairground's main attraction is "Pioneer Village." Pioneer Village contains numerous exhibits and demonstrations such as beekeeping and blacksmithing. Most are housed in 19th century cabins and farm buildings. There is an agriculture museum with hundreds of old farm tools and implements on display as well as an impressive die cast collection. A wonderfully constructed and fully operational water wheel can be found by passing through both museum exhibit halls and exiting the back door.
One of Georgia Mountain Fairgrounds' most popular features is Anderson Music Hall, a 2900 seat theater built for live music. The list of legends that have performed at the hall is impressive. While bluegrass and country are popular, you'll see a few classic rockers from time to time. This past July, the annual 10-day Georgia Mountain Fair featured performers such as Ronnie McDowell, Roy Clark, Clair Lynch, Joe Diffie, Mel Tillis, Pam Tillis, the brilliant Larkin Poe, and one of the best rock and roll bands ever to come out of the southeastern United States; the Atlanta Rhythm Section.
Another unique and desired feature of the Georgia Mountain Fairgrounds is a set of two very nice campgrounds, one on either side of highway 76. Altogether, the campgrounds provide 189 camping and RV sites. Approximately half the sites are paved. Water, electric, and cable are available, but there are no sewer connections. We have not yet (as of October 2011) camped at the Georgia Mountain Fairgrounds, but we have toured the campgrounds. They are very nice. We have twice camped at nearby Enota Mountain Resort when visiting Hiawassee, primarily because they have full hookups. We have also camped at Vogel State Park and over the mountain in Cleveland at Gold n Gem Grubbin'.

In summary, we have attended only one event at the fairgrounds. We know we missed a lot. This fairground has been evolving and improving for nearly 60 years. I think they're just about to get it right.
---
Adventure Journal
Entry Date: October, 2011
We planned this entire trip to Hiawassee, Georgia around a single event: the Georgia Mountain Fall Festival. We'd heard a lot about the fairgrounds, but we had not yet attended an event here. The Fall festival, combined with the Autumn colors, gave us a great excuse to visit the park.
The first task in planning this trip was to identify a good campground as a home base for our adventure. The Georgia Mountain Fairgrounds feature two beautiful lakeside campgrounds, but we need full RV hookups for a four night stay, and the fairgrounds do not provide full RV hookups, After doing some research, I booked us a site at Enota Mountain Retreat, a place that qualifies as a PB&J Adventures destination in itself. We camped at Enota in the Winter of 2008 when it was very cold. We wanted to return when the weather was better.
We decided to visit the Georgia Mountain Fall Festival on Saturday. Admission was half price, and Ricky Skaggs was performing in the afternoon. We were a little worried about crowds when we first saw the parking lot. I really dislike crowds, especially when I'm trying to keep up with four kids. Much to our surprise, the fairgrounds didn't seem crowded at all. Because the Georgia Mountain Fairgrounds are so large, crowds seem to dissipate soon after passing through the gate. Honestly, it's the first fairground I've visited in which I felt relaxed and wasn't anxious to leave. We were always surrounded by beautiful foliage and rustic architecture.
Soon after arriving at the fairgrounds, we were faced with the difficult but enjoyable task of choosing our lunch. The job proved to be more difficult than we'd anticipated. I think we ended-up purchasing food from 3-4 different food vendors. Lee Thomas and I had some exceptional clam chowder, and the others had hotdogs and various other yummy delicacies. Like the fairground, the food selection here is exceptional.
After eating, we wandered through a large variety artisan displays and exhibits. Rebecca and each of the kids got new pocket knives from the DirecTV booth, and we sampled honey at the beekeeper's association exhibit. We passed through the farm-life museum where the kids and I admired the massive collection of die- cast cars, trucks, and tractors. Rebecca and I had to explain some of the vintage equipment, tools, and kitchen appliances to the kids. As we exited the rear of the museum building, we discovered a large, fully functional wooden waterwheel. It has a strong resemblance to the one at Berry College in Rome, Georgia.
From there, we continued to explore the exhibits. There are many old buildings on display at the Georgia Mountain Fairgrounds. Many have been moved from other locations and reassembled here. There are numerous cabins, farm buildings, and an old one-room schoolhouse. Demonstrations of mountain farm life were happening all around. The kids were engaged the entire time, and were never bored.
By the time we'd seen the main part of the fairground, the first half of the Ricky Skaggs concert was already past. We decided to head back to Enota for the remainder of the afternoon instead. On the way back, we stopped at Track Rock Gap to see some ancient Native American petroglyphs carved into rocks there. Very interesting. More on that later. For a detailed description of the fairgrounds including dozens of pictures, click here.

The Richardson Tribe
More Destinations:
Up
Amicalola Falls State Park
Beaches of South Walton.
Berry College
Big Kahunas
Biltmore House
Blairsville, Georgia
Callaway Gardens
Cataloochee Ski Area
Cave Spring
Cedar Creek Park
Charlestown State Park
Chattahoochee Bend State Park
Chattanooga Zoo
Chehaw Park
Cherry Hill Park
Chester Frost Park
Chieftains Museum
Choccolocco Mountain Off Road Park
Cloudland Canyon
Cloudmont Ski and Golf
Consolidated Gold Mine
Cohutta Wilderness
Cumberland Island
Dauset Trails
Disney's Fort Wilderness Resort
Desoto State Park
Doll Mountain Campground
Dollywood
Dunnaway Gap
Enota Mountain Retreat
Etowah Indian Mounds
Fall Creek Falls State Park
Florala State Park
Franklin D Roosevelt State Park
Fort Mountain State Park
Georgia Mountain Fairground
Georgia Veterans State Park
Gold n Gem Grubbin'
Helen Georgia
Hillcrest Orchards
James H Floyd State park
James Island Park
Jellystone Park- Cave City, KY
John Tanner Park
Lake Allatoona
Lake Sidney Lanier
Lake Winnepesaukah
Little River Canyon Center
Live Oak Landing
Lula Lake Land Trust
Mammoth Cave National Park
McIntosh Reserve
McKinney Campground
Moto Mountain Powersports
New Echota - Cherokee Capitol
Noccalula Falls Park details and pictures
Old Stone Fort Archaeology State Park
Pine Moutain RV
Red Top Mountain State Park
Ridge Ferry Park
Rocky Mountain Recreation Area
Rock Town - Pigeon Mountain
Rome GA
Salt Springs Recreation Area
Silver Springs
Stone Mountain Park
Tanglewood Farm
Tannehill State Park
Tellus Science Museum
The Southern Museum
Topsail Hill Preserve
Townsend KOA
Townsend Tennessee
Twinbrook Resort
Up The Creek RV Camp - Park Details - Pictures
US Space and Rocket Center - Details and Pictures
Vogel State Park
Wild Animal Safari
World of Coke
Zoo Atlanta - Details and Pictures
Features

Rating (1-10)

Description

9

Georgia Mountain Fairground's website is great for the most part. As a camper, I really prefer a lot more information about the campground, especailly pictures. I also like online reservations which are not available.

Facility
9
The Georgia Mountain Fairgrounds are mostly immaculate. The landscape and authentic rustic architecture makes for a very warm and homey environment. I do wish places like this would attempt to have nicer restrooms. In my opinion, the investment pays off in public perception.

Campground

9*

189 camping and RV sites - water, electricity, and cable. Most sites offer views of Lake Chatuge. The campgrounds feature two playgrounds, a boat ramp, two tennis courts, and shaded picnic tables. For reservations, call (706) 896-4191.

Other places to camp near Hiawassee, Georgia
10
There are several campgrounds, motels, cabins, and lodges in the area. We sometimes camp at Enota Mountain Retreat, and sometimes Vogel State Park. Enota has full hookups, and Vogel is one of the most beautiful (and popular) parks in the state. We also like to camp at Gold n Gem Grubbin' near Cleveland.

Playground

*

Two playgrounds are located in the campgrounds.

Fishing, boating, skiing, water sports, etc.
10
The fairground is located directly on lake Chatuge, so water sports are abundant.

Hiking/Biking

10

Hundreds of miles of hiking and mountain biking trails are accessible from the nearby Chattahoochee National Forest. Additionally, the legendary Appalachian Trail passes very near to here.

Local Attractions

10

Mountain Heritage Museum, Lake Nottely, Vogel State Park, Helen, Unicoi State Park, Gold N Gem Grubbin, Brasstown Bald (highest point in GA), Enota Mountain Retreat, Murphy, Franklin, NC (ruby mining),

*Note: We rate only the amenities we have personally reviewed.
No financial consideration or favor has been received for listing in PB&J Adventures' website. We are in no way affiliated with this facility or any other facility we review. Any paid advertising seen on this site was arranged after the destination was reviewed. You can trust the reviews to be unbiased.
---