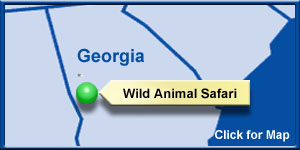 Congratulations to Wild Animal Safari, selected as one of USA Today's top 10 safari experiences in North America!

Overview
Wild Animal Safari is a 200 acre animal preserve located near Pine Mountain, Georgia. The Richardson Tribe has visited the park several times, which is a pretty powerful endorsement in itself. Maybe it's because we love animals so much.

The park has two primary attractions:

The Serengeti Adventure is most publicized part. This is an hour-long drive-through safari that brings you face-to-face with dozens of very unique animals (see pictures). You can drive your own car (not recommended), ride in a tour bus, or rent your own zebra safari van. We prefer to rent the van because we have control of our pace and when and where we stop. The vans are nasty, but you can always shower later. If you decide to drive your own vehicle, be aware that some of the animals have large horns and are very clumsy. Additionally, you will certainly get some mammal slobber on your car's interior at some point during the tour. Food can (and should) be purchased in the visitor center when checking in. Feeding the animals is a major part of the attraction.
The second attraction is called the Walk-About. This part of the park is more like a typical zoo, loaded with incredible specimens. You will certainly be impressed. The animals all seem to be very well cared for, fat, and happy. You'll get a little closer to the animals than most zoos allow. The park features ligers, a cross between a lion and tiger. They are the largest cats, and trust me, they are huge.
There are many appealing factors to Wild Animal Safari, but perhaps its location is the biggest plus. Wild Animal Safari is located near Pine Mountain, Georgia, a very quaint little southern town. Just a few miles up the road is Callaway Gardens, a popular southern family resort. Franklin D Roosevelt State Park and Roosevelt's "Little White House" are also popular destinations. We have camped at the state park and really love it. However, without full hookups in the campground, extended stays are difficult. We have also camped at Pine Mountain RV, a very nice PB&J endorsed RV park just minutes from all the local attractions.
---
Adventure Journal
Entry Date: September 2010
We've visited the Wild Animal Safari a couple of times now, and feel like veterans. We know what to do and what to avoid. We have some very good friends with us on this trip. I would recommend ONLY bringing good friends. You should really know what they like and don't like. This can get messy.
We learned from previous experiences to rent one of the safari vans. You really do not want to expose your vehicle to the wilderness. Trust me..We had a total of 10 people, so we rented one of the large passenger vans. We were prepared with the hand sanitizer and animal treats purchased from the safari outpost.
As our previous experiences had taught us, you have to keep constant watch on the tongues. The all of the large mammals like to reach into the van with their tongues searching for hand-outs. It's really no threat, and feeding the animals is a blast. On this particular visit, the animals didn't seem quite as hungry. Perhaps they'd already had plenty to eat. It wasn't a bad thing though, because we had the chance to sit back and watch the animals act naturally.
As usual, we were equally impressed with the walk-through portion of the park. The animals are healthy, happy, and very well kept. We got to see a lady get sprayed by a female Liger (half Lion/Tiger). That was fun.
Once again, we thoroughly enjoyed our day at Wild Animal Safari. We ended our day there and headed back to Pine Mountain RV for an evening of fun under the stars.
---
You have three choices of how to ride through the park. You can drive your own car, ride the bus, or pay $11.00 extra, and rent a zebra van. The vans are absolutely nasty, but I really recommend that mode of transportation. You definitely do not want to drive your own car. The horned animals are pretty klutzy and were banging into the side of the van constantly. Also, there is a good chance the interior will get slobbered!
Anyway, it takes about an hour to ride through the park, and you could never get this close to these animals any other way. All of us absolutely loved feeding and petting the animals (watch your fingers with the zebras and ostriches). We almost didn't do the walking part of the park. That would have been a big mistake. It's as cool as the ride-through part

The Richardson Tribe