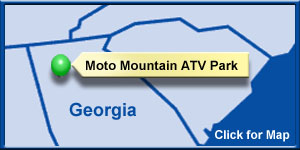 Overview
We're very sorry to announce that Moto Mountain has officially closed. They originally announced a temporary closure during the shooting of a movie, but it looks permanent now. As of October, 2016, the property is available for lease. We will wait to see if anyone reopens the property before removing this page from the PB&J Adventures website.

Moto Mountain ATV Park is located near Fairmount in North Georgia. It's very convenient to Atlanta and Chattanooga, just about 20 minutes off Interstate 75 from Calhoun. It is also near some of our other favorite destinations like Fort Mountain State Park and Carters Lake.
Check-in is at Motorcycle Bob's, a local icon situated on Highway 53 east of Fairmount. This little shop sells gas, rents motorcycles, ATVs, and helmets, serves food, and sells various other supplies and trinkets. The ladies behind the counter are very nice and eager to make your visit pleasant. Once you sign the release forms and pay-up, it's a short jaunt to Moto Mountain. As you enter the park, you will begin to see the many trails to your left. Pretty cool!

The area has obviously been logged, and I would assume many of the tracks are remnants of old logging trails. The large property is covered with snaking one-way trails that resemble motocross tracks in some places. There are mud bogs, jumps, and numerous play areas all for the powersports enthusiast. There are some places you may want to avoid with novice riders, but for the most part, the trails are in pretty good shape and not incredibly challenging. Don't get me wrong, when we first arrived for our first visit, I questioned whether the kids could handle the mud and hill climbs, but the all came through wonderfully. It was actually a great learning experience for them. Additionally, all trails are one-way making riding much safer for everyone.
The environment itself is made for motorcycle and ATV lovers. There is a culture there that, if you are not familiar, could be a little scary at first. There is a lot of dirt and mud, and lots of machines running around, but it's all pretty safe. In fact, we camped at the back of the property near the Pee Wee Play Area and had a couple of nice long trails virtually to ourselves. If you are a cityfied yuppy that doesn't like to get dirty STAY AWAY!

The folks that run Moto Mountain are down to earth good-old southern country folk (and I mean that in a good way) that bend over backward to make sure you visit is the best it can be. If you are camping, they'll come by and check on you, even dropping-off some firewood if you wish. Thanks guys!
Moto Mountain is a purpose-made retreat that is designed for one thing, riding. Yes, there are other amenities they offer like a zip line, but offroad riding is what it's all about. If that's what you seek, then you won't be disappointed. In summary., we can't wait to go back (but we'll need to save-up a little). We suggest a family plan!

The Richardson Tribe
---
Adventure Journal
Entry Date: February 2013
As kids, Rebecca and I both had motorcycles. Things were a lot different back then. From a very early age, I sometimes rode my motorcycle to school. My best friends had motorcycles (and they're still my best friends 40 years later), and we rode every chance we got. Back then we rode on power lines and petroleum pipelines, old back dirt roads, and all over parts of the Chattahoochee National Forest. Today, most of that type of riding is banned and even the public trails that are still accessible are restricted in many ways. So, when Santa brought two motorcycles and two ATVs for Christmas, I began researching riding places. Lo and behold, I found one incredibly close to home.
Moto Mountain looked great online, but I was worried about whether the kids could handle the trails, being novice riders and all. Additionally, a friend had visited the park and warned that the trails were not marked very well (corrected since then). Well, I committed and hauled Rebecca and the kids off for an unknown adventure. When we first arrived at the park, the primary parking/gathering place seemed busy and crowded. We were greeted by a park employee that offered to show us the best places to park the RV for camping. I told him we might want to be somewhere a little quieter, so he led us around to the rear of the property. Our campsite was on a dirt covered hill, but I was able to pull around so the door opened to a grassy hillside facing the west (sunset). I didn't have much time to set-up because the kids wanted to ride.
We first checked out the "G" track, and there were a few muddy turns that concerned me. My guys haven't ridden through deep mud yet, and on a motorcycle, that can be an issue. Turns out, they were better than I expected. We rode that track a lot. We also rode on the C track and the P track, both providing a great variety of mild hill-climbs, whoops, and mud. We never felt unsafe on the trails at all. We rode until sunset, then built a nice big fire. Someone from the staff brought a nice load if firewood by but were gone before I could thank them. Such nice people. We sat around the fire telling scary stories then retired to the camper for a movie. It doesn't get much better than this.

Unfortunately, both Rebecca and I were battling sinus infections, so we loaded-up and headed home Sunday morning. It took an hour or so to wash the bulk of the mud off the machines, and they still needed a wash job. It's ok. It's an experience the kids will talk about for some time to come.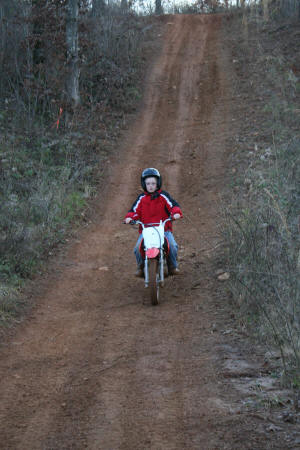 More Destinations:
Up
Amicalola Falls State Park
Beaches of South Walton.
Berry College
Big Kahunas
Biltmore House
Blairsville, Georgia
Callaway Gardens
Cataloochee Ski Area
Cave Spring
Cedar Creek Park
Charlestown State Park
Chattahoochee Bend State Park
Chattanooga Zoo
Chehaw Park
Cherry Hill Park
Chester Frost Park
Chieftains Museum
Choccolocco Mountain Off Road Park
Cloudland Canyon
Cloudmont Ski and Golf
Consolidated Gold Mine
Cohutta Wilderness
Cumberland Island
Dauset Trails
Disney's Fort Wilderness Resort
Desoto State Park
Doll Mountain Campground
Dollywood
Dunnaway Gap
Enota Mountain Retreat
Etowah Indian Mounds
Fall Creek Falls State Park
Florala State Park
Franklin D Roosevelt State Park
Fort Mountain State Park
Georgia Mountain Fairground
Georgia Veterans State Park
Gold n Gem Grubbin'
Helen Georgia
Hillcrest Orchards
James H Floyd State park
James Island Park
Jellystone Park- Cave City, KY
John Tanner Park
Lake Allatoona
Lake Sidney Lanier
Lake Winnepesaukah
Little River Canyon Center
Live Oak Landing
Lula Lake Land Trust
Mammoth Cave National Park
McIntosh Reserve
McKinney Campground
Moto Mountain Powersports
New Echota - Cherokee Capitol
Noccalula Falls Park details and pictures
Old Stone Fort Archaeology State Park
Pine Moutain RV
Red Top Mountain State Park
Ridge Ferry Park
Rocky Mountain Recreation Area
Rock Town - Pigeon Mountain
Rome GA
Salt Springs Recreation Area
Silver Springs
Stone Mountain Park
Tanglewood Farm
Tannehill State Park
Tellus Science Museum
The Southern Museum
Topsail Hill Preserve
Townsend KOA
Townsend Tennessee
Twinbrook Resort
Up The Creek RV Camp - Park Details - Pictures
US Space and Rocket Center - Details and Pictures
Vogel State Park
Wild Animal Safari
World of Coke
Zoo Atlanta - Details and Pictures
Features

Rating (1-10)

Description

9

The website is now down:
Moto Mountain's website is very well done. The pictures are great and it's pretty informative. Good job! It would be great if they had a GPS app, or at least a mobile friendly map.

9

Moto Mountain is covered with trails laid out almost like a motocross track. All trails are one way for safety, and visibility is pretty good (few blind curves) making it pretty safe of kids. Here's a link to their trail map, but it's really not very detailed. Google Maps shows many of the trails at Moto Mountain, and with navigator, can be helpful. All trails run in a loop and have incremental markers to let you know where you are at all times. It's a bit confusing at first, but pretty easy to decipher.

Camping
7
Moto Mountain has no official campground. They do welcome campers though, and they'll point you to the best spot to set-up. Be prepared to dry camp since there is no water or electricity. It is really cool to be able to ride right into your campsite. I think adding RV sites with water and electric would be a good investment for the park.
9

Moto Mountain features "Sky Cabins," hotel rooms on stilts with a magnificent panoramic view. We didn't stay in one, but must give them a 9 for their sheer coolness.

Mountain Biking
*
We saw no one on mountain bikes here, but I could see where it would be a lot of fun.

Zip Line

*

The park features a zip line with about a 30 second experience. It look cool, but the minimum age is 14 and it costs $22 for 3 rides. Maybe next time.

Office/Store

8

Motorcycle Bobs, located at the intersection if Highway 53 and Henderson Mountain Road, is the home base for Moto Mountain. You can purchase your riding pass, rent a motorcycle or ATV, eat, and gas-up here.

8

We didn't spend much tome looking for exotic rocks, but they were everywhere. I noticed some very large quartz and pocketed some very unusual green rocks that may be slag or melted glass, but looks very old. I'm sure there would be some good rockhounding here.

Local Attractions

9

Fort Mountain, Carters Lake, Doll Mountain Campground, New Echota (Cherokee Capitol), Lake Allatoona, Mckinney Campground, Red Top Mountain State Park, Tellus Science Museum, and more...

Here's a short video (right) showing some of the riding we did at Moto Mountain. It was a little muddy in some spots because it rain prior to our visit. Additionally, the ground had frozen and thawed overnight. I expect the conditions might be better another time. The kids sure loved the mud though.

*Note: We rate only the amenities we have personally reviewed.

No financial consideration or favor has been received for listing in PB&J Adventures' website. We are in no way affiliated with this facility or any other facility we review. Any paid advertising seen on this site was arranged after the destination was reviewed. You can trust the reviews to be unbiased.
---