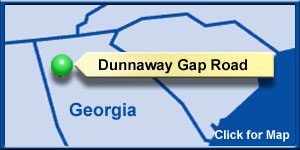 Overview
Dunnaway Gap isn't a typical destination. In fact, unless you're from that immediate area, you probably don't even know it exists. It's located near Armuchee (pronounced ar-mer-chee) Georgia within the Chattahoochee National Forest.
Dunnaway gap Road is dirt, but it is graded well enough for the family sedan, at least to a point. If the weather has been dry, it will be one filthy sedan when you exit. The pictures of the dirt road to the right is actually a secondary road that leads to the summit of the ridge. You can park the sedan at the bottom and walk up for the view.
Now, quite frankly, as a destination, Dunnaway Gap offers little more than a view. It's the ride that's the best feature, and the view at the ridge's peak along a petroleum pipeline is bonus. If you want to continue exploring once atop the ridge, you can drive along the forestry service road for several miles. It's a beautiful place year round, especially the Fall, but be aware of hunters during Deer season.
Dunnaway Gap is a pretty remote location, especially if you head on out along the ridge. Make sure someone knows where you are, and check to verify you have enough gas for the full trip. There is no restaurant or gas station up here, so bring what you need. Consider a picnic at the summit.
---
Adventure Journal
Entry Date: May 2008
The Tribe hasn't been able to go exploring as a family in our new Jeep (lovingly nicknamed Willie B). Unfortunately, the third-row seat I ordered is not due to be shipped until May 19. On this particular week, Rebecca had to attend a conference in Atlanta, which meant the remaining Tribe members would fit in "Willy B" the Jeep. Daddy loaded-up the kids and took them for an adventure.
When I was much younger, I used to ride motorcycles all over the pocket area and Floyd Springs/Everett Springs Roads. There's an old petroleum pipeline that cut's across a ridge that I used to ride on. There's a great view to the East and West at the top of the ridge, a great spring for a cold drink of spring water, and the beautiful Cherokee foothill farmland in the Armuchee creek Valley.

As we continued North through Armuchee Valley, I noticed a road named "Richardson". This is near where my father grew-up. Maybe I can find a cemetery with some relatives in it near here, but no luck today.

We'll try to come back soon with Rebecca so she too can enjoy the ride and view too.


The Richardson Tribe

Other Destinations:
Up
Amicalola Falls State Park
Beaches of South Walton.
Berry College
Big Kahunas
Biltmore House
Blairsville, Georgia
Callaway Gardens
Cataloochee Ski Area
Cave Spring
Cedar Creek Park
Charlestown State Park
Chattahoochee Bend State Park
Chattanooga Zoo
Chehaw Park
Cherry Hill Park
Chester Frost Park
Chieftains Museum
Choccolocco Mountain Off Road Park
Cloudland Canyon
Cloudmont Ski and Golf
Consolidated Gold Mine
Cohutta Wilderness
Cumberland Island
Dauset Trails
Disney's Fort Wilderness Resort
Desoto State Park
Doll Mountain Campground
Dollywood
Dunnaway Gap
Enota Mountain Retreat
Etowah Indian Mounds
Fall Creek Falls State Park
Florala State Park
Franklin D Roosevelt State Park
Fort Mountain State Park
Georgia Mountain Fairground
Georgia Veterans State Park
Gold n Gem Grubbin'
Helen Georgia
Hillcrest Orchards
James H Floyd State park
James Island Park
Jellystone Park- Cave City, KY
John Tanner Park
Lake Allatoona
Lake Sidney Lanier
Lake Winnepesaukah
Little River Canyon Center
Live Oak Landing
Lula Lake Land Trust
Mammoth Cave National Park
McIntosh Reserve
McKinney Campground
Moto Mountain Powersports
New Echota - Cherokee Capitol
Noccalula Falls Park details and pictures
Old Stone Fort Archaeology State Park
Pine Moutain RV
Red Top Mountain State Park
Ridge Ferry Park
Rocky Mountain Recreation Area
Rock Town - Pigeon Mountain
Rome GA
Salt Springs Recreation Area
Silver Springs
Stone Mountain Park
Tanglewood Farm
Tannehill State Park
Tellus Science Museum
The Southern Museum
Topsail Hill Preserve
Townsend KOA
Townsend Tennessee
Twinbrook Resort
Up The Creek RV Camp - Park Details - Pictures
US Space and Rocket Center - Details and Pictures
Vogel State Park
Wild Animal Safari
World of Coke
Zoo Atlanta - Details and Pictures