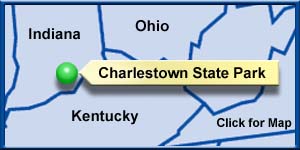 Overview
Charlestown State Park in Charlestown, Indiana is a very nice place to stay when visiting the Louisville, Kentucky area. Its very quiet, a great place to ride bikes, hike, fish, and relax. Here is what the DNRs website has to say:

"With scenic vistas of the Fourteenmile Creek valley and elevation changes of over 200 feet, Charlestown has much to offer the visitor with this diversity. While hiking the rugged terrain you will see Devonian fossil outcrops and areas of karst sinkhole topography. Bird watchers will enjoy the 72 species of birds, including bluebirds, black vultures and an occasional Bald Eagle."
---
Adventure Journal
Entry Date: July 2007
This is a trip I took on my own. I had business in Louisville, KY, and I took the camper. I wanted to investigate possible PB&J sites for future trips. It's really difficult to judge a campground based on a website description, so I wasn't certain where I was going to stay until I got there. I had researched Charlestown State Park in Indiana, but the website had no photographs and a terrible description. What I found was very interesting. It's about a half hour from downtown Louisville, Kentucky, and it is relatively easy to get to. When I got to the park, I was surprised to find hardly any other campers there at all (see pictures), but then, it was a weekday. Actually, the closest neighbors I had were a couple of wild turkeys. The park borders the Ohio River and is part of a several thousand acre former National Guard arsenal. Prior to that, it was all farm land. The trees are all relatively small since reforestation has only been taking place for a short time. There may be old tree stands, but I didn't cover the entire park. To make a long story short, I felt like I was in the wilderness with only the sound of coyote pups, wild turkeys, and various other wildlife in the evenings. Other than a bath house and a boat ramp (distant), there really are no other amenities there. There is fishing and hiking though, and Louisville (Kentucky Derby, Louisville Slugger Museum and Factory, etc.) is relatively close by for day trips. The inner roads are very level which means the kids would have an easy time riding bikes. I really enjoyed the place and would love to take the family back for a PB&J Adventure. Also, being about 6 hours from home, this would also make a good waypoint for a longer trip up north. All in all, a big thumbs up from me, I hate crowds!

The Richardson Tribe
Other Destinations:
Up
Amicalola Falls State Park
Beaches of South Walton.
Berry College
Big Kahunas
Biltmore House
Blairsville, Georgia
Callaway Gardens
Cataloochee Ski Area
Cave Spring
Cedar Creek Park
Charlestown State Park
Chattahoochee Bend State Park
Chattanooga Zoo
Chehaw Park
Cherry Hill Park
Chester Frost Park
Chieftains Museum
Choccolocco Mountain Off Road Park
Cloudland Canyon
Cloudmont Ski and Golf
Consolidated Gold Mine
Cohutta Wilderness
Cumberland Island
Dauset Trails
Disney's Fort Wilderness Resort
Desoto State Park
Doll Mountain Campground
Dollywood
Dunnaway Gap
Enota Mountain Retreat
Etowah Indian Mounds
Fall Creek Falls State Park
Florala State Park
Franklin D Roosevelt State Park
Fort Mountain State Park
Georgia Mountain Fairground
Georgia Veterans State Park
Gold n Gem Grubbin'
Helen Georgia
Hillcrest Orchards
James H Floyd State park
James Island Park
Jellystone Park- Cave City, KY
John Tanner Park
Lake Allatoona
Lake Sidney Lanier
Lake Winnepesaukah
Little River Canyon Center
Live Oak Landing
Lula Lake Land Trust
Mammoth Cave National Park
McIntosh Reserve
McKinney Campground
Moto Mountain Powersports
New Echota - Cherokee Capitol
Noccalula Falls Park details and pictures
Old Stone Fort Archaeology State Park
Pine Moutain RV
Red Top Mountain State Park
Ridge Ferry Park
Rocky Mountain Recreation Area
Rock Town - Pigeon Mountain
Rome GA
Salt Springs Recreation Area
Silver Springs
Stone Mountain Park
Tanglewood Farm
Tannehill State Park
Tellus Science Museum
The Southern Museum
Topsail Hill Preserve
Townsend KOA
Townsend Tennessee
Twinbrook Resort
Up The Creek RV Camp - Park Details - Pictures
US Space and Rocket Center - Details and Pictures
Vogel State Park
Wild Animal Safari
World of Coke
Zoo Atlanta - Details and Pictures
Features

Rating (1-10)

Description

Official Website
7
Decent site, no pictures, inadequate description of this awesome park.
Campground - Reserve

10

This campground is a little unusual, but thoroughly enjoyable.

Full Hookup / 60 sites, Electric / 132 sites

Playground

*

There is a playground, but I did not review it.
Picnic areas w/shelters
*
Shelters require reservations
Bird Watching
*
They say it is awesome - Eagles!
Rockhounding

*

Devonian fossil outcrops
Hiking

*

According to the website, there is some exceptional hiking in the park.
Boating

*

The park has a boat ramp accessing the Ohio River.
Fishing

*

Fishing, along 14 Mile Creek bank on Trail 3
Local Attractions

9

Louisville, KY, Kentucky Derby. Louisville Slugger factory, etc.
*Note: We rate only the amenities we have personally reviewed.

No financial consideration or favor has been received for listing in PB&J Adventures' website. We are in no way affiliated with this facility or any other facility we review. Any paid advertising seen on this site was arranged after the destination was reviewed. You can trust the reviews to be unbiased.