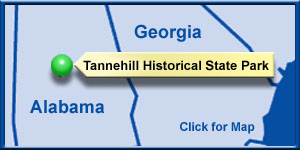 Overview
Tannehill Ironworks Historical State Park is a 1,500 acre piece of paradise located about 25 miles Southwest of Birmingham, Alabama. The park celebrates Birmingham's historic iron industry with a museum and a restored furnace and multiple buildings from the era. If you like camping, nature, and history, you will thoroughly enjoy this park.
There is a very large campground at Tannehill State Park with a handful of full hookup sites. There is also a creek, a cold clean spring, miles of biking and hiking trails, a small gauge train, a sweets shop, a restaurant, 19th century cabins to rent, rockhounding, fishing, and much more.

Tannehill has a very large facility for events, and there are are a good many that take place here. On the third weekend of every month from March to November, the park hosts Trade days, a sort of swap meet. Then there's the Dulcimer Festival, a Civil War reenactment, a rock an mineral show, a major archery event (state championship), and a woodcarvers show. Frankly, it seems there is always something happening at Tannehill.
---
Adventure Journal
Entry Date: June 2011
We visited Tannehill State Park the same on the same dates last year. I've had to do a presentation at the Mercedes plant in Vance two years running, so we made an adventure of it both years. We had originally planned on staying at Oak Mountain State Park this year, just to check it out. Unfortunately, after driving through Oak Mountain's two campgrounds twice, I could never find an RV site I liked. That's another story though.
We arrived late in the afternoon on a Wednesday expecting plenty of full hookup campsites. There was just one available. A terrible tornado came through here last month, devastating nearby Tuscaloosa and ripping a path through the pines for miles. Clean-up crews were using the park's campground as a home base. Unfortunately, that meant an unusually messy campground (just the full hookup section). There seemed to be more cigarette butts and general trash than usual. It's hard to blame the park for that though. Typically, Tannehill is very well maintained.

It was hot, real hot. Recalling last year's visit, the kids took to the creek at the first opportunity. There's a spring that flows cold an clear into Roupes creek. I can imagine Native Americans using the creek to cool off in centuries past. I'm sure plenty of artifacts can be found here.
In the evenings, after the air cooled down a little, we took bike rides. There are lots of trails around Tannehill State Park. Many follow old road beds that were used to transport ore. They are very well maintained and an easy ride (or walk).
We only stayed for two nights on this trip because we were heading South for more adventures. We really want to come back though, especially for some of their scheduled events.

The Richardson Tribe
Other Destinations:
Up
Amicalola Falls State Park
Beaches of South Walton.
Berry College
Big Kahunas
Biltmore House
Blairsville, Georgia
Callaway Gardens
Cataloochee Ski Area
Cave Spring
Cedar Creek Park
Charlestown State Park
Chattahoochee Bend State Park
Chattanooga Zoo
Chehaw Park
Cherry Hill Park
Chester Frost Park
Chieftains Museum
Choccolocco Mountain Off Road Park
Cloudland Canyon
Cloudmont Ski and Golf
Consolidated Gold Mine
Cohutta Wilderness
Cumberland Island
Dauset Trails
Disney's Fort Wilderness Resort
Desoto State Park
Doll Mountain Campground
Dollywood
Dunnaway Gap
Enota Mountain Retreat
Etowah Indian Mounds
Fall Creek Falls State Park
Florala State Park
Franklin D Roosevelt State Park
Fort Mountain State Park
Georgia Mountain Fairground
Georgia Veterans State Park
Gold n Gem Grubbin'
Helen Georgia
Hillcrest Orchards
James H Floyd State park
James Island Park
Jellystone Park- Cave City, KY
John Tanner Park
Lake Allatoona
Lake Sidney Lanier
Lake Winnepesaukah
Little River Canyon Center
Live Oak Landing
Lula Lake Land Trust
Mammoth Cave National Park
McIntosh Reserve
McKinney Campground
Moto Mountain Powersports
New Echota - Cherokee Capitol
Noccalula Falls Park details and pictures
Old Stone Fort Archaeology State Park
Pine Moutain RV
Red Top Mountain State Park
Ridge Ferry Park
Rocky Mountain Recreation Area
Rock Town - Pigeon Mountain
Rome GA
Salt Springs Recreation Area
Silver Springs
Stone Mountain Park
Tanglewood Farm
Tannehill State Park
Tellus Science Museum
The Southern Museum
Topsail Hill Preserve
Townsend KOA
Townsend Tennessee
Twinbrook Resort
Up The Creek RV Camp - Park Details - Pictures
US Space and Rocket Center - Details and Pictures
Vogel State Park
Wild Animal Safari
World of Coke
Zoo Atlanta - Details and Pictures