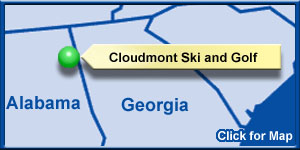 Overview
Cloudmont Ski and Golf Resort is located on Lookout Mountain between Mentone and Fort Payne, Alabama. It features a pair of small ski slopes, a very affordable golf course, horseback riding, hiking, lodging, and a whole bunch of awesome local attractions.

First, let me make something clear. If you are looking for a ski resort with black diamond back-country skiing, a four star lodge, and a 36 hole golf course, this is probably not the place for you. Cloudmont is a bit more rugged than that. If you want a place to take the family for a day or two of affordable fun, well maybe you should give it a try. It's especially good for teaching younger kids and clumsy adults to ski.

The cost of skiing varies based on age and day/date. It is always a great value though. When you rent skis and pay for a lift ticket, you'll get a quick group lesson that will have you on the slopes within an hour. The ski slopes are serviced by a tow-rope lift, so skiers can exit the lift at any time. That's an awesome feature for beginners.
The golf course looks fun, but the greens were in poor shape when we visited (February). Again, it's not a country club, but you don't pay country club prices either. It's an awesome way to introduce the kids to golf without having to take out a second mortgage. I'm sure it's much nicer in the summer, especially in the cooler mountain air.
If horseback riding appeals to you, the Shady Grove Dude Ranch is right there, offering miles of horseback riding for a very reasonable price. The 800+ acre resort has a variety of trails and old roads for riding or hiking. It's a beautiful area with the Little River rushing through the property and a cool old covered bridge.

Cloudmont also offers some lodging options in the form of chalets/cabins. We have not stayed in them, nor have we viewed them personally. We have an RV and prefer to stay at nearby (12 minutes) Desoto State Park). We'll make a point of viewing them on our next visit.
Local attractions at Cloudmont are phenominal. As I mentioned before, Desoto State Park is very near Cloudmont, and it features an incredible campground, hiking, mountain biking, waterfalls, a pool, a lodge and cabins. Other local attractions include Desoto Falls, Mentone, Little River, Little River Canyon, Little River Canyon Center, Mentone, Sequoyah Caverns, Lookout Mountain, Chattanooga, and more.

In summary, we have driven right by Cloudmont dozens of times, turning-up our noses at the cute little ski slope. Skiing in Alabama? Really? Well yes. We know better now. It's a great family destination packed with affordable outdoor fun.

The Richardson Tribe
---
Adventure Journal
Entry Date: February 2013
Long long ago, in the years BC (before children), Rebecca and I traveled out west to ski annually. We enjoyed skiing at Squaw Valley, Heavenly (Lake Tahoe), Breckenridge, Copper Mountain, Loveland, Crested Butte (CO), and Taos (NM). So, when we first saw the roadside sign for Alabama's Cloudmont Ski and Golf Resort on an afternoon drive along Lookout Mountain many years ago, we laughed. Skiing in Alabama? Really? We were ski snobs.

Fast forward 15 years. Now we have kids, four to be exact. The cost of an annual ski trip out west is not within this family's budget. We have taken a couple of trips to Cataloochee Ski Area near Maggie Valley, North Carolina where the kids have had lessons and learned the basics. Unfortunately, a southeastern ski trip like that can be pretty painful to the family pocketbook too.

So, one day we were eating at the Wildflower Cafe' in Mentone Alabama, and we started talking with a family that has just left Cloudmont Ski and Golf Resort. They were laughing and talking about how great of a time they had, and they were skiers. It sparked our interest, and so we had to check it out first-hand.
One of our favorite campgrounds is located at Desoto State Park, just a few minutes from Cloudmont Ski and Golf, so we booked a long weekend around President's day. It had been unseasonably warm weather, but several nights of cold leading-up to the weekend meant they were making snow (they need 18 hours of temps 28 degrees or less to open). We were waiting at the ticket window when they opened that Monday morning.

We rented equipment for the kids and paid for all-day lift tickets. The lift is a tow rope, but that's actually pretty good for beginners because they can exit the lift at any elevation of the slope. As I mentioned, the kids have had a couple of lessons, but their ski-time was limited. Fortunately (for us), there were very few people on the slope that day, so the kids were able to ski all day long with no waiting at the lift. By the end of the day, they were all pretty good. John Micah was even skiing backwards.

Now understand, Cloudmont is no Rocky Mountain ski resort. There is a mere 150' drop on their two parallel running slopes. It is what it is, but it is a load of fun and a great experience for the kids (and grown-ups too). It's also very affordable (compared to other ski destinations). Kids under 12 can rent equipment and ski all day for less than $40. Check their website for prices because they vary based on weekdays, weekend, and holidays.

We've decided to make Cloudmont a regular stop in the winter, and maybe even other seasons. They have a very affordable golf course and there is even horseback riding available. Nearby Desoto State Park and a virtually limitless selection of other area attractions makes this an awesome destination. We give it six thumbs-up.

The Richardson Tribe
More Destinations:
Up
Amicalola Falls State Park
Beaches of South Walton.
Berry College
Big Kahunas
Biltmore House
Blairsville, Georgia
Callaway Gardens
Cataloochee Ski Area
Cave Spring
Cedar Creek Park
Charlestown State Park
Chattahoochee Bend State Park
Chattanooga Zoo
Chehaw Park
Cherry Hill Park
Chester Frost Park
Chieftains Museum
Choccolocco Mountain Off Road Park
Cloudland Canyon
Cloudmont Ski and Golf
Consolidated Gold Mine
Cohutta Wilderness
Cumberland Island
Dauset Trails
Disney's Fort Wilderness Resort
Desoto State Park
Doll Mountain Campground
Dollywood
Dunnaway Gap
Enota Mountain Retreat
Etowah Indian Mounds
Fall Creek Falls State Park
Florala State Park
Franklin D Roosevelt State Park
Fort Mountain State Park
Georgia Mountain Fairground
Georgia Veterans State Park
Gold n Gem Grubbin'
Helen Georgia
Hillcrest Orchards
James H Floyd State park
James Island Park
Jellystone Park- Cave City, KY
John Tanner Park
Lake Allatoona
Lake Sidney Lanier
Lake Winnepesaukah
Little River Canyon Center
Live Oak Landing
Lula Lake Land Trust
Mammoth Cave National Park
McIntosh Reserve
McKinney Campground
Moto Mountain Powersports
New Echota - Cherokee Capitol
Noccalula Falls Park details and pictures
Old Stone Fort Archaeology State Park
Pine Moutain RV
Red Top Mountain State Park
Ridge Ferry Park
Rocky Mountain Recreation Area
Rock Town - Pigeon Mountain
Rome GA
Salt Springs Recreation Area
Silver Springs
Stone Mountain Park
Tanglewood Farm
Tannehill State Park
Tellus Science Museum
The Southern Museum
Topsail Hill Preserve
Townsend KOA
Townsend Tennessee
Twinbrook Resort
Up The Creek RV Camp - Park Details - Pictures
US Space and Rocket Center - Details and Pictures
Vogel State Park
Wild Animal Safari
World of Coke
Zoo Atlanta - Details and Pictures
Features

Rating (1-10)

Description

7

Cloudmont's website is basic, fairly clean, but has a few odd internal links and is lacking in sufficient photographs. It gets the job done though.

Snow Skiing

7

The quality of skiing here is subjective. It depends greatly on your expectations and ski snobbery. We avoided Cloudmont for years because we were used to skiing out west. Little did we know that this could be a lot of fun too. No, it's not Tahoe, but it's pretty heavenly.

Golf
7

Cloudmont's par 63 course, Saddle Rock, has 9 holes and 18 tees, so you can actually play it like an 18 hole golf course. It's a budget course, perfect for a family of novices or a group of buddies enjoying the camaraderie of stress free golf.
Greens fees: 9 holes: $7, 18 holes: $9
Cart Fee: 9 holes: $7 18 holes: $9

Cottages/Cabins/Lodging
*

We have not stayed in one of Cloudmont's chalets or cabins, nor have we looked in one. We cannot rate them at this time. CHALETS: With kitchen: $75.00 ; w/o kitchen: $65.00 (occupancy for 4); $75.00 Cabin with Fireplace (sleeps 2) Chalets do not have TV's or Telephone's $5.00 Additional for each over 4. NO PETS.

Camping
9
We suggest nearby Desoto State Park, one of our all-time favorite destinations. Desoto State Park has awesome full-hookup RV sites (water, electric, sewer, cable), primitive campsites, a pool, hiking, waterfalls, and much more.
Horseback Riding
*
Shady Grove Dude Ranch, located adjacent the ski and golf area, provides one and two hour horseback riding excursions on the 800+ acre wilderness.
1 hour Waterfall Rides $25
2 hour Waterfall Rides $40
Mountain Biking
*
There appear to be loys of secondary dirt roads and trails around the 800+ acre property. I assume mountain biking might be pretty good here.

*

While we didn't spend much time looking for rocks here, Lookout Mountain has proven to be a great source for fossils and semi-precious stones. I found a few stones of interest.

Local Attractions

9

Desoto State Park, Desoto Falls, Little River, Little River Canyon, Little River Canyon Center, Mentone, Sequoyah Caverns, Lookout Mountain, etc.

*Note: We rate only the amenities we have personally reviewed.

No financial consideration or favor has been received for listing in PB&J Adventures' website. We are in no way affiliated with this facility or any other facility we review. Any paid advertising seen on this site was arranged after the destination was reviewed. You can trust the reviews to be unbiased.
---