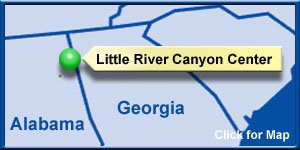 Overview
The Little River Canyon is carved from the side of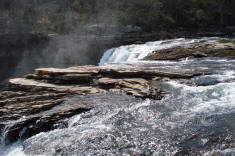 Lookout Mountain in Northeast Alabama near Fort Payne. The Little River flows through the canyon to Lake Weiss, the Coosa River, and eventually the Gulf of Mexico. There are many features of the canyon that make it an attractive destination. There is kayaking, hiking, and fishing in the canyon, and several good places to camp in the area. One new feature that is particularly inviting is the Little River Canyon Center.
The Little River Canyon Center is a cooperative endeavor between the National Park Service and Jacksonville State University. Randy Owen of the legendary country band Alabama is a Jacksonville State Trustee and was instrumental in the center's establishment. The facility serves as a field school for the university. Professors and students provide expertise and resources for public interpretive programs and classes that take place at the center's indoor and outdoor classrooms.
The 23,000 square foot Little River Canyon Center is still very new, so they are working on making it an unforgettable educational experience. In addition to the existing classrooms, there are plans for an indoor interactive museum that will teach about the geology and natural science of Little River Canyon. The way it was described to me it sounded like a lot of fun and included an educational climbing wall.
Outside the beautifully designed building is a massive deck constructed of recycled materials. The view from the deck is very nice, and there are plans to add a stage for concerts and various other events. There are several outdoor interpretive classrooms located along a path that arcs through the natural North Alabama underbrush behind the building. There is also an old log cabin on display that was built in the early 1800s.
We have much to learn about the Little River Canyon Center, and we plan to visit again soon. For more details, visit Jacksonville State University's webpage. For a calendar of events, click here.

---
Adventure Journal June 2013
Once again, the wonderful camping and hiking at Desoto State Park have brought us back to the Alabama side of Lookout Mountain. We were excited to see Little River Canyon Center offering a day of free flint knapping classes. Flint knapping is the process of making tools from a type of rock called flint. The flint knapping process was used for centuries before the development of metal tools. Our ancestors used the technique to make knives, scrapers, spear heads and arrow heads.
We were camping with friends, so we called ahead to verify a group of ten could be accommodated. Not only did they welcome us, they pretty much gave us a private lesson. We were especially fortunate to have Ranger Larry Beene as our instructor. It's very obvious he's an expert. He can make a pretty decent point in just minutes. He showed us how to use small stones and deer antlers to slowly and accurately push flakes from the rocks, shaping them as desired. He makes it look a lot easier than it really is.

Ranger Beene also explained the safety procedures for Knapping. The shards of flint that flake off the rock are razor sharp, and can hurt really bad if you step on them. He taught us to always contain the flakes. John Micah learned the hard way that the piece he was working on was very sharp too when he cut his hand. He was very mature about it. Ranger Beene also explained how one could easily create a false archaeological site by leaving remnants lying on the ground. So again, the message is "clean up!"

While we all experienced a certain degree of success while flint knapping, I have to mention John Micah's natural ability. Check out the point he made!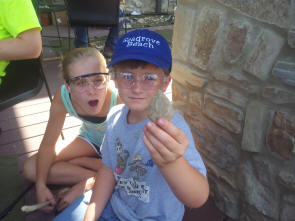 John Micah showing off his fine work.
---
Adventure Journal
Entry Date: May 2011
While camping at Desoto State Park, we visited the Little River Canyon for a couple of special events. We discovered the Little River canyon Center while exploring events in the region online. Several things convinced us to visit the Little River Canyon Center.
First, it is very near Desoto State Park which was hosting their annual Spring Flower Saturday on this particular weekend. We absolutely love the park and its campground.
Second, the center was hosting a Cinco de Mayo party that included lots of fun and educational activities for kids.
Third, the center as also presenting an amphibian interpretive program that featured tadpoles and frogs, always a winner with kids.
When we arrived, the center's director met us at the door inviting us in to eat. The building's entrance is beautiful, framed with stacked stone and vaulted ceilings. The center of the building is a breezeway that allows air to flow through keeping the main area comfortable, We learned that the building features a geothermal heating and cooling system, and many of the materials are recycled. Very green!
After eating a wonderful meal and bursting several pinata, we headed for the activities. You can see by the pictures, there was fun had.
Soon it was time for the amphibian presentation. The kids filed in, and filed in, and filed in. The JSU professor seemed a little surprised at the sheer numbers as well as the age group. We could tell he was used to a little older crowd. However, he did a fantastic job of adapting, and kept the kids' interest for the entire session.
In all, we spent about 3-4 hours at the center before heading back to camp at Desoto State Park. We had a lot of fun, learned a lot, and left with several tadpoles, including a rare albino.

The Richardson Tribe
Other Destinations:
Up
Amicalola Falls State Park
Beaches of South Walton.
Berry College
Big Kahunas
Biltmore House
Blairsville, Georgia
Callaway Gardens
Cataloochee Ski Area
Cave Spring
Cedar Creek Park
Charlestown State Park
Chattahoochee Bend State Park
Chattanooga Zoo
Chehaw Park
Cherry Hill Park
Chester Frost Park
Chieftains Museum
Choccolocco Mountain Off Road Park
Cloudland Canyon
Cloudmont Ski and Golf
Consolidated Gold Mine
Cohutta Wilderness
Cumberland Island
Dauset Trails
Disney's Fort Wilderness Resort
Desoto State Park
Doll Mountain Campground
Dollywood
Dunnaway Gap
Enota Mountain Retreat
Etowah Indian Mounds
Fall Creek Falls State Park
Florala State Park
Franklin D Roosevelt State Park
Fort Mountain State Park
Georgia Mountain Fairground
Georgia Veterans State Park
Gold n Gem Grubbin'
Helen Georgia
Hillcrest Orchards
James H Floyd State park
James Island Park
Jellystone Park- Cave City, KY
John Tanner Park
Lake Allatoona
Lake Sidney Lanier
Lake Winnepesaukah
Little River Canyon Center
Live Oak Landing
Lula Lake Land Trust
Mammoth Cave National Park
McIntosh Reserve
McKinney Campground
Moto Mountain Powersports
New Echota - Cherokee Capitol
Noccalula Falls Park details and pictures
Old Stone Fort Archaeology State Park
Pine Moutain RV
Red Top Mountain State Park
Ridge Ferry Park
Rocky Mountain Recreation Area
Rock Town - Pigeon Mountain
Rome GA
Salt Springs Recreation Area
Silver Springs
Stone Mountain Park
Tanglewood Farm
Tannehill State Park
Tellus Science Museum
The Southern Museum
Topsail Hill Preserve
Townsend KOA
Townsend Tennessee
Twinbrook Resort
Up The Creek RV Camp - Park Details - Pictures
US Space and Rocket Center - Details and Pictures
Vogel State Park
Wild Animal Safari
World of Coke
Zoo Atlanta - Details and Pictures