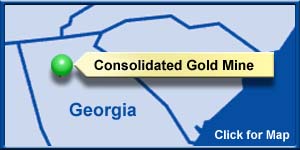 Overview
Consolidated Gold Mine is located in Dahlonega, Georgia, the home of the first Gold Rush in North America. Touring the mine is quite an educational experience. For one thing, you learn that there is still plenty of gold, it just costs too much to mine it (or at least more than mining in Africa and other places).

You can tour the hard rock mine with a guide, then purchase gold ore buckets to pan and precious stone buckets to screen. As with all commercial mines, the buckets are enriched (they add stuff). Initially, it is a little disappointing, but the kids (and adults) sure like finding the little colorful rocks and crystals.
Click here for the history of the first North American gold rush.
Adventure Journal
Entry Date: April 2007
We visited the Consolidated Gold Mine while camping at Amicalola Falls. The weather was turning bad, so we went looking for something to do inside. On this trip, we were accompanied by Flat Stanley. If you are not familiar with Flat Stanley, read about him here.

When we first got into Dahlonega, we visited the Dahlonega Gold Museum which is located in the oldest courthouse in the state of Georgia. We looked at some really cool old mining equipment, watched a video, then headed for lunch at the "world famous" Smith House. One of the coolest things about the Smith House (besides the food) is the old mine they found (in 2006) hidden below the floor for over 100 years. Apparently, mine owners were taxed for their mine shafts, so this sly home owner decided to hide his under the house.

After lunch we headed for the Consolidated Gold Mine Company for a tour, gem grubbing, and gold panning. The gems were placed in the sand, so I was a little disappointed, but the gold panning is for real (I think). Altogether, I figure the gold we got from panning cost us about $18,000 an ounce.

By the time we finished panning at the mine, it was late in the afternoon and the weather was really looking bad, so we headed for home (after watching the gopher near the parking lot for a few minutes). In summary, the weekend was shorter than we'd hoped for, but in all, it was a good experience and a lot of fun, and that's what it's all about!
Other Destinations:
Up
Amicalola Falls State Park
Beaches of South Walton.
Berry College
Big Kahunas
Biltmore House
Blairsville, Georgia
Callaway Gardens
Cataloochee Ski Area
Cave Spring
Cedar Creek Park
Charlestown State Park
Chattahoochee Bend State Park
Chattanooga Zoo
Chehaw Park
Cherry Hill Park
Chester Frost Park
Chieftains Museum
Choccolocco Mountain Off Road Park
Cloudland Canyon
Cloudmont Ski and Golf
Consolidated Gold Mine
Cohutta Wilderness
Cumberland Island
Dauset Trails
Disney's Fort Wilderness Resort
Desoto State Park
Doll Mountain Campground
Dollywood
Dunnaway Gap
Enota Mountain Retreat
Etowah Indian Mounds
Fall Creek Falls State Park
Florala State Park
Franklin D Roosevelt State Park
Fort Mountain State Park
Georgia Mountain Fairground
Georgia Veterans State Park
Gold n Gem Grubbin'
Helen Georgia
Hillcrest Orchards
James H Floyd State park
James Island Park
Jellystone Park- Cave City, KY
John Tanner Park
Lake Allatoona
Lake Sidney Lanier
Lake Winnepesaukah
Little River Canyon Center
Live Oak Landing
Lula Lake Land Trust
Mammoth Cave National Park
McIntosh Reserve
McKinney Campground
Moto Mountain Powersports
New Echota - Cherokee Capitol
Noccalula Falls Park details and pictures
Old Stone Fort Archaeology State Park
Pine Moutain RV
Red Top Mountain State Park
Ridge Ferry Park
Rocky Mountain Recreation Area
Rock Town - Pigeon Mountain
Rome GA
Salt Springs Recreation Area
Silver Springs
Stone Mountain Park
Tanglewood Farm
Tannehill State Park
Tellus Science Museum
The Southern Museum
Topsail Hill Preserve
Townsend KOA
Townsend Tennessee
Twinbrook Resort
Up The Creek RV Camp - Park Details - Pictures
US Space and Rocket Center - Details and Pictures
Vogel State Park
Wild Animal Safari
World of Coke
Zoo Atlanta - Details and Pictures