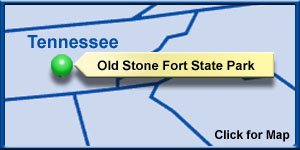 Overview
Old Stone Fort Archaeology State Park is located in Manchester Tennessee, midway between Chattanooga and Nashville off Interstate 24. The park is of major historical significance to the Native Americans that used this location as ceremonial grounds 2000 years ago. The park's name, "Old Stone Fort," is the result of the rock wall that surrounds the 50 acre ceremonial plateau. According to archaeologists, it was not a fort at all.
Old Stone Fort State Park's 50 acre ceremonial grounds are flanked by a fork in the Duck River. The views of the river from the plateau are fantastic with several waterfalls and shoals. The museum provides many visual lessons on the history of the park. The kids were captivated by the timeline and artifacts. Rebecca purchased several books on the history of the area in the gift shop.
For more information and lots of pictures of the park, scroll down.
---
Adventure Journal
Entry Date: November 2009
A friend of ours told us about Old Stone Fort Archaeology State Park, a very very cool place about an hour South of Nashville, Tennessee. It is the site of a 2000 year-old Woodland Indian ceremonial grounds. What is amazing is the fact that the 50 acre perfectly flat hilltop is almost completely surrounded by a rock and dirt wall. Where there is no wall, cliffs and rivers protect the area. As with one of our favorite places, Fort Mountain State Park, the first non-natives to visit the area assumed the enclosure was a fort, and understandably so.

Although no one ever actually lived on the site, (according to archaeologists) it was constructed, maintained, and used for a period of around 400 years. The wall contains no rocks over 70 pounds, in other words, nothing placed in the wall was heavier than a single person could lift and carry.

There is a very nice museum on-site that describes the archaeological processes and findings very clearly, including a time tunnel that demonstrates what was happening elsewhere on Earth at simultaneous times related to the building of this old ceremonial ground.

Although some of the Richardson Tribe didn't think they wanted to hike, the 1.2 mile hike was very easy with lots of neat things to see. By the end of the loop, everyone wanted to go around again, but it was time for lunch. After lunch, we played around the campground, then drove about 20 minutes to Morrison Tennessee for some unusual fun that Daddy thought we'd all love, a MONSTER TRUCK RIDE (scroll down).

The campground at Old Stone Fort is accessed by crossing an old-fashioned truss bridge that, at first sight, seems too small to fit or/support a large RV. We were assured that the Tribe's Homer II would fit through the ironworks, and it did. Camping is just $17 a night ($14 for TN seniors), but don't expect any full hookups or pull-through sites. All sites are back in but most are pretty big and very level. There is water and electricity, but we were unable to get any television reception, which was just fine.

The Richardson Tribe
Other Destinations:
Up
Amicalola Falls State Park
Beaches of South Walton.
Berry College
Big Kahunas
Biltmore House
Blairsville, Georgia
Callaway Gardens
Cataloochee Ski Area
Cave Spring
Cedar Creek Park
Charlestown State Park
Chattahoochee Bend State Park
Chattanooga Zoo
Chehaw Park
Cherry Hill Park
Chester Frost Park
Chieftains Museum
Choccolocco Mountain Off Road Park
Cloudland Canyon
Cloudmont Ski and Golf
Consolidated Gold Mine
Cohutta Wilderness
Cumberland Island
Dauset Trails
Disney's Fort Wilderness Resort
Desoto State Park
Doll Mountain Campground
Dollywood
Dunnaway Gap
Enota Mountain Retreat
Etowah Indian Mounds
Fall Creek Falls State Park
Florala State Park
Franklin D Roosevelt State Park
Fort Mountain State Park
Georgia Mountain Fairground
Georgia Veterans State Park
Gold n Gem Grubbin'
Helen Georgia
Hillcrest Orchards
James H Floyd State park
James Island Park
Jellystone Park- Cave City, KY
John Tanner Park
Lake Allatoona
Lake Sidney Lanier
Lake Winnepesaukah
Little River Canyon Center
Live Oak Landing
Lula Lake Land Trust
Mammoth Cave National Park
McIntosh Reserve
McKinney Campground
Moto Mountain Powersports
New Echota - Cherokee Capitol
Noccalula Falls Park details and pictures
Old Stone Fort Archaeology State Park
Pine Moutain RV
Red Top Mountain State Park
Ridge Ferry Park
Rocky Mountain Recreation Area
Rock Town - Pigeon Mountain
Rome GA
Salt Springs Recreation Area
Silver Springs
Stone Mountain Park
Tanglewood Farm
Tannehill State Park
Tellus Science Museum
The Southern Museum
Topsail Hill Preserve
Townsend KOA
Townsend Tennessee
Twinbrook Resort
Up The Creek RV Camp - Park Details - Pictures
US Space and Rocket Center - Details and Pictures
Vogel State Park
Wild Animal Safari
World of Coke
Zoo Atlanta - Details and Pictures
Features

Rating (1-10)

Description

Official website
8
Tennessee's State Parks website is ok. Could use more pictures of campsites and amenities. It's next to impossible to find out how much it costs to camp here.
Campground
(no reservations)

8

Old Stone Fort has 51 very spacious campsites with water and electric, grills, picnic tables, and a dump station. One of the two restroom facilities includes showers. Campsites are available on a first-come, first-serve basis only and the stay limit is two weeks.

Hiking
8
The trail around the perimeter of the ancient enclosure is 1-1/4 miles in length. It covers the most dramatic scenery in the park. There are 2 miles of foot trails beyond the main interpretive trail.
Visitor Center/Museum

8

The museum provides a timeline exhibit that made it much easier to understand the history of the ceremonial site.

Geocaching

*

Geocaching is available, but we didn't have a chance.
Rockhounding

*

There are rockhounding opportunities everywhere. We didn't have a chance to look for
*Note: We rate only the amenities we have personally reviewed.
**Accommodation pricing is based on 2011 http://gastateparks.org website pricing.

No financial consideration or favor has been received for listing in PB&J Adventures' website. We are in no way affiliated with this facility or any other facility we review. Any paid advertising seen on this site was arranged after the destination was reviewed. You can trust the reviews to be unbiased.
---