A Note from the Richardson Tribe:
Paddling can be relaxing or exhilarating, and everything in between. It can be a peaceful slow jaunt on still water, or a frantic battle against the rapids. When we decided to begin our canoeing adventure, we opted for the slower-paced version. This we did for several reasons. When we began researching this activity in 2010, the children were 6, 6, 7, and 10, Rebecca and I were both pushing 50, and the challenge of carrying enough water craft to fit us all on a Jeep Wrangler narrowed our choices considerably. We had a lot to consider.
Ultimately, we decided to ask Santa to deliver two Dick's Sporting Goods canoes capable of accommodating three people each. I figured out that two canoes could be nested with very little modification allowing them to be carried with a minimal footprint. On Christmas Morning 2010, Santa delivered. Now, getting canoes for Christmas might seem a bit odd. It is, after all, pretty cold in the winter, even in our neck of the southern woods. In fact, for the first time in my life, there was snow on the ground on that Christmas morning. Needless to say, we didn't run right out and get in the pond. We waited a couple of days for that.
With regards to carrying the canoes on our Jeep, I began my research well in advance. I found a water craft rack manufactured by Warrior Products which was really nothing more than a luggage/light rack without the basket. It served its purpose but proved to be a bear to install correctly. Once the rack was attached to the Jeep, I discovered how difficult it was to load the two nested canoes by myself. I usually have some help, but I prefer to know I can do it solo if I have to. I solved the loading dilemma by installing a Cabela's Canoe Loader and Rack. This ingenious device made it much simpler and safer to load the canoes, plus it added significant support to the rear portion of the canoe rack.
So, with the transportation issue resolved and two new canoes, paddles, and life vests, we did what any eager family would do, we headed south. Our christening voyage of the Minnow and Manatee (yes, we name everything we own) was in the 70+ degree waters of Salt Springs Recreation Area in the Ocala National forest. We couldn't have asked for a better first experience. We were able to see and touch manatee while paddling around the peaceful waters. Bonus? No one was eaten by a gator!

We have since taken the canoes on several trips and have enjoyed them immensely. We even tried a little of that "moving water" canoeing, but we think we prefer the slower pace of still or slow-flowing water. If you are considering a way for your family to experience some water-based fun without breaking the bank, consider canoes or kayaks. If you aren't sure, visit a state park or outfitter and rent one to try on for size. Just remember your gear.
The Richardson Tribe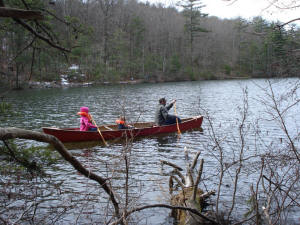 Fort Mountain State Park near Chatsworth, Georgia has a peaceful little lake perfect for a scenic paddle. Canoes can be rented here for a reasonable price.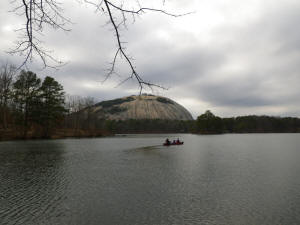 Stone Mountain Park near Atlanta, Georgia is an awesome place to camp and paddle. Private motorized boats are not allowed, so the water is often as smooth as glass. Very peaceful!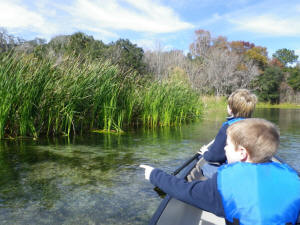 Salt Springs Recreation Area in Florida's Ocala National Forest is a great place to paddle in the winter. A large family of gentle manatee live here.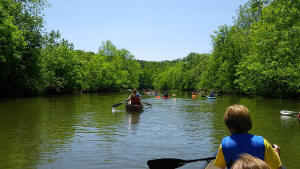 Cedar Creek Park in northwest Georgia rents watercraft and provides transportation to the "put in" point on Big Cedar Creek. Groups with guides are common here. A good place to learn how to paddle.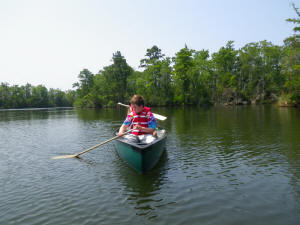 Live Oak Landing, an RV resort in Freeport, Florida, provides great opportunities to fish and see wildlife up close from the seat of a canoe or kayak.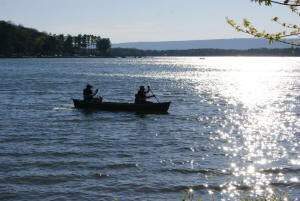 Chester Frost Park near Chattanooga, Tennessee is a favorite destination to camp and paddle. Both fishing and sunsets here are amazing here.
---

Up
Backyard Farming - Back to Basics
Camp Cooking - Dutch Ovens and Pie Irons
Camping
Canoeing/Kayaking
Rockhounding - Collecting and Polishing