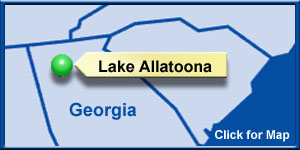 Overview
Lake Allatoona is located about a half hour north of Atlanta near Cartersville, Georgia. The lake is formed by the Etowah River which flows from the gold bearing mountains near Dahlonega. The lake is a popular destination for North Georgia and metro Atlanta, so the waters can be a bit crowded on the weekends. Don't let that stop ypu from visiting, because it's a large lake, and you can always find a quiet corner somewhere. The water is clean, and wildlife abounds.
Camping on lake Allatoona is great! There are many campgrounds to choose from, but we have our favorites. McKinney Campground, an Army Corps of Engineers campground, is one of our all-time favorite places to camp. Many of the sites are on the water, and anchoring your boat overnight near your site is very convenient. Another great place to camp on Allatoona is Red Top Mountain State Park. The RV sites aren't as close to the water as McKinney, but they're still Georgia State Park campsites, so they're awesome! Not to mention, the family activities at Red Top Mountain State Park are second to none. Payne Campground, is another Army Corps of Engineers campground on Lake Allatoona. We haven't camped there, but we have visited. It warrants mention because it's located on Kellogg Creek, a gold-bearing tributary to the Etowah River. But, that's another story...
This is a 50+ year-old lake, so fishing is awesome. Skiing and tubing is fun, just be careful of the traffic. Canoeing and kayaking is great up the Etowah River, including a mountain mining tunnel. Downstream of Allatoona dam, you can visit the Etowah Indian Mounds, the pre-historic home of the Muscogee (Creek) nation. Another must-see near Lake Allatoona is the Tellus Museum, an awesome place with minerals and fossils galore.
---
Adventure Journal
Entry Date: July 2011
When the weather is hot in Dixie, Lake Allatoona is always a cool relief. On this hot trip, we stayed at McKinney Campground, one of our all-time favorite places to camp. Unfortunately, we decided to stay here at the last minute, so we got one of our last choices for a campsite. However, there really is no bad campsite at McKinney, so it was ok. No, we weren't directly on the water, but we had a very private pull-through site with wonderful view just walking distance from the beach and brand new playground.
While at Lake Allatoona on this visit, we had some great company. Some very good friends came and spent the day with us at the beach swimming, and on the boat tubing. All day long we alternated between the campsite (eating), the beach, and the boat. What FUN!
McKinney Campground has built a brand new playground near the beach. It's not as grand as the kids had hoped, but very entertaining just the same. (we'd been promised a new playground on our last visit)
We always like to visit the marina at Allatoona Landing while at Lake Allatoona. They are our source for fuel and Slush Puppies (frozen drinks). However, thee are numerous marinas located all over the lake. On this visit, we made our obligatory stop at the marina for snacks and gas.
As usual, we saw deer and other wildlife on this trip to Lake Allatoona. McKinney is very unique in that aspect. Especially deer. Lots of deer.
Another unique aspect of Lake Allatoona is the abundance of rockhounding opportunities. Minerals abound -- quartz of varying colors, fossils, chert, and much more, maybe even gold! On this trip, we traveled up river to Kellogg Creek to check out Payne Campground. Kellogg creek is a known gold bearing tributary, and I figured Payne campground would be a great home-base for doing a little panning. Ideally, panning would be best in the Autumn and Winter months when the water levels are low. Unfortunately, Payne campground is closed in the Winter. Further investigation is required.
---
Adventure Journal
Entry Date: September 2010
On this trip to Lake Allatoona, we at McKinney Campground , site #88 on the water. All sites are nice, but this and the surrounding sites are especially convenient to the water.

It was Harvest at the Homestead weekend, an event occurring at Red Top Mountain State Park that brought us to Lake Allatoona this time. We chose McKinney as the place to stay because of the incredible lakefront sites, and because Red top Mountain is accessible by boat. It's always more fun to go in a boat! We spent a good part of the day at Red Top Mountain, but when we got back, we enjoyed a beautiful evening at the campsite, and doing a little fishing and rockhounding.
Rockhounding at Lake Allatoona - Lake Allatoona is fed by the Etowah River which winds its way down from Dahlonega, the site of the first Gold Rush in the US. Placer gold (gold that has washed down creek beds from deposits in the mountains) can still be found in the creeks that feed the Etowah. Gold is typically found in quartz, and quartz abounds at McKinney. Now I'm not saying there's gold in the quartz at McKinney, but there are lots other colors. Rocks that don't look like much on the ground often polish-up beautifully. We found some rose quartz that I believe will look great polished. We also found some rock with pale blue crystals I couldn't identify (yet). I will polish them and post the pictures.
There is much layered rock here as well. Layers often mean fossils, although I found none. There are fossils in the quartz, but they are difficult to identify.
With regards to the gold, that will be a future trip. Across the peninsula from McKinney is another Corps of Engineers campground called "Payne". It sits across a cove from Kellogg Creek, a place known for gold. we'll camp at Payne sometime soon so we can ride to the mouth of Kellogg Creek in the boat and pan the day away. Just a note about panning at Allatoona - before you pull out the tools, read the rules.

The Richardson Tribe
Features

Rating (1-10)

Description

Official website
9
The Army Corps of Engineers has a very nice website, but as usual, pictures are in short supply. Making reservations is a great experience because the website provides campsite specific details and an interactive campground map.
Places to camp at Lake Allatoona

9.5

Two of our favorite campgrounds are on Lake Allatoona. Red Top Mountain State Park and McKinney Campground.
Geocaching

*

Geocaching is available, but we haven't had a chance.
Boating

8

We have grown to love Allatoona, but it can get crowded at times. The water seems very clean and marinas abound.
Fishing

8

Allatoona has been here for over 50 years, so the fish population has had plenty of time to establish. Fishing is good.
Rockhounding

8

Lake Allatoona is fed by the Etowah River which flows down from North Georgia's gold-bearing mountains. You can pan up river in some of the streams feeding the river. We also found lots of quartz of varying shades and some unidentified rocks (will post pictures).
Beaches on Lake Allatoona

8

There are two beaches we have visited on Lake Allatoona. They are located at Red Top Mountain State Park and McKinney Campground
Local Attractions

9

Red Top Mountain State Park, McKinney Campground, Tellus Northwest Georgia Science Museum, Booth Western Art Museum. What is notable is that each of these local attractions is in our top picks. This is a great place to stay!
*Note: We rate only the amenities we have personally reviewed.

No financial consideration or favor has been received for listing in PB&J Adventures' website. We are in no way affiliated with this facility or any other facility we review. Any paid advertising seen on this site was arranged after the destination was reviewed. You can trust the reviews to be unbiased.
---
---
September 2010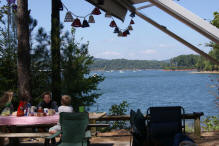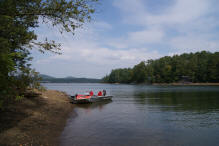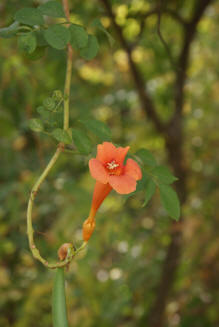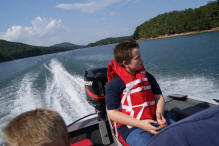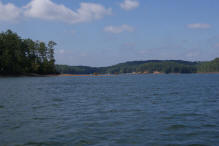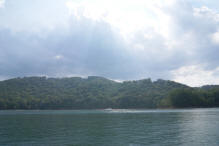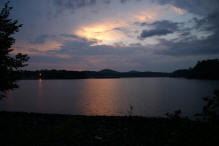 Rockhounding at Lake Allatoona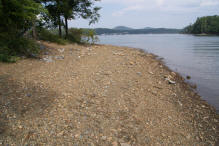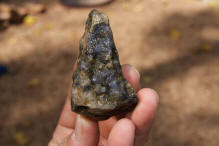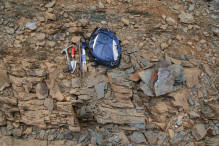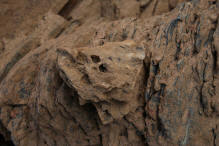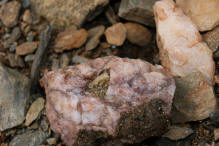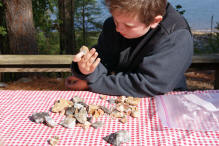 Bartow County (where Lake Allatoona is located) is one of the most diverse and rich mineral sites in the state of Georgia. To pay homage to that fact, there was once a modest little facility in Cartersville, Georgia called the Weinman Mineral Museum. It was kind of small and old, but it was very well run with some very nice displays. The Richardson Tribe visited several times. Then someone did something to that little museum. They made it grand! First, they built a massive structure around the little museum, then they filled it with total awesomeness. Now it has a fossil gallery, a transportation gallery, an observatory, a theater, a planetarium, a hands-on physical science gallery, and a a a fossil dig and gem grubbing for kids, and yes, they still have the mineral gallery, but now larger and better than ever. The museum is now called the Tellus Science museum. If you are visiting the area, or just passing through, you owe it to yourself to visit.