Overview
Cedar Creek Park is cradled by the banks of its namesake in Northwest Georgia near Cave Spring. The clean, cold water winds from the ancient Cherokee farmlands and foothills to the Coosa River, and eventually the Gulf of Mexico. Big Cedar Creek provides multiple opportunities for sport and entertainment. For instance, you can rent a kayak or canoe from the outfitter store, and they will shuttle you upstream for an invigorating 5-mile paddle back down. It's a lot of fun, and the creek is typically very safe and "family friendly." Back at the campground, fishing, swimming, and rock hounding are all pretty good at the creek. It's rocky, so wear water shoes.
Water, however, is not all this park has to offer. The most obvious non-aquatic feature is the driving range. From any campsite at Cedar Creek, it's just a short walk to the tee-boxes. We like to hit a bucket or two after a good meal, just around sunset.
Additionally, at the outfitter/camp store, sports and game supplies are available such as horse shoes, volleyball, badminton, and much more. Movies are also available! Simply check-out the items and return them when you're done. Their use is free. These are just a few of the perks of Cedar Creek Park.
While on the subject of the Cedar Creek outfitter store... WOW! If you are looking for a kayak or canoe, a personal flotation device, or a water-proof cell phone holder, you are in luck. This store is all about fun on the water. It also carries most of the basic RV essentials and a limited number of convenience items. There is, after all, a nice little grocery store is just a couple minutes away, just before THE light in Cave Spring,
Every member of the Richardson Tribe has his or her eyes on the ground regularly, seeking previously overlooked treasures such as semi-precious stones and artifacts. Creeks beds in this region can yield very nice specimens of quartz and other crystals in various forms. Also, this is within the gold belt that is known for its rich placer deposits. At this site, I have found small geodes containing nicely formed crystals, cloudy and colorful quartz crystals, and a wide variety of flint and chert nodules. With regards to artifacts, there is no doubt that arrowheads and other ancient stone tools can be found here. Check laws regarding artifact collection, and always ask the property owner's permission to search for artifacts.
The gravel campsites are good, but not perfect. Many of the sites back-up to the creek, providing a nice back yard overlooking the water. The sites are surprisingly level for water-side sites. However, because creek-side real estate is limited, those sites are pretty narrow for the most part. If you are expecting "state park" sites with all their acreage and privacy, you may be disappointed. What this place does have that most state parks don't? Full hookups For the Richardson Tribe, that's a big deal.
Another very positive aspect of Cedar Creek Park is its proximity to so many great places to go and things to do. It's just a stone's throw from Cave Spring's, Rome, Lake Weiss, Cedartown, the Silver Comet Trail, and much more.
For more, read the PB&J Journals below...
---
Adventure Journal
Entry Date: May 2011
Paddle faster Daddy, I hear banjos!
We decided that this would be our year to really explore water-related activities. Santa brought two 14' canoes this Christmas, and we immediately christened them by paddling with the manatee in Salt Springs, Florida. In fact, we've taken the canoes out numerous times, but always on still water. We figured it was about time to try moving water, so we decided to re-visit Cedar Creek Park on a weekend that the folks at CRBI (Coosa River Basin Initiative) were sponsoring a five-mile paddle trip down the creek. That way, we'd be with people that were familiar with the creek, and might help us along the way. We became acquainted with CRBI through a friend, and have since joined the group. More on them later, let's talk about the paddle first.
The shuttle was supposed to leave for the drop-off point around 10am Saturday morning. We'd camped at the park, so pulling ourselves together in time wasn't too difficult. Fortunately, the outfitter store at Cedar Creek had all the special items we hadn't thought of. I mean, do we really need water proof bags? We're not planning on getting wet!
We had a nice size group, filling two shuttle vans with paddlers and trailers with kayaks of various sizes, and two long canoes. James and Debbie, owners of Cedar Creek were incredibly helpful and gracious. James went ahead with a chainsaw to clear trees that had fallen across the creek as a result of a tornado that had ripped through the area earlier in the week. Debbie and our friend David David hung back with us novices to give us some pointers. We piled into the creek one by one, and headed downstream. Rebecca, Lee Thomas, and John Micah in one canoe, and Heath, Lainey, and I in the other.
Cedar creek is a pretty mild mannered piece of water, at least that's what I'd been told. I had nothing to compare it with. Rough water means rocks, Debbie said. Ok, I'll avoid the rough water. Wait, all I see up there is rough water! So, I tucked my tail between my legs, and paddled hard, following the kayak in front of me through the rapid. The bottom of our canoe smacking rocks all the way. Rebecca did the same. Woo hoo, we made it through!
Pretty early in the trip, there was a drop in the creek that required a hard turn right to avoid a rock. I made it through with our canoe, but Rebecca did not. Her canoe was quickly swamped, and for a brief moment, she couldn't see the kids. Not to worry, everyone had life jackets on, and there were several people right there to help her get the canoe emptied and reloaded. Unfortunately, this spill and talks of another rough spot down the creek made Rebecca nervous the rest of the trip. The funny thing is, it never came.
Other than getting hung-up on a rock here and there, the rest of the four-hour paddle trip went off without a hitch. We had to paddle around a few fallen trees, but most had been cleared well before our passage. We saw turtles, and a snake or two, and some cows along the shore. The trees were in full grandeur, the weather was beautiful, and the company was good. I can't speak for the others, but I apparently used muscles that had not been used for some time.
When we returned to camp, the kids played in the creek and fished while I added some rocks to our collection. We grilled up some steaks, and prepared our first Vidalia onion of the season before hitting a bucket of balls at the driving range. The Tribe slept like babies that night.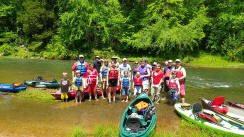 Here's a shot of us with our fellow CRBI Mussel Heads. We didn't lose anyone!
If you have a canoe or kayak that is worthy of class 1 (mild) rapids, then you're set. Cedar Creek Park charges $10 to shuttle you and your craft to the launch site. If you don't have what you need, they will gladly rent you a water craft and whatever supplies are required. Please call to check rates and rules. Have fun!
Adventure Journal
Entry Date: May 2010 - Video
There are many varying opinions when it comes to camping. Some would argue that a tent and a sleeping bag in the wilderness is the only way, and the other extreme might argue that a "Class A" luxury coach in what resembles a large parking lot is best. Anyone that knows the Richardson Tribe knows that we're somewhere in the middle. We love nature, the sights, the space, the adventures and experiences of state parks. However, we also enjoy some of the comforts of home such as air conditioning, a kitchen, a potty, and a comfortable bed. A key feature that limits visits to many national and state parks is the common lack of full hookup (sewer), Anyone that knows the Tribe knows that we really need full hookup if we plan to stay more than a couple of nights with 6-7 people in the camper. It's hard to find the right combination, but Cedar Creek, while not a state or national park, comes pretty close.

At first glance from the highway, the park looked very much like and "RV park"ing lot, with campers packed in tight rows in a large treeless field. A little closer look reveals another side of the park, the creek-side. It is true that much of the property is flat and treeless, but then trees would interfere with the very nice driving range. Many of the sites are creek-side sites just a cast-away from the water, and all the lawn between the full hookup RV sites and the creek is covered with big shady hardwoods. Big Cedar Creek, a tributary to the Coosa River, is absolutely teeming with fish, although they proved very elusive (we need to work on that next time). The park is also very close to Lake Weiss which makes it a fisherman's paradise. In addition to many of the amenities you might expect in a park like this (pavilions, basketball, volleyball, etc.) the campground has the unique feature of kayak, canoe, and tube rental and shuttle service. They have a well stocked outfitter store with kayaks, canoes, paddles, and camping essentials. Frankly, the Tribe spent most of the time playing in the creek and hitting golf balls, so we didn't take advantage of the canoes and kayaks this time. I guess we'll just have to come back.

We also took a side-trip to Cave Spring,

Note: Ultimately, there was very little about Cedar Creek to complain about, but... I have to point out that there is no playground, no cable (and no TV reception), so if you want to watch TV, you'd better bring a dish and/or some DVD's. The environment is child and family friendly, and everyone we interacted with was very courteous and helpful. As mentioned before, we didn't have time to take full advantage of the park, but we will be back, soon!

The Richardson Tribe
Other Destinations:
Up
Amicalola Falls State Park
Beaches of South Walton.
Berry College
Big Kahunas
Biltmore House
Blairsville, Georgia
Callaway Gardens
Cataloochee Ski Area
Cave Spring
Cedar Creek Park
Charlestown State Park
Chattahoochee Bend State Park
Chattanooga Zoo
Chehaw Park
Cherry Hill Park
Chester Frost Park
Chieftains Museum
Choccolocco Mountain Off Road Park
Cloudland Canyon
Cloudmont Ski and Golf
Consolidated Gold Mine
Cohutta Wilderness
Cumberland Island
Dauset Trails
Disney's Fort Wilderness Resort
Desoto State Park
Doll Mountain Campground
Dollywood
Dunnaway Gap
Enota Mountain Retreat
Etowah Indian Mounds
Fall Creek Falls State Park
Florala State Park
Franklin D Roosevelt State Park
Fort Mountain State Park
Georgia Mountain Fairground
Georgia Veterans State Park
Gold n Gem Grubbin'
Helen Georgia
Hillcrest Orchards
James H Floyd State park
James Island Park
Jellystone Park- Cave City, KY
John Tanner Park
Lake Allatoona
Lake Sidney Lanier
Lake Winnepesaukah
Little River Canyon Center
Live Oak Landing
Lula Lake Land Trust
Mammoth Cave National Park
McIntosh Reserve
McKinney Campground
Moto Mountain Powersports
New Echota - Cherokee Capitol
Noccalula Falls Park details and pictures
Old Stone Fort Archaeology State Park
Pine Moutain RV
Red Top Mountain State Park
Ridge Ferry Park
Rocky Mountain Recreation Area
Rock Town - Pigeon Mountain
Rome GA
Salt Springs Recreation Area
Silver Springs
Stone Mountain Park
Tanglewood Farm
Tannehill State Park
Tellus Science Museum
The Southern Museum
Topsail Hill Preserve
Townsend KOA
Townsend Tennessee
Twinbrook Resort
Up The Creek RV Camp - Park Details - Pictures
US Space and Rocket Center - Details and Pictures
Vogel State Park
Wild Animal Safari
World of Coke
Zoo Atlanta - Details and Pictures
Features

Rating (1-10)

Description

Official Website
9
Cedar Creek RV has a kayak/canoe/tubing theme. Full hookups. driving range, no playground, no cable. Nice place.
Campground - Reserve

8

Read review (below left). Sites are narrow as can be expected on creek-side campsites. Full hookup. The creek is clean and very nice.
Driving Range

10

It is pretty cool to walk to the driving range from the camper, hit a few balls, then go fishing.
Kayak, canoe, tube rental.
10
This is what people come for. Rent something, they take you up stream, you ride downstream, Simple, but fun. Call to make sure your kids are old enough to ride in the rental units.
Outfitters Campground Store

10

Buy kayaks, canoes, camping supplies. A very nice store.
Rockhounding

8

There is almost always some kind of rockhounding around if you look. This is a creek, use your imagination. We collected some rocks that will be polished.
Local Attractions

9

Cave Spring, Big Cedar Creek, Rome, Lake Weiss, Berry College, Tellus Science Museum, Ridge Ferry Park, and more.
*Note: We rate only the amenities we have personally reviewed.

No financial consideration or favor has been received for listing in PB&J Adventures' website. We are in no way affiliated with this facility or any other facility we review. Any paid advertising seen on this site was arranged after the destination was reviewed. You can trust the reviews to be unbiased.