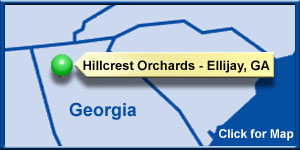 Overview
Hillcrest Orchards is located a few miles southeast of Ellijay, the apple capitol of Georgia. This area has many apple orchards, but Hillcrest takes the apple picking experience to a whole new level. This place is for kids, make no mistake. Everything is geared to little guys having fun, and they do a pretty good job with it, but it's seasonal.

Amenities: There are many things for kids (and adventurous adults) to do at Hillcrest farms. There is a wagon ride through the orchard, abundant playgrounds, a petting farm, a moonshine museum, a big bouncy pillow thing, pedal cards, pony rides, concessions, a bakery, an ice-cream shop, and of course, lots of delicious apples.
Hillcrest Orchards is an autumn destination that will consume a good afternoon of your time. It's fun, and you won't regret the visit. While in the area, you must visit some of the shops in Ellijay. Blue Ridge is also very nearby and features a quaint downtown area, an awesome train experience, and Blue Ridge Lake. If you are looking for a good camping spot, Fort Mountain State Park is nearby as is Amicalola Falls State Park.
---
Adventure Journal
Entry Date: September 2014
We visited here last year around the same time (see below), and really enjoyed the place. Everyone seems to really like Honey Crisp apples, and Hillcrest Orchards has them (and they're awesome). Frankly though, the main attraction for us is the petting zoo. That's where we spent the majority of our time. We also listened to some of the music and watched clogging dancers too. But ultimately, it was about the critters. Had a blast!
The Richardson Tribe
---
Adventure Journal
Entry Date: September 2013
It's the time of year that the apple trees begin to produce heavily in Ellijay, Georgia. The Richardson Tribe makes a tradition of visiting Ellijay at least once or twice every autumn. It's a pretty drive, and local apples are always better than those foreign jobs. This year we decided to make the visit more fun for the kids. We'd heard about Hillcrest Orchards from friends, and decided it was a place we needed to visit.
When we arrived, we paid the admission fee and began the adventure. There was a pair of musicians playing bluegrass music on the stage near the entrance, so we sat and listened to them for a while. They were exceptional. It didn't take long for the kids to notice the milking cow. Each took their turn milking before we boarded a covered wagon for a tour of the orchard.
The wagon ride was fun. We wound through the rows of trees, crossed a creek of sorts, and admired the north Georgia countryside. We ended-up at a miniature golf course, but the kids were eager to try out some of the things they'd seen on the ride. We rode back to the main play area, and the kids proceeded to have a blast. They raced each other in the pedal carts, checked-out every playground feature, and spent a lot of time in the petting farm. Most activities are free once you're in, but the petting zoo and bungee jump thing are additional.
One event we enjoyed (and participated in) is the pig race. Rebecca and I were "volunteered" to race two other couples around a track on a stick horse wearing pig noses and squealing. Then they turned the real pigs loose. It's pretty funny to watch, and the hosts get the kids involved in the whole process. I think our kids enjoyed seeing us race more than the actual pigs.
We went through the moonshine museum and did a few other fun things before ordering up a meal at in the concession area. We followed up our meal with some goodies from the ice cream shop before buying a big bag of apples and heading home. Altogether, we spent around four hours at Hillcrest Orchards, and didn't even take advantage of the "pick your own apples" part of the visit. We were too pooped to pick by then!
In summary, we really enjoyed our afternoon at Hillcrest Farms. There are a few minor maintenance issues with the playground and facilities, but it's easy to overlook those while you're having a blast
The Richardson Tribe
More Destinations:
Up
Amicalola Falls State Park
Beaches of South Walton.
Berry College
Big Kahunas
Biltmore House
Blairsville, Georgia
Callaway Gardens
Cataloochee Ski Area
Cave Spring
Cedar Creek Park
Charlestown State Park
Chattahoochee Bend State Park
Chattanooga Zoo
Chehaw Park
Cherry Hill Park
Chester Frost Park
Chieftains Museum
Choccolocco Mountain Off Road Park
Cloudland Canyon
Cloudmont Ski and Golf
Consolidated Gold Mine
Cohutta Wilderness
Cumberland Island
Dauset Trails
Disney's Fort Wilderness Resort
Desoto State Park
Doll Mountain Campground
Dollywood
Dunnaway Gap
Enota Mountain Retreat
Etowah Indian Mounds
Fall Creek Falls State Park
Florala State Park
Franklin D Roosevelt State Park
Fort Mountain State Park
Georgia Mountain Fairground
Georgia Veterans State Park
Gold n Gem Grubbin'
Helen Georgia
Hillcrest Orchards
James H Floyd State park
James Island Park
Jellystone Park- Cave City, KY
John Tanner Park
Lake Allatoona
Lake Sidney Lanier
Lake Winnepesaukah
Little River Canyon Center
Live Oak Landing
Lula Lake Land Trust
Mammoth Cave National Park
McIntosh Reserve
McKinney Campground
Moto Mountain Powersports
New Echota - Cherokee Capitol
Noccalula Falls Park details and pictures
Old Stone Fort Archaeology State Park
Pine Moutain RV
Red Top Mountain State Park
Ridge Ferry Park
Rocky Mountain Recreation Area
Rock Town - Pigeon Mountain
Rome GA
Salt Springs Recreation Area
Silver Springs
Stone Mountain Park
Tanglewood Farm
Tannehill State Park
Tellus Science Museum
The Southern Museum
Topsail Hill Preserve
Townsend KOA
Townsend Tennessee
Twinbrook Resort
Up The Creek RV Camp - Park Details - Pictures
US Space and Rocket Center - Details and Pictures
Vogel State Park
Wild Animal Safari
World of Coke
Zoo Atlanta - Details and Pictures
Features

Rating (1-10)

Description

8

Hillcrest Orchards' website is a pretty basic design, but it essentially works. Pretty much everything you need to know is there, and there is a decent number of photos.

Orchards (u-pick)

9

Hillcrest Orchard allows visitors to go out and pick their own apples. The have a wide variety available. Watch for yellow jackets (bees)!

Playground

8

The whole place is a playground of sorts. Lots of slides, swings, and various rides. Some things need some maintenance, but it's much fun for the kids.

Pedal Carts

10

It was hard to pull the kids away from these.

Petting Farm

9

We LOVE animals, and while we have our own goats, Hillcrest has bunches of baby goats. Nothing is cuter than a baby goat! This was our favorite feature!

Store

8

The store has apples of course, but they also have all kinds of other apple related items, foods, and drink.

Concessions
9
There is actually a pretty decent selection of food and snacks at Hillcrest Orchards. There are a couple of concession stands offering all the typical menu items (burgers and hot dogs). There is also an ice cream shop and some snack items in the main store.
Nearby Camping/Cabins

9

Fort Mountain State Park is one of our favorite places to camp, period. Fortunately, it's just a short drive from Hillcrest Orchards. Amicalola Falls State Park is also a great place to camp. For more primitive camping, check out Lake Conasauga in the Cohutta Wilderness.

Local Attractions

10

Fort Mountain State Park, Blue Ridge, Blue Ridge Lake, Ellijay (Applefest), Cohutta Wilderness, Lake Conasauga, Amicalola Falls State Park, Chattahoochee National Forest, etc.

*Note: We rate only the amenities we have personally reviewed.

No financial consideration or favor has been received for listing in PB&J Adventures' website. We are in no way affiliated with this facility or any other facility we review. Any paid advertising seen on this site was arranged after the destination was reviewed. You can trust the reviews to be unbiased.
September 2013