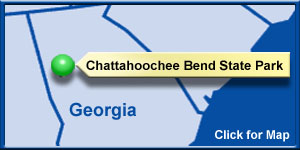 Overview
Chattahoochee Bend State Park is located in west/central Georgia near Newnan. Georgia's newest state park covers almost 3,000 acres and protects about 7 miles of Chattahoochee River shoreline.
Chattahoochee Bend has several features that make it appealing to a variety of outdoor lovers. If you enjoy canoeing, kayaking, boating, and fishing, the park has a boat ramp and lots of river to explore. There are several miles of trails for hiking. There are two RV campgrounds, platform camping, and several screened Adirondack shelters. There is a playground in the RV campground (just one of the two RV campgrounds was open as of July 2011) and another playground near the boat ramp. There are also two very nice pavilions, a large grill, and numerous picnic tables and grills on the river bank near the boat ramp.
The park is relatively isolated. The closest store is about six mile away, and it's a small gas station. There isn't a lot to do in the area. McIntosh Reserve, a really neat Carroll County park, is located almost directly across the river from Chattahoochee Bend, but it's about a 35 minute drive. Banning Mills is about a 30 minute drive.
Now, for the negatives. Much of the construction has just been completed or is underway (as of July 2011). The trees in the RV campground were pretty much cleared to build sites, so there is very little shade. The sites are not particularly level, and the tiny gravel they used in the patio areas is so fine, it's easily tracked into the camper. Other than the amenities I've already mentioned, there is very little to do here. Children could get bored pretty easily. And finally, the visitor center is really just a giftshop. You'll find just a handful of useful camping supplies, and none of the basic food necessities.
A lot of people have spent a massive amount of time time building this park. Their work shows, but the park has a long way to go before it ranks high for this family. Time will tell if the park evolves into something grand for the family. We wish the rangers, staff, and volunteers luck.
---
Features

Rating (1-10)

Description

Official website
9
Georgia's State Parks website is very well done. Could use more pictures of campsites and amenities. Making reservations is a breeze!
Featured Event
7
Spring Guided Hike - Sunday, Apr 20, 2014
The molten domes of magma that cooled to form our outcrops were generated from the heat and friction at the edges to colliding continental plates about 500 million years ago. Walk along the granite to see endangered plant species blooming and mosses and lichens that take 25 years to grow 1 square inch. Meet at the Visitors Center. $5 parking.

770-254-7271.

Campground - Reserve

8

51 RV Campsites (**$28 +/-) - No full hookups. Not many trees/shade in the campgrounds. large sites, relatively level.
Adirondack Camp - Reserve
*

$35** per night. These are pretty neat little screened shelters.

Playgrounds

8

The kids loved the playgrounds. Could be more variety.
Hiking
8
Miles of hiking!
Visitor Center

8

It's a nice visitor center, but not much else. Eagerly awaiting a nature and/or interpretive center and supply store.

Geocaching

*

Geocaching is available, but we didn't have a chance.
Rockhounding

*

There are rockhounding opportunities everywhere. Nothing caught our eye here.
Local Attractions

7

McIntosh reserve, Banning Mills, John Tanner State Park, Carroll County Gold Museum
*Note: We rate only the amenities we have personally reviewed.
**Accommodation pricing is based on 2011 http://gastateparks.org website pricing.

No financial consideration or favor has been received for listing in PB&J Adventures' website. We are in no way affiliated with this facility or any other facility we review. Any paid advertising seen on this site was arranged after the destination was reviewed. You can trust the reviews to be unbiased.
---
The predominant features of the skyline is the presence two smoke stacks servicing the nearby coal-burning power plant. It's amazing how many times they will be in front of you regardless of whether you are coming or going.
Adventure Journal
Entry Date: July 2011
We'd been anxiously following the progress of Chattahoochee Bend State Park online for months, and we were excited to visit soon after its opening. The prospect (and mystery) of a massive new state park opening in Georgia (when other's budgets were being slashed) made us anticipate the visit even more. Additionally, we realized there was a big empty spot on our map just a stone's throw to the Southwest of home base.

On the day of our deprture, I'd hosted an educational teacher-training workshop (my 19th in as many years), and was finished by noon. Rebecca and the kids joined me at the Tellus Science Museum where I loaded the Jeep on the trailer, and we were off.

We first stopped in Villa Rica, the site of the first discovery of gold in Georgia. We visited the Gold museum, and panned for gold in their water trough. The water was not flowing, and there were mosquito larvae swimming around. We did, of course, find our allotted ration of gold and semi-precious gemstones. The grounds of the museum were being landscaped, and was looking pretty nice. The farm animal display needed work. It's free to wander the grounds, but panning and the museum are extra.

From there we headed south to Chattahoochee Bend State Park. We turned right, then left, then left, then right, then left, then right, then left, and so on and so forth... As the crow flies, it wasn't far, but there was absolutely no way to get there directly, and many of the intersections in this area have traffic circles. Finally, we saw a sign that said Chattahoochee Bend State Park 10 miles. About 25 minutes, and 6-10 turns later (so it felt), we were pulling into the park.

Checking-in at the visitor center gave me the opportunity to check out their supplies. It was primarily a gift shop with t-shirts and what-not. There was a small section of RV supplies, but no groceries whatsoever. I asked about bottled water. Only in the coke machine outside. They do have ice. There's a country convenience store about six miles from the park's entrance, which translates to about a 30 minute round trip. It's best to plan a little better than the Richardson Tribe did this time.

When we pulled into the campground, the sites seemed large and fairly level. Because we had a trailer and Jeep, I selected a pull through site. I had to raise the rear of the camper a couple inches, not bad. I noticed some of the other sites were not quite so level. The campground layout is pretty nice, but like many new campgrounds, most of the trees have been bulldozed and replaced with occasional small hardwoods. Good shade should be available in 15-20 years.

I immediately noted another negative that may seem silly to some. The patio area is filled with tiny gravel. Tiny enough to stick to shoes and bare feet, and be tracked into the camper. This is the same mistake many campground designers make, including Desoto State Park in Alabama.

The kids immediately wanted to visit the playground. Some of the more traditional playground features were not present, but other unique features were. It was an unusual modernistic playground that the kids enjoyed. We spend both pre-sunset evenings watching the kids play on the playground.

On the second day at the park we poked around the property a bit. The area at the boat ramp has a lot of potential. There are picnic tables and grills scattered along the bank. There are a couple of pavilions and another playground similar to the one at the campground. The river seems to be the main attraction, and there is a boat ramp, but they need a dock/pier for fishing.

And that's about it. We decided to spend the rest of the day exploring the local area. We visited McIntosh Reserve, the former home and current resting place of the Creek chief William McIntosh, assassinated for signing a treaty vanquishing millions of acres of Creek land to US Government. This is a neat park that has some camping potential. If you like horseback riding, this is a great place to visit.

Next, we went to John Tanner Park (after a big steak lunch at Longhorn). John Tanner Park, formerly a Georgia state park, is a crowded place with an old campground, lake, and beach. The history of the place is classic, and if the state had invested a fraction of the dollars spent at Chattahoochee Bend here, it could have been a very special place. We spent the balance of the day here, kids playing in the water, Rebecca and I laying around on the grass. This is a very popular place for locals. If you like crowds, bring it on.

We slept-in on Sunday morning, and enjoyed a Summer shower that cooled the otherwise scalding air. Checkout time is 3pm (as of July 2011), and we stayed as long as we could before the drive home.

The Richardson Tribe

Other Destinations
Up
Amicalola Falls State Park
Beaches of South Walton.
Berry College
Big Kahunas
Biltmore House
Blairsville, Georgia
Callaway Gardens
Cataloochee Ski Area
Cave Spring
Cedar Creek Park
Charlestown State Park
Chattahoochee Bend State Park
Chattanooga Zoo
Chehaw Park
Cherry Hill Park
Chester Frost Park
Chieftains Museum
Choccolocco Mountain Off Road Park
Cloudland Canyon
Cloudmont Ski and Golf
Consolidated Gold Mine
Cohutta Wilderness
Cumberland Island
Dauset Trails
Disney's Fort Wilderness Resort
Desoto State Park
Doll Mountain Campground
Dollywood
Dunnaway Gap
Enota Mountain Retreat
Etowah Indian Mounds
Fall Creek Falls State Park
Florala State Park
Franklin D Roosevelt State Park
Fort Mountain State Park
Georgia Mountain Fairground
Georgia Veterans State Park
Gold n Gem Grubbin'
Helen Georgia
Hillcrest Orchards
James H Floyd State park
James Island Park
Jellystone Park- Cave City, KY
John Tanner Park
Lake Allatoona
Lake Sidney Lanier
Lake Winnepesaukah
Little River Canyon Center
Live Oak Landing
Lula Lake Land Trust
Mammoth Cave National Park
McIntosh Reserve
McKinney Campground
Moto Mountain Powersports
New Echota - Cherokee Capitol
Noccalula Falls Park details and pictures
Old Stone Fort Archaeology State Park
Pine Moutain RV
Red Top Mountain State Park
Ridge Ferry Park
Rocky Mountain Recreation Area
Rock Town - Pigeon Mountain
Rome GA
Salt Springs Recreation Area
Silver Springs
Stone Mountain Park
Tanglewood Farm
Tannehill State Park
Tellus Science Museum
The Southern Museum
Topsail Hill Preserve
Townsend KOA
Townsend Tennessee
Twinbrook Resort
Up The Creek RV Camp - Park Details - Pictures
US Space and Rocket Center - Details and Pictures
Vogel State Park
Wild Animal Safari
World of Coke
Zoo Atlanta - Details and Pictures