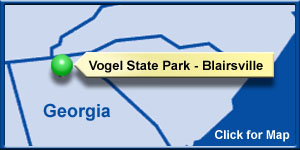 Overview
Vogel State Park is located near Blairsville in the north Georgia mountains. Vogel, one of the first state parks in Georgia, was constructed primarily by the Civilian Conservation Corps (CCC). Vogel is also one of the most popular state parks in Georgia, so reserving a campsite there is sometimes difficult. The park features a beautiful lake with a sandy beach and pedal boats, two playgrounds, miniature golf, a CCC museum (call the park for hours), and a very nice camp store and gift shop. Regarding the park's campground, Vogel upholds Georgia's high standards by providing large RV sites with water and electric hookups (sorry, no sewer).
The park has plenty of hiking, biking, and other outdoor recreation opportunities. A small creek runs through the campground providing a nice soundtrack for family adventure. If you take bikes, be aware that the ride from the campground is a breeze, but the ride back is all uphill. Vogel is in the Chattahoochee National Forest, so wildlife abounds. Be aware of black bears. They're very common.
Being just minutes from Blairsville is very convenient, especially considering the numerous events and festivals that take place in the small mountain town. Other local attractions include the Appalachian Trail, Brasstown bald (the highest point in Georgia), Helton Falls, Track Rock Gap, Helen (alpine village), Unicoi State Park, Cleveland (Gold and Gem Grubbing), Hiawassee, Blue Ridge, Franklin North Carolina (ruby mining), and much more.
---
Adventure Journal
Entry Date: November 2011
The Richardson Tribe has camped at Vogel State Park once before, and really enjoyed it. It's very convenient because it's very close to Blairsville, and getting their doesn't involve a lot of winding mountainous roads.
On this trip, over Thanksgiving holiday, we were joined by some very good friends. We were very lucky to acquire two very private campsites adjacent to one another. Vogel is a very popular park, and if you want stay here, you need to plan ahead. Some holidays, such as the 4th of July, are extremely popular, and reservations must be made months in advance.
We arrived at the park just after sundown on Thanksgiving day. Luckily, our friends had arrived much earlier and claimed our spot. At that time, there were only about four sites open. It was cold, but not excessively so. There was already a nice big fire, in the kids played hard, running around the campsite and playing hide and seek.
The first half of Friday was spent at the campground. The kids quickly discovered the creek and spent a good deal of time playing there. Later we hopped on the bikes and rode to the playground, and eventually the miniature golf course. As the day warmed, we decided to take a drive over to Helen, a touristy "Alpine" village. Helen was crowded, but it was fun to walk around the town and visit the unique candy and gift shops. Helen receives mixed reviews from our family. Rebecca loves the shops and atmosphere. The kids have mixed feelings (there are toy stores and candy/fudge shops). Personally, I find the town too crowded and commercial, but that's just me (Scrooge).
Saturday was spent playing around the campground, panning for gold, riding bikes, and hiking to the waterfalls beyond the lake's dam. I was disappointed that the CCC (Civilian Conservation Corps) museum was padlocked. We really enjoyed the museum on a previous visit. It's a fair distance from the campground to the far end of the lake, so bringing bikes is a pretty good idea. However, we found out that it's a very long uphill ride back to the campground.
Sunday morning brought rain, so I started the packing process early. On the way home, we stopped in Ellijay to have lunch at pooles barbecue, a very popular tourist dining experience. The atmosphere was unique and entertaining, and the barbecue was pretty good. I felt it was a bit pricey considering what we had to eat. I'd recommend pooles barbecue at least once so you can say you been there.

The Richardson Tribe

---
Adventure Journal
Entry Date: June/July 2007
Vogel State Park in an awesome place! We were very lucky to get a big creek-side spot this week because many people reserve spots a year in advance for the 4th of July festivities. The site was very nice and clean. The park has a lake with a beach and peddle boats, a miniature golf course, and falls that you can hike to. There is also a CCC museum where you can see how the young men that built this, and many other parks across the country, lived and worked (for a dollar a day).
The only negative is that the laundry room is way too small with too few washers and old dryers that do not work well. Also, there is no full hook-up (no sewer), but that's pretty standard for state parks. The roads are a little too hilly for our kids to ride bikes, but older, more experience riders would have enjoyed it. A bear visited our site early Thursday morning, but we were sleeping late and missed it. Personally, I think this is the nicest state park we've been to thus far. Its only a couple of hours away, but it's really secluded. It's close enough to attractions for day trips like Helen, Unicoi State Park, gem mining/grubbing, Tallulah Gorge, Dillard, Frankiln, etc. We'd give it six thumbs-up.

While camping at Vogel, we took a day trip to Helen, GA, an alpine village (tourist trap) located in North Georgia. We didn't spend much time there because Lee Thomas wasn't feeling well, but I'd like to note that we ate lunch at La Cabana, a wonderful Mexican restaurant with very good food. The owners/management were very nice and treated the kids like their own. It was also very reasonably priced with food and drinks totaling about $5.00 apiece.

I'd also like to mention a barbeque restaurant we ate at on the way home on Saturday. If you're ever in Blue Ridge, Georgia, stop by Blue Ridge Mountain BBQ for lunch. I think it was some of the best barbeque I've ever had! The service was great too!

More Destinations:
Up
Amicalola Falls State Park
Beaches of South Walton.
Berry College
Big Kahunas
Biltmore House
Blairsville, Georgia
Callaway Gardens
Cataloochee Ski Area
Cave Spring
Cedar Creek Park
Charlestown State Park
Chattahoochee Bend State Park
Chattanooga Zoo
Chehaw Park
Cherry Hill Park
Chester Frost Park
Chieftains Museum
Choccolocco Mountain Off Road Park
Cloudland Canyon
Cloudmont Ski and Golf
Consolidated Gold Mine
Cohutta Wilderness
Cumberland Island
Dauset Trails
Disney's Fort Wilderness Resort
Desoto State Park
Doll Mountain Campground
Dollywood
Dunnaway Gap
Enota Mountain Retreat
Etowah Indian Mounds
Fall Creek Falls State Park
Florala State Park
Franklin D Roosevelt State Park
Fort Mountain State Park
Georgia Mountain Fairground
Georgia Veterans State Park
Gold n Gem Grubbin'
Helen Georgia
Hillcrest Orchards
James H Floyd State park
James Island Park
Jellystone Park- Cave City, KY
John Tanner Park
Lake Allatoona
Lake Sidney Lanier
Lake Winnepesaukah
Little River Canyon Center
Live Oak Landing
Lula Lake Land Trust
Mammoth Cave National Park
McIntosh Reserve
McKinney Campground
Moto Mountain Powersports
New Echota - Cherokee Capitol
Noccalula Falls Park details and pictures
Old Stone Fort Archaeology State Park
Pine Moutain RV
Red Top Mountain State Park
Ridge Ferry Park
Rocky Mountain Recreation Area
Rock Town - Pigeon Mountain
Rome GA
Salt Springs Recreation Area
Silver Springs
Stone Mountain Park
Tanglewood Farm
Tannehill State Park
Tellus Science Museum
The Southern Museum
Topsail Hill Preserve
Townsend KOA
Townsend Tennessee
Twinbrook Resort
Up The Creek RV Camp - Park Details - Pictures
US Space and Rocket Center - Details and Pictures
Vogel State Park
Wild Animal Safari
World of Coke
Zoo Atlanta - Details and Pictures
Watch for special events!

Features

Rating (1-10)

Description

9

Georgia's State Parks website is very well done. Could use more pictures of campsites and amenities. Making reservations is a breeze!

Vogel State Park Campground Details - Reserve

9

103 Tent, Trailer, RV Campsites (**$25-$28) - No full hookups. Beautiful campground...

There are around 35 Cottages/Cabins to rent at Vogel State Park- Reserve

*

$90-$155 per night. We have seen the cabins and cottages from outside. Considering the park's other amenities. I would guess they are very nice on the inside too.

Playground

8

There are two playgrounds. One is for younger children, and the other is for the older crowd (6-12).From what I remember about our 2007 visit, the "little kids" playground entertained the children for hours. However, the "big kids" playground played out pretty fast. I'd love to see a big exploratory playground here (see Chehaw).

Miniature Golf
8
Vogel State Park decent little miniature golf course, in need of a little TLC as can be expected in a fund-starved state park. However, you can expect to pay $4 per golfer, regardless of age (that's $24 for our family of 6). I personally think that's a bit on the pricey side.

Hiking

10

If the park's trails aren't enough, the Appalachian Trail passes very near...

Visitor Center

9

The visitor center has one of the best camp stores I've seen.

8

There are plenty of rockhounding opportunities in the immediate area. We panned for gold in the creek in the campground at Vogel with no luck. Wefound some nice quartz, but nothing collectible. Dahlonega is also very near and features commercial gold panning and rockhounding. Franklin, North Carolina is a big ruby and sapphire mining town just a little north. Check out Sheffield Ruby Mine in Franklin.

Local Attractions

9

Brasstown Bald (highest point in Georgia), Blairsville, Helen, Cleveland, Franklin, Gold n Gem Grubbin, Mountain Heritage Museum (Blairsville), Enota Mountain Retreat, Lake Nottely, Vogel State Park, Helen, Unicoi State Park, Gold N Gem Grubbin, Brasstown Bald (highest point in GA), Enota Mountain Retreat, Georgia Mountain Fairgrounds, Hiawassee, Murphy, Franklin, NC (ruby mining), and much more.

*Note: We rate only the amenities we have personally reviewed.
**Accommodation pricing is based on 2011 http://gastateparks.org website pricing.

No financial consideration or favor has been received for listing in PB&J Adventures' website. We are in no way affiliated with this facility or any other facility we review. Any paid advertising seen on this site was arranged after the destination was reviewed. You can trust the reviews to be unbiased.
---