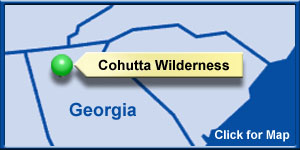 Overview
The 37,000 acre Cohutta Wilderness is located in north-central Georgia and extends into southern Tennessee. You can drive from one end to the other without crossing a single paved road. Within the wilderness, you can see the highest lake campground in Georgia, many mountain vistas, numerous waterfalls, whispering streams, roaring creeks, bubbling springs, black bears, deer, bobcats, and according to some, mountain lions. The term Wilderness is literal. It is truly a wilderness. When you are in the wilderness, the only sounds you hear are the natural sounds of the wind in the trees, rushing water in the stream, and the sounds of wildlife all around.
There are numerous camping spots in the Cohutta Wilderness, mostly unimproved. Lake Conasauga is a great example of an improved wilderness campground with a 19 acre lake. although the campground is very nice, it's located several miles from a paved road, so taking a large RV in may not be the best idea. The roads are very well maintained, but the hills can become washboard-like, which I imagine would be pretty demanding on a large RV. If you want a bit more refined campground, we recommend Fort Mountain State Park, our favorite campground.
There are several ways to access the Cohutta Wilderness. We typically enter from the East, through Eaton (CCC Camp Rd), Crandall (Mill Creek Rd., or Cisco (Historic Old hwy 2). There are other access points from the South and West, just look at the map. Regardless of where you enter, never enter the Cohutta Wilderness without plenty of gas and properly inflated tires. If you break-down in heart of the wilderness, it's a very long hike out.
---
Adventure Journal
Entry Date: August 2015
We've been doing a lot of back country Jeeping recently, and have logged quite a few miles in the Cohutta Wilderness over the last month. Most of the rides have been on somewhat familiar dirt roads that we've explored many times over the years. We recently heard about this single lane Jeep trail that winds for about 5-6 miles back into the wilderness and dead ends at a cemetery. The main attraction was the prospect of water crossings, and this trail has several.
A couple of my childhood friends recently purchased Jeeps, and were eager to join us for the ride. We had just a little trouble finding the road, but when we did, we knew we'd discovered a gem. It's mild enough that most any vehicle could handle it, but aggressive enough to provide some fun and excitement. I wouldn't bring the family sedan up here. It's a little scary at times (especially meeting another vehicle), but we felt safe. This is what Jeeps are built for.

The creek crossings were easy, and the water was never more than 12-24 inches. The water is crystal clear and very cold (even in August). In fact, the air temperature was probably 10-15 degrees cooler on this ride than in Ellijay although there is not a lot of altitude change. There's an amazing waterfall about 2/3 of the way in that makes the ride that much better. We also discovered that there is a second cemetery on this road, but getting up the hill to view it is treacherous. If you have a decent Jeep and consider yourself a 4X4 expert, then go for it. I really recommend walking the hill first though, just so you can get a good idea of the 3' deep ruts and washes beforehand.

I'm not going to publish the name of the road this trail is located on because it's too perfect to spoil with crowds. If you are interested in visiting the area, contact me at john.richardson@lli.com, and I'll clue you in.

Note: We returned a week later and spent the afternoon chilling and panning in the creek. We found lots of garnet but no gold.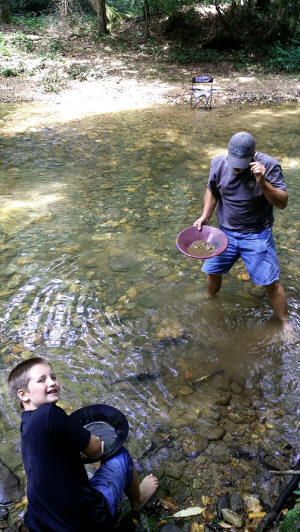 The Richardson Tribe
---
Adventure Journal
Entry Date: July 2015
Back in the BC (before children) Rebecca and I used to go for frequent drives through the Cohutta Wilderness to enjoy the scenery and wildlife. We've brought the kids up here several times, but not as often as we'd like. When a friend called announcing his purchase of a Jeep, we decided it was time for a ride over Grassy Mountain and up to Lake Conasauga for the day.

When I checked the weather first thing in the morning, it appeared as though the weather would be great until late afternoon. I took the top off the Jeep and left it at home. The weather report was wrong. Bad wrong. As soon as we headed up the mountain on the old dirt and rock road, it began to rain. Luckily, I'd picked up a couple of tarps just for such occasions. I bungeed them on and we proceeded on our ride. The brief rain shower actually did us a great favor because it settled the dust completely. You really don't want to follow or meet someone up here when it's real dry.

We cruised along the roads for some time that are in surprisingly good condition. Not motorhome good, but they're ok for most cars. We even met a couple on a Harley coming from the Blue Ridge direction, but I suspect they took a wrong turn somewhere. I'm sure they regretted it. This is no road for big heavy bikes.

By the time we reached Lake Conasauga, the temperature had dropped from 93 to around 71. The altitude makes a big difference, but I think it's more than just altitude. The weather is always so different up there. We stayed at the lake for a while and rode through the campground which was occupied by a handful of pop-up campers and tents. The campground host has a trailer, but I personally wouldn't want to pull a real nice trailer up here.

On the way out of the wilderness area, we passed several awesome views and stopped at some waterfalls. We were luck with the weather all day, until...

When we crested Fort Mountain and looked from the overlook, it was obvious we were about to get wet. We hit heavy rain about 3 miles from the base of the mountain, and it was a mess. Water on the inside of the windshield made the wipers useless. I grabbed a towel and wiped it off repeatedly so I could see. When we finally reached toe bottom, we pulled under a gas station's canopy until the rain passed. From there, we had about a 45 minute ride home. We made it almost all the way, but were caught in the rain once again. We could have been upset, but we figure it's a day the kids will never forget. We had a blast!

The Richardson Tribe
---
Adventure Journal
Entry Date: March 2011
The Tribe gets around. We like to see new places and do new things. But sometimes, it's nice to revisit an old friend. Sometimes a sure thing is better than a gamble. This is a very busy time of year for our family, so, to decompress, we decided a to visit an old friend, Fort Mountain State Park (located at the Southern edge of the Cohutta Wilderness). It's a mystery to me why more people don't take advantage of parks like this in the Winter and early Spring. We enjoyed 70 degree weather in paradise, practically by ourselves.
It was a little chilly first thing Saturday morning, so we decided to take a short ride in "Willie B" the Jeep. Fort Mountain is located adjacent the Cohutta Wilderness. We wanted to see if we could spot a bear, and maybe do a little rockhounding around the water falls. We founds lots of quartz of varying colors, just the kind of stuff gold likes to hide in.
When we got back to Fort Mountain State Park, we put the canoes in the lake and spent the rest of the day paddling around, fishing, and playing at the playground on the opposite end of the lake. We closed the day with a beautiful sunset, games, and grilled steaks and baked potatoes.
Altogether, it was just about as perfect a day as I can remember. Fort Mountain can get a little crowded in the Summer, especially the beach. But camping here this time of year is a no brainer. We can't wait to come back to see our old friend again soon.

The Richardson Tribe

More Destinations
Up
Amicalola Falls State Park
Beaches of South Walton.
Berry College
Big Kahunas
Biltmore House
Blairsville, Georgia
Callaway Gardens
Cataloochee Ski Area
Cave Spring
Cedar Creek Park
Charlestown State Park
Chattahoochee Bend State Park
Chattanooga Zoo
Chehaw Park
Cherry Hill Park
Chester Frost Park
Chieftains Museum
Choccolocco Mountain Off Road Park
Cloudland Canyon
Cloudmont Ski and Golf
Consolidated Gold Mine
Cohutta Wilderness
Cumberland Island
Dauset Trails
Disney's Fort Wilderness Resort
Desoto State Park
Doll Mountain Campground
Dollywood
Dunnaway Gap
Enota Mountain Retreat
Etowah Indian Mounds
Fall Creek Falls State Park
Florala State Park
Franklin D Roosevelt State Park
Fort Mountain State Park
Georgia Mountain Fairground
Georgia Veterans State Park
Gold n Gem Grubbin'
Helen Georgia
Hillcrest Orchards
James H Floyd State park
James Island Park
Jellystone Park- Cave City, KY
John Tanner Park
Lake Allatoona
Lake Sidney Lanier
Lake Winnepesaukah
Little River Canyon Center
Live Oak Landing
Lula Lake Land Trust
Mammoth Cave National Park
McIntosh Reserve
McKinney Campground
Moto Mountain Powersports
New Echota - Cherokee Capitol
Noccalula Falls Park details and pictures
Old Stone Fort Archaeology State Park
Pine Moutain RV
Red Top Mountain State Park
Ridge Ferry Park
Rocky Mountain Recreation Area
Rock Town - Pigeon Mountain
Rome GA
Salt Springs Recreation Area
Silver Springs
Stone Mountain Park
Tanglewood Farm
Tannehill State Park
Tellus Science Museum
The Southern Museum
Topsail Hill Preserve
Townsend KOA
Townsend Tennessee
Twinbrook Resort
Up The Creek RV Camp - Park Details - Pictures
US Space and Rocket Center - Details and Pictures
Vogel State Park
Wild Animal Safari
World of Coke
Zoo Atlanta - Details and Pictures