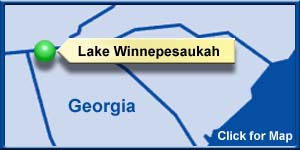 Overview
Lake Winnepesaukah is located in Rossville,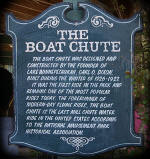 Georgia near Chattanooga Tennessee. Affectionately known as Lake Winnie by the locals, this park has entertained multiple Southern generations since opening to the public in 1927.

During the Winter of 1926-1927, the park's founder built the "Boat Chute," a unique splash ride that still operates today. People came from Chattanooga, Lookout Mountain, and all over North Georgia to chill in the cool spring water on hot Summer days. The Richardson Tribe enjoys hearing stories from Rebecca's Mom about visiting the park on a date with her father over 60 years ago.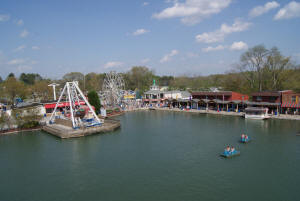 As the years passed, rides were added, improved, expanded, and updated. A mini-scale train track was built around the park's perimeter, and a nice long antique car track was also added. Eventually, a nice wooden roller coaster was added. The legendary Cannon-Ball roller coaster is named for the Civil War relics often found in is area around the turn of the century. Chickamauga, one of the most notorious Civil War battlefields, is located very near here, and many skirmishes took place all around North Georgia and Chattanooga.
Today, there are a good many rides for a wide variety of ages. We loved bringing the kids when they were very young, because there are lots of kiddy rides. 2011 is really the first year that we've been able to enjoy the big kid rides, and there are more than I thought.

Kiddie Rides
Airplanes Bumble Bees Frog Hopper Jumbo Elephants Kiddie Boats Kiddie Swings Lady Bugs Motorcycles Parachutes Sports Cars Whale
Additionally, the park has an intimate outdoor amphitheater that features numerous concerts throughout the Summer season. The park is also host to many parties and reunions. Several large pavilions can be rented, and you can bring your own food. There is a wonderful new play area and a very nice miniature golf course if the rides get too exciting.
If you come to Lake Winnie expecting Disney, you will be disappointed, or not, depending on your perspective. The rides aren't as "fantastic" as Disney, sure, but you don't have to stand in line for an hour either. If you come to the park with an appreciation of the history, you'll overlook some of the faded paint. I can guarantee you one thing, the kids will love it, and isn't that what it's all about?
Other Destinations:
Up
Amicalola Falls State Park
Beaches of South Walton.
Berry College
Big Kahunas
Biltmore House
Blairsville, Georgia
Callaway Gardens
Cataloochee Ski Area
Cave Spring
Cedar Creek Park
Charlestown State Park
Chattahoochee Bend State Park
Chattanooga Zoo
Chehaw Park
Cherry Hill Park
Chester Frost Park
Chieftains Museum
Choccolocco Mountain Off Road Park
Cloudland Canyon
Cloudmont Ski and Golf
Consolidated Gold Mine
Cohutta Wilderness
Cumberland Island
Dauset Trails
Disney's Fort Wilderness Resort
Desoto State Park
Doll Mountain Campground
Dollywood
Dunnaway Gap
Enota Mountain Retreat
Etowah Indian Mounds
Fall Creek Falls State Park
Florala State Park
Franklin D Roosevelt State Park
Fort Mountain State Park
Georgia Mountain Fairground
Georgia Veterans State Park
Gold n Gem Grubbin'
Helen Georgia
Hillcrest Orchards
James H Floyd State park
James Island Park
Jellystone Park- Cave City, KY
John Tanner Park
Lake Allatoona
Lake Sidney Lanier
Lake Winnepesaukah
Little River Canyon Center
Live Oak Landing
Lula Lake Land Trust
Mammoth Cave National Park
McIntosh Reserve
McKinney Campground
Moto Mountain Powersports
New Echota - Cherokee Capitol
Noccalula Falls Park details and pictures
Old Stone Fort Archaeology State Park
Pine Moutain RV
Red Top Mountain State Park
Ridge Ferry Park
Rocky Mountain Recreation Area
Rock Town - Pigeon Mountain
Rome GA
Salt Springs Recreation Area
Silver Springs
Stone Mountain Park
Tanglewood Farm
Tannehill State Park
Tellus Science Museum
The Southern Museum
Topsail Hill Preserve
Townsend KOA
Townsend Tennessee
Twinbrook Resort
Up The Creek RV Camp - Park Details - Pictures
US Space and Rocket Center - Details and Pictures
Vogel State Park
Wild Animal Safari
World of Coke
Zoo Atlanta - Details and Pictures
Features

Rating (1-10)

Description

Official website

9

Lake Winnie's website has a good design and is very informative. As I explored, I was pleased to find educational resources for parents and teachers,
Rides

8

Local Attractions

10

Chattanooga is an awesome city filled with incredible things to do. There is Chester Frost Park, Lookout Mountain, Rock City, Ruby Falls, the Tennessee River, Tennessee Aquarium, Lula Lake Land Trust, Chattanooga Zoo, Chattanooga Choo Choo, and more....

Places to camp near Lake Winnepesaukah

9
Remarkably, camping options are limited in the scenic city. There are several campgrounds, but we really like Chester Frost Park.
*Note: We rate only the amenities we have personally reviewed.

No financial consideration or favor has been received for listing in PB&J Adventures' website. We are in no way affiliated with this facility or any other facility we review. Any paid advertising seen on this site was arranged after the destination was reviewed. You can trust the reviews to be unbiased.
---