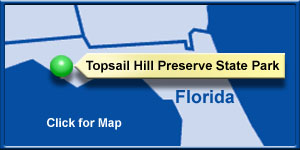 Overview
Topsail Hill Preserve State Park is located on the west end of Highway 30A in Walton County, Florida near San Destin. In addition to providing an affordable stay in a very exclusive (expensive) area, Topsail features over 3 miles of pristine secluded beach completely void of homes. condos, shops, and hotels. Absolutely nothing but sea, sand, and nature adorn this small piece of Florida's coastline.
The beach is typical for the area (awesome). Fine snow-white sand and emerald waters inspire beach lovers. There are three methods of getting to the beach from the campground. You can ride a bike, walk, or take a shuttle that runs periodically. We like the bike option. You can coast most of the way down to the beach, and the ride back isn't terribly bad either. Just be aware, it's about a half mile bike ride down to the boardwalk that leads to the beach. If you plan to walk or bike to the beach, make sure you can carry your beach supplies!
Wildlife abounds at Topsail Hill Preserve. The park features over 1,600 acres of fish-filled fresh water lakes and sand dunes, some as as much as 25' high. Deer, raccoon, coyote, and snake are just a few of the land creatures in the park. It's unlikely you'll encounter any of these, but you might very well see their tracks in the dunes (no humans allowed). You might be more likely to see a sea turtle than anything else. They seem to know it's a safe haven for them.
The campground is nice. It's set-up like an RV park, but most sites are a respectable size. They have full hookups and a decent laundry facility, so it's painless to stay as long as you like. The pool and recreation area is exceptionally nice. It even features a shuffle board court.
There is no limit to local dining, entertainment, and activities near Topsail Hill Preserve. The park is just minutes from San Destin and Destin, and a relatively short drive to Panama City Beach. These resort areas offer numerous water parks, miniature golf courses, parasailing, personal water craft rentals, kayak rentals, bike rentals, deep sea fishing, golf, and much more. There is never a dull moment in this part of Florida. It's one of our all-time favorite destinations.
The Richardson Tribe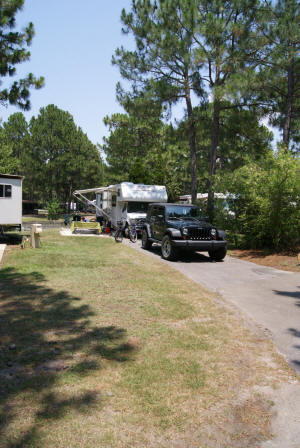 ---
Adventure Journal
Entry Date: June 2015
Last summer, we took a big trip out west, which meant that I missed our annual trip to Florida. This year we would make Florida a two week adventure starting with camping at Topsail Hill Preserve and concluding at the family Beach House on the opposite end of 30A.

Our site at Topsail Hill is one we'd stayed in before. It's a nice site, but not our first choice. We have yet to stay in loop 103 where all the plush sites are. We still enjoyed the campsite though, and the beach was exceptional. We came prepared this year with bikes and our "doodlebug" trailer. Unless you want to be a slave to the shuttle's schedule, bikes, and a method of carrying beach goodies are strongly recommended.
We enjoyed the pool and shuffleboard this year, but didn't fish in the lakes at all. We did go out to eat a couple of times. At one of the restaurants, John Micah ordered frog legs. He said they were good, but I had no interest in trying them. I suggest you pay close attention to the cost of specialty items like that if your kids want to experiment. Those legs were very pricey!!!

Regarding the campground, beach, and park in general, they continue to improve each time we visit, and it's still one of the most affordable ways to enjoy Highway 30A.
---
Adventure Journal
Entry Date: June 2010
Many southerners share the tradition of vacationing in an area along Florida's gulf coast often referred to as the Redneck Riviera. The Florida Panhandle is very different from the rest of the state, and we tend to like it that way.
We have been coming to this part of Florida for many years (50 in my case). My parents own a small beach house just a few miles from Topsail Hill Preserve, so we typically spend a week there before striking-out on a camping adventure (in an attempt to stretch our vacation).
This year, we decided to revisit Topsail Hill Preserve State Park. We came here last year and loved it, so we wanted to return. We were very concerned about the condition of the beach considering the BP oil spill was due to hit the area at any time. The oil did show-up, but in very small quantities. Not enough to spoil the beach. What was distracting, however, was the cleanup crew in hazmat suits picking-up dime-size clumps of tar with a spoon. Very tedious. It seemed to me the process could easily be automated.
On this stay, we got a campsite in front of a deck overlooking a small pond. Just across the pond was the pool. It turned-out to be a very convenient site because its proximity to the pool, and because the pond was a great place for the kids to fish. I didn't want to spend the money to get adult fishing licenses for Rebecca and me.
We spent two days at Topsail this time around, and we all wished we could stay longer. We'll miss Topsail next year because we plan to try something new next year.

The Richardson Tribe
Note: In June 2011, we extended our vacation by camping at Live Oak Landing RV Resort just up the road from Topsail Hill Preserve State Park. Check it out!
Other Destinations:
Up
Amicalola Falls State Park
Beaches of South Walton.
Berry College
Big Kahunas
Biltmore House
Blairsville, Georgia
Callaway Gardens
Cataloochee Ski Area
Cave Spring
Cedar Creek Park
Charlestown State Park
Chattahoochee Bend State Park
Chattanooga Zoo
Chehaw Park
Cherry Hill Park
Chester Frost Park
Chieftains Museum
Choccolocco Mountain Off Road Park
Cloudland Canyon
Cloudmont Ski and Golf
Consolidated Gold Mine
Cohutta Wilderness
Cumberland Island
Dauset Trails
Disney's Fort Wilderness Resort
Desoto State Park
Doll Mountain Campground
Dollywood
Dunnaway Gap
Enota Mountain Retreat
Etowah Indian Mounds
Fall Creek Falls State Park
Florala State Park
Franklin D Roosevelt State Park
Fort Mountain State Park
Georgia Mountain Fairground
Georgia Veterans State Park
Gold n Gem Grubbin'
Helen Georgia
Hillcrest Orchards
James H Floyd State park
James Island Park
Jellystone Park- Cave City, KY
John Tanner Park
Lake Allatoona
Lake Sidney Lanier
Lake Winnepesaukah
Little River Canyon Center
Live Oak Landing
Lula Lake Land Trust
Mammoth Cave National Park
McIntosh Reserve
McKinney Campground
Moto Mountain Powersports
New Echota - Cherokee Capitol
Noccalula Falls Park details and pictures
Old Stone Fort Archaeology State Park
Pine Moutain RV
Red Top Mountain State Park
Ridge Ferry Park
Rocky Mountain Recreation Area
Rock Town - Pigeon Mountain
Rome GA
Salt Springs Recreation Area
Silver Springs
Stone Mountain Park
Tanglewood Farm
Tannehill State Park
Tellus Science Museum
The Southern Museum
Topsail Hill Preserve
Townsend KOA
Townsend Tennessee
Twinbrook Resort
Up The Creek RV Camp - Park Details - Pictures
US Space and Rocket Center - Details and Pictures
Vogel State Park
Wild Animal Safari
World of Coke
Zoo Atlanta - Details and Pictures