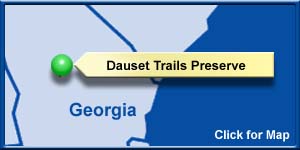 Overview
Dauset Trails is a privately owned 1200 acre preserve in central Georgia near Jackson. With 17 miles of hiking and biking trails, and an additional 10 miles designated for horseback riding, trails are certainly an appropriate theme for this park. But there is much more.

Dauset Trails is also an animal sanctuary for non-releasable wild animals. There are dozens of animals like the ones listed on their webpage: coyote, river otter, beaver, bald eagle, opossum, screech owl, black bear, osprey, red-tailed hawk, gray fox, turkey, bison, white-tailed deer, barred owl, red fox, barn owl, bobcat, raccoon, cougar, and great horned owl.

Most of the animals are in enclosures, but you can get close enough to most to see them like you never have. There are also some free-range animals such as goats, sheep, and pigs in a farm setting. They're very friendly and safe for kids to pet.
There is no admission or parking fee, but donations are accepted. When you make a small contribution ($2-$5), they will give you some trinkets like stickers, badges, and stick pins, things the kids like.
Dauset Trails is an awesome place, and it's kind of refreshing that it's privately owned, but free. Even State Parks have parking fees.
---
Adventure Journal
Entry Date: September 2010
Following a tip from my nephew while camping at Indian Springs State Park, we visited Dauset Trails Nature Center. It turned out to be one of the best places we've ever been. There are miles of bike and hiking trails, but the nature center is what we loved. It is filled with dozens of interesting rescued animals that you can get very close to. We ran into our neighbors from the campground. Our kids really had a great time playing with their kids which made the place even more enjoyable. I can't say enough about Dauset Trails. It is privately owned and there is no admission fee. It is extremely well maintained, and the staff are incredibly nice. They gave Rebecca a respectable collection of Georgia wildlife posters she had been looking for, and the kids were gifted badges, stickers, and pins.

The Richardson Tribe
Other Destinations:
Up
Amicalola Falls State Park
Beaches of South Walton.
Berry College
Big Kahunas
Biltmore House
Blairsville, Georgia
Callaway Gardens
Cataloochee Ski Area
Cave Spring
Cedar Creek Park
Charlestown State Park
Chattahoochee Bend State Park
Chattanooga Zoo
Chehaw Park
Cherry Hill Park
Chester Frost Park
Chieftains Museum
Choccolocco Mountain Off Road Park
Cloudland Canyon
Cloudmont Ski and Golf
Consolidated Gold Mine
Cohutta Wilderness
Cumberland Island
Dauset Trails
Disney's Fort Wilderness Resort
Desoto State Park
Doll Mountain Campground
Dollywood
Dunnaway Gap
Enota Mountain Retreat
Etowah Indian Mounds
Fall Creek Falls State Park
Florala State Park
Franklin D Roosevelt State Park
Fort Mountain State Park
Georgia Mountain Fairground
Georgia Veterans State Park
Gold n Gem Grubbin'
Helen Georgia
Hillcrest Orchards
James H Floyd State park
James Island Park
Jellystone Park- Cave City, KY
John Tanner Park
Lake Allatoona
Lake Sidney Lanier
Lake Winnepesaukah
Little River Canyon Center
Live Oak Landing
Lula Lake Land Trust
Mammoth Cave National Park
McIntosh Reserve
McKinney Campground
Moto Mountain Powersports
New Echota - Cherokee Capitol
Noccalula Falls Park details and pictures
Old Stone Fort Archaeology State Park
Pine Moutain RV
Red Top Mountain State Park
Ridge Ferry Park
Rocky Mountain Recreation Area
Rock Town - Pigeon Mountain
Rome GA
Salt Springs Recreation Area
Silver Springs
Stone Mountain Park
Tanglewood Farm
Tannehill State Park
Tellus Science Museum
The Southern Museum
Topsail Hill Preserve
Townsend KOA
Townsend Tennessee
Twinbrook Resort
Up The Creek RV Camp - Park Details - Pictures
US Space and Rocket Center - Details and Pictures
Vogel State Park
Wild Animal Safari
World of Coke
Zoo Atlanta - Details and Pictures
Features
Rating (1-10)
Description
Official website
7
Dauset's webpage is pretty informative but is lacking in pictures.
Campground

8

Indian Springs State Park is very near. As with all Georgia State Parks, it has a nice campground and lots of history.
Activities & Events
9
Mountain biking, hiking, petting zoo, wild animal exhibits, nature center/museum, group camping, etc. Occasional events like outdoor movies and interpretive programs.
Geocaching

*

Geocaching is available, but we didn't have a chance.
Local Attractions

9

Indian Springs State Park, McIntosh Inn (historical), High Falls State Park.
*Note: We rate only the amenities we have personally reviewed.

No financial consideration or favor has been received for listing in PB&J Adventures' website. We are in no way affiliated with this facility or any other facility we review. Any paid advertising seen on this site was arranged after the destination was reviewed. You can trust the reviews to be unbiased.
---