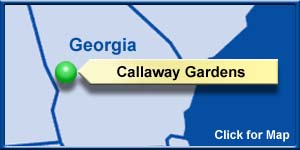 Overview
Callaway Gardens, located in Pine Mountain, GA, is one of the most respected upscale resorts in the Southeast. Lakes for fishing and skiing, golf, an enormous fresh-water beach that's spotless, miniature golf, special programs, and much much more. There are enough things to do here and in the immediate area to make for a very long vacation.
Scroll down to see more pictures and read the PB&J Adventure Journal entries.

---
Adventure Journal
Entry Date: May 2013
Itching for a weekend of bike riding and nature brought us to Callaway Gardens on this trip. We love the park for many reasons, but cycling here brings back many memories of past visits.

On this trip, we stayed at Pine Mountain RV just minutes from the main Callaway entrance. It's very convenient and the staff there is great. We left "Willie B" Jeep at home because we planned to use the motorhome (Homer II) for our transportation to the park. When we arrived at Callaway Gardens the gate attendant made a recommendation on a good spot to park the camper and we headed that way. We parked in the shade, unloaded the bikes, applied sunscreen, and headed out for an easy ride to the Cecil B Day Butterfly Habitat.

The butterflies are always our first stop, and this time they did not disappoint. The flowers and tropical plants are also a joy. From there we headed Mr. Carson's vegetable garden on the hill behind Robin lake. Years ago the garden was sometimes used to make a show called The Victory Garden, and it's quite an interesting place (see pictures). We wandered around the garden until we started hearing some grumblings of hunger.

On this particular weekend, there was a water skiing competition at Callaway, and we watched some of the trick skiers do their thing. There were also many exhibits like boats, cars, and ski gear. Callaway gardens is known for its massive fresh water beach, the largest man made beach in the world. After grabbing a bite back at the camper, we headed for the beach straight away for some fun and relaxation. While there, the kids did some fun things like the bungee hop thingie, volleyball, on-water obstacle course, and big boy chess. In the circus tent, performers were practicing their routines, so we got a free show.
We stayed at Callaway until after sunset playing on the beach milking the day for every ounce of fun and fresh air we could before heading back to our campsite and crackling fire. Sitting there by the camper watching the dancing flames, I thought back to similar days spent with the family enjoying life and realized... today is just one more amazing installment in our bank of memories.
Adventure Journal
Entry Date: September 2010
This trip was based on Labor Day weekend and a Balloon Festival scheduled at Callaway Gardens. We camped at Pine Mountain RV Park just about 3 miles from Callaway. The plan was to ride bikes, play at the beach, visit the vegetable garden, and participate in the hot-air balloon festivities. We actually did quite a lot more.
First stop on the bike trail was the Cecil Day Butterfly Center. You can see by the pictures that it's very entertaining and educational for the kids. You can actually see butterflies emerging from their cocoons. From there, the plan was to ride down to the lake and take a ferry across to the bike path on the other side. Unfortunately, we learned the ferry was closed and had to ride along the road for a little while. With all the kids we had riding with us, it was a little scary. Given the choice again, I would have probably gone back up to the butterfly center and taken the much shorter and safer route to the vegetable garden and Robin lake.
We pushed on until we reached the vegetable garden. There were lots of ornamentals, some muskadine (wild grape) vines bearing fruit, and some okra blooming. The garden is a peaceful place, but not with hungry kids. We decided it was time for lunch.
Just down the hill from the garden is Robin lake and one of the cleanest fresh-water beaches you will ever find. We ate our snacks and the kids hit the water. There was a "knee boarding" show happening, so we got to see some impressive tricks. Callaway gardens is known for waterskiing.
After a while, we made our way around to the opposite side of the lake where the festivities were happening. We played miniature golf, did the bungee swing ride, then went to watch the finale of the balloon festival, the launching. Turns out, the balloons were tethered, so they would only let them rise a hundred or so feet in the air, then pull them back down, giving rides to the patrons. We eventually went back to the campground. From our vantage point there, it looked like they did eventually release some balloons, although we only saw two.
In summary, it was a very good day. There are many things to do at Callaway, but I should point out that it can be a bit pricey, especially for a family of six. Our cost to enter the park was around $100, a bit more expensive than usual because of the balloon festival. If you are looking for a day of bike riding, fishing, and swimming, a state park can provide those features for a $5 parking fee.
---
Adventure Journal
Entry Date: April 2008
Spring Break! On this trip to West Georgia, we rode (and rode and rode) bikes around Callaway Gardens where the Azaleas and Dogwoods were in full bloom. We camped at FD Roosevelt State Park where we fished, rode bikes (and rode and rode and rode), and watched movies at our private outdoor theater (a sheet and projector. We visited the Wild Animal Safari, The park's walk through zoo has expanded and it's great! You can see animals there that you will not see elsewhere.

Adventure Journal
Entry Date:
September 2007
One day of this adventure was spent at Callaway Gardens. This is a great place to visit when camping at FDR State Park. There is a lot for the entire family to do there. There is golf, miles of paved bike/hike trails, a butterfly house, gardens, and a huge beach with lots of activities (and more!). We visited the butterfly center, the vegetable garden, and finally the beach (the kid's favorite). It was a fun filled day, and once again, we plan to come back soon.

More Destinations:
Up
Amicalola Falls State Park
Beaches of South Walton.
Berry College
Big Kahunas
Biltmore House
Blairsville, Georgia
Callaway Gardens
Cataloochee Ski Area
Cave Spring
Cedar Creek Park
Charlestown State Park
Chattahoochee Bend State Park
Chattanooga Zoo
Chehaw Park
Cherry Hill Park
Chester Frost Park
Chieftains Museum
Choccolocco Mountain Off Road Park
Cloudland Canyon
Cloudmont Ski and Golf
Consolidated Gold Mine
Cohutta Wilderness
Cumberland Island
Dauset Trails
Disney's Fort Wilderness Resort
Desoto State Park
Doll Mountain Campground
Dollywood
Dunnaway Gap
Enota Mountain Retreat
Etowah Indian Mounds
Fall Creek Falls State Park
Florala State Park
Franklin D Roosevelt State Park
Fort Mountain State Park
Georgia Mountain Fairground
Georgia Veterans State Park
Gold n Gem Grubbin'
Helen Georgia
Hillcrest Orchards
James H Floyd State park
James Island Park
Jellystone Park- Cave City, KY
John Tanner Park
Lake Allatoona
Lake Sidney Lanier
Lake Winnepesaukah
Little River Canyon Center
Live Oak Landing
Lula Lake Land Trust
Mammoth Cave National Park
McIntosh Reserve
McKinney Campground
Moto Mountain Powersports
New Echota - Cherokee Capitol
Noccalula Falls Park details and pictures
Old Stone Fort Archaeology State Park
Pine Moutain RV
Red Top Mountain State Park
Ridge Ferry Park
Rocky Mountain Recreation Area
Rock Town - Pigeon Mountain
Rome GA
Salt Springs Recreation Area
Silver Springs
Stone Mountain Park
Tanglewood Farm
Tannehill State Park
Tellus Science Museum
The Southern Museum
Topsail Hill Preserve
Townsend KOA
Townsend Tennessee
Twinbrook Resort
Up The Creek RV Camp - Park Details - Pictures
US Space and Rocket Center - Details and Pictures
Vogel State Park
Wild Animal Safari
World of Coke
Zoo Atlanta - Details and Pictures
Special Event:



Features
Rating (1-10)

Description

Official Website
9
Callaway Gardens has a very nice website.
Campground

9

FDR State Park is near here and is very nice. No full hookups.
Pine Mountain RV is also located near there,and they do have full hookups.
Cottages, Inn, Lodge Reserve
*
Call for rates. We have not stayed at Callaway Gardens before.
Beach
10
I give this beach a 10 because it is the largest man-made beach in the world and it is truly an awesome beach. The sand is fine and snow white like the gulf coast.
Bike Riding

9

The park is made for bike riding. Lots of paved paths. Kind of hilly in some spots.
Hiking/Walking
9
17 miles of trails.
Butterfly Garden

9

A living ecosystem inside an atrium. A neat experience.
Events
9
Callaway Gardens hosts many events. Just visit their Official Website to see what's happening this week!
Geocaching

*

Geocaching is available, but we didn't have a chance.
Local Attractions

9

FDR State Park, Wild Animal Safari, FDR Little White House, Pine Mountain RV
*Note: We rate only the amenities we have personally reviewed.

No financial consideration or favor has been received for listing in PB&J Adventures' website. We are in no way affiliated with this facility or any other facility we review. Any paid advertising seen on this site was arranged after the destination was reviewed. You can trust the reviews to be unbiased.