Overview
Fort Mountain State Park is located near Chatsworth, Georgia on the Southwestern edge of the Cohutta Wilderness. This park is one of the Richardson Tribe's favorite places to visit and camp, Why? Where do we start?
1- Accessible- Fort Mountain (Cohutta to the Native Americans) is perhaps the most easily accessed mountain in North Georgia. It's about 1.5 hours from Atlanta and just a little over an hour from Chattanooga. All but the last eight miles is flat freeway and highway travel. The final segment is curvy, steep, and scenic. There are several picturesque pull-offs that should be observed on the way.

As you wind your way up the mountain, roll your windows down so you can enjoy the gradual temperature and humidity change. Typically, from the base of the mountain to the park, there can be as much as a 10-12 degree change. The dramatic temperature change can affect the weather on Fort Mountain, often making it totally different from the mountain's base (as in rain, snow, or lack thereof).
2- Campgrounds- Georgia's standards for its state parks are high, especially when it comes to campgrounds. Fort Mountain State Park has two campgrounds. One is located adjacent the lake, the other is just across the road. The sites are level, extremely large, clean, and furnished with fire ring/grill units and sturdy picnic tables. If we can't get a site on the lake, we usually go over to campground 2 and use the very large pull-through sites. The ONLY negative I can think of is the lack of full hookup (as in sewer), but that's pretty standard for state park (with very few exceptions). They have cable there, but channels are few and picture quality is sub-par. It doesn't matter, you should be outside enjoying the fresh clean air anyway.
3- Amenities- Fort Mountain State Park seems to have all the right stuff. There is a lake with a very nice (sometimes crowded) beach, row boats, pedal boats, and some good fishing. Near the beach's snack bar and picnic shelters is a miniature golf course and a very nice playground. The park features 14 miles of hiking and 27 miles of mountain biking within the park. and the Cohutta Wilderness is directly accessible as is the Pinhoti Trail making hiking and biking almost unlimited. For a fee, you can rent a horse at Fort Mountain Stables (a private business).
4- Wildlife - You can find just about every type of animal native to this part of the country at Fort Mountain including bear, turkey, bobcat, and even (according to some) cougar.

5- History, Mystery, and Legend- Fort Mountain State Park is the home of much history, mystery, and legend. For example:

- The wall- Located at Fort Mountain's peak are the remains of an 855 ft wall. Though there are many speculations as to its origins and its purpose, it is unlikely it was built as a fortification. While it would help to fend-off enemy attacks, there is no water source. All the enemy would have to do is sit and wait. It's more likely the wall was somehow a part of a ceremonial ground, which is consistent with other sites such as Old Stone Fort State Park in Manchester Tennessee. Some speculated the wall was built by Desoto's men, and some think it was built by Welsh Prince Madoc's men. The fact is, no one knows for sure, although the estimate the wall's construction to be around 500ad.

- Cherokee Gold - There are legends related to a secret Cherokee gold mine on "Cohutta", the Native American name for the mountain. Stories about the local Cherokee wearing gold jewelry, and settlers trying to find the source of the gold have been handed down through generations. One has to consider the wealth of some of the local Cherokee such as Joseph Vann. Vann's father accumulated massive wealth while living near the foot of the mountain. They say his father made the money from taverns and various other enterprises, but when his son was forced to move from this area to Tennessee, he deposited over $200,000 worth of gold in a bank. That's $200,000 in the 1830s, think about it.
- Cohutta Gold Mine - Apparently, placer gold had been successfully panned from the creeks on Fort Mountain for many years before the Cohutta Mine opened around 1905. According to the United States Geological Survey, a large vein of gold had been discovered and was being worked when they visited in 1906. In fact, the owners had ordered additional equipment and were stepping-up production. Mysteriously, four years later when the same surveyors visited the site, the mine was shut-down. In 1926 the property was purchased by wealthy businessman (and later Atlanta Mayor) Ivan Allen, then donated to the state of Georgia as a state park. So, the mystery of the Cohutta Mine exists today. Where was it? Why was it shut down? Is there still gold to be panned? I believe there is.

Scroll down for numerous adventure journals and photographs.
---
Adventure Journal
Entry Date: September 2014
This weekend at Fort Mountain was a very unusual. When we woke up Saturday morning, we were completely socked-in with clouds. It was beautiful! We took a little walk down by the lake and couldn't help but notice a lot of toad stools and other varieties of fungi. Fort Mountain is always so colorful. We were surprised a handful of people enjoying the beach on such a foggy day.

We took a drive into Ellijay where we visited Hillcrest Orchards to pet some lovable animals, hear some good music, and buy a box of Honey Crisp apples, our favorite!

The weekend was exceptionally relaxing and fun. Can't wait to go back in October!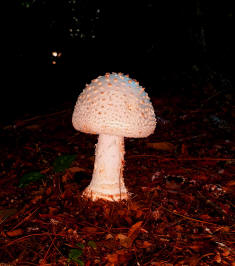 ---
Adventure Journal
Entry Date: May 2013
Spring in the Chattahoochee National Forest produces colorful spectacles and cool crisp days like none other. We know this from experience, so we once again found ourselves at Fort Mountain State Park on this fine May weekend.

Fort Mountain is very conveniently located in North Georgia between Atlanta and Chattanooga, so getting up there for just a couple of days is as easy as pie. On this trip, we decided to take our canoes along so we could enjoy the scenery from the water as well as the trails. Fort Mountain provides rental boats and canoes, but we like to have ours available right up until sundown.
We were lucky and managed to find a really great campsite very near the lake. From here, we could easily carry the canoes directly to the lake for launching (which we did almost immediately). Fortunately, I had remembered to pick up some red worms for fishing. They were Canadian, and they were massive. Heath caught a small bass almost immediately, but then our fishing luck waned. It's ok, we had a lot of fun on the canoes.

We were pleased to see that they have done some work updating playground with lots of new mulch. It never ceases to amaze me how our kids, even 13-year-old Lee Thomas, still love playgrounds. They enjoyed the rock wall and monkey bars especially.

It's fun to paddle to the playground and back from the campsite, but the walk is entertaining as well. As usual, we took our walk around the lake admiring the fresh green leaves and colorful flowers. There is one area along the lake we call Butterfly Bog. Typically this area is covered with the colorful flying bugs flittering all around. This time, the kids noticed hundreds, maybe thousands of tadpoles in the water. This kept them entertained for quite a long while.

In summary, it was once again a near-perfect visit to Fort Mountain State Park. We had some rain clouds and a few rumblings of thunder, but we dodged the bullet and had a wonderful time. Thanks again to the naturalist, staff, and other volunteers. You're doing a wonderful job maintaining and managing the park!



Adventure Journal
Entry Date: August 2012
We have visited Fort Mountain twice this month, so I guess I can make single journal entry for both weekends. Fort mountain's altitude is especially inviting this time of year because of the oppressive heat and humidity in the valleys. In the south, we call these the "Dog Days" of summer. Fort Mountain State Park is a great escape from Dog Days.

On each of the two weekends we visited Fort Mountain during the month of August, we took a stroll around the lake. The lake path at Fort Mountain State Park is always beautiful, but each visit offers something different to see, hear, and smell. There always seems to be new flowers blooming, or leaves changing, or, in the case of this past weekend, fungi! As we walked along the path this time, we were watching for deer (and bear), reading the informative plaques that identify many of the species of plant, and photographing the picturesque view of the lake. Then one of the kids noticed a colorful mushroom. Then another, and another. Soon, it was a mushroom quest. We saw dozens of sizes, shapes, and colors of the neat little fungi (see photos to the right). It was an unexpected surprise that we talked about well into the evening. Note: When visiting a park, please leave all wildlife and vegetation just as you found it so that others may also enjoy its beauty.

When we returned to the campground, we grilled a bunch of peppers (from our garden), tomatoes, garlic, and onions, then combined them into a wonderfully hot batch of salsa that complimented our evening meal of burritos and tacos. The kids really enjoy spicy food, but there were a lot of cold beverages consumed during that meal.

Fort Mountain State Park has a new naturalist, and we had the opportunity to meet him on the latter August visit. He is a retired high school teacher with a lot of energy and knowledge of the mountain and the immediate area. He hosted an evening by the campfire and supplied s'mores for anyone that attended. He has begun a series of weekend activities like knot-tying and orienteering, scavenger hunts, bear talks, and wagon rides. We are excited that Fort Mountain has funded a naturalist again. It's so important to offer fun and educational activities to the park's visitors, especially the younger generation. We still miss Ranger Ruby, Fort Mountain's previous naturalist.

We have mixed emotions about Fort Mountain now. On one hand, we are pleased to see the park is becoming more popular. On the other hand, it's getting more difficult to find a campsite. Both campgrounds were almost full during our recent visits. We met numerous first-time visitors to the park. I'm not sure if it's the economy, or the desire to get back to nature that is attracting these folks, but it's ok. There is plenty of nature to go around. If you're considering Fort Mountain State Park for the fall, you'd better get on the ball. The campgrounds will book-up quickly.

Q - Why is the mushroom always invited to parties?
A - Because he's such a fungi!
The Richardson Tribe
---
Adventure Journal
Entry Date: March 2011
The Tribe gets around. We like to see new places and do new things. But sometimes, it's nice to revisit an old friend. Sometimes a sure thing is better than a gamble. This is a very busy time of year for our family, so, to decompress, we decided a to visit an old friend, Fort Mountain. It's a mystery to me why more people don't take advantage of parks like this in the Winter and early Spring. We enjoyed 70 degree weather in paradise, practically by ourselves.
It was a little chilly first thing Saturday morning, so we decided to take a short ride in "Willie B" the Jeep. Fort Mountain is located adjacent the Cohutta Wilderness. We wanted to see if we could spot a bear, and maybe do a little rockhounding around the water falls. We founds lots of quartz of varying colors, just the kind of stuff gold likes to hide in.
When we got back to Fort Mountain State Park, we put the canoes in the lake and spent the rest of the day paddling around, fishing, and playing at the playground on the opposite end of the lake. We closed the day with a beautiful sunset, games, and grilled steaks and baked potatoes.
Altogether, it was just about as perfect a day as I can remember. Fort Mountain can get a little crowded in the Summer, especially the beach. But camping here this time of year is a no brainer. We can't wait to come back to see our old friend again soon.

The Richardson Tribe
---
Adventure Journal
Entry Date: August 2010
It's been quite a while since we last visited Fort Mountain State Park (relatively speaking). This truly is our favorite park, but our goal is to experience some variety too, so we had to try-out some new places.

We are also saddened at the park's loss of Ranger Ruby (don't worry kids, Ruby's fine, it's Georgia's budget that's in need of saving). Prior to her "retirement", Ruby and her interpretive programs, crafts, and activities were a major factor in this family visiting the park. At this time, the park has no naturalist. I can only hope that, when the economy turns the corner, the state will fund Ruby, or someone like her again.
This is the first weekend after the beginning of school, which might be part of the reason there were so few people camping. we practically had the campground to ourselves. We spent an exceptional amount of time on this trip hanging-out around the campsite. Lee Thomas, our ten-year-old, designed a scavenger hunt that kept the kids busy for a couple of hours.

The Richardson Tribe
---
Entry Date: March 2010
One of the things that makes Fort Mountain unique is its weather. It's always a little cooler up on the mountain, and the weather can be totally different up here than at the base of the mountain. On this particular weekend, there was snow on the ground and we were totally surprised. Most had melted away, but there was still enough for the kids to play in for a while.

We borrowed a canoe from a friend for this trip, and we all took turns paddling around the lake. It was fun, but it makes me shiver to think how cold that water would have been had we fallen in.

We also hiked around the lake, panned for gold, and enjoyed a nice warm campfire. We are so looking forward to Spring and the leaves and blooms that come with it.

The Richardson Tribe
---


Entry Date: November 2009
The Legend of the Cherokee Gold - In the days before white men came to this region, and for some time after their arrival, Fort Mountain was called "Cohutta", which most closely translates to "Mountains that Hold the Sky" in Cherokee. After some research, I discovered Cohutta mountain is the source of several legends about a lost Native American gold mine.

In doing my research, I also discovered proof (USGS Survey) that a working gold mine was producing significant ore on the mountain in 1906. Gold had apparently been successfully panned there prior to the discovery of the veins and the opening of the Cohutta mine around 1905.

Then, mysteriously, and to the surprise of USGS surveyors visiting the mine in 1910, it had been closed. I have yet to uncover exactly what happened to the mine, why it was shut down, and when it changed ownership.

19 years later, Ivan Allen, a wealthy man from nearby Dalton, donated the top of the mountain to the state of Georgia as a state park. Sometime between 1906 and 1929, Mr. Allen acquired the land.

To me, this whole scenario seemed like a perfect mystery and challenge. Somewhere on Fort Mountain is gold. In fact, Ranger Ruby (the naturalist at the park) had provided some sand for me to pan, and I did find gold in it. she told me it was dug from where Gold Mine creek feeds into the lake when the lake was lowered for maintenance.

I planned this particular trip for the purpose of doing a little prospecting. So, on Saturday afternoon, with gold pans in hand, a friend of mine and I began the hike up Gold Mine Creek. We panned gravel from the bottom of the creek, but to no avail. There was plenty of black sand, but no color. As we moved up the creek, we could smell a strong odor that we believed was probably a bear, so we moved on. We visit Fort Mountain frequently, so I will come back to pan again soon. Maybe even get Ranger Ruby and her husband to take us to the old mine shaft.

While at the park, we hiked around the lake, casting our fishing lines in from place to place. We played ladder ball and Frisbee golf, build a little bridge over the stream behind the camper, and found lots of insects hiding in old trees. We sat by the fire and talked until we all got a little chilly and turned-in.

The Richardson Tribe
---
Entry Date: August 2009
Anyone that knows us knows we love Fort Mountain State Park near Chatsworth, Georgia. We decided this would be a good weekend to wedge in between our other scheduled adventures.

On this trip, Ranger Ruby introduced us to David Promis, a river keeper with the Coosa River Basin Initiative. Dr. Promis taught us about how pollution gets into our water. We learned what kinds of strange things get into the rivers, especially athletic balls. We were introduced to water testing, and all the kids tested the lake water for PH levels.

Ranger Ruby also had a woodsy gentleman there to demonstrate how to grind corn. We ended Saturday with some good old fashioned singing and picking by Ranger Ruby, her husband Don, and a friend. It was another wonderful Fort Mountain weekend.

Note: Dr. David Promis is a River Keeper for the Coosa River Basin Initiative. His services are provided as a free service to parks and schools within the Coosa River Basin. For more information click here.
---
Entry Date: May 2009
Here we go again! We love Fort Mountain State Park! This is one of our first trips in our new Winnebago Access (Homer II), and we really enjoyed it. We were able to get a site on the lake, and some of our very good friends were in the spot next door.

Ranger Ruby*, Fort Mountain's naturalist came by and visited us for a while at the camper! Ruby is one of the reasons we love Fort Mountain. We hiked and rode bikes all day Saturday, but had to leave Sunday morning because of rain. It was a great weekend, even with the rain.
---
Entry Date: April 2009
There's not a lot we can say about Fort Mountain that we haven't already said. It's a beautiful park with a great lake, beach, miniature golf, trails, and campsites. Ranger Ruby isn't working yet, and the concessions and boats aren't open yet, but we still had a lot of fun.
Some of us took a little bike ride around the lake where they saw two non-venomous snakes. Everyone else walked and missed the snakes because those of us on bikes scared them away.
Later, the kids went to the beach and swam in the very cold water.

We spent time at the playground where we met some new friends that played "freeze tag" with us. We also spent a lot of time playing in the little creek behind our campsite looking for salamanders and frogs.
Fort Mountain has become our favorite place to camp, by a mile.
---
Entry Date: October/November 2008
Well, as usual, we had a wonderful weekend of camping, hiking, eating, and generally decompressing at Fort Mountain. The weather was clear and sunny with the days peaking around 67 degrees and the nights dropping to the 30s (prefect for a rip-roaring fire).

Some friends joined us for camping and Halloween fun on this fine weekend, and some extended amily members came to visit on Saturday, just in time to enjoy our first Dutch Oven desert (apple crisp).
The kids Trick-or-Treated in the campground which resulted in a lot of candy consumption. We went on a couple of nice walks, and hiked a trail we've never been on; Big Rock Nature Trail. It was a relatively short, but brisk hike with lots of great views. There is a 400' cascading waterfall (in non-drought situations). I took notice that the cracks and crevices in the ancient creek bed may have some gold lodged down in them, so next time...

---
Entry Date: July 2008
Here we are again, at Fort Mountain having fun. We celebrated our friend's birthday on this trip, and I kind of took a vacation from the camera. Ranger Ruby was there, so we were able to pan for gold for a while. As usual, the weather was a little cooler on the mountain, and a few rain showers helped cool it off even more. On Sunday, after we broke-down camp, we went for a ride on Grassy Mountain in Willy B the Jeep. It's so green and crisp on the mountain after a rain.

---
Entry Date: May 2008
The current price of gas is but one of reasons Fort Mountain State Park is quickly becoming our favorite state park to visit. Homer gets less than 10 miles per gallon, and Fort Mountain is close, so it saves us a lot of money. There are many other reasons to love Fort Mountain. They have a wonderful campground (no full hook-up though, it's a state park), a beautiful lake, a beach, boats, miniature golf, lots of hiking trails, history, and mystery.

On this particular PB&J Adventure, some very good friends joined the Richardson Tribe for a fun-filled weekend of camping. What you can't tell from the pictures is the youngest two (twins) had a 10am Saturday T-Ball game to attend. I also had a wedding to go to Saturday afternoon. To top it off, a bad storm was predicted to hit late Saturday night. We chose to ride-it-out, and I'm glad we did. It was beautiful till well after bed-time, then it began to rain hard with some lightening (nothing too close), but there was no real wind. The kids slept straight through it. I'm not so sure our friends slept quite as well in their pop-up camper. I think it may ahve leaked a little.

While at the park, the kids got to swim and play on the beach, and go on a hike around the lake. During their hike, Rebecca ran into a friend that was working with a group of people placing signs along the trail. The signs identified certain plants and sometimes their medicinal/therapeutic purposes as used by the Cherokees. Volunteers like these contribute significantly to the state parks here. Most residents and visitors have little idea of the value of educational & recreational resources like this and Georgia's other state parks. We visited the parks so many times last year that we decided to purchase the yearly family pass. Benefits from the purchase pay for the membership almost immediately (free camping or golf, 10% discounts on camping/lodging and gift shops, a free train ride, no parking/entry fees for the year, etc.). Our top rated value.

---
Entry Date: August 2007
This was a really great weekend, with the exception of one thing, a bear ate our camera. That's my story and I'm sticking to it. Everyone else seems to think I left it at the playground and someone else (human) took it. Nonsense! Anyway, the camera was old, so it was really no big loss, except that we lost most of our pictures for the weekend. Some of the pictures here are borrowed from the Georgia State Parks site.

We did a lot of hiking at the park this weekend (trail map of the park). We took our dog Roxy with us, and she did great! We hiked up to the overlook and the old rock fire tower built by the CCC. The supervisor of the crew chiseled a rock in the shape of a heart and placed it over a window on the tower as a tribute to his fiancÚ.
From there, we walked down to the mysterious rock wall that gave Fort Mountain mountain its name . No one is quite certain who built the wall or when. There are a couple of good theories though. The weather was great and all the kids are getting better about hiking. That evening we fished for a while before going to the group shelter for some good acoustic music. We saw Ms. Ruby, the park's naturalist. She is a big reason the kids had such a good time on our last visit. Unfortunately, we kept missing her sessions all weekend. It was well after dark before we got back to our camp site, so we enjoyed the fire for a while before hitting the sack.

On Sunday, before heading home, we spent the morning walking around the lake and playing at the playground. It was a classic weekend to remember. Rebecca and I enjoyed a steak and onion (not Vidalia, but just about as good), and the kids had a Southern Polynesian delicacy (skewered Oscar Mayer hot dogs and pineapple slices).
---
Entry Date: August 2007
With daily temperatures over 100 degrees, the Tribe wanted to head for a higher altitude. Fort Mountain is not far from home, and the park is a couple thousand feet up, so it looked like a great short weekend adventure. On average, the temperature on the mountain is about 10-12 degrees cooler. Some friends of ours joined us, and they were one site over. We had the best sites on the lake.

Some other friends and family drove up on Saturday, so we had quite an extended family at the park. The kids got to see a snake presentation, we heard live music, we played at the playground, we went to the beach, we hiked around the lake, we rode bikes, we did lots! But we just didn't have time to do everything. Fort Mountain is another of Georgia's wonderful parks with so very much to do. We really want to make the trip again soon, perhaps in a month or so when things are starting to cool off. We want to hike to the wall and tower, and see the other overlooks. We want to pedal boat and fish some more. There is horseback riding right down the road, and miniature golf right there at the park.

The two campgrounds are exceptional with very large level sites. There is electricity and water (no sewer), and that's just fine for 2-3 days at a time. We had an almost private grassy area and nothing between us and the lake except a few trees and a path. The cozy outdoor theater that hosts music, a naturalist, crafts, and a Sunday morning service was just around the corner from us.

The Richardson Tribe

Other Destinations: