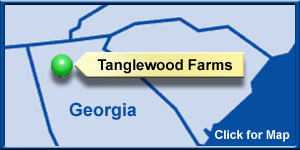 Overview
Tanglewood Farms is located less than and hour north of Atlanta near the town of Canton, Georgia. The two key attractions of this destination are the animals and the atmosphere. The proximity to Atlanta also makes this an easy afternoon trek for many fun seeking families. Admission is $10 to enter the park (as of May 2012) and if you love cute huggable farm animals, it's a fair price.

Just inside the entrance of Tanglewood Farms is a nice little picnic area with shade trees, a fort with a tower, and a mechanical bull, all kid-size. Pony rides are also available in this area. It looks like an excellent place to have a birthday party. This is also the location of the first of a series of "green gates" that guide you through your miniature animal adventure maze.
The first miniature animals you encounter are the Nigerian Dwarf goats. The adults can be viewed, and the babies can be petted and held. From there, just follow the green gates. There are miniature Baby Doll sheep, turkeys, calves, donkeys, bison, guineas, chickens, alpaca, lambs, rams, horses, and more. If you fall in love with an animal, ask, it may be for sale. Their website has a whole section on which animals are available, but you'd better bring your pocketbook. Miniature animals don't come cheap.

The buildings emulate a miniature version of an old wild west frontier town. Kids like it, and it's a perfect disguise for a bunch of old farm buildings and animal habitats. The facility really very clean considering the number of animals they have. We noticed no significant odor problems during our visit.

In conclusion, Tanglewood Farms is a worthwhile destination that's pretty convenient. There are many other attractions in the area like Lake Allatoona where you can camp at Red Top Mountain State Park or McKinney campground. It's also just a short drive over to Amicalola Falls State Park, and the goldmining town of Dahlonega where you can pan for gold at Consolidated Goldmine. If panning for gold is what you like, check out Gold n Gem Grubbin' over in Cleveland. Of course, if you go to Cleveland, you might as well visit the alpine village of Helen. The options are endless
Note: When we paid our admission, we had to sign a liability waiver. I can certainly understand this considering the occasional unpredictability of animals. Farm animals are typically pretty docile, but accidents sometimes happen. Watch smaller children, especially around the larger animals. An alpaca kicked John Micah (no damage), and a sheep with horns butted me three times trying to get my attention (I had a pail with bread in it). I suggest leaving the bucket outside the habitat areas.
---
Adventure Journal
Entry Date: May, 2012
We first learned of Tanglewood Farm from an episode of Georgia Traveler, one of our favorite Georgia Public Broadcasting shows. Since the airing of that episode, we have been eagerly trying to fit a visit into our schedule. We love animals, and have quite a few of our own. We are always eager to meet more. Tanglewood farm specializes in miniature versions of several farm animal species.
The drive to Canton is pretty, and this particular Sunday was very nice. The GPS took us through a couple of neighborhoods that had us thinking we were on the wrong path, but lo and behold, there we were. A small farm with wooden fences enclosing rolling grassy hills. It's a pretty location. The kids were eager to see some animals, so we headed straight for the gate. After paying the entrance fee and signing the liability waiver, we started our journey through the gated maze of enclosures.
The Nigerian Dwarf baby goats are the first animals we encountered, and we lingered there for quite some time. We have baby goats of our own, and it's had to find anything cuter than a bottle fed baby goat. Nigerian Dwarf goats have blue eyes which makes them that much more unique. It took a little coaxing to drag the lids from that area to the next. There was no crowd, so we could have spent as much time as we wanted petting and holding the little guys, but we so much more to see.
Once in the "maze," we were guided through our adventure by green gates making it easy to navigate from one animal habitat to another. Our next encounter was an embarrassed group of recently shorn alpacas. Each miniature alpaca had just received a rather humiliating haircut, and I think they knew it. One even kicked at John Micah. The smallest, a bottle-fed baby named Elvis, was our favorite. He was a cutie pie. Lainey even got to feed Elvis after he received his silly haircut.
Another favorite were the donkeys. They were the most affectionate of the animals we encountered. They loved the attention and followed the kids around like puppy dogs. I think we may add one to our own collection in the future.
We purchased a bucket of treats for $5 at the entrance (4 slices of white bread, that's $1.25 a slice), and carried it from one enclosure to the next. We quickly learned that the animals recognize the bucket and will insist on being fed. I suggest leaving the bucket behind and sticking the bread elsewhere, or leaving the bucket outside some of the enclosures. I had an encounter with a young sheep that was really insistent about a snack. He "gently" butted be three times before I finally dumped the remaining bread on the ground and showed him the bucket was empty. It was funny, but I would have hated for that to have happened to a small child.
Toward the end of the tour, we saw a brand-new baby horse that was adorable, and we witnessed the actual alpaca shearing process as it was being done to Elvis. It's amazing just how calm he seemed during the process. I imagine it feels a lot better in this Georgia heat.
We were impressed with the folks at Tanglewood Farm. They all seem very friendly, and they keep the facility exceptionally clean all things considered. Believe me, I know how difficult that can be when you raise farm animals. The Richardson Tribe gives Tanglewood Farms six thumbs up.