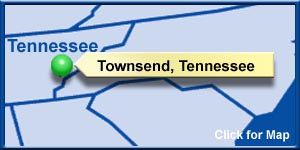 Overview
Townsend, Tennessee is a plush little valley community in the foothills of the Great Smoky Mountains. As the old saying goes, "always a bridesmaid, never a bride", Townsend has avoided much of the fanfare heaped upon tourist traps like Pigeon Forge and Gatlinburg. For the people of Townsend and most of the people that make it their destination, this is a good thing, a very good thing.
If you desire massive crowds, bumper to bumper traffic, and commercialism run amuck, this is not your place. Sure, it's easy to get to those places easily and quickly from Townsend. A short scenic drive through Wears Valley takes you to Pigeon Forge's excessive arcades, go-cart tracks, bungee jumping, miniature golf, t-shirt shops, and Dollywood. A slightly longer drive through the National Park will lead you to Gatlinburg and its crowded but festive main street. On second thought, if you like those things, maybe Townsend is for you. It's convenient to the attractions, but boasts quiet and peaceful evenings when it's time to withdraw and decompress.
In Townsend, there are several places to stay including a handful of motels ranging greatly in cost. If you like to camp, this is a great place. There are several campgrounds located in Townsend with many sites on or near the Trout stocked Little River. We like to stay at Townsend/Great Smokies KOA. It's located on Little River and has full hookups and lots of amenities and activities for kids and grown-ups alike.
There is quite a lot to do in Townsend while visiting. There is tubing on Little River, horseback riding, kayaking and canoeing, fishing, biking, hiking, and much more. However, be aware that the term "seasonal" has real meaning here. We were surprised that Go Carts were not available because it was "past season", in early October, one of the busiest times of the year. Honestly, that is one of Townsend's best features. A mostly non-commercial-thinking community doing things at their own pace.
It's good in Townsend. I'll just sit here by the river and wave at the passing tourists en route to streets more crowded than Time Square. Then I'll turn my gaze to the bobber to answer the all-important question, do farm raised Trout really like corn nibblets?
PS- In all fairness, we visit all those terrible commercial places I just critically mentioned. We actually love go carts, Dollywood, and walking down the crowded streets of Gatlinburg, But honestly, everyone is much happier and harmonious in simpler surroundings. I guess we can be eclectic.
Other Destinations:
Up
Amicalola Falls State Park
Beaches of South Walton.
Berry College
Big Kahunas
Biltmore House
Blairsville, Georgia
Callaway Gardens
Cataloochee Ski Area
Cave Spring
Cedar Creek Park
Charlestown State Park
Chattahoochee Bend State Park
Chattanooga Zoo
Chehaw Park
Cherry Hill Park
Chester Frost Park
Chieftains Museum
Choccolocco Mountain Off Road Park
Cloudland Canyon
Cloudmont Ski and Golf
Consolidated Gold Mine
Cohutta Wilderness
Cumberland Island
Dauset Trails
Disney's Fort Wilderness Resort
Desoto State Park
Doll Mountain Campground
Dollywood
Dunnaway Gap
Enota Mountain Retreat
Etowah Indian Mounds
Fall Creek Falls State Park
Florala State Park
Franklin D Roosevelt State Park
Fort Mountain State Park
Georgia Mountain Fairground
Georgia Veterans State Park
Gold n Gem Grubbin'
Helen Georgia
Hillcrest Orchards
James H Floyd State park
James Island Park
Jellystone Park- Cave City, KY
John Tanner Park
Lake Allatoona
Lake Sidney Lanier
Lake Winnepesaukah
Little River Canyon Center
Live Oak Landing
Lula Lake Land Trust
Mammoth Cave National Park
McIntosh Reserve
McKinney Campground
Moto Mountain Powersports
New Echota - Cherokee Capitol
Noccalula Falls Park details and pictures
Old Stone Fort Archaeology State Park
Pine Moutain RV
Red Top Mountain State Park
Ridge Ferry Park
Rocky Mountain Recreation Area
Rock Town - Pigeon Mountain
Rome GA
Salt Springs Recreation Area
Silver Springs
Stone Mountain Park
Tanglewood Farm
Tannehill State Park
Tellus Science Museum
The Southern Museum
Topsail Hill Preserve
Townsend KOA
Townsend Tennessee
Twinbrook Resort
Up The Creek RV Camp - Park Details - Pictures
US Space and Rocket Center - Details and Pictures
Vogel State Park
Wild Animal Safari
World of Coke
Zoo Atlanta - Details and Pictures
Features

Rating (1-10)

Description

Official Website
9
Not too fancy, serves its purpose.
Campground - Reserve

8

There are several campgrounds, motels, cabins, and lodges, in Townsend. We camp at the Townsend Great Smokies KOA.
Tubing, canoeing, kayaking

9

The Little River flows through Townsend's valley. There are several tube rental places with very reasonable prices.
Hiking
10
Townsend is at the edge of the great Smoky Mountains National Park. 'nuf said.
Biking
10
Townsend has a bike path that extends from the Townsend/Great Smoky Mountains KOA all the way through Townsend and on out the other end. As far as Mountain biking goes, Townsend is located at the edge of the Great Smoky Mountains National Park, so I would assume there is plenty of mountain biking available.
Visitor Center

*

We have not visited the Townsend Visitor Center
Geocaching

*

Geocaching is available, but we didn't have a chance.
Rockhounding

8

We have looked for rocks around the KOA campground and river, but have found mostly sandstone and granite. There are commercial gem-grubbin' mines in Pigeon Forge and Gatlinburg, even Dollywood. If you want to find some really nice garnet, quartz, amethyst, rubies and sapphires, buy an enriched bag of ore and have fun.
Local Attractions

10

Maryville, Cades Cove, Great Smoky Mountain Heritage Center, Elkmont Campground and Ghost Town, Tuckaleechee Caverns, horseback riding, Gatlinburg, Pigeon Forge, Dollywood, Cherokee, and the list goes on...
*Note: We rate only the amenities we have personally reviewed.

No financial consideration or favor has been received for listing in PB&J Adventures' website. We are in no way affiliated with this facility or any other facility we review. Any paid advertising seen on this site was arranged after the destination was reviewed. You can trust the reviews to be unbiased.
---