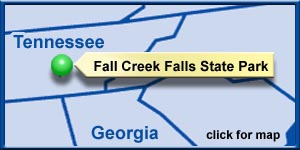 Overview
Fall Creek Falls is located on the Cumberland Plateau near Spencer and Pikeville (11-18 miles). This is what the state of Tennessee calls a "resort park". That's because of amenities of the park. There is a lodge, tennis courts, and most importantly (from the resort standpoint), an 18 hole golf course honored as one of the top 25 public courses in America. Both these features are great, but the Richardson Tribe has used neither. It's the other features that appeal to us
Fall Creek Falls State park is a great place to camp. Unlike most other state parks, they have full hookups and you can reserve specific sites. They also have some great paved bike trails, a lake with boat rental, a recreation center, a big pool, playgrounds, horseback riding, scenic falls, tennis courts, hiking, and more.
---
Adventure Journal
Entry Date: September 2015
I noticed the last Adventure Journal entry was in 2008. Wow! Has it been that long? It's not for a lack of desire to return. We missed it! For years we've heard great things about the Mountaineer Folk Festival held annually in at Fall Creek Falls State Park, and we've tried to schedule a trip around the festival, but there was always some scheduling conflict. Well, not this year. When I tried to book a campsite back in the summer, but it was already sold-out. I persevered, logging onto the reservation site sometimes 3-4 times a day, anxiously hoping someone cancels. Then BAM! We're in!

Our oldest son had a football game/marching band commitment, so the "littles" and I went up Friday evening, and Mama and LT drove "Willy B" the Jeep up Saturday morning. We got a pretty early start at the festival, and dove right in to the yummy snacks. Kettle corn, cookies, fudge, brittle, burgers, funnel cakes, honey, sorghum syrup, and on and on and on... We actually saw a mule turning a cane mill that squeezes the juice from the cane. The juice runs into a bucket, then it goes into a vat to cook down. Eventually it becomes syrup. We watched the entire process from beginning to end, then bought one of the rather expensive jars of syrup. It was worth it just to meet the mules.
There were dozens and dozens of tent booths set up all over the park's commons area near camp stores and recreation center. There were leather goods, crafts, and art. We met some ladies with an angora goat and angora rabbits. We'd already talked about fiber animals, and I think spending time with these sweet ladies and their animals closed the deal. Lainey's started knitting some, and we think it would be cool to get a spinning wheel and try to make some of our own yarn. Why not!
We also met a man with a "bluegrass instrument petting zoo." He was encouraging people, especially kids to come pick up an instrument, and play with it. He was showing kids simple chords. I think he was impressed when our kids were actually able to play along with him. We have guitar, banjo, mandolin, and fiddle playing kids.

Speaking of music, there were two stages of folk music, gospel, and bluegrass. There was a lot of talent at the festival, so we wandered back and forth listening. By the time we'd seen it all twice, we decided to drive up to view the falls. Then we headed back to the campground for a quiet evening and a campfire.
Back at the campground, we met a neighbor that had birds. Lots of birds. Parrots and cockatoos. They were all on perches just outside his camper. He told us the story of many of the birds, mostly rescued and previously neglected. Very interesting folks.

We had to head back to civilization on Sunday, but we were so glad we'd come for the festival. Maybe next time we'll have more time to enjoy more of the parks other features we know so well.

The Richardson Tribe
---
Adventure Journal
Entry Date: October 2008
We spent this Fall Break with friends camping at Fall Creek Falls State Park in Tennessee. We made reservations for this weekend several months ago. Since that time, gas prices went through the roof (over $4), so we considered cancelling. Lucky for us, Fanny Mae, Freddy Mac, and most of the big banks went under, the stock market crashed, and gas prices dropped, thus making this nice trip a little less painful. The Lord does work in mysterious ways.
We have been moderately disappointed with Fall Creek Falls' camp sites in the past (unlevel, unkempt). However, after locating our site, all concerns about the place were soon forgotten. We couldn't have asked for a better spot (with full hookup no less). Our very good friends occupied the neighboring site, and the kids played in the large wooded area until they dropped. The camp site is adjacent a large meadow featuring a play set, volley ball court, and lots of room to play. The field is surrounded by camp sites and a paved road, perfect for bike riding. We also loaded the bikes up and hauled them to the lake and falls bike trails. Everyone rode their bikes for a long way on the trails. I had to pull four-year-old Lainey in the doodle bug for a little while, but her twin, John Micah, rode he whole way.
We did a bit more hiking on this visit to Fall Creek Falls. We really enjoyed the trails and canyons in the park. It's really a beautiful place to explore, and the trails are challenging and fun.
We rode by the horse stables to price a ride, but at $25 apiece ($150.00 total) for a 45 minute ride, I couldn't justify the expense. Instead, we decided to just ride around the park with the top down in the Jeep. In all, our experiences at the park have convinced us that this is still a place to come back to in the near future.

The Richardson Tribe
Scroll down for more PB&J Adventure Journals
Entry Date: July 2008
On this visit, the kids rode their bikes almost constantly. Lee Thomas, Heath, and Cal rode the full lake trail and the falls trail (almost 5 miles). The twins rode to the falls and back to the car (about a mile), then rode in the doodle bug behind Daddy for the following 4 miles (Daddy's legs are still tired). After we got back to the campsite, they continued to ride, and ride, and ride. Heath had three little girls swooning over him at the campground, but they were very sweet to Lainey too. They have no bears at Fall Creek, but there were almost always dear around. They would almost walk right into our campsite. They have no shortage of squirrels and chipmunks either.
Note: There are some negatives with Fall Creek Falls' campgrounds. While many of the sites have been updated, some are kind of run-down. For instance, our sites were, for the most part, bare dirt. That sure makes it hard to keep a camper's floor clean. Most of the sites are not level either. You can probably see from the pictures how much jacking and shimming was necessary to get Homer close to level, and the Parkertops had even more of an issue with their camper. One thing that struck me was how much time and money they have spent upgrading campground A. It's beautiful. New landscaping, a new playground, and a nice smooth cap for all the inner roads. the clincher is that the sites still slope off like a barn roof. Yeah, we like Fall Creek Falls, but we still think that Georgia's parks rule
---
Entry Date: November 2007


I remember going to Fall Creek Falls when I was a kid, but I think it's probably changed a lot. Now they have lots more to do. There is, of course , camping and a lake, but they also have miles of paved bike trails, horses, a golf course, a huge pool (closed for the season), tennis courts, a gym, and more. Unfortunately, the drought has reduced the falls to a trickle. Seeing this really drives home how serious the drought is. On a lighter note, the one thing that made this weekend great was participating is our new hobby, Geocaching. It's a type of treasure hunting game where you use a GPS (global positioning system) receiver to track down a "cache" that someone has hidden. There was one hidden along the bike path by the lake. The kids all got a little cheap toy from the container, and we left some polished semi-precious gemstones (agate). On the way home, we stopped near Dayton, TN and found another cache. This one was just a tiny container with a little log book that we signed. The general idea of Geocaching is to add a new element of fun and excitement to traveling (especially the kids), and to introduce travelers to sights, views, and history that they won't find in a travel guide.

Although it was probably past peak for the colors up on the Cumberland Plateau, we still saw lots of Fall color. I wish I could have stopped and taken more pictures while driving, but we would have never gotten home!
---
Other Destinations:
Up
Amicalola Falls State Park
Beaches of South Walton.
Berry College
Big Kahunas
Biltmore House
Blairsville, Georgia
Callaway Gardens
Cataloochee Ski Area
Cave Spring
Cedar Creek Park
Charlestown State Park
Chattahoochee Bend State Park
Chattanooga Zoo
Chehaw Park
Cherry Hill Park
Chester Frost Park
Chieftains Museum
Choccolocco Mountain Off Road Park
Cloudland Canyon
Cloudmont Ski and Golf
Consolidated Gold Mine
Cohutta Wilderness
Cumberland Island
Dauset Trails
Disney's Fort Wilderness Resort
Desoto State Park
Doll Mountain Campground
Dollywood
Dunnaway Gap
Enota Mountain Retreat
Etowah Indian Mounds
Fall Creek Falls State Park
Florala State Park
Franklin D Roosevelt State Park
Fort Mountain State Park
Georgia Mountain Fairground
Georgia Veterans State Park
Gold n Gem Grubbin'
Helen Georgia
Hillcrest Orchards
James H Floyd State park
James Island Park
Jellystone Park- Cave City, KY
John Tanner Park
Lake Allatoona
Lake Sidney Lanier
Lake Winnepesaukah
Little River Canyon Center
Live Oak Landing
Lula Lake Land Trust
Mammoth Cave National Park
McIntosh Reserve
McKinney Campground
Moto Mountain Powersports
New Echota - Cherokee Capitol
Noccalula Falls Park details and pictures
Old Stone Fort Archaeology State Park
Pine Moutain RV
Red Top Mountain State Park
Ridge Ferry Park
Rocky Mountain Recreation Area
Rock Town - Pigeon Mountain
Rome GA
Salt Springs Recreation Area
Silver Springs
Stone Mountain Park
Tanglewood Farm
Tannehill State Park
Tellus Science Museum
The Southern Museum
Topsail Hill Preserve
Townsend KOA
Townsend Tennessee
Twinbrook Resort
Up The Creek RV Camp - Park Details - Pictures
US Space and Rocket Center - Details and Pictures
Vogel State Park
Wild Animal Safari
World of Coke
Zoo Atlanta - Details and Pictures
Watch for special events.

Features

Rating (1-10)

Description

Official website
8
Tennessee's state parks are ranked in the top three for the nation. Their website is ok, but, as is the case with most, it is sorely lacking in photographs.
Campground - Reserve

9.5

Full hookups for some sites. Very pretty campgrounds. Too bad they didn't grade the sites out more level. Otherwise, would've been a 10.
Cabins - Reserve
*
We have never stayed in the cabins before.
Lodge/Park Inn - Reserve
*

We have never stayed in the Park Inn but it looks very nice.

Pool
*
The pool is very nice and large.
Golf Course
*
We have never played golf at Fall Creek Falls, but the course is rated as one of the top public courses in the nation.
Tennis
9
decent looking courts.
Game/Recreation Room
9
Ping Pong, pool, video games. A really good place to spend arainy afternoon.
Store(s)
9
There are two stores in the village. One is a camp store with some food and necessary items. the other is a gift shop.
Naturalist Programs
10
we have attended just one interpretive program at Fall Creek Falls. We learned about qwls and dissected owl pellets. It was a very educational experience for the grown-ups and kids alike.
Hiking/Biking
10
Hiking is great in the park with over 35 miles of trails. Regarding bikes, a very nice paved bike path goes around the back side of the lake (pass a Geocache in the process) and winds all the way to the high fall overlook. Awesome for kids and grown-ups.
Geocaching

10

Fall Creek Falls was our first Geocaching experience..
Local Attractions

8

Well, the park itself is absolutely awesome, but it is relatively remote. We have always spent all our time in the park while visiting the area.
*Note: We rate only the amenities we have personally reviewed.

No financial consideration or favor has been received for listing in PB&J Adventures' website. We are in no way affiliated with this facility or any other facility we review. Any paid advertising seen on this site was arranged after the destination was reviewed. You can trust the reviews to be unbiased.
---