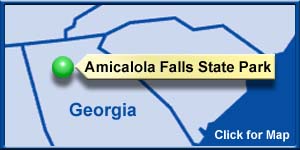 Overview
Amicalola Falls State Park is located just a little over an hour North of Atlanta in the North Georgia mountains. Like most Georgia State parks, it features a many activities and attractions. At 749 feet, the park's waterfall is, according to the state of Georgia, the tallest cascading waterfalls East of the Mississippi river. Fishing in the trout pond is popular, and there is a very nice playground and visitor's center with lots of local wildlife on display. Amicalola also features two lodges. The first, accessible by car, features all the modern amenities including a restaurant. The second Lodge, the Len Foote Hike Inn requires a 5 mile hike to reach, but it's guaranteed to be a visit you won't soon forget.
Amicalola Falls State Park is also the access point for the Southern end of the Appalachian Trail. Hikers often stay in the park on the first night of their journey.

---
Note: Flat Stanley accompanied us on this adventure. If you are unfamiliar with Flat Stanley, click here to learn more.

Adventure Journal
Entry Date: April 2007
Amicalola Falls is a pretty spectacular site, but at their age, the kids seemed to enjoy the playground more than the view. As with most Georgia state parks, the campground is absolutely awesome. The sites were level and had built-in wooden retaining walls and railings that made our site like a self-contained outdoor room. It was great for the kids! For those of you that don't enjoy camping, there are cottages and a big lodge with all those "city folk" amenities.

Saturday morning we made the short walk to the top of the falls and enjoyed the view, but the weather wasn't looking too promising and the kids had gold fever, so we headed for Dahlonega. It's only a short 20 minute drive from the park.
First we hit the Dahlonega Gold Museum which is located in the oldest courthouse in the state of Georgia. We looked at some really cool old mining equipment, watched a video, then headed for lunch at the "world famous" Smith House. One of the coolest things about the Smith House (besides the food) is the old mine they found (in 2006) hidden below the floor for over 100 years. Apparently, mine owners were taxed for their mine shafts, so this smart home owner decided to hide his under the house.
After lunch we headed for the Consolidated Gold Mine Company for a tour, gem grubbing, and gold panning. The gem bags are "enriched" for the entertainment of the kids, but the gold panning is for real (I think). Altogether, I figure the gold we got from panning cost us about $18,000 an ounce.
By the time we finished at Consolidated Gold Mines, it was late in the afternoon and the weather was really looking bad, so we headed for home (after watching the gopher near the parking lot for a few minutes). In summary, the weekend was shorter than we'd hoped for, but in all, it was a good experience and a lot of fun, and that's what it's all about.

The Richardson Tribe
More Destinations:
Up
Amicalola Falls State Park
Beaches of South Walton.
Berry College
Big Kahunas
Biltmore House
Blairsville, Georgia
Callaway Gardens
Cataloochee Ski Area
Cave Spring
Cedar Creek Park
Charlestown State Park
Chattahoochee Bend State Park
Chattanooga Zoo
Chehaw Park
Cherry Hill Park
Chester Frost Park
Chieftains Museum
Choccolocco Mountain Off Road Park
Cloudland Canyon
Cloudmont Ski and Golf
Consolidated Gold Mine
Cohutta Wilderness
Cumberland Island
Dauset Trails
Disney's Fort Wilderness Resort
Desoto State Park
Doll Mountain Campground
Dollywood
Dunnaway Gap
Enota Mountain Retreat
Etowah Indian Mounds
Fall Creek Falls State Park
Florala State Park
Franklin D Roosevelt State Park
Fort Mountain State Park
Georgia Mountain Fairground
Georgia Veterans State Park
Gold n Gem Grubbin'
Helen Georgia
Hillcrest Orchards
James H Floyd State park
James Island Park
Jellystone Park- Cave City, KY
John Tanner Park
Lake Allatoona
Lake Sidney Lanier
Lake Winnepesaukah
Little River Canyon Center
Live Oak Landing
Lula Lake Land Trust
Mammoth Cave National Park
McIntosh Reserve
McKinney Campground
Moto Mountain Powersports
New Echota - Cherokee Capitol
Noccalula Falls Park details and pictures
Old Stone Fort Archaeology State Park
Pine Moutain RV
Red Top Mountain State Park
Ridge Ferry Park
Rocky Mountain Recreation Area
Rock Town - Pigeon Mountain
Rome GA
Salt Springs Recreation Area
Silver Springs
Stone Mountain Park
Tanglewood Farm
Tannehill State Park
Tellus Science Museum
The Southern Museum
Topsail Hill Preserve
Townsend KOA
Townsend Tennessee
Twinbrook Resort
Up The Creek RV Camp - Park Details - Pictures
US Space and Rocket Center - Details and Pictures
Vogel State Park
Wild Animal Safari
World of Coke
Zoo Atlanta - Details and Pictures
Features

Rating (1-10)

Description

9

Georgia's State Parks website is very well done. Could use more pictures of campsites and amenities. Making reservations is a breeze!

Campground - Reserve

8

24 Tent, Trailer, RV Campsites (**$25-$28) - No full hookups. Beautiful campground with a very steep approach. Limited to 24 sites with electric and water only.

Cottages/Cabins - Reserve

*

14 Cottages (**$85-$165)

Lodge - Reserve

*

56-Room Lodge & Conference Center (**$75-$200)
20-Room Hike Inn ($70-$97)

Playground

9

The kids loved the playground. Could be more variety.

Hiking

10

The Appalachian Trail begins here, so...

Visitor Center

8

It's a nice visitor center, lots of wildlife exhibits.

Geocaching

*

Geocaching is available, but we didn't have a chance.

8

There is plenty of rock hounding in the immediate area. Dahlonega is also very near and features commercial gold panning and rockhounding. we visited the Consolidated Gold Mine Company.

Local Attractions

9

Len Foote Hike Inn, Dahlonega Gold Museum, Consolidated Gold Mine, Company, Smith House Restaurant, Appalachian Trail, etc. With Dahlonega and the Chattahoochee National Forest so close, it is unlikely you will be looking for something to do.

*Note: We rate only the amenities we have personally reviewed.
**Accommodation pricing is based on 2010 http://gastateparks.org website pricing.

No financial consideration or favor has been received for listing in PB&J Adventures' website. We are in no way affiliated with this facility or any other facility we review. Any paid advertising seen on this site was arranged after the destination was reviewed. You can trust the reviews to be unbiased.
---