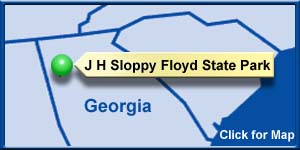 Overview
James H (Sloppy) Floyd State Park is a precious gem nestled in a little valley near Summerville in Northwest Georgia. This is the park that inspired this family to buy an RV, but that's another story. The park is named for James H Floyd, otherwise known as "Sloppy", a local politician (state representative) from decades ago.
The park has a couple of fishing lakes where you can rent row and pedal boats. There are two playgrounds, one of which is in the campground. There are a few sites located near enough to sit by the fire and watch the kids play. Hiking and mountain biking is virtually unlimited because the Pinhoti Trail runs along Taylors Ridge, a short hike from the lake. If a shorter hike is what you have in mind, you can hike up to the old marble mine and reflection pool (en route to the Pinhoti).
If you like rockhounding, this is the place for you. Taylor's Ridge, especially this portion, is covered with shattered rocks. Apparently a geological event caused the limestone to buckle and shatter, like an explosion. The result is amazing. What's even more amazing is the fact that much of the rock is a very fine laced agate. You will also find rose quartz, druzy quartz, pink marble, purple chert, fossils, and more. There are also a couple of other rockhounding and fossil sites nearby.
There are occasional events at Sloppy Floyd State park. One of our favorites is Adventure Day, an entire day dedicated to rock climbing, fishing, bows and arrows, bb guns, snakes, good food, and more.
In summary, this little park is simple. There's no miniature golf or gimmicks. It's a place to fish, hike, mountain bike, rockhound, and relax.
---
Adventure Journal
Entry Date: September 2012
Each September, James H (Sloppy) Floyd State Park hosts an incredible event called Outdoor Adventure day. We try to attend every year if possible. Sometimes the weather doesn't cooperate, but this year was perfect. We always camp when attending this event because the park is beautiful and Sloppy Floyd features one of our all-time favorite campgrounds. With just 25 sites, the campground isn't as large and crowded as some state parks, and the sites are level, spacious, and plush with native trees and shrubs.

With all that said, perhaps the greatest bonus for the Richardson Tribe is the abundant supply of fossils and semi-precious gemstones scattered over the ground. Sloppy Floyd is a rockhounding paradise, and we are rockhounds. On this trip, we found mostly druzy quartz and fine lace agate, but we also found a geode or two.
We arrived at the campground on Friday evening, set-up the camper, and built a fire. The evening brought a slight chill, one of the first of the Fall season. Early in the evening, some other campers stopped by and told they used the PB&J Adventures website to plan their family camping trips. Their extended family was visiting the park for Adventure Day because they had learned of it on our website. Needless to say, that made my day.
The Adventure Day festivities began at 9am Saturday morning, and we were there bright and early, beating the crowds. The kids started with a virtual video hunting game, but I think one or two thought it was a little too realistic. Then it was archery. All the kids did great, but Lainey actually received applause after her round. She put five arrows in a perfect grouping, all within just a few inches of one another. Santa brought all the kids bows and arrows two years ago, and their practice has paid off.
From the archery arcade, we wandered to the opposite end of the lake where the rock climbing wall was located. Lee Thomas and John Micah opted to try their hand at fishing while Lainey and Heath conquered the wall. Then it was bb guns where all the kids did very well. Again, practice makes perfect. Soon it was lunchtime, and that meant free hot dogs and soft drinks for all. Heath thought they were the best hot dogs he'd ever tasted.
The afternoon was spent in much the same way. We rode the pedal boats and canoes and fished. I'm not sure how many times the rock wall was scaled or how many hot dogs were eaten, but a good time was had by all. When 2pm rolled around, we were ready for the snake show. Each year at Outdoor Adventure Day, Jason Clark from Southeastern Reptile Rescue provides an educational and entertaining reptile demonstration. He teaches what snakes are dangerous and how to recognize them at a safe distance. We all learned some great lessons about how snakes keep the rodent population under control, and how venom is being used to cure certain illnesses. We now know and respect snakes a lot more.

We spend the balance of the day enjoying the campground. Lee Thomas and I enjoyed a game of chess while the others made a movie with Lainey's new camera. The movies' main stars, made from marshmallows, were Marsha and Marshall Mallow. They went on a camping adventure that ended tragically with a fire. Perhaps we'll air it on YouTube after a little editing.
In summary, we have camped at James H Floyd several times, and each time we fall in love with it all over again. It has all the elements we love in a park, so Outdoor Adventure Day is a no-brainer. We'll be back next year, and the next, and the next...
The Richardson Tribe

---
Adventure Journal
Entry Date: September 2010
It was time for the annual Adventure Day at James H (Sloppy) Floyd State Park again, and we had to be there. Adventure Day 2009 was cut short for the Tribe because of rain, so the kids were anxious to do some of the things they didn't have time to do last year. The weather this year was about as perfect as it could be.
We camped at the park so we could get an early start (and we love camping there). Our first stop was archery. All the kids received straight bows last year for Christmas, so they knew the basics. They all did pretty well with the compound bows the rangers provided, but they still need some practice. The helpful DNR rangers gave them some pointers though (pardon the pun).

We then wandered over to the area where the rock wall was located. The kids enjoyed the educational snake show provided by Jason Clark of Southeastern Reptile Rescue before climbing the wall. Smokey Bear and some DNR fire fighters were there with their cool equipment, including a Polaris UTV with all kinds of neat firefighting gadgets onboard.
There had to have been 25 rangers present to make everything run smoothly, including keeping the loaner fishing rods in working order. Adventure day is the one day a year they let kids (16 and under) fish in the stocking end of the lake. Lee Thomas landed a nice catfish, and there were people there with strings of fish totaling 25 or more pounds. It was a little crowded, but fun was had by all.
After fishing for a while and eating a free hotdog lunch, the kids got a short shooting lesson and target practice with pump bb guns. To wrap-up this wonderful event, we toured the Southeastern Reptile Rescue trailer. Jason Clark captures reptiles such as snakes and lizards when they're somewhere they are not supposed to be. In the trailer he had a small alligator, a Gila monster, and a respectable collection of venomous snakes.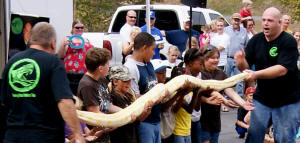 click to zoom
Jason does events like this, but he also does private birthday parties that include encounters with reptiles like the Albino Burmese Python pictured above. He shares a lot of funny stories about the animals he has rescued, the places he has found them, and the unusual people he meets in his job. It's an entertaining and hair-raising show, but most importantly, it teaches kids to safely respect these widely misunderstood animals. Personally, I liked the show, but I'm not going to be sitting on the front row.
Back at the campground, we enjoyed a nice afternoon of play and exploration. Sloppy Floyd State park is our favorite place for rockhounding, and the kids are avid rock hunters, so that kept them occupied much of the afternoon. We found some very nice purple and pink chert with a .2" layer of agate partially enclosing it (very unusual). There was also a little game play Mancala) and fireside relaxation at the site which had a nice view of the playground.
In summary, this was a most perfect day. The temperature was pleasant, the activities were fun, the DNR staff was hospitable, the park was beautiful, and the food was free. How much better can it get?
That night, I got a lesson about being a prepared camper (which I normally pride myself on). About 3am, I woke to the sounds of thunder. I hurriedly jumped-up, threw on some shoes, and ran outside to replace the windows I had removed from the Jeep three weeks earlier. Finally, a relief from the Summer drought. Unfortunately for me, it ended in a big way about the time I got outside. It's ok, the Jeep, my camping chairs, and I all needed a good shower.
Note: The only complaint we could muster on such a perfect day was that Mother Nature unleashed the yellow jackets (aggressive yellow wasps). For some reason, this time of year, yellow jackets are abundant up on Taylors Ridge and the vicinity (could be the fruit-bearing muskadine vines- aka wild grapes). No one in our crew got stung, but it made us uneasy a lot of the time.
The Richardson Tribe
Scroll down for previous adventures.
The park is located on the West side of Taylors Ridge which is rich in geological and natural history. The ground is covered with agate, and a variety of fossils and geodes can also be found. We spent the afternoon picking up fossils on a nearby fire service road . We bagged hundreds of specimens. That evening we had a wonderful "left-over" Thanksgiving supper (better the second time around). We prepared our ham in our biggest Dutch oven and it smelled great at the campsite! We watched "Meet Dave" on the big TV outside the camper (under the awning) and turned-in as the rain began. It rained all night, but we decided to try to stick it out.
The rain continued, so we decided to pack-up and head home Saturday evening. That was ok, because we'd had a very fulfilling trip, and we really needed to decorate for Christmas.

The Richardson Tribe