Overview
Live Oak Landing is located in Freeport, Florida, on Black Creek, just off the Choctawhatchee Bay. It's not the Florida you expect. It's a little darker, a little less commercial, a little more native, a little wilder. Live Oak Landing is a fish camp and a luxury RV resort in one. This makes for an interesting mix.
The Richardson Tribe is not big on RV parks. We appreciate the larger, more natural sites of state parks. Live Oak Landing is a hybrid of the two. Natural surrounding with the luxuries of a plush resort. The creek and bay offer great fishing, canoeing, and kayaking. The resort offers large pull through sites and a clubhouse with teak furnishings, a massive gas grill, and big screen TV.
In addition to the clubhouse amenities, Live Oak Landing provides a variety of other family entertainment options. A selection of indoor and outdoor games are available like Horseshoes and Bocce Ball. If you want to go canoeing, on a tour, or on a fishing expedition, Live Oak Landing knows just the skipper to serve your needs.
Fishing is a popular and productive pastime here at Live Oak Landing. With a boat ramp, docks, and a very nice creek side pavilion, the options are almost limitless. During our stay at Live Oak Landing, the manager arranged for canoes, paddles, and life jackets for the entire Richardson Tribe. From the park's banks, one can paddle out to Jolly Bay and Choctawhatchee Bay, or up Black Creek just like the Native Americans did centuries before.
If your interests lean more toward beaches, shops, miniature golf (and regular golf), go karts, and water parks, they're all just down the road. San Destin, Destin, Fort Walton, Seaside, Seagrove, Grayton Beach, and Panama City Beach are all just a short drive away.
As I mentioned before, this is a brand new RV park. The concrete pads have barely solidified. How it evolves in the coming years depends a lot on the clientele the park attracts. The big-rig friendly sites and cottages (for sale) make it a great retirement park. Access to deep water lends itself to sportsmen. Families wanting an alternative Florida experience may influence the park's direction.

As a family of six, I must admit, staying at Live Oak Landing was like visiting a "friend with a perfect house" and no children. It's almost TOO NICE for kids. The bath house and restrooms were spotless. The grounds are lavishly landscaped and meticulously maintained. Visitors are expected to keep a tidy campsite, which can prove a challenge for a family of six with bikes, chairs, and fishing poles. I hope the park continues to maintain high standards, because it's nice to visit a a place that seems to care.
On the negative, it was unusually hot while we were visiting (June). It would have been a big plus to have had a pool (they added a pool in 2012), fountains, or misting stations to provide some cooling. The kids spent a good deal of time in the screened pavilion with ceiling fans and a large screen TV.
Rebecca and I spent the evenings by the fire overlooking Black Creek. It was beautiful and relaxing. The smoke helped keep the yellow flies at bay. You see, one of the prices you pay for staying in such a tropical place is bugs. There are bugs. Deal with it.
In summary, We really like Live Oak Landing. It's not your typical RV resort.
---
Adventure Journal
Entry Date: October 2012
Stay Tuned:

Adventure Journal
Entry Date: June 2011
Our visit to Live Oak Landing came toward the end of a fairly long adventure. Over the past 10 days, we have camped in two Alabama state parks (Tannehill and Florala) and spent a full week on the beaches of South Walton. We wanted to close this long trip with a change of pace.
When we arrived at the park, we could tell it was going to be an interesting adventure. The large live oaks, draped in Spanish moss, arched over the landscaped sites. It's really not a campground. I don't think you'll see any tents here.
Before I could get supplies unloaded, the kids wanted their bikes down. We rode from our site a short distance down to the boat ramp. There is a brand-new dock and a covered pavilion from which you can fish. Swimming? I don't think so. There are alligators closer than you think.
We quickly discovered the awesome clubhouse, a screened pavilion with ceiling fans, a huge gas grill, a bar-like counter, teak (yes teak) furniture, and a large screen TV. What a place for a family reunion. Our first evening was spent at the viewing area, a patio of sorts, with a fire ring, planters, pavers, and more very nice outdoor furniture. The view of Black Creek in the evening was peaceful, and a little eerie.
We began our first full day with a nice paddle around an island across the channel from the resort. It was hot, but the channel provided a slight breeze giving a little relief. We watched the shoreline with vigilance, looking for evidence of gators and other wildlife. It was like being transported back in time when the Native Americans cruised these waters in canoes.
The balance of our stay was spent fishing, riding bikes, and enjoying the clubhouse. We had planned to make a seafood gumbo, but ended-up buying some pre-made at the nearby seafood market instead. It was very good. The management and staff at the park were very friendly and made every attempt to make sure our stay was a pleasant one. Thanks Y'all!
The Richardson Tribe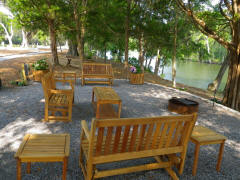 Other Destinations:
Up
Amicalola Falls State Park
Beaches of South Walton.
Berry College
Big Kahunas
Biltmore House
Blairsville, Georgia
Callaway Gardens
Cataloochee Ski Area
Cave Spring
Cedar Creek Park
Charlestown State Park
Chattahoochee Bend State Park
Chattanooga Zoo
Chehaw Park
Cherry Hill Park
Chester Frost Park
Chieftains Museum
Choccolocco Mountain Off Road Park
Cloudland Canyon
Cloudmont Ski and Golf
Consolidated Gold Mine
Cohutta Wilderness
Cumberland Island
Dauset Trails
Disney's Fort Wilderness Resort
Desoto State Park
Doll Mountain Campground
Dollywood
Dunnaway Gap
Enota Mountain Retreat
Etowah Indian Mounds
Fall Creek Falls State Park
Florala State Park
Franklin D Roosevelt State Park
Fort Mountain State Park
Georgia Mountain Fairground
Georgia Veterans State Park
Gold n Gem Grubbin'
Helen Georgia
Hillcrest Orchards
James H Floyd State park
James Island Park
Jellystone Park- Cave City, KY
John Tanner Park
Lake Allatoona
Lake Sidney Lanier
Lake Winnepesaukah
Little River Canyon Center
Live Oak Landing
Lula Lake Land Trust
Mammoth Cave National Park
McIntosh Reserve
McKinney Campground
Moto Mountain Powersports
New Echota - Cherokee Capitol
Noccalula Falls Park details and pictures
Old Stone Fort Archaeology State Park
Pine Moutain RV
Red Top Mountain State Park
Ridge Ferry Park
Rocky Mountain Recreation Area
Rock Town - Pigeon Mountain
Rome GA
Salt Springs Recreation Area
Silver Springs
Stone Mountain Park
Tanglewood Farm
Tannehill State Park
Tellus Science Museum
The Southern Museum
Topsail Hill Preserve
Townsend KOA
Townsend Tennessee
Twinbrook Resort
Up The Creek RV Camp - Park Details - Pictures
US Space and Rocket Center - Details and Pictures
Vogel State Park
Wild Animal Safari
World of Coke
Zoo Atlanta - Details and Pictures