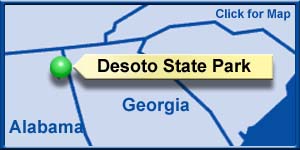 Overview
Desoto State Park is located on Lookout Mountain near Fort Payne Alabama (home of the legendary country band "Alabama"). It's a rugged place with large rock outcroppings and a mountainous terrain.
Bike riding is great around the campground and on some of the trails. People tend to drive a little fast on the main road going through the park making bike riding there (on the road) a bad idea.
Hiking at Desoto State Park is dreamy. There is so much to see: rock formations, creeks, a river, waterfalls, foliage, and wildlife. Some of the terrain is pretty rugged, but there is good hiking for everyone.
There is a pretty nice playground, a seasonal pool, a board walk that winds back to a intermittent waterfall, a pretty decent little country store, and a jewel of a campground.
Desoto encompasses much of Little River which snakes through the Little River canyon. The drive along the canyon is absolutely beautiful and relaxing. Careful with queasy passengers, it's a long and winding road.

A note of interest, and episode of Man vs. Wild in Little River Canyon (search for it on YouTube, but be warned, he kills a wild boar... that's tied to a tree). If you see the episode, don't worry. It's unlikely any alligators will get you (not a lot in North Alabama), and the weather isn't really that unpredictable, and the canyon does not randomly flood. If you get lost walking on the marked trail by the river, just take any of the trails out to the road that's running along the rim.
---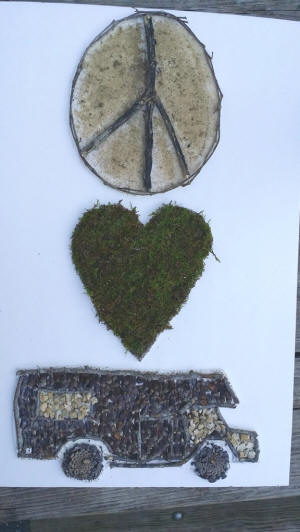 Our 2014 Flag/Banner Contest entry
Adventure Journal
Entry Date: October 2014
Spookapalooza is officially a tradition for the Richardson Tribe. This year we were joined by friends, and we had a spooky great time. This year we let the kids pick their costumes, and we ended-up with a banana, a whoopee cushion, and a leopard. Lee Thomas, being a teenager now, opted out of the costume this year. He hosted trick-or-treaters at our campsite while we walked the campground with the littles. There were lots of games and sweets for kids young and old. This event has grown over the years, and now the campground completely sells out. What FUN!
---
Adventure Journal
Entry Date: July 2014
We just came off a very long trip out west, but we weren't about to miss Independence Day at Desoto State Park. They had lots of fun activities planned including a parade, a banner/flag contest, and homemade ice cream.

On this visit, we decided it was time to check out the new CCC (Civilian Conservation Corps) museum. Actually, the building isn't new at all. It's actually one of the original buildings in the park. It was very interesting to see how the men lived back then, and all the hard work they did. The most interesting facts learned from the museum? The fact that there was once a golf course and airport runway here. Very interesting.

We also visited the Sally A. Howard Memorial Chapel, a very unusual church built into a rock. The history is interesting, but you'll need to see for yourself.

The photos of the Little River Canyon were taken from the west rim. We took the scenic drive from Desoto State Park following the canyon's edge. There are lots of places to pull off and park for photos or a hike. You can also park near the Little River Falls bridge and hike down to the river.
We spent a lot of time decorating Willie B for the Independence Day parade. The kids had a blast. We won third place with our flag design, and Heath got a "Creativity" award for his flag. Did I mention the Homemade Ice Cream? Check out the pics!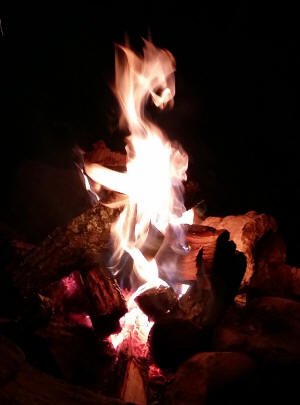 We saw the Phoenix in our fire!
---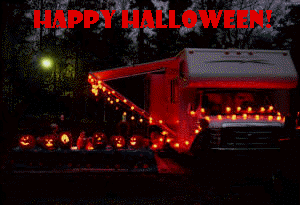 Adventure Journal
Entry Date: October 2012
We attended Spookapalooza at Desoto State Park last year, but were totally unprepared for the trick or treating part. We weren't about to be surprised this year, so we packed some costumes, decorations, and a bunch of candy, and headed for Lookout Mountain.

Our campsite was the first people would see when entering the campground, so we dressed it up pretty well. We had ghosts, jac-o-lanterns, witches, and various other ghosts and goblins. Fun was had by all. When the trick-or-treaters came to the campsite, many stood back and looked for a long time before committing. I think they may have been a little frightened.
In addition to the Halloween festivities, we did some hiking, enjoying the cool crisp Fall air. We love Desoto State Park!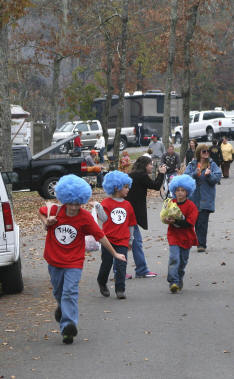 Desoto Falls - click for larger picture.
Adventure Journal
Entry Date: May 2011
To plan this weekend, I turned to the PB&J Calendar of Events. There were a dozen or so events happening across the Southeast this weekend, but one little cluster of "happenings" really caught my eye.
First, it was the Desoto State Park's Annual Spring Flower Saturday this weekend. May is beautiful at Desoto.
Second, the nearby Little River Canyon Center was hosting a Cinco de Mayo party that included lots of fun and educational activities for kids and grownups alike.
Third, the center was also presenting an amphibian interpretive program that featured tadpoles and frogs, always a winner with kids.
We arrived Friday evening and set-up camp. Desoto has full hookups, large sites, and cable, so it's very comfortable. A fire and a peaceful, sparsely populated campground made for a quiet evening. We were really surprised that the campground wasn't packed this weekend. The weather was beautiful! An episode of "Big Valley" closed our evening.
Saturday morning, after some outdoor play, we headed for the Little River Canyon Center.
When we arrived, the center's director met us at the door inviting us in to eat. The building's entrance is beautiful, framed with stacked stone and vaulted ceilings. The center of the building is a breezeway that allows air to flow through keeping the main area comfortable, We learned that the building features a geothermal heating and cooling system, and many of the materials are recycled. Very green!
After eating a wonderful meal and bursting several pinata, we headed for the activities. You can see by the pictures, there was fun had.
Soon it was time for the amphibian presentation. The kids filed in, and filed in, and filed in. The JSU professor seemed a little surprised at the sheer numbers as well as the age group. We could tell he was used to a little older crowd. However, he did a fantastic job of adapting, and kept the kids' interest for the entire session.
In all, we spent about 3-4 hours at the center before heading back to camp at Desoto State Park. We had a lot of fun, learned a lot, and left with several tadpoles, including a rare albino.
The balance of Saturday was spent playing at the campground and preparing Supper. Some of our very good friends had joined us, and we chatted around the campfire till well after dark.
Sunday morning was pack-up time. After loading the camper and the jeep, we headed out for the Azalea Cascade boardwalk. The boardwalk is a lovely path that winds through the hardwoods to a small set of waterfalls. It was a little early in the season I guess, because the flowers weren't very brilliant. It was still awesome.
Adventure Journal
Entry Date: October 2010
Desoto State Park is one of our top ten favorite destinations. We have spent several long holiday weekends here because Desoto has all the positive aspects of a state park with the conveniences of an RV Park. There is an abundance of nature and the campsites are large like most state parks, but Desoto's campground also features full RV hookup (30 & 50 amp electricity, water, cable, and sewer). Amenities are abundant and the staff organizes some really great events and activities.
This particular adventure was planned around Spookapalooza, a weekend of Halloween activities like outdoor movies, games, story telling, and trick or treating. For the Richardson Tribe, it was the end of a very long and trying week. John Micah had a fever of over 103 Thursday night, and work was piled on everyone. The costumes we'd ordered hadn't yet arrived (or so we thought, another story), and we got away from the house late on Friday making our arrival at Desoto well after the office had closed. Fortunately, the trusty security ranger had the code and our paperwork handy. It didn't take long to get the camper leveled and connected, and it was once again beginning to feel like home. The psychology of being on Central time for a change made me decide it was early enough for a fire, so I indulged.
Saturday went a little differently than planned. We had our bikes and rode a little in the morning, but didn't cover the distance I'd hoped. There was just too much happening. We visited some good friends at a cozy little cabin they rented that overlooked Desoto Falls. The cabin, nearly 70 years old, was very rustic and quaint, but a newer structure just a short walk away was even more unique. The cabin's owner has also built a very nice screened chalet over the small lake formed from the dam at the top of Desoto Falls. There is no glass in the structure. It is completely screened, but has most of the comforts of home. Later in the afternoon, we headed back to the park. Unfortunately, the cabin isn't usually for rent, but there are others available. Google it!
We hadn't planned on "trick or treating" because the kids had no costumes. Initially it was working. The little guys helped entertain the trick or treaters by posing as statues while Mommy played the "Candy Lady". But then, with a stroke of genius, Lee Thomas created the costume of a Dumb and Dumber Hobo Nerd! The rest of our crew followed suit, and were soon a hit with the other trick or treaters and parents. It wasn't the goofy way they dressed, it was how they acted and talked. They REALLY got into character, especially the dumber part. They went around our loop in the campground, and came back with grocery bags loaded with candy.
We sat around the fire for a very long time talking and laughing that evening before retiring to the camper. We started a movie, but, as so often happens, everyone was out well before the end. That's ok, 'cause we have to get up tomorrow morning, pack-up, and head for Rome and the Chiaha Art Festival, but that's another story...
---
Adventure Journal
Entry Date: September 2009
Labor Day Weekend
We have camped at Desoto State Park enough to really start to appreciate what it has to offer. On this trip, we had some friends camping in the next site. In addition to full hookups and cable, the fact that you can reserve specific sites is a nice feature.
We visited the dam at the top of Desoto Falls on the Little River. It was the first hydroelectric dam in North Alabama. It's a little scary to stand at the bottom and look up. The waterfalls are really beautiful when the water's flowing strong, but it's been a little dry and the falls were not particularly spectacular.

Back at the campground the kids played some games, had a great scavenger hunt, rode bikes, and generally burned energy.
Desoto is one of our favorite places to stay. It's very remote and scenic, but easy to access.
Scroll down for more journal entries.
---
Entry Date: May, 2009- Memorial Day Weekend
we had lots of fun this Memorial day weekend with some close friends at Desoto State Park. We (the kids) went swimming in the somewhat chilly pool. We also cooked using our new Dutch ovens, went to a movie, saw lots of pretty azalea flowers, rode bikes, played on the playground, and lots more. We really like this park now because there is lots to do, and they have FULL HOOKUP!

Note- avoid the theater in Fort Payne Alabama.
---
Adventure Journal
Entry Date: April 2009
Spring Break (including Easter Sunday)
Well, we had just traded our faithful old motorhome "Homer" in on a new Winnebago, and Desoto had a new improved campground, so we put the two together for a weekend of fun. Some friends joined us for an event-filled weekend that included a drive through the "Little River Canyon", cooking by fire, dyeing Easter Eggs, riding bikes (a lot) and Easter Egg hunting.

It was our first time staying in (even seeing) the campground at Desoto. It had been closed for renovations and addition of new sites for quite some time. We were We have plans to come back, but now we know where the good sites are. We weren't real happy with our pull-through site this trip. Pull-through sites tend to be narrower and less private than back-in sites, but they're easier to access.

The Richardson Tribe

Other Destinations
Up
Amicalola Falls State Park
Beaches of South Walton.
Berry College
Big Kahunas
Biltmore House
Blairsville, Georgia
Callaway Gardens
Cataloochee Ski Area
Cave Spring
Cedar Creek Park
Charlestown State Park
Chattahoochee Bend State Park
Chattanooga Zoo
Chehaw Park
Cherry Hill Park
Chester Frost Park
Chieftains Museum
Choccolocco Mountain Off Road Park
Cloudland Canyon
Cloudmont Ski and Golf
Consolidated Gold Mine
Cohutta Wilderness
Cumberland Island
Dauset Trails
Disney's Fort Wilderness Resort
Desoto State Park
Doll Mountain Campground
Dollywood
Dunnaway Gap
Enota Mountain Retreat
Etowah Indian Mounds
Fall Creek Falls State Park
Florala State Park
Franklin D Roosevelt State Park
Fort Mountain State Park
Georgia Mountain Fairground
Georgia Veterans State Park
Gold n Gem Grubbin'
Helen Georgia
Hillcrest Orchards
James H Floyd State park
James Island Park
Jellystone Park- Cave City, KY
John Tanner Park
Lake Allatoona
Lake Sidney Lanier
Lake Winnepesaukah
Little River Canyon Center
Live Oak Landing
Lula Lake Land Trust
Mammoth Cave National Park
McIntosh Reserve
McKinney Campground
Moto Mountain Powersports
New Echota - Cherokee Capitol
Noccalula Falls Park details and pictures
Old Stone Fort Archaeology State Park
Pine Moutain RV
Red Top Mountain State Park
Ridge Ferry Park
Rocky Mountain Recreation Area
Rock Town - Pigeon Mountain
Rome GA
Salt Springs Recreation Area
Silver Springs
Stone Mountain Park
Tanglewood Farm
Tannehill State Park
Tellus Science Museum
The Southern Museum
Topsail Hill Preserve
Townsend KOA
Townsend Tennessee
Twinbrook Resort
Up The Creek RV Camp - Park Details - Pictures
US Space and Rocket Center - Details and Pictures
Vogel State Park
Wild Animal Safari
World of Coke
Zoo Atlanta - Details and Pictures
Watch for Special Events!

Features

Rating (1-10)

Description

Official website
9
Alabama's State Parks website is a very clean easy to use design. I wish it had an interactive map feature like Georgia's State Park website does. While better than many , they could still use more pictures of campsites and amenities.
Campground - Reserve

9

Rate - $31.35* - This park has one very key feature from the RV camping standpoint, the campground has 94 full hookup (sewer) sites, so an extended stay is painless. Most of the Sites are very wide (especially the back-ins) and shady. You cannot reserve a specific site at Desoto, but we have never been disappointed with the selection when we arrived. There is an abundance of nice sites. Watch for ants! This campground is almost a 10, but only a 9 because there is no playground in the campground area. It's a pretty long walk and you have to cross a road (on which people drive too fast).
Activities & Events at Desoto State Park
9
Desoto has a number of events and programs throughout the year, especially on holidays. Because the campground has full hookup, long holiday weekends are much more enjoyable. There is usually something special happening on holidays, like a flag making contest and a parade on Independence day.
Pool
7
Brrrrrrr! The water is kind of chilly for me, but the kids don't care. It's big with multiple diving boards. There is a fee, which frustrated me because we are camping there. I tend to believe things like the pool should be included. In was a nominal fee, but even a little fee of $2-$3 each adds up when there are six of us.
Playground
8
There is a playground across from the camp store, but it's a long way from the campground. You certainly wouldn't want to send the kids down to play by themselves. The equipment is older, but the kids don't care. Check out the CCC built pavilion at the campground.
Geocaching at Desoto State Park

*

Geocaching is available, but we didn't have a chance. Click here for the park's page dedicated to the subject.
GPS Quest

*

Desoto's GPS Quest is a game of hide-and-seek using a GPS unit to find markers located throughout the park. Find the markers and record the letter on your scorecard. Once completed, visit this website and enter the correct letters to print your certificate of completion.
Other lodging facilities

*

Resort Lodge, Motel Rooms, Log Cabins, Rustic Cabins, Chalets.
Rockhounding

*

We have found mostly sandstone, but there are sometimes fossils in the rock. There is an old CCC rock quarry in the park we need to visit next time..
Local Attractions

8

Mentone, Fort Payne, Alabama Museum (the band), Sequoyah Caverns,
*Note: We rate only the amenities we have personally reviewed.
**Accommodation pricing is based on 2015 Alabama State Parks website pricing.

No financial consideration or favor has been received for listing in PB&J Adventures' website. We are in no way affiliated with this facility or any other facility we review. Any paid advertising seen on this site was arranged after the destination was reviewed. You can trust the reviews to be unbiased.
---