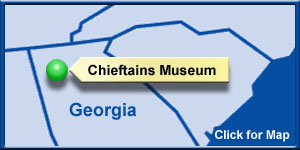 Overview
The Chieftains Museum is located in the former estate home of Major Ridge, also known as Kah-nung-da-tla-geh (1771-1839), a rebellious Cherokee leader born in the north Georgia mountains. At the core of the plush upscale home is a very old log cabin, renovated by its wealthy owner in the early 1800's. At the time of the forced exodus of the Cherokee from North Georgia, the Ridge manor was of higher quality than most, if not all others in the area, including those of the white residents. His estate included a ferry, a store, hundreds of fruit trees, rich river bottom farm land, and sadly, well over 30 slaves of African and Creek descent.
The home itself is a fascinating tour, but the stories associated to the home's previous owners are much more interesting. I won't attempt to explain the history of the Ridge family in this short article. It's simply too complicated. However, to spice it up a little, I'll say this: Major Ridge was a Cherokee warrior, hunter, business man, politician, and assassin. He and his son John were directly involved in the signing of the treaty of New Echota, which surrendered the remainder of the Cherokee's land to Georgia. Both paid the ultimate price for doing so. The official Georgia Tribe of Eastern Cherokee tell the story best.

The Chieftains Museum is located adjacent Ridge Ferry Park on the banks of the Oostanaula River. Ridge Ferry Park is one of our favorite bike-riding and festival destinations. Ridge Ferry Park hosts a variety of events including an annual Cherokee powwow and one of our favorite art festivals, the Chiaha Harvest Fair.
The history of the Southeastern US is fascinating to me. I wish there were a movie about the Creek and Cherokee that told the whole story! The odd personalities and politics of the time, and the paradigm that almost took place. History certainly could have emerged quite differently had time favored the Cherokee. Unfortunately, the discovery of gold in their territory, and the general distaste for Native Americans by the current US President, Andrew Jackson, sealed the fate of the Cherokee.

If you would like a good post-Creek history of the region, the Chieftains museum is a must see destination. You should also consider visiting New Echota, the former capitol of the Cherokee Nation located in nearby Calhoun. For history about the natives that lived here prior to the Cherokee, take the short drive to see the Etowah Indian Mounds in Cartersville.
---
Adventure Journal
Entry Date: November, 2011
We have visited Rome and Ridge Ferry Park many times in the past, but had yet to patronize the Chieftains Museum. We decided that this beautiful Saturday was the perfect time to do so.
When we arrived at the museum, a very friendly and well informed hostess offered her help. We were the only museum visitors at the time, so she was able to explain some of the exhibits in detail. There are artifacts that date back to Spanish explorer Desoto and progress through the Civil War.
The original structure was a cabin built in the late 1700. It was later (early 1800's) renovated and modernized by the Ridge Family. Portions of the plaster walls have been removed to expose the original hand-hewn logs. There are displays of tribal artifacts including tools and masks used by the Cherokee. Upstairs features a room complete with period furniture.
The period clothing, documents, and photos on the walls and in the display cases took a lot of time to view. Perhaps the most interesting to me was how nice the home is. The rooms are large and the ceilings high. I can imagine the multiple fireplaces all ablaze keeping the home cozy on cold nights. This was a fine home, and visiting is well worth your while.
Unfortunately, the youngest papooses got a little impatient and decided to check out the gift shop where they caused a little accident. Don't worry, it cost us only $5 for the damages. We decided to scoot right down the road for some Fuddrucker burgers and shakes.

The Richardson Tribe
More Destinations:
Up
Amicalola Falls State Park
Beaches of South Walton.
Berry College
Big Kahunas
Biltmore House
Blairsville, Georgia
Callaway Gardens
Cataloochee Ski Area
Cave Spring
Cedar Creek Park
Charlestown State Park
Chattahoochee Bend State Park
Chattanooga Zoo
Chehaw Park
Cherry Hill Park
Chester Frost Park
Chieftains Museum
Choccolocco Mountain Off Road Park
Cloudland Canyon
Cloudmont Ski and Golf
Consolidated Gold Mine
Cohutta Wilderness
Cumberland Island
Dauset Trails
Disney's Fort Wilderness Resort
Desoto State Park
Doll Mountain Campground
Dollywood
Dunnaway Gap
Enota Mountain Retreat
Etowah Indian Mounds
Fall Creek Falls State Park
Florala State Park
Franklin D Roosevelt State Park
Fort Mountain State Park
Georgia Mountain Fairground
Georgia Veterans State Park
Gold n Gem Grubbin'
Helen Georgia
Hillcrest Orchards
James H Floyd State park
James Island Park
Jellystone Park- Cave City, KY
John Tanner Park
Lake Allatoona
Lake Sidney Lanier
Lake Winnepesaukah
Little River Canyon Center
Live Oak Landing
Lula Lake Land Trust
Mammoth Cave National Park
McIntosh Reserve
McKinney Campground
Moto Mountain Powersports
New Echota - Cherokee Capitol
Noccalula Falls Park details and pictures
Old Stone Fort Archaeology State Park
Pine Moutain RV
Red Top Mountain State Park
Ridge Ferry Park
Rocky Mountain Recreation Area
Rock Town - Pigeon Mountain
Rome GA
Salt Springs Recreation Area
Silver Springs
Stone Mountain Park
Tanglewood Farm
Tannehill State Park
Tellus Science Museum
The Southern Museum
Topsail Hill Preserve
Townsend KOA
Townsend Tennessee
Twinbrook Resort
Up The Creek RV Camp - Park Details - Pictures
US Space and Rocket Center - Details and Pictures
Vogel State Park
Wild Animal Safari
World of Coke
Zoo Atlanta - Details and Pictures
Features

Rating (1-10)

Description

9

The official Georgia Tribe of Eastern Cherokee have put together a very informative site. I wish there were more pictures and details, but it still does a good job of telling the story.

Facility
9
It's a 200+ year-old home, so it's not perfect. Its condition is amazing considering its age failed attempt by Union soldiers to destroy it during the Civil War. There is a small gift shop at the entry and a very knowledgeable hostess (at the time of our visit)

Places to camp near the Chieftains museum, Rome, and Ridge Ferry Park.

9

There are some pretty good places to camp near Rome. We haven't stayed there, but have heard great things about Floyd County's "Lock and Dam" park. We have camped at Rocky Mountain Recreation Area and James H Floyd State Park, both beautiful places to stay. If you are looking for full hookups and activities, Cedar Creek Park near Cave Spring is the place to stay.

Playground

9

There are two playgrounds at Ridge Ferry Park, and they are both awesome!

Fishing, boating, canoeing, kayaking, etc.
9
The adjacent Ridge Ferry Park provides access to the Oostanaula, Etowah, and Coosa Rivers. You can go all the way to the Gulf of Mexico by canoe from here.

Biking/Walking

9

The Heritage Trail run just down the hill from the museum. You can park in one of Ridge Ferry Park's lots, then ride your bike or walk the short distance to the museum. You can also ride or walk the Heritage Trail through Rome, across old bridges, and on the levees.

Local Attractions

10

Rome, Ridge Ferry Park, Heritage Trail (walking and bike path), Heritage Park, Rocky Mountain Recreation Area, James H Floyd State Park, Cedar Creek Park, Cave Spring, New Echota (Cherokee Capitol), Etowah Indian Mounds (Creek/Muskogee), and much more...

*Note: We rate only the amenities we have personally reviewed.
No financial consideration or favor has been received for listing in PB&J Adventures' website. We are in no way affiliated with this facility or any other facility we review. Any paid advertising seen on this site was arranged after the destination was reviewed. You can trust the reviews to be unbiased.
---