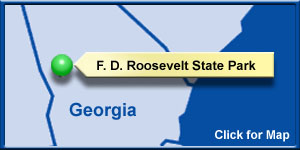 Overview
Franklin D Roosevelt was the 32nd president of the United States. Being blessed with a major economic depression and a World War, FDR had to make some hard decisions. One decision went against the grain of conservatives and liberals alike, the formation of the Civilian Conservation Corps, or CCC. It's one of those "bite the bullet now, enjoy benefits later" kinds of projects. Were it not for the CCC, many state and national parks would not exist. Certainly the lakes, lodges, and various other features that make our parks unique would not exist. Mark one up for liberalism.
Now, for the more conservative side of the story. FDR State park is, in itself, is a great destination. There are many things to do here and the campgrounds are great!. There is a lake for fishing and a very nice playground with a pavilion. it's just a short drive to the Little White House, Pine Mountain, Pine Mountain RV, Callaway Gardens, and Wild Animal Safari.
The Pine Mountain area is one of our top ten favorite destinations because of the variety of available activities and events. A family could easily spend a week (or two) here and never get bored. If you plan to spend much time here, consider staying at Pine Mountain RV. It's convenient to all the attractions, and it has full hookups and a great facility.
---
Adventure Journal
Entry Date: April 2008
Spring Break! This one was special because we had a great PB&J Adventure planned. Some of our very best friends were to join us, staying in the pop-up camper the recently purchased for such things.

On this particular trip to central/West Georgia, we rode (and rode and rode) bikes around Callaway Gardens where the Azaleas and Dogwoods were in full bloom. We camped at FD Roosevelt State Park where we fished, rode bikes (and rode and rode and rode), and watched movies at our private outdoor theater (a sheet and projector).

We once again visited the Wild Animal Safari, but our camera didn't work for that. The park's walk through zoo has expanded and it's great! You can see animals there that you won't see elsewhere. Rebecca's mother (Mother Goose) and Aint 'Net joined us for a couple of days too. I think they really enjoyed the animal park, the Little White House, Callaway Gardens, the Little White House, our outdoor movies, and NOT camping. They stayed at a hotel!

Entry Date: September 2007
Sunday morning we packed up early and headed for Pine Mountain, Georgia, Home of F.D. Roosevelt State Park , Callaway Gardens, and possibly the coolest place we've ever been, Wild Animal Safari. We arrived at Wild Animal Safari at about 11:00 am, just as the rain was stopping. At that time, there were very few people there. You have three choices of how to ride through the park. You can drive your own car, ride the bus, or pay $11.00 extra, and rent a zebra van. The vans are absolutely nasty, but I really recommend that mode of transportation. You definitely do not want to drive your own car. The horned animals are pretty klutzy and were banging into the side of the van constantly. Also, there is a good chance the interior will get slobbered!

Anyway, it takes about an hour to ride through the park, and you could never get this close to these animals any other way. All of us absolutely loved feeding and petting the animals (watch your fingers with the zebras and ostriches). We almost didn't do the walking part of the park. That would have been a big mistake. It's as cool as the ride-through part.

Other Destinations:
Up
Amicalola Falls State Park
Beaches of South Walton.
Berry College
Big Kahunas
Biltmore House
Blairsville, Georgia
Callaway Gardens
Cataloochee Ski Area
Cave Spring
Cedar Creek Park
Charlestown State Park
Chattahoochee Bend State Park
Chattanooga Zoo
Chehaw Park
Cherry Hill Park
Chester Frost Park
Chieftains Museum
Choccolocco Mountain Off Road Park
Cloudland Canyon
Cloudmont Ski and Golf
Consolidated Gold Mine
Cohutta Wilderness
Cumberland Island
Dauset Trails
Disney's Fort Wilderness Resort
Desoto State Park
Doll Mountain Campground
Dollywood
Dunnaway Gap
Enota Mountain Retreat
Etowah Indian Mounds
Fall Creek Falls State Park
Florala State Park
Franklin D Roosevelt State Park
Fort Mountain State Park
Georgia Mountain Fairground
Georgia Veterans State Park
Gold n Gem Grubbin'
Helen Georgia
Hillcrest Orchards
James H Floyd State park
James Island Park
Jellystone Park- Cave City, KY
John Tanner Park
Lake Allatoona
Lake Sidney Lanier
Lake Winnepesaukah
Little River Canyon Center
Live Oak Landing
Lula Lake Land Trust
Mammoth Cave National Park
McIntosh Reserve
McKinney Campground
Moto Mountain Powersports
New Echota - Cherokee Capitol
Noccalula Falls Park details and pictures
Old Stone Fort Archaeology State Park
Pine Moutain RV
Red Top Mountain State Park
Ridge Ferry Park
Rocky Mountain Recreation Area
Rock Town - Pigeon Mountain
Rome GA
Salt Springs Recreation Area
Silver Springs
Stone Mountain Park
Tanglewood Farm
Tannehill State Park
Tellus Science Museum
The Southern Museum
Topsail Hill Preserve
Townsend KOA
Townsend Tennessee
Twinbrook Resort
Up The Creek RV Camp - Park Details - Pictures
US Space and Rocket Center - Details and Pictures
Vogel State Park
Wild Animal Safari
World of Coke
Zoo Atlanta - Details and Pictures
Event:

Features

Rating (1-10)

Description

Official website
9
Georgia's State Parks website is very well done. Could use more pictures of campsites and amenities. Making reservations is a breeze!
Campground - Reserve

8

140 Tent, Trailer, RV Campsites (**$25-$28) - No full hookups. Beautiful campgrounds with tall pines. Some lakeside sites.
Cottages/Cabins - Reserve
*

22 Cottages $105 - $115 per night - Cottage 17 is a 2 ADA bedroom cottage. Sleeps 8.

Playground

9

The kids loved the playground. It's a pretty good walk or short bike ride from the campgrounds, but... Could be more variety.
Hiking
*
We really haven't hiked here. There's just too much to do otherwise!
Visitor Center

8

It's a nice visitor center on top of Pine Mountain. It's unusual to see this kind of view in this part of Georgia.

Geocaching

*

Geocaching is available, but we didn't have a chance.
Rockhounding

*

There are rockhounding opportunities everywhere. Honestly, we've always been too busy to look. Next time for sure!
Local Attractions

10

Callaway Gardens, Pine Mountain RV, Wild Animal Safari, Little White House, and more! This is an awesome destination!
*Note: We rate only the amenities we have personally reviewed.
**Accommodation pricing is based on 2010 http://gastateparks.org website pricing.

No financial consideration or favor has been received for listing in PB&J Adventures' website. We are in no way affiliated with this facility or any other facility we review. Any paid advertising seen on this site was arranged after the destination was reviewed. You can trust the reviews to be unbiased.
---