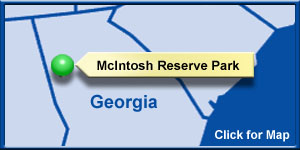 Overview
McIntosh Reserve is located in Carroll County near Whitesburg, Georgia. The park is named after a half Creek, half Scottish chieftain that was involved with many treaty negotiations between the Creek, Cherokee, the state of Georgia, and the US government. Also known as Tustunnuggee Hutkee ("White Warrior") to the Creek, McIntosh's final treaty, which resulted in the Creek's total loss of native land, was his last.

William McIntosh was assassinated here, at his own plantation he called Lockchau Talofau ("Acorn Bluff") , by a group of Creek that opposed the treaty. The history of the Native Americans is complex. It's hard to decide who the good and bad guys are when you study all the facts. Two things are for sure. it's an interesting story, and a beautiful park.
McIntosh Reserve Park, in the modern day, is a beautiful and ruggedly natural place. Hikers, campers, kayakers, horseback riders, and history nuts will all find something interesting here. The river is beautiful in this particular location, and the hardwoods and conifers scattered among the hilly landscape make for some memorable sights.
Native Americans of various nations, primarily Creek and Cherokee, come together here once a year (Late September) for a massive Pow Wow. Here's what the website says about the event:
---
Features

Rating (1-10)

Description

Official website
5
I hate to give the website such a low score, but it is so hard to figure much out about the park, it becomes frustrating. It's a pretty neat little park, and the website doesn't do it justice. Sorry, MORE PICTURES PLEASE!
Campground

8

There is camping here, but the website doesn't define whether RVs are welcome or not. There are no hookups, but some of the sites down by the river would be awesome. Chattahoochee Bend State Park is nearby.
Playground

8

There is a playground and tiny water parkette (as in small, no slides, some standing water and spraying fountains) here. There is little on the website, but looks like a decent little place for toddlers to cool off.
Hiking
8
Miles of hiking!
Horseback Riding
10
This park's known for it's horse friendly atmosphere. There is plenty of room for horse trailers and a plethora of horse trails.
Fishing

8

McIntosh Reserve is on the Chattahoochee River which offers many fishing opportunities from shore or boat.

Canoeing/Kayaking

9

This section of Chattahoochee River offers up some pretty choppy water. Looks like some fun in the right water craft.
R/C (Radio Control) Airfield
R/C Friendly!

10

I have to give them an A just for having an R/C airfield period! Managers of most parks alienate themselves from anything cool like Radio Control. We love R/C cars and trucks. We saw some playing while we visited.
Rockhounding

*?*

Wow! This should be a gold panning/rock hounding Mecca. For some reason, it appears to be against the rules. Really? Rethink! Someone needs to understand the benefits of minerals and flowing water! ?????
Local Attractions

7

Chattahoochee Bend State Park, Banning Mills, John Tanner Park, Carroll County Gold Museum
*Note: We rate only the amenities we have personally reviewed.

No financial consideration or favor has been received for listing in PB&J Adventures' website. We are in no way affiliated with this facility or any other facility we review. Any paid advertising seen on this site was arranged after the destination was reviewed. You can trust the reviews to be unbiased.
Adventure Journal
Entry Date: July 2011
We'd been concerned about a particularly vacant geographic area on the PB&J Adventures map, anxiously looking forward to an excursion to investigate the treasures of Carroll and Coweta, counties of west-central Georgia. A trip to this part of of God's country was inevitable, and soon planned.

In addition to McIntosh Reserve, our trip included a stop at the Gold Museum in Villa Rica, the site of Georgia's first gold rush, followed by camping at Chattahoochee Bend State Park, and a long Saturday afternoon on the beach at John Tanner park (formerly John Tanner State Park).

On the first full day (Saturday) of our camping trip, we headed for McIntosh park, mid-day. Our first stop was at the guard shack. The lady (guard) was so sweet. She told us all about the park, where to go, what to do. She insisted that the kids come in to use the facilities and have a drink of water. Very nice. We liked her a lot!

We wandered around the park a bit, visited the river and the over-look, and checked-out the gravesite of William McIntosh. Visiting this park was of special interest to me. My mother's brother's wife is the great great great great granddaughter of William McIntosh. The family's history has a special personal meaning.

While visiting William McIntosh's gravesite, we also surveyed the old log cabin, similar to Chief McIntosh's home, located just across the country road. The doorways were designed for very short people, but there was a surprising amount of space in the cabin. Its design is almost identical to the cabin located at Red Top Mountain State Park near Cartersville, Georgia.

We spent part of the afternoon at the park. I'm especially interested in Boondocking (camping without hookups) here, but it must be in cooler weather. This was one hot weekend. We left McIntosh Reserve for John Tanner Park (formerly a state park) where the kids played in the water for hours. But that's another story.

The Richardson Tribe
Other Destinations:
Up
Amicalola Falls State Park
Beaches of South Walton.
Berry College
Big Kahunas
Biltmore House
Blairsville, Georgia
Callaway Gardens
Cataloochee Ski Area
Cave Spring
Cedar Creek Park
Charlestown State Park
Chattahoochee Bend State Park
Chattanooga Zoo
Chehaw Park
Cherry Hill Park
Chester Frost Park
Chieftains Museum
Choccolocco Mountain Off Road Park
Cloudland Canyon
Cloudmont Ski and Golf
Consolidated Gold Mine
Cohutta Wilderness
Cumberland Island
Dauset Trails
Disney's Fort Wilderness Resort
Desoto State Park
Doll Mountain Campground
Dollywood
Dunnaway Gap
Enota Mountain Retreat
Etowah Indian Mounds
Fall Creek Falls State Park
Florala State Park
Franklin D Roosevelt State Park
Fort Mountain State Park
Georgia Mountain Fairground
Georgia Veterans State Park
Gold n Gem Grubbin'
Helen Georgia
Hillcrest Orchards
James H Floyd State park
James Island Park
Jellystone Park- Cave City, KY
John Tanner Park
Lake Allatoona
Lake Sidney Lanier
Lake Winnepesaukah
Little River Canyon Center
Live Oak Landing
Lula Lake Land Trust
Mammoth Cave National Park
McIntosh Reserve
McKinney Campground
Moto Mountain Powersports
New Echota - Cherokee Capitol
Noccalula Falls Park details and pictures
Old Stone Fort Archaeology State Park
Pine Moutain RV
Red Top Mountain State Park
Ridge Ferry Park
Rocky Mountain Recreation Area
Rock Town - Pigeon Mountain
Rome GA
Salt Springs Recreation Area
Silver Springs
Stone Mountain Park
Tanglewood Farm
Tannehill State Park
Tellus Science Museum
The Southern Museum
Topsail Hill Preserve
Townsend KOA
Townsend Tennessee
Twinbrook Resort
Up The Creek RV Camp - Park Details - Pictures
US Space and Rocket Center - Details and Pictures
Vogel State Park
Wild Animal Safari
World of Coke
Zoo Atlanta - Details and Pictures