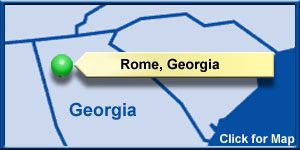 Overview
Rome is located in Northwest Georgia where the confluence of the Etowah and Oostanaula Rivers forms the Coosa. History is rich here, both native and non-native. Although no Interstate highway passes near, Rome is still the largest town in the region. Rome was a key transportation and trading hub long before superhighways, trains, and even steam ships. Native Americans, The Cherokee, Creek, and the people before them, the mound builders, used these rivers to transport food and other goods from village to village.
Rome's downtown Broad Street area is quaint with several notable restaurants and shops. Yes, there is good Italian food in Rome, along with just about anything else you might desire The downtown architecture has a classic Southern charm, and the adjacent hills are covered with beautiful old Victorian homes and churches.

One of the Tribe's favorite features of Rome is Ridge Ferry Park, a river-side park with two beautifully maintained playgrounds, lots of grass, and an amphitheater for musical events and festivals. Events like the regional Cherokee Pow Wow and the Chiaha Festival take place here.

Ridge Ferry Park is also a great access point to the Heritage Park Trail, a very nice paved path that follows the Oostanaula River through the downtown area. The trek is scenic and educational. The library, located along the trail, is a fun interactive place to visit, as are some of the other stops along the way. There is a fountain area dedicated to the rivers that come together here forming the powerful Coosa, a memorial to local fallen heroes, and two beautiful bridges reserved just for bikes and pedestrians.
Rome has its own Class-A Minor League Baseball team, the Braves. As and affiliate of the Atlanta Braves, it's not uncommon to see players here before they make the big-time. Attending a Rome Braves game in their new classic-style stadium is a lot of fun, and it's a short bike ride from Ridge Ferry Park along the Heritage park bike path.
Another place of note in Rome is Berry College, a top-rated academic institution on a sprawling thirty- odd-thousand acre campus. Learning the unique history of Berry College justifies a visit, but the incredibly scenic campus and its natural inhabitants are bonus. After a drive by the castle-like Ford buildings, and a visit to the "Mountain campus," make sure to catch the hundreds of deer that graze the fields near dusk.
Within a half-hour or so from Rome are a variety of other incredible places to go and things to do. You can stay at a local hotel, or camp at Cedar Creek RV Park or at Rocky Mountain Recreation Area. Rome has a lot to offer and energetic family looking for adventure.
---
Adventure Journal
Entry Date: January 2011
For Heath's 8th Birthday, we let him select the places to go and things to do for the weekend. He had two requests to ride on the bike path in Rome and eat at Fuddruckers, and to visit the World of Coke in Atlanta. This fine Saturday was dedicated to the Rome bike ride.
We arrived at Ridge Ferry Park midday and unloaded the bikes. The weather was much warmer that we'd become accustomed to this Winter. It was a great day for a ride. The Heritage Park Trail is paved all the way and is an easy ride. It winds along the Oostanaula river's bank, past the library, and into the downtown area.
We took a little water break at the fallen hero memorial before riding on to the fountain and courtyard area near the Forum. Some friendly teenagers showed the kids some tricks on their skateboards, then we rode on. We enjoyed the scenery and light exercise riding through town, over bridges, and along levees. Finally, after backtracking past Ridge Ferry Park, we wasted all that exercise with monster burgers from Fuddruckers. The end of a perfect afternoon.
The Richardson Tribe
Features

Rating (1-10)

Description

Website
7
In this case, we linked to Wikipedia as the website for Rome. We did this because the Rome/Floyd County website is not really a tourism site.
Campground
*
We have never camped in Rome, but we have camped nearby at Rocky Mountain Recreation Area, Cedar Creek RV (full hookups), and James H Floyd State Park.
Note - Adjacent the State Mutual Stadium, there is RV parking with minimal hookups. I am not sure if the sites can be rented, but here's the number -

706/368-9388

Playgrounds

9.5

There are several playgrounds around Rome. Ridge Ferry Park has some awesome facilities, including two large playgrounds..
Hiking, biking
*
There are many walking and hiking opportunities in and around Rome. Heritage Park trail (Ridge Ferry Park and Heritage Park) is an awesome place for an easy bike ride or walk. Berry College provides miles of biking and hiking. The Pinhoti Trail can be accessed near here (Taylors Ridge, Sloppy Floyd State Park.
Geocaching

*

Geocaching is available, but we have not at this location (yes, near here).
Rockhounding

*

Nearby Taylors Ridge is an awesome place for finding fossils, quartz, and agate.
Local Attractions

10

Ridge Ferry Park, Berry College, Cedar Creek Park (camping), State Mutual Stadium (Rome Braves, James H Floyd State Park, Rocky Mountain Recreation Area, Cave Spring, and much more.
*Note: We rate only the amenities we have personally reviewed.
No financial consideration or favor has been received for listing in PB&J Adventures' website. We are in no way affiliated with this facility or any other facility we review. Any paid advertising seen on this site was arranged after the destination was reviewed. You can trust the reviews to be unbiased.
Adventure Journal
Entry Date: October 2010
We have been to the Chiaha Festival a few times, and we love it! It is so different from most of the Arts and Crafts shows we go to. On this particular weekend, we had camping plans at Desoto State Park in Fort Payne, Alabama. We knew we'd have to pack-up early enough on Sunday to swing into Ridge Ferry Park for Chiaha, and that's just what we did.

When we first arrived, David Bell, an old friend of ours, was performing on the stage. He is as great as ever. The kids were anxious to get into the Scout's activity tent to make some sand-art bottles like they had done the last two years. Rebecca was anxious to see the art, especially the jewelry. Being rockhounds, we always enjoy talking to the folks that make wire-wrap pendants and other types of jewelry from common gemstones.

The kids and I spent a little extra time in Mr. Hardy's hand-made knife exhibit. He explained to us how he made the knives completely by hand. Everything from forming the blade to cutting, assembling, and finishing a variety of exotic handles. It was some really cool stuff.

I took a lot of pictures of various art, but then, while I was taking pictures of some LP tanks painted pink and made to look like flying pigs, the "artist" stepped-up, and quite abruptly insisted I not take pictures of his art for fear someone might steal the concept. So, I have intentionally NOT shown a picture of a 5' piece of rebar sticking in the ground with a 5 gallon LP tank welded to it, with sheet metal wings, all painted pink. Unfortunately for the "artist", you won't know who he is or what he has to offer. And PLEASE, do not steal the idea of welding wings on an LP gas tank and painting it pink. Man' I'd love one of those things in my yard.

There is always a lot of food at Chiaha, but we couldn't feast too much. There is no ATM, and we were short on cash. We ultimately ended-up at the playground as usual. Ridge Ferry Park has two playgrounds side-by-side. They are both fantastic. There are also some exercise stations with equipment and instructions. If I'd had the energy, I would have pulled the bikes off and gone for a ride too, but after a weekend of Desoto State Park and a few hours at the festival, we were ready to head home.

The Richardson Tribe
---
Entry Date: May 2010
Heritage Park Trail Bike Ride - Rome, GA
From our first visit to Ridge Ferry Park, we have wanted to see where that paved pathway went. On this beautiful day, we made it so. We started at the park and first rode South toward downtown Rome. The path is wide and smooth, and a fairly easy ride. Our six-year-old twins had no problems.
As the path emerges from the wooded Oostanaula river's edge, the grand library is our first encounter with downtown. Rome has a very attractive downtown area with much of its architecture from the 18th century. Newer structures are designed to fit the look, and it works. The Broad Street area of Rome is as quaint as you will find. Just a few pedal pushes further, and you can wander the area freely.
As we passed the Forum (yes, the Forum), we discovered a little park area with a wading fountain, benches, and some very nice landscaping. We decided to stop there to play on the way back. We rode on down the bike path then crossed the river on an awesome pedestrian bridge. We rode along a levy until we reached an area called Heritage Park. We staked a claim on a nice little shaded picnic table, and ate.
On the way back to Ridge Ferry Park, the little guys played in the fountain while Rebecca and Lee Thomas checked out some of the old buildings. They found a plaque that showed the water level from a flood that happened in 1886.
When we finally got back to Ridge Ferry Park, we decided to ride North on the bike path. We discovered that it went all the way around the stadium where the Rome Braves play, terminating in a little RV area, but it didn't look like it was used very often. Another notable landmark on this end of the trail is Fuddruckers. After burning all those calories riding bikes, we figured we could indulge with a burger and shake.
The Richardson Tribe
---
Entry Date: October 2007
Chiaha Festival - Rome, GA
This was the 43rd Chiaha Festival, and I'm really surprised we had never heard of this festival before. We enjoy going to country arts and crafts festivals, but they are quite often the "same old thing" with lots of bird houses, walking sticks, and cloggers. This festival, on the other hand, was very professionally done with real artists and wonderful music ranging from blues to blue grass. I'm amazed at the talent that comes from this area.
I'm also very impressed with Ridge Ferry Park where the festival takes place. We have brought the kids here a few times before to enjoy the large play ground, but now we want to come back to take advantage of the walking/bike trail that runs for miles along the Oostanaula river.
I wish I had more pictures of the art, crafts, and jewelry that were displayed at the festival, but I had Roxy's leash in one hand, and at least one child's hand in the other most of the time. The lines for the food were long, so we ended-up eating 1/2lb cookies for lunch on Saturday. They were so yummy that we got more on Sunday. This is the first time, by the way, that we have ever returned to a festival for a second day as we did for this one. It was that great!
The Richardson Tribe
Other Destinations:
Up
Amicalola Falls State Park
Beaches of South Walton.
Berry College
Big Kahunas
Biltmore House
Blairsville, Georgia
Callaway Gardens
Cataloochee Ski Area
Cave Spring
Cedar Creek Park
Charlestown State Park
Chattahoochee Bend State Park
Chattanooga Zoo
Chehaw Park
Cherry Hill Park
Chester Frost Park
Chieftains Museum
Choccolocco Mountain Off Road Park
Cloudland Canyon
Cloudmont Ski and Golf
Consolidated Gold Mine
Cohutta Wilderness
Cumberland Island
Dauset Trails
Disney's Fort Wilderness Resort
Desoto State Park
Doll Mountain Campground
Dollywood
Dunnaway Gap
Enota Mountain Retreat
Etowah Indian Mounds
Fall Creek Falls State Park
Florala State Park
Franklin D Roosevelt State Park
Fort Mountain State Park
Georgia Mountain Fairground
Georgia Veterans State Park
Gold n Gem Grubbin'
Helen Georgia
Hillcrest Orchards
James H Floyd State park
James Island Park
Jellystone Park- Cave City, KY
John Tanner Park
Lake Allatoona
Lake Sidney Lanier
Lake Winnepesaukah
Little River Canyon Center
Live Oak Landing
Lula Lake Land Trust
Mammoth Cave National Park
McIntosh Reserve
McKinney Campground
Moto Mountain Powersports
New Echota - Cherokee Capitol
Noccalula Falls Park details and pictures
Old Stone Fort Archaeology State Park
Pine Moutain RV
Red Top Mountain State Park
Ridge Ferry Park
Rocky Mountain Recreation Area
Rock Town - Pigeon Mountain
Rome GA
Salt Springs Recreation Area
Silver Springs
Stone Mountain Park
Tanglewood Farm
Tannehill State Park
Tellus Science Museum
The Southern Museum
Topsail Hill Preserve
Townsend KOA
Townsend Tennessee
Twinbrook Resort
Up The Creek RV Camp - Park Details - Pictures
US Space and Rocket Center - Details and Pictures
Vogel State Park
Wild Animal Safari
World of Coke
Zoo Atlanta - Details and Pictures


360 degree panoramic view of the 2010 Chiaha Festival held annually in October at Ridge Ferry Park.
Click the picture to enlarge, then zoom in and use the scroll bar to pan side to side.
---