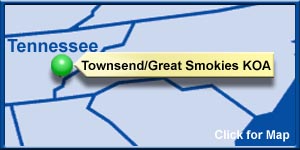 Overview
The Townsend/Great Smokies KOA campground is located in Townsend, Tennessee on the Southwestern edge of the Great Smoky Mountains National Park. Townsend is nestled in a quiet little valley within a reasonable drive from Maryville, Pigeon Forge, Gatlinburg, Cades Cove, and many other attractions. There are also some neat things to do right here in Townsend such as tubing and horseback riding.
The campground is very well maintained, although they are having problems getting grass to grow in the shady high traffic areas (I'd just put Pea Gravel in those areas including around the fire rings). The bath houses are very clean although we don't use them (full hookup). The playground is groomed and well mulched. It's just a nice campground.
The Townsend KOA campground is also very child and pet friendly with great activities, crafts, and games, an awesome playground, pedal powered three wheelers, a very nice pool, an off-leash pet play park, basketball, and a game room. Speed bumps keep grown-up drivers in check, so you feel like the kids are pretty safe.
Grown-up comforts and amenities include a deck, a fire ring/grill combo, and one of the most beautiful rivers in the world. Just look at the pictures. I have taken probably hundreds of pictures of the river and the scenery in the background over the last few years. All are different.
Expect to pay a premium price for a site in-season. Even off season riverside full hookup sites can be a little pricey. You could probably get a room in Pigeon Forge for less, but who would want to do that. Besides, there are six of us, a little tight for a Motel 8. I have to add, for the sake of the KOA, camping fees are used improve the campground and to hire a great staff that meticulously maintain the park and host many great activities and programs for the kids.
In summary, this is one of our favorite places to camp, but we can't afford it very very often. It's still the best all-around place we've found in the area. We definitely recommend a stay in Townsend.

Update:
We still love the KOA, but have stayed at a couple of other places on our last two visits to the area. We stayed at Yogi Bear's Jellystone about 16 miles east of Gatlinburg. It was awesome too. We have also stayed at Up The Creek near Pigeon Forge and, while they had no children's activities, we loved the location.
---
Adventure Journal
Entry Date: October 2010
The Richardson Tribe has just returned from our most recent adventure in the mountains of East Tennessee. We camped at the Townsend/Great Smokies KOA on Little River just outside the park for four nights.

While in the area, we visited Dollywood, Pigeon Forge, Gatlinburg, and took a drive through the Great Smoky Mountains National Park. Yes, I am afraid we did the "tourist thing" on this trip, but we still enjoyed all the KOA's camping activities.

We spent Saturday at the campground fishing, playing bingo (the kids loved it!), making tie dye t-shirts and various crafts, playing in Little River, and warming beside a toasty fire. The folks at the KOA in Townsend really know how to keep the kids happy, and the river and scenery keep everyone happy.
As usual, the night sky was a light show. I actually snapped a few time-lapsed shots (lower right) this time, and realized there were many stars that I wasn't seeing with just the naked eye. We come here in the Winter between Christmas and New Year, and the sky is even more clear and brilliant at that time of year.
John's Soapbox Moment:
I will soon be writing a series of articles on camping, one of which will focus on RV/camping etiquette. I will include our patio-side neighbor's multiple offenses in detail. One of the few negatives of this park is how narrow the riverside sites are. It's normal for riverside sites, so I can't complain much. However, a courteous camper is careful not to intrude on their neighbor, and to try to make the area on the back-side of their camper as neat as possible (the back-side of one camper is the front- side of someone else's). Our neighbor on this trip had the front side of her old class-a motorhome decorated with lights and FSU flags (and stickers, and pillows, and banners, and more lights, etc.). Her back-side on the other hand was disgusting. She threw her sewer hose, water hose, and poser cables on the ground wadded-up in a mess. She stayed inside most of the time, except when laying out on the deck sunbathing and coming around to shake her sewer hose and grunt. She never said a single word to us in four days. I would move her sewer hose away from our picnic table only to find it back, almost on my patio, later. Unbelievable. I personally think other FSU fans need to hunt her down. She's giving your university a bad name.
The Richardson Tribe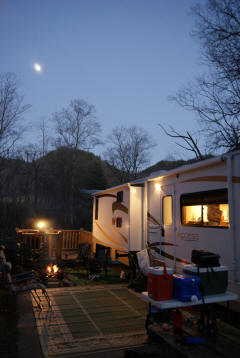 ---
Entry Date: April 2010
Spring break for the Tribe this year was spent in and near the Smoky Mountain National Park (but mostly Dollywood). This is the third time we've stayed at the KOA in Townsend. We like it. The facilities are very clean (bath houses are spotless, but we really don't use them). I was initially disappointed in the site we ended-up with, but that changed quickly. It turned out to be a great site that was considerably wider than the other river-side sites.
The Townsend KOA is a little more expensive than some of the others in the area, but river side sites have a view of the cabins and mountains in the background. Some other campgrounds have a fairly busy road across the river instead. KOA's key benefits: full hookups, cable, Wi-Fi, and cozy little decks overlooking the Little River.
Our first full day was initially going to be spent at Dollywood, but rain brought a change of plans. We instead went to the Tuckaleechee caverns. It was an affordable afternoon, free from rain and cold wind, and perfect for kids. The cave is really quite wonderful. At one time, the formations were a beautiful white, like many southeastern limestone caves. Unfortunately, this cave once completely flooded by water laden with red dirt and clay. Now everything is stained a reddish brown. Still, the cave is huge, and the Tribe had quite a good time. Afterward, we met-up with some friends for an early supper at No-Way Jose's, the Pigeon Forge location. The food was pretty good, but the atmosphere (and the chips) were a little stale compared to the one in Gatlinburg.
Friday's weather was very nice, so off to Dollywood we went. Spring was in full bloom at Dollywood, which made it even more enjoyable. There was a pretty large crowd in the park, but it was still a lot of fun. We rode lots of rides and ate some yummy treats.
The Richardson Tribe
---
Entry Date: December 2009
Lodging and home base - KOA of Townsend, Tennessee. The Tribe has stayed at the KOA in Townsend once before, and we were pretty pleased with most aspects of the campground. It's clean, they have full hookup, the playground is above average, they have a pool (not usable this time of year), and they have sites on the river.

There are a few negatives such as an expensive laundry (our cost, not counting detergent, was over $40.00 in quarters for the machines), and narrow sites, something that is very common for waterfront sites. In these scenarios, you typically orient more to the rear of the camper than the side.

The key reasons we chose Townsend and the KOA is convenience and the night sky. Riverside sites are furnished with little decks facing north viewing the water, the side of a mountain, and, with the leaves down, an almost pitch black sky with stars so bright it's almost overwhelming. Traffic and crowds, or the general lack thereof, is also a great reason to stay in Townsend. From here, you can go into Gatlinburg's South entrance through the park (avoiding Pigeon Forge), about a 30 minute drive. If Pigeon Forge (Dollywood) is the destination, then it's less than 30 minutes through Wears Valley. When it's time to head home, there is no 1-2 hour bumper to bumper ride to the Interstate. Because of the river (tubing, fishing) the Tribe is enthusiastically looking forward to returning in much warmer weather.
While visiting the area, the Tribe had quite a few adventures including two visits to Dollywood. I didn't take the cameras to Dollywood, so the pictures you see will be from my Blackberry and the cameras on the rides. For more information on our Dollywood visit, read *Lee Thomas' review.
*Lee Thomas is our oldest son. He was 8 at the time he wrote the review.
The Richardson Tribe
---
Entry Date: December 2008
This is our first time staying at the KOA in Townsend, Tennessee. We had a site right on the river with a private deck. The sites are narrow as are most waterfront campsites, but there is full hookup, so we can stay as long as we like.
We selected the Townsend/Great Smokies KOA on this trip because of something that happened to us on our last camping trip to Gatlinburg. We visited the area to attend a wedding on the weekend of the Fourth of July. We stayed at a campground that was pretty-much on the road. Our very narrow site was on the creek, but the highway kind of took from the camping ambiance. When we left Gatlinburg campground around noon on Sunday, we took our place in a 1.5 hour bumper to bumper parade to the Interstate. A trip that typically takes us around 3.5 hours ended-up taking almost six.

On this trip, we visited Gatlinburg and Ober Gatlinburg where we ice skated and played in the game room. The Christmas lights are awesome this time of year, and the kids saw a little snow.

The Richardson Tribe
Other Destinations:
Up
Amicalola Falls State Park
Beaches of South Walton.
Berry College
Big Kahunas
Biltmore House
Blairsville, Georgia
Callaway Gardens
Cataloochee Ski Area
Cave Spring
Cedar Creek Park
Charlestown State Park
Chattahoochee Bend State Park
Chattanooga Zoo
Chehaw Park
Cherry Hill Park
Chester Frost Park
Chieftains Museum
Choccolocco Mountain Off Road Park
Cloudland Canyon
Cloudmont Ski and Golf
Consolidated Gold Mine
Cohutta Wilderness
Cumberland Island
Dauset Trails
Disney's Fort Wilderness Resort
Desoto State Park
Doll Mountain Campground
Dollywood
Dunnaway Gap
Enota Mountain Retreat
Etowah Indian Mounds
Fall Creek Falls State Park
Florala State Park
Franklin D Roosevelt State Park
Fort Mountain State Park
Georgia Mountain Fairground
Georgia Veterans State Park
Gold n Gem Grubbin'
Helen Georgia
Hillcrest Orchards
James H Floyd State park
James Island Park
Jellystone Park- Cave City, KY
John Tanner Park
Lake Allatoona
Lake Sidney Lanier
Lake Winnepesaukah
Little River Canyon Center
Live Oak Landing
Lula Lake Land Trust
Mammoth Cave National Park
McIntosh Reserve
McKinney Campground
Moto Mountain Powersports
New Echota - Cherokee Capitol
Noccalula Falls Park details and pictures
Old Stone Fort Archaeology State Park
Pine Moutain RV
Red Top Mountain State Park
Ridge Ferry Park
Rocky Mountain Recreation Area
Rock Town - Pigeon Mountain
Rome GA
Salt Springs Recreation Area
Silver Springs
Stone Mountain Park
Tanglewood Farm
Tannehill State Park
Tellus Science Museum
The Southern Museum
Topsail Hill Preserve
Townsend KOA
Townsend Tennessee
Twinbrook Resort
Up The Creek RV Camp - Park Details - Pictures
US Space and Rocket Center - Details and Pictures
Vogel State Park
Wild Animal Safari
World of Coke
Zoo Atlanta - Details and Pictures
Features
Rating (1-10)

Description

Official website
9
KOA has a very nice and simple interface. Most everything you want to see is on their Homepage. Making reservations is a breeze!
Campground - Reserve

9

A variety of sites ranging from large riverside tent sites to back-in (narrow as can be expected) full hookup RV sites with decks, fire rings/grill combos, level concrete pads (the ones we have stayed in). The campground is meticulously maintained. The nicest KOA I've seen. In season activities at the pavilion are awesome. The river and cozy view are second to none.
The only negatives - premium price (varies by season), neighbor's sewer hookups very close to patio and picnic table, and mulch around fire rings is prone to ignite.
Cottages/Cabins - Reserve
*

They have the typical KOA Kabins/Cottages. I haven't looked in one, but they seem small. We Kamp, I mean, we camp here.

Pool
*
It looks like a very nice pool. Unfortunately, we have never stayed here when the pool was opened (Summer).
Playground

9

The kids love this playground. Could be more variety.
Biking
9
The campground is not ideal for bikes, but across the street is a bike trail that goes quite a long way through and out the other end of Townsend. They do rent strange little pedal powered three wheelers that can be rented for use around the gravel inner roads of the campground.
Tubing, canoeing, kayaking
9
Little River is a pretty neat little tubing spot. We have yet to rent tubes and ride down because we tend to come in autumn, Winter, and early Spring when it's still a little cold. Maybe next time.
Geocaching

*

Geocaching is available, but we didn't have a chance.
Rockhounding

6

We have looked for rocks around the campground and river, but have found mostly sandstone and granite. There are commercial gem-grubbin' mines in Pigeon Forge and Gatlinburg, even Dollywood. If you want to find some really nice garnet, quartz, amethyst, rubies and sapphires, buy an enriched bag of ore and have fun.
Local Attractions

9

Townsend, Cades Cove, Great Smoky Mountain Heritage Center, Elkmont, Tuckaleechee Caverns, horseback riding, Gatlinburg, Pigeon Forge, Dollywood, Cherokee, and the list goes on...
*Note: We rate only the amenities we have personally reviewed.

No financial consideration or favor has been received for listing in PB&J Adventures' website. We are in no way affiliated with this facility or any other facility we review. Any paid advertising seen on this site was arranged after the destination was reviewed. You can trust the reviews to be unbiased.

---