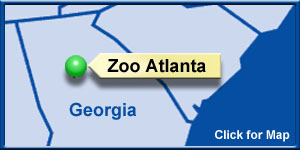 Overview
Zoo Atlanta is located at Grant Park near downtown. Of the zoos we've visited, Zoo Atlanta is one of the best. Most of the habitats are representative of the animal's native environment, and the animals seem quite content.
The habitats and surrounding flora are very plush and tropical at Zoo Atlanta, making a stroll through the park very enjoyable. Sometimes the natural aspect of the habitats makes viewing the animals a little difficult, but be patient and watch. You will not be disappointed.

Here's a partial list of animals that can be found at the zoo.
Zoo Atlanta has an exceptional primate exhibit with several families of gorillas coexisting in their habitats. It's intoxicating to watch the young toddlers playing and teasing the adults and each other.

While visiting Atlanta, we typically stay at Stone Mountain Park, located just southeast of the city. We have visited Zoo Atlanta dozens of times throughout the years, and it remains one of our favorite destinations. We recommend it enthusiastically!
The Richardson Tribe
---
Adventure Journal
Entry Date: August 2013
We have visited Zoo Atlanta many times over the years, but had yet to publish an adventure journal for the park. On this particular late summer visit, we were guests of some very good friends. Upon entering the zoo, we made the customary stop at the flamingos and restrooms. We are creatures of habit, so the counterclockwise tour from that point was predictable.
They've added and updated a few of the exhibits. We were especially entertained by the Meer cats. As we lingered at each exhibit, we were reminded how unique this zoo is. For instance, the gorilla habitat has a large family with several juveniles. The rambunctious interaction between the little guys and the adults is memerizing. The reptile center as never been a favorite stop for me, but they've given it a major facelift, making the environment brighter and cleaner feeling (and smelling).

The Richardson Tribe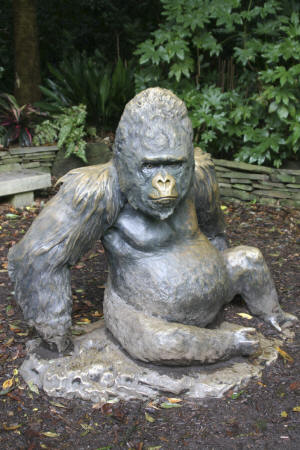 More Destinations:
Up
Amicalola Falls State Park
Beaches of South Walton.
Berry College
Big Kahunas
Biltmore House
Blairsville, Georgia
Callaway Gardens
Cataloochee Ski Area
Cave Spring
Cedar Creek Park
Charlestown State Park
Chattahoochee Bend State Park
Chattanooga Zoo
Chehaw Park
Cherry Hill Park
Chester Frost Park
Chieftains Museum
Choccolocco Mountain Off Road Park
Cloudland Canyon
Cloudmont Ski and Golf
Consolidated Gold Mine
Cohutta Wilderness
Cumberland Island
Dauset Trails
Disney's Fort Wilderness Resort
Desoto State Park
Doll Mountain Campground
Dollywood
Dunnaway Gap
Enota Mountain Retreat
Etowah Indian Mounds
Fall Creek Falls State Park
Florala State Park
Franklin D Roosevelt State Park
Fort Mountain State Park
Georgia Mountain Fairground
Georgia Veterans State Park
Gold n Gem Grubbin'
Helen Georgia
Hillcrest Orchards
James H Floyd State park
James Island Park
Jellystone Park- Cave City, KY
John Tanner Park
Lake Allatoona
Lake Sidney Lanier
Lake Winnepesaukah
Little River Canyon Center
Live Oak Landing
Lula Lake Land Trust
Mammoth Cave National Park
McIntosh Reserve
McKinney Campground
Moto Mountain Powersports
New Echota - Cherokee Capitol
Noccalula Falls Park details and pictures
Old Stone Fort Archaeology State Park
Pine Moutain RV
Red Top Mountain State Park
Ridge Ferry Park
Rocky Mountain Recreation Area
Rock Town - Pigeon Mountain
Rome GA
Salt Springs Recreation Area
Silver Springs
Stone Mountain Park
Tanglewood Farm
Tannehill State Park
Tellus Science Museum
The Southern Museum
Topsail Hill Preserve
Townsend KOA
Townsend Tennessee
Twinbrook Resort
Up The Creek RV Camp - Park Details - Pictures
US Space and Rocket Center - Details and Pictures
Vogel State Park
Wild Animal Safari
World of Coke
Zoo Atlanta - Details and Pictures
Willie B, a memory from our childhood
Features

Rating (1-10)

Description

10

Zoo Atlanta's website is awesome! Colorful imagery and lots of details. A 10!

Exhibits
9
See side bar for a list of animals at Zoo Atlanta
Camping
7
Stone Mountain Park is nearby.

Local Attractions

9

Stone Mountain Park, Braves Baseball, World of Coke, Atlanta, Six Flags, etc.

*Note: We rate only the amenities we have personally reviewed.

No financial consideration or favor has been received for listing in PB&J Adventures' website. We are in no way affiliated with this facility or any other facility we review. Any paid advertising seen on this site was arranged after the destination was reviewed. You can trust the reviews to be unbiased.
---