Overview
Cataloochee Ski Area is located just up the mountain from Maggie Valley, and less than an hour from Asheville, North Carolina. Because of its location, Cataloochee is a very popular place to ski. As with any popular ski area, It can get pretty crowded on the holidays.
Compared to some of the massive western ski resorts, Cataloochee is relatively small. However, it's a great place to learn, and a fun place to play. With a total drop of 740 feet, none of the runs are very long. The Cataloochee website claims to feature 16 slopes and trails that are 25% beginner, 50% intermediate, and 25% advanced to expert. Keep in mind that the ratings are relative to each other, and do not necessarily compare to similar ratings at other ski areas. In other words, a black diamond here may not be quite like a Squaw Valley black diamond. To service the slopes, Cataloochee utilizes 3 lifts: 1 quad, 1 triple, 1 double chair. There is also a moving carpet surface lift for the beginner bunny slope/ski school area (they advertise two, but we saw only one).
Cataloochee has some sweet snow grooming equipment. The slopes seem to be in great shape considering the latitude and altitude. Warm sunny days can easily melt the surface snow and re-freeze causing a glaze. Not to worry. The crews will be out grooming the slopes and making snow all night long (as long as it's cold enough).
The ski area has a good number of instructors, and they offer a decent value for a ski class/rental combo for kids. We noticed that the rental equipment seems new, or at least well maintained. That's pretty rare for a Southern ski area.
The lodge isn't a pretty building by any means, but it's pretty functional. Ski equipment rental is downstairs, and upstairs houses a gift and ski shop and a large food concession area and bar. On most non-holidays, the lodge, lifts, and slopes are just fine. On busy holiday weekends, it is absolutely packed.
Maggie Valley is the local town, and we have camped there several times on Jonathon Creek. There are plenty of restaurants, hotels, and activities to keep the family entertained in and around Maggie Valley. Ironically, much of Maggie Valley closes down in the winter. Don't let that stop you from visiting though. You'll find something to do, and remember Asheville is very near.
In summary, Cataloochee is a great ski area if you don't set your expectations too high. If you are used to the western slopes, you might find this a little disappointing. However, if you're not a ski snob, and you just want to have some fun skiing or snow boarding, Cataloochee is a great destination.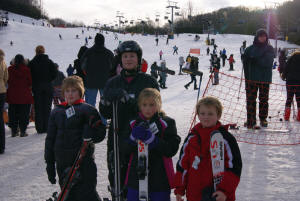 ---
Adventure Journal
Entry Date: December 2012
Well, we had so much fun last Christmas break at Cataloochee, we decided to come back. We once again enrolled them in ski school. It's a great deal, and, as students, they get to go to the front of the lift line! This year they got a great instructor that worked with them all day long. By the end of the day, they were doing great!

On this trip to Cataloochee we stayed in our RV at the Twinbrook Resort in Maggie Valley. It turned out to be a very nice place to camp with a heated indoor pool and RV sites on a stream.
---
Adventure Journal
Entry Date: December 2011
The Richardson Tribe has been to Maggie Valley several times over the past few years, but never in the winter when Cataloochee Ski Area was open. This Christmas, Santa brought the children gift certificates for ski school at Cataloochee, so we felt compelled to check it out. When visiting Maggie Valley in the past, we have always stayed at Stonebridge RV, so we booked their best creek-side site for the week leading up to the new year.
When we arrived at Stonebridge RV park (now owned by NASCAR), we were extremely disappointed in the seemingly poor condition of the park. It turns out, it pretty much shuts down for the winter. No laundry, no game room, inner roads blocked, and on this particular holiday week, the office was closed and no one was around. We couldn't even get horseshoes for the awesome looking horseshoe pits. There was a tarp on the office's roof, and there was a busted water pipe at one of the sites where the water ran all week. Rebecca spoke to the manager on the phone once, but he told her "Lady, I'm on vacation this week." He never returned my call. So, here we are, six of us for six days, with tons winter clothes and no laundry room. Fortunately, Rebecca had over-packed, so we managed. In all fairness, campgrounds winterizing and shutting-down for the season is pretty common. However, prior to our visit, we were receiving daily emails advertising how wonderful the place is in the winter. We'll have to reconsider where to stay on our next trip to Maggie Valley.
On our first full day in Maggie Valley, we thought we'd survey the situation at Cataloochee to determine when and where we needed to be the next morning to enroll the kids in ski school. Unfortunately, we were turned away a the base of the mountain because the ski area was filled to capacity. We were told to get there very early the next morning, and that's just what we did.
The kids' ski day was on the Friday before New Years Eve. Cataloochee Ski Area was packed with folks on holiday, but that didn't hinder the fun. Even with the crowd of people, everything went off without a hitch. We had all the kids in some exceptional rental boots and skis in no time. Although Santa brought some silly ski hats, we put helmets on the kids. The helmets were to protect the kids from other klutzy skiers more than falls. There were a lot of beginners out there.
After registering the kids for ski school, we left them in the care of the competent ski instructors (as we lurked in the shadows). They spent the entire day spoiling the kids with snack breaks and pizza for lunch. By mid-day, our four kids were all working with a single instructor that gave them lots of personal attention. By mid afternoon, the entire Richardson Tribe papooses were loading-up on the lift and skiing down the big hill. They seemed like naturals rarely falling at all. We expected them to be exhausted and sore after so much ski time, but we practically had to drag them away (especially Lainey - see group picture as we were leaving).
For lunch and occasional warm-up breaks, Rebecca and I visited the lodge. This two-story structure is very much utilitarian with a cafeteria-like food service area, a bar, and lots of tables and seating. The place was packed though, and finding a seat was a challenge. In general, the ski area is quite different from some of the ski resorts Rebecca and I have visited out west. It's a ski area, not a resort. We have to keep reminding ourselves not to compare. After all, flying west, renting a van, and finding affordable housing with four kids in Colorado would probably require a second mortgage. Yup, Cataloochee will do, and do quite nicely thank you.



The Richardson Tribe
More Destinations:
Up
Amicalola Falls State Park
Beaches of South Walton.
Berry College
Big Kahunas
Biltmore House
Blairsville, Georgia
Callaway Gardens
Cataloochee Ski Area
Cave Spring
Cedar Creek Park
Charlestown State Park
Chattahoochee Bend State Park
Chattanooga Zoo
Chehaw Park
Cherry Hill Park
Chester Frost Park
Chieftains Museum
Choccolocco Mountain Off Road Park
Cloudland Canyon
Cloudmont Ski and Golf
Consolidated Gold Mine
Cohutta Wilderness
Cumberland Island
Dauset Trails
Disney's Fort Wilderness Resort
Desoto State Park
Doll Mountain Campground
Dollywood
Dunnaway Gap
Enota Mountain Retreat
Etowah Indian Mounds
Fall Creek Falls State Park
Florala State Park
Franklin D Roosevelt State Park
Fort Mountain State Park
Georgia Mountain Fairground
Georgia Veterans State Park
Gold n Gem Grubbin'
Helen Georgia
Hillcrest Orchards
James H Floyd State park
James Island Park
Jellystone Park- Cave City, KY
John Tanner Park
Lake Allatoona
Lake Sidney Lanier
Lake Winnepesaukah
Little River Canyon Center
Live Oak Landing
Lula Lake Land Trust
Mammoth Cave National Park
McIntosh Reserve
McKinney Campground
Moto Mountain Powersports
New Echota - Cherokee Capitol
Noccalula Falls Park details and pictures
Old Stone Fort Archaeology State Park
Pine Moutain RV
Red Top Mountain State Park
Ridge Ferry Park
Rocky Mountain Recreation Area
Rock Town - Pigeon Mountain
Rome GA
Salt Springs Recreation Area
Silver Springs
Stone Mountain Park
Tanglewood Farm
Tannehill State Park
Tellus Science Museum
The Southern Museum
Topsail Hill Preserve
Townsend KOA
Townsend Tennessee
Twinbrook Resort
Up The Creek RV Camp - Park Details - Pictures
US Space and Rocket Center - Details and Pictures
Vogel State Park
Wild Animal Safari
World of Coke
Zoo Atlanta - Details and Pictures
Features

Rating (1-10)

Description

9

Cataloochee's website is great. I'm kind of used to having a "home" button, but that's just me. The site provides the necessary information, and does it in an attractive way.

Places to camp near Cataloochee Ski Area

7

Nascar's Stonebridge RV Resort is where we have camped in the past. See our Adventure Journal from December 2012 for an updated review.

Lodging (hotels, cottages, cabins, lodges, etc.) near Cataloochee ski area

*

The Cataloochee website has an extensive list of places to stay while skiing at Cataloochee Ski Area. We take our RV, and have typically stayed at Stonebridge RV.

The Slopes

8

It's not exactly the same as skiing out west. There are limits to the length of the runs, but Cataloochee has a pretty nice layout. There are three lifts servicing about 10-11 primary slopes and trails (they claim 16 slopes and trails, but I don't count "upper and lower" as two separate trails). There is also a stand-on conveyor lift for the ski school area. We saw lots of people get wiped-out by fumbling beginners at the base of the bunny slope. They need to build a berm to help stop runaway novices.

Visitor Center/Lodge

8

The "lodge" provides a food service area, bar, ski shop (with mostly reasonable prices), and ski/snowboard rental facilities. The lodge is fine, but way too small to handle large holiday crowds. The food's not bad, and the staff are excellent. The lady that runs the ski shop is very sweet.

Local Attractions

9

The Great Smoky Mountain National Park, Maggie Valley, Asheville, Biltmore Estate, Cherokee, etc.

*Note: We rate only the amenities we have personally reviewed.

No financial consideration or favor has been received for listing in PB&J Adventures' website. We are in no way affiliated with this facility or any other facility we review. Any paid advertising seen on this site was arranged after the destination was reviewed. You can trust the reviews to be unbiased.
---